Sunday night spent reliving those wonderful moments in Sydney as Catherine Freeman took the gold medal in the 400 metres. Wake up Friday morning to learn that Stewart McSweyn has taken down the national record in the 3000 at Rome's Golden Gala Diamond League.
Not a bad week, you'd have to say. Even better when you factor in a national record 4:00.42 for Jessica Hull in Berlin, yet another fast 1500 by McSweyn in Zagreb, winning there in 3:32.17 just a few days before Rome. Or Nicola McDermott getting over 1.95 metres to take third place in the Rome high jump.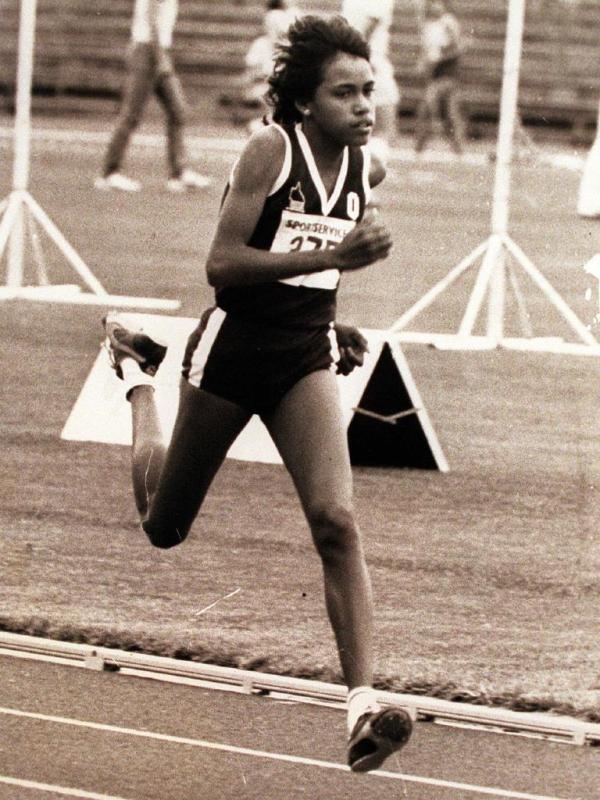 Historical matters first
But it all began with Freeman: Freeman the documentary, that is. An hour-long recap of her background, her build-up to Sydney, the meltdown of her main rival, dual Olympic champion Marie-Jose Perec, the Opening Ceremony and the ultimate triumph in the final on one of the greatest nights of athletics in Olympic history.
And a lot more besides – especially the dual burden she carried of being a gold medal favourite in a sport in which Australia doesn't historically win many gold medals and an individual indigenous athlete representing a people who hadn't historically won any. All of this at a time when there was a national groundswell for some form of reconciliation with its dispossessed original inhabitants with a government headed by man for whom sorry was the hardest word.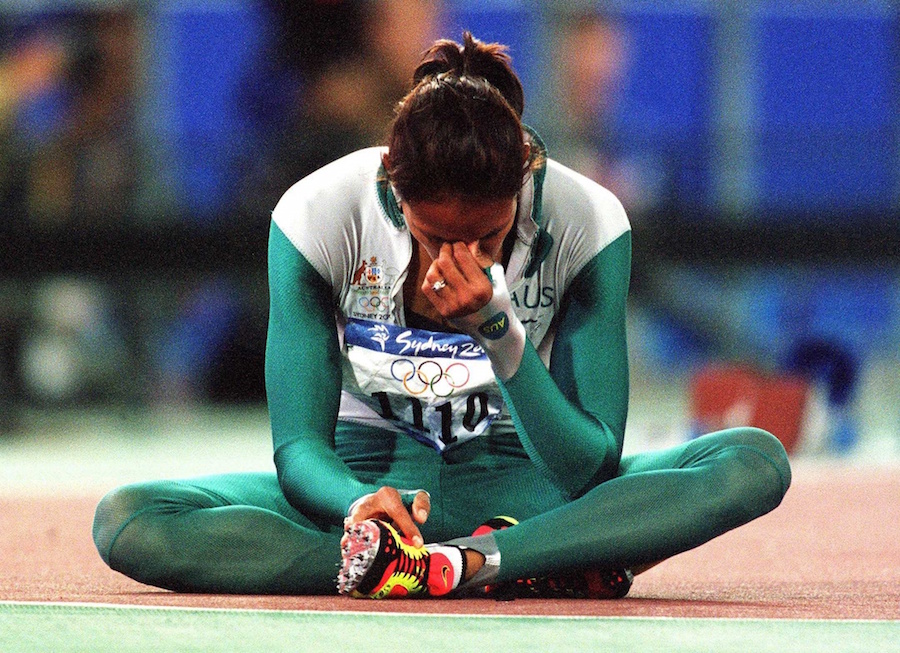 It was also the year Freeman finally severed athletic and management links with Nic Bideau and Melbourne Track Club. To say there was a bit going on in the lead-up to Sydney would be an understatement. But mid-way through, when I travelled to Europe to cover pre-Olympic events, there were real fears the campaign was falling apart. Those fears were soon dispelled, as Freeman took control of her own destiny with a string of strong performances.
My reporting on the Olympic 400 metres boiled down to two main stories – a race report, followed by my take on the year leading up to it. The latter piece ended with an anecdote from a training session at Perivale, an outlying suburb of London close to the Australian team's training base.
Perivale was a modest little track alongside a golf course and parkland, but far more secluded than the track at Windsor which was closer to the team accommodation. This morning a dozen or so athletes headed to Perivale.
"Freeman started her session with them and was still going long after the rest had returned to the hotel," I reported, adding: "It was a drive she maintained all the way to the line in the Olympic stadium."
My assignment on race night was simple. The Sydney Morning Herald, with whom The Age was partnered under the Fairfax banner, wanted a race report of 500 words within 15-20 minutes of the finish. It sounds daunting, but in reality, as with Freeman and the 400, it was something I had trained for over a long time.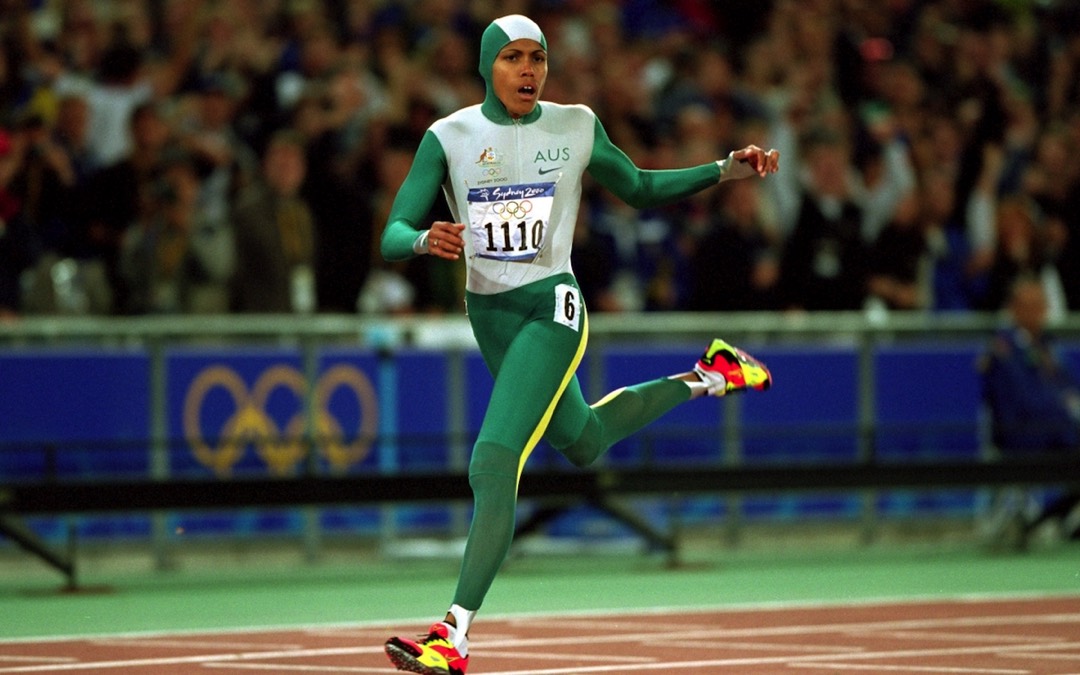 Friday night football games demanded exactly the same drill. The technique suggested by my sports editor the first time I did it was to write a "bottom" to the story at half-time of at least half the required length. In the worst case, you could then just add the result to the top and "job done."
For Freeman's 400, nothing bar a pre-Games quote on how she approached all her races remained of the pre-written material. Every other word, including an outline of Peter Fortune's pre-race plan, the plan you saw being "written" all over again in the documentary, was fresh. I reckoned it my top Olympic moment
The on-the-siren report led off with the 'scoop'  that Freeman had suffered laryngitis during final training in Melbourne: "Two weeks ago, Cathy Freeman lost her voice," I wrote.
"Last night, she drew a roar from more than 100,000 spectators at the Olympic Stadium with a stunning performance. In 49.11 seconds of high-quality running, she took the Olympic gold medal."
In locked down Melbourne last Sunday night (13 September), the echoes of that mighty roar reverberated once more.
For Len's other articles this week
---
McSweyn Takes Down Mottram's 3000m Record
By Len Johnson
If the rest of Australia was willing to remember Sydney for the rest of the week, Stewart McSweyn snapped us out of our reverie with two more in what is becoming a long string of outstanding performances.
A 3:32.17 win over 1500 in Zagreb on Tuesday night (15 September), was a national record of sorts, the second, 7:28.02 two days later for third over 3000 in Rome, was some sort of national record, taking down no less than the great Craig Mottram by some four seconds.
It's been quite the week for Australian middle-distance runners. Jessica Hull set the ball rolling with a 4:00.42 national record behind Laura Muir at Berlin's fabled ISTAF meeting last Sunday. Hull went so close to the first sub-four by an Australian woman, a time that is proving just as difficult to crack as when John Landy was trying to achieve it for the mile almost 70 years ago.
2020 Continental Tour Women's 1500m Berlin Results
1. Laura MUIR GBR 3:57.40
2. Laura WEIGHTMAN GBR 4:00.09
3. Jessica HULL AUS 4:00.42
4. Melissa COURTNEY-BRYANT GBR 4:02.34
5. Shannon ROWBURY USA 4:02.56
6. Claudia Mihaela BOBOCEA ROU 4:05.71
7. Hanna KLEIN GER 4:05.74
8. Sofia ENNAOUI POL 4:06.05
9. Elise VANDERELST BEL 4:06.24
10. Christina HERING GER 4:08.30
11. Simona VRZALOVÁ CZE 4:08.39
12. Maureen KOSTER NED 4:09.82
13. Ciara MAGEEAN IRL 4:12.82
Hanna HERMANSSON SWE DNF
Caterina GRANZ GER DNF
Aneta LEMIESZ POL DNF
.
McSweyn's Zagreb 1500 was not a national record (Ryan Gregson, 3:31.06), nor a personal best (3:31.48 in Stockholm last month), but it is the fastest-ever winning time by an Australian.
2020 Zagreb Men's 1500m Results
1 Stewart McSweyn Australia 3:32.17
2 James West United Kingdom 3:34.56 PB
3 Matthew Ramsden Australia 3:34.83 PB
4 Elzan Bibić Serbia 3:35.07 PB
5 Ryan Gregson Australia 3:35.22 SB
6 George Mills United Kingdom 3:36.72 PB
7 Quentin Tison France 3:36.83 PB
8 Matthew Hughes Canada 3:37.20 PB
9 Johan Rogestedt Sweden 3:37.56 SB
10 Paul Robinson Ireland 3:38.26 SB
11 Dino Bošnjak Croatia 3:42.94 PB
12 Daniel Ivaničić Croatia 3:50.17 PB
Azzedine HabzPACE France DNF
.
The 3000 is something else again. Fourteen years to the day after Mottram ran 7:32.19, McSweyn's 7:28.02 chasing home Jacob Kiplimo (7:26.64) and Jakob Ingebrigtsen (7:27.05) smashed the national record. Mottram set his mark in defeating Kenenisa Bekele, no less, at the IAAF World Cup in Athens.
Though well short of Daniel Komen's world record 7:20.67, Kiplimo and Ingebrigtsen are now eighth and ninth on the all-time performers' list (McSweyn is number 17). Interestingly, Jacob and Jakob are 'only' 13 and 15 on the all-time performances' list, where only two of the top 10 have been run this century, none since 2007.
Rome Diamond League Men's 3000m Results
UGA. KIPLIMO Jacob 7:26.64 WLDLR NR PB
2 NOR. INGEBRIGTSEN Jakob 7:27.05 NR PB
3 AUS. McSWEYN Stewart. 7:28.02 AR PB
4 ITA CRIPPA Yemaneberhan 7:38.27 NR PB
5 NED. FOPPEN Mike 7:39.75 PB
6 BEL. KIMELI Isaac 7:47.48 PB
7 AUS. RAMSDEN Matthew 7:48.08 SB
8 ITA. ZOGHLAMI Osama 7:48.63 PB
9 ITA RIVA Pietro 7:50.03 PB 8:04.77
10 AUS GREGSON Ryan 7:53.65 SB
11 ITA. RAZINE Marouan 7:54.80 SB
.
Australian Men's 3000m Top-10 All-Time List (as of 18/9/2020)
3,000 METRES
Name
State
D.O.B
Place
Location
Date
7:28.02
Stewart McSweyn
T
010695
3
Rome, Italy
17 Sep 20
7.32.19
Craig Mottram
V
180680
1
Athens, GRE
17 Sep 06
7.35.45
Collis Birmingham
V
271284
8
Stockholm, SWE
17 Aug 12
7.37.76
Patrick Tiernan
Q
110994
4
London, GBR
9-Jul-17
7.40.48
Ben St.Lawrence
N
071181
6
Rieti, ITA
8 Sep 13
7.41.03
Sam McEntee
V
030292
10
London, GBR
9-Jul-17
7.41.60
Shaun Creighton
V
140567
9
Oslo, NOR
21 Jul 95
7.41.78
Lee Troop
V
220373
3
Sydney
20 Feb 99
7.42.19
Ryan Gregson
V
260490
7
Rabat, MOR
16 Jul 17
7.42.76i
Morgan McDonald
N
230496
2
New York, USA
9 Feb 19