Training of Famous Runners – Steve Ovett
Runner's Tribe, December 2016.
1980 800m Olympic champion, Steve Ovett will go down in history as one of Britain's best ever middle distance runners. Whether you remember Ovett for his duals with Sebastian Coe, his amazing finishing kick, or his famed show-boating; Ovett is without a doubt a legend in the athletics world. Runner's Tribe took a detailed look into his training.
Olympic 800m gold, 1980.
Previous World record holder for 1500m and 1-mile.
1974 and 1978 European Championships silver medalist.
Personal Bests
400m PB: 47.5
800m PB: 1:44.09
1000m PM: 2:15.91
1500m PB: 3:30.77
Mile: 3:48.40
3000m PB: 7:41.30
2-Mile PB: 8:13.51
5000m: 13:20.06
Half Marathon: 1:05:38
Career Highlight 1980 Olympic 800m Gold
In 1980 Sebastian Coe was favoured to win the 800m at the Moscow Olympic Games. However, it was Ovett who ran the perfect tactical race, and outkicked the field for a convincing victory, his sole Olympic gold medal.
Coach Harry Wilson 
Ovett was coached by Harry Wilson, a coach of many top British runners.
A lot of the below information was sourced from Wilson's classic book 'Running My Way'
Wilson's training was broken down into phases, these phases are outlined below
Base phase – 24 weeks
The first phase involved a base building period which lasted roughly 24 weeks. During this phase aerobic development was the main aim.   However, this 24 week phase was also divided into sub-phases, each consisting of approximately 4 weeks. The intensity of all sessions during this base phase were classed as either easy, medium or hard level aerobic running.
Ovett averaged between 100-120 miles per week during this 24 week base phase.
The first 4 weeks of the 24 week cycle involved a lot of easy aerobic running, then after every 4 weeks passed the intensity of the slow easy aerobic running would increase, so that by the 20-24 week sub-phase, 70% of the aerobic runs would be done at an easy pace, whilst 30% would be done at a much harder pace.
Ovett also did weekly aerobic power repetitions during this phase. The intensity of these repetitions would slowly increase as the weeks of the 24 week phase went by. Examples of sessions done during this phase included:
– 6 by 1km (30-60 second recoveries)
– 4 by 2km (1-2 minute recovery jogs)
– 8 by 400m (300m jog recovery) at a pace 4 seconds slower than personal best mile pace.
Minor amounts of anaerobic/speed training was also carried out during this 24 week base building cycle
A typical week of training during this period is outlined below (Sourced from Harry Wilson's book 'Running My Way').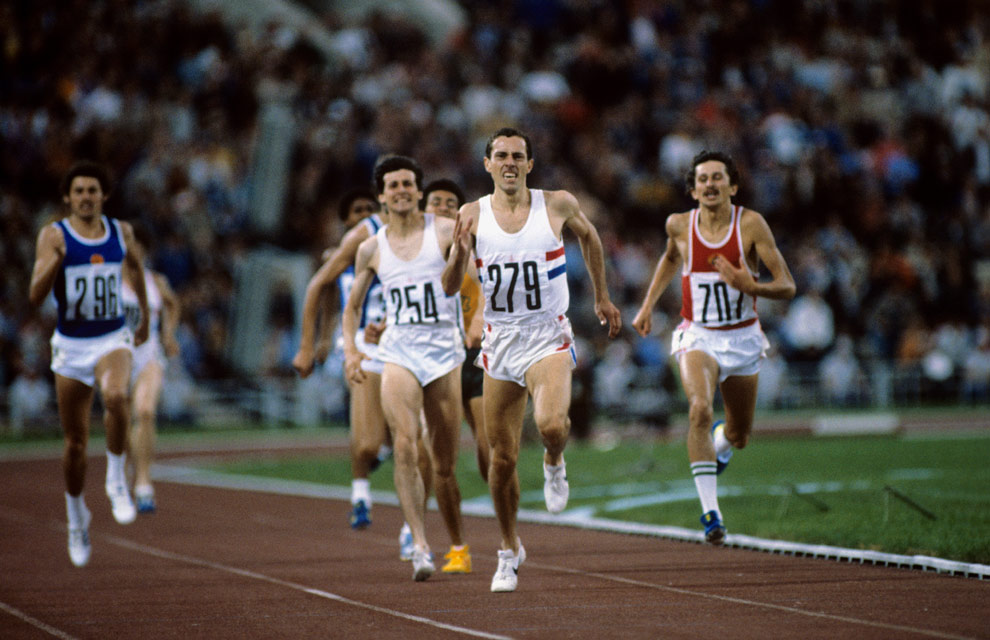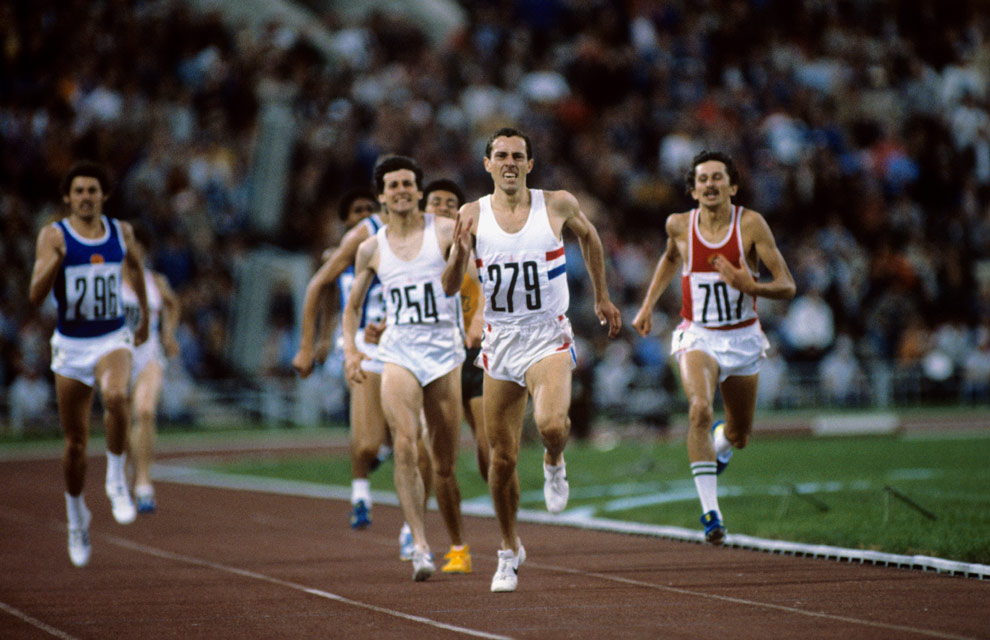 Typical Week of Winter Training
Monday
a.m. 5 miles road – Easy 35 min
p.m. 10 miles road – Fast/steady 52/53 min
Tuesday
a.m. 10 miles road – Hard on road 4 x 300m approx. with fast jog rec then across another very steep hill, 4 x 400m approx. jog rec.
Wednesday
a.m. 10 miles road – 58/60 min
p.m. 10 miles – Plus technique work at Crystal Palace
Thursday
a.m. 5 miles road – Easy 35 min
p.m. 10 miles road – Steady 55/58 min continuous
[emaillocker]
Friday
a.m. 5 miles road – Easy 35 min
p.m. 5 miles road – Easy 35 min
Saturday
a.m. 5 miles road – Easy 35 min
p.m. 6 x 1000m park – Hard with 30 secs 1 min rec (in spikes)
Pre-competition phase – 13 weeks
This 13 week pre-competition phase was broken down into sub-phases of 3 weeks, 3 weeks, 1 week (recovery), 3 weeks, 3 weeks.
During this phase Ovett would do 6 main types of training, classed as
Endurance
Intervals and Fartlek
Speedwork
Strength & Mobility
Repetition
Race Practice
The ratios of the different types of training done is outlined below:
| | | | | | |
| --- | --- | --- | --- | --- | --- |
| Type of training | 3 weeks | 3 weeks | 1 week | 3 weeks | 3 weels |
| Endurance | 70% | 65% | Recovery week, easy jogging | 60% | 54% |
| Intervals and Fartlek | 20% | 25% | | 15% | 12% |
| Speedwork | 5% | 5% | | 5% | 5% |
| Strength & mobility | 5% | 5% | | 5% | 5% |
| Repetition | 0 | 0 | | 15% | 12% |
| Race Practice | 0 | 0 | | 0 | 12% |
Source: 'Running my way'
Examples of sessions under each training type
Endurance training: The same training as that done during the 24 week base phase. 
Interval and fartlek training.
8 by 300m in 42 seconds.
12 by 200m (200m jog recovery)
6 by 500m hill (moderate incline) with jog back recovery.
3 by 800m, 4 by 400m, 5 by 200m
3 by 5 by 400m (200m jog recovery, and 400m jog recovery between sets)
– And more speed orientated sessions with very short recoveries such as:
4 by 400m in 58/60 (30second recovery between reps)
– Sessions were often done at paces within Ovett's ability, to practice running smoothly. Such as:
Repetition training
Repetition training was classed by Wilson as sessions at a higher quality, speed and intensity than interval training. These sessions would be done late in the pre-competition phase and during the competition period. Examples include.
3-4 by 800m in 2 minutes with 4 minutes recovery.
2 by 2000m at 5000m pace with 5 minutes recovery.
Race practice training
This involved sessions which aimed to emulate what may happen during a race. For example Ovett would run repetitions in which he would go out hard, surge randomly and so on. Examples of such sessions include:
3 by 400m with first 200m slower than race pace and the second 200m faster than race pace.
400m faster than race pace, 100m jog, 100m sprint.
600m as: 200m at race pace, 200m at 2-3 seconds faster than race pace, 200m at race pace.
600m reps, increasing the pace by 2 seconds every 200m.
Strength and Mobility
Wilson viewed this component vital all year round. It included things such as drills, push-ups, sit-ups, squats, light weight arm exercises. Wilson also liked to get Ovett doing hill repetitions concentrating on good form (eg, 8 short hills with walk back recovery with good form).
Speed
This component was also vital all year round. To witness his amazing finishing kick (and a little bit of show-boating), please check out the below video.
Examples of speed sessions included:
3 by 60m sprints or 60m accelerations.
60m with 20m fast, 20m stride, 20m fast.
Short hill sprints with walk back recovery.
Track competition phase
The purpose of this phase was to race and maintain fitness between races by doing the least amount of work as possible. The intensity of training during this time decreased significantly. Examples of sessions he would do during this time are the same as the ones covered in the interval and repetition sections above. However, all sessions were done at a lesser intensity.
The Very Best of Steve Ovett
NB: All efforts to be as accurate as possible have been made.  Information has been gathered from a variety of sources.
Sources:
[/emaillocker]