Training of Famous Runners – Noureddine Morcelli
Article by Sam Burke - Runner's Tribe
A lot of the below information about the training of Noureddine Morcelli was taken from the book 'Running with the legends', by Michael Sandrock, unless otherwise stated. We highly recommend this classic book to anyone who is yet to read it. 
Runner's Tribe, December 2016.
 "To put it bluntly, he is very talented"  
Such were the words of Morcelli's college coach, Ted Banks. He wasn't wrong. Years later the great John Walker of New Zealand stated in reference to Morcelli
"We could be looking at the greatest middle-distance runner of all time"
Morcelli may not be the greatest of all time, but he isn't far off either. At the end of 1995 Morcelli held the mile, 1500, 2000 and 3000 world records. But he wasn't just amazing at running for records; he also knew how to win. Morcelli by the end of his career had collected one Olympic gold and three World Championship gold medals.

Profile
Date of birth: February 28th 1970, Algeria.
Previous world record holder for the 1-mile, 1500m, 2000m and 3000m.
World champion gold medalist for the 1500m in 1991, 1993 and 1995.
Olympic 1500m champion, 1996.
World indoor championships gold, 1-mile, 1992.
Personal Bests
800m PB: 1:44.79
1000m PM: 2:13.73
1500m PB: 3:27.37
Mile: 3:44.39
3000m PB: 7:25.11
5000m: 13:03.85
Career Highlight
At the 1996 Atlanta Olympics, Morcelli was the overwhelming favourite. With three world titles already in the bag and numerous world records, it was the only feather not in Morcelli's cap.  Standing in his way was an emerging young Morrocan by the name of Hicham El Guerrouj. With 450m to go, an epic final lap was on the cards until Guerrouj tripped, allowing Morcelli to crush the rest of the field to win his sole Olympic gold. No doubt Morcelli would have preferred to outkick Guerrouj, but records books have no asterisks and Morcelli got his Olympic crown.
The Consistent Worker
Morcelli combined a huge store of natural talent with a work ethic matched by very few. This combination allowed Morcelli to stay at the top of his sport from approximately 1990 to 1996. He was the dominate miler of the 1990's and it took the great Hicham El Guerrouj to end his reign at the top.
The mainstay of Morceli's training was quality intervals. He would regularly run intervals at faster than race pace to get used to running into oxygen debt.
Morcelli combined this work ethic with efficiency.   American miler Jeff Atkinson once described Morcelli as:
(Morcelli) "is not a super-pretty runner like Seb Coe, but he is super-efficient. He has a little 'preying-mantis' motion with his arm."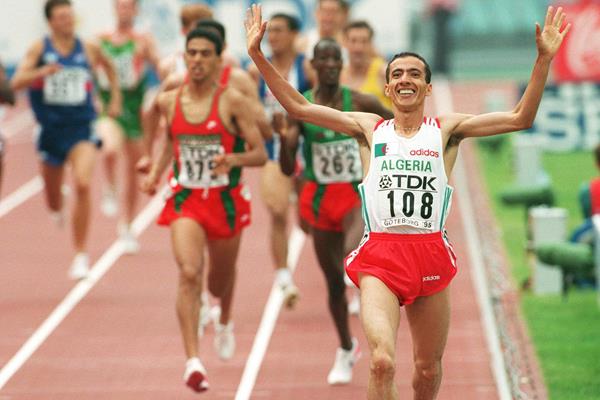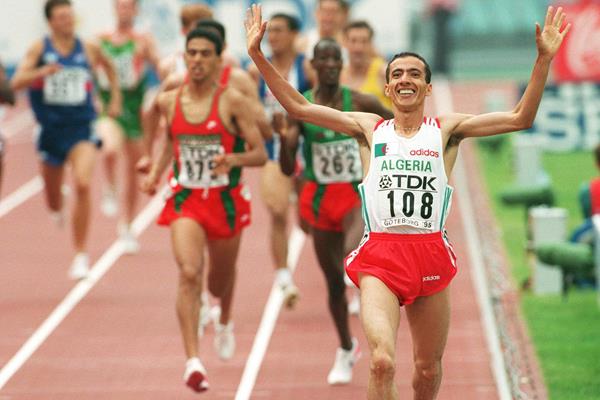 The Workouts
Morcelli's core training involved intense interval sessions around the track at paces faster than race pace. However, Morcelli also combined these intense track sessions with a lot of slower, endurance type recovery runs.
It is clear that speed played a huge role in his training, as he would often finish his long runs with a few strides making sure that he "changed gears".
The structure of Morcelli's year was pretty standard, and is outlined below:
At the start of the off season Morcelli would always have a break from running to "recharge his batteries".
During the off season he lifted weights regularly.
Once training resumed he ran pure mileage, but not overly excessive mileage.
Once he felt that he was ready to get back into interval training he would start off cautiously by giving himself long recoveries between repetitions. Once his fitness grew he then lowered the recovery times between repetitions.
He did a lot of road runs of approximately 1 hour at a solid but comfortable pace. At the completion of these runs he would then put on his spikes and complete run-throughs with good technique and speed.
He ran twice a day only when he felt he could handle the workload safely.
Morcelli very rarely would ever run in excess of 1 hour.
A typical week of training for Morcelli is outlined below.
Monday:
1 hour hard of road running. Then upon completion, he would do strides in spikes for speed and technique.
Tuesday:
1 hour very easy. It is reported this would be as easy as 10-minute miles. The aim for him was to recovery on easy days so that he could train very hard on his hard days.
Wednesday:
Track intervals. Examples of typical sessions include 12 by 400m with 100m-400m jog recovery (depending on the time of year). It is reported that he would do all of them in approximately 55-56 seconds.
Thursday:
Recovery day. Same as Tuesday, very easy.
Friday:
A fartlek session involving sprinting and striding.
Saturday:
An easy day, with very slow jogging.
Sunday:
– 1 hour run with 30 minutes at 6:30 per mile pace.
Triple World Champion
Morceli's training and raw talent paid off. Importantly, he also had a reputation of wanting to race against the best. His coach once stated
"He's not a prima donna. He doesn't duck anyone".
 Such was Morceli's dominance Frank shorter once stated that Morceli had an "aura of invincibility" about him.
World Championship Gold #1 – 1991

World Championship Gold #2 – 1993

World Championship Gold #3 – 1995
END