The moments preceding dawn are laden with mystery. There is a glowing darkness during this time, a sense that even the shadows seem friendlier. An atmospheric calm sweeps the land with the tiniest breath of wind. The world is at its most peaceful. As the sun rises, it sprinkles light over the water, transforming the blue's tranquillity to a rippling restless array of dancing colour. With the new light, the birds begin their sincere choir of song, their voices raising in a crescendo louder and mightier than the second before. Throughout this innate evolution of a new day, a runner has pounded the lakeside trail. Her arms swing across her chest, the breath from her lungs catching in a misty cloud in front of her. For Virginia Moloney this is her time of day, where she excels in hard work. During her childhood, the predawn was a time for milking cows on her family's dairy farm in Garvoc. Today, it is her time to run the hard miles of a Commonwealth Games marathon campaign. Her journey from Garvoc to becoming one of Australia's top distance runners is a compelling one filled with the twists and turns of a true marathon runner. This is her story.
Born and raised on a dairy farm in Victoria's western district, Virginia's childhood was abundant with physical activity. She was also the middle child of 11. This household – filled to bursting point – promoted the idea of friendly competiveness and instilled in her a love for the outdoors. The farm also witnessed the early foundations of an endurance base that has now become one of the best Australia has ever seen.  "We were always blessed with a core endurance. It comes from running around and entertaining yourself on the farm. You just have so much space to do it, so you do," she said.
Despite a resilient upbringing, Virginia was never competitive on the running scene in her formative years, much preferring to grace the Netball courts for Terang-Mortlake. When she did 'make it' in Athletics "it was in things like High Jump or whatever I could get through to the next stage in," she said. However, she did remember racing in the Victorian Cross Country Championships at the iconic Bundoora Park on one occasion. "I didn't know what the state cross country at Bundoora was. I was like 'why am I missing netball on a Saturday to go race cross-country?' I think I came somewhere in the top 50, but I remember going home and just thinking that was a really weird thing to do," she said.
Virginia soon left the country behind for the big smoke and university, with ambitions of teaching. At this stage in life most of Australia's top marathoners would have begun their running careers, but for Virginia the running bug still dangled out of reach. The circumstances that led to her first steps in the sport were harrowing and unexpected. In 2010, whilst driving in Melbourne, Virginia was in a car accident that broke her patella. After an 18-month recovery, her sister Genevieve encouraged her to start running as a way to get to fit. Together they started slow – running three times a week – before long Virginia had fallen in love. "I just loved running. I really loved getting out and about. I even started winning some local fun runs as well," she said.
Upon graduating university in 2013, Virginia began relief teaching. As fortune would have it this decision would change her life forever. Relief teaching at a private school in the city, Virginia found herself in the midst of a stretching class taken by running coach Liam Delaney. "It was pretty crazy really. I was at the school as a once off and she was at the school as a once off. I could see she did a bit of running, so I told her about our Vigor Run Club and invited her down. Sure enough she showed up one night," said Liam.
RUNNER'S TRIBE PAYS OUR WRITERS & FILM MAKERS TO CREATE EXCITING & ENTERTAINING CONTENT. HELP SUPPORT THESE PROFESSIONALS AND JOIN RT PREMIUM NOW.
TO VIEW THIS CONTENT PLEASE SIGN-UP TO RUNNER'S TRIBE'S MEMBERS ONLY PREMIUM CONTENT. WE HAVE SOURCED THE WORLD'S TOP WRITERS AND FILM MAKERS TO DELIVER ANY ATHLETE, COACH, PARENT OR FAN THE ULTIMATE PORTAL FOR ATHLETICS EDUCATION, ENJOYMENT AND INSPIRATION.
$9.95 AUD Monthly ($6.59 USD)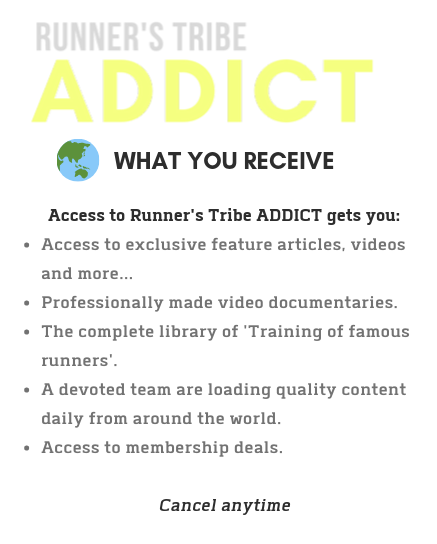 Yearly Plan (Worldwide) - BEST VALUE
$89.95 AUD Yearly ($59.56 USD)

$2.95 AUD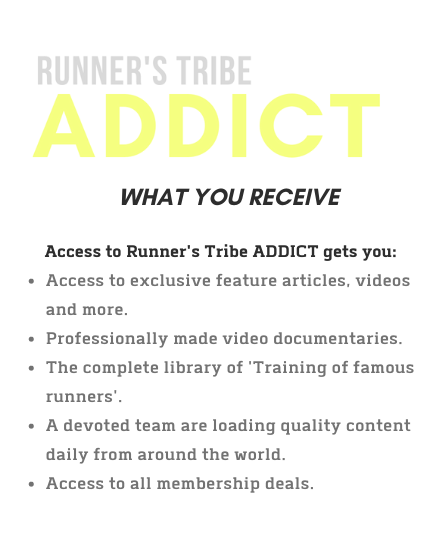 ALREADY A MEMBER? LOGIN BELOW