A column by Mark Tucker - Runner's Tribe
When mentioning Roger Bannister most people immediately think of the mile. When mentioning the mile most people immediately think of the almost mythical four-minute barrier and Roger Bannister being the first man to break it. However, there was a lot more to the man, and there is a lot more to the event. But first…
Once upon a time I experienced my own Bannister moment with Bannister himself in attendance. Except that I missed the win and was fifty years too late in breaking a significant barrier. On the 5th of June, 2004, in Tullamore, Ireland, I first broke four minutes for the mile running 3.59.87 when coming third to the eventual winner, Irishman, James Nolan (3.58.45) and fellow Australian, Michael Power (3.58.93). I knew the history, I knew the significance, and I was pumped!
But when I first crossed the line I was unsure. I knew it was close. So I waited for the announcement of the times and places. I jogged around. I hoped. I prayed… Finally, in that wonderful Irish accent, I found out my fate. And it wasn't the announcement of "three…" and the crowd going wild (although it was just as magical for me). "Not one, not two, but three, three men under four minutes for the mile!..."  
Like most elite runners who focus on the 1500m/mile at some point in their careers, the sub four-minute mile was something I valued highly, and so I felt a surreal joy and relief when it was confirmed I had finally broken it. The surreal part came from Roger Bannister being in attendance, invited to the meet as part of the 50th anniversary of his famous milestone. I still think about how lucky I was to have the man who epitomised the mile and sub four-minutes being present for my first time under the magical barrier, even though I lived on the other side of the world.
As you do, Nolan, Power and I chatted to Roger Bannister as we waited for the presentation ceremony to start… I was in athletics heaven!.. And the only line I now remember is when he asked us how much we weighed and, converting kilograms to pounds, I gave him my weight and got the response, "that's quite big for a miler!" (of course said in a friendly banter-type way for anyone about to reach for the politically correct handbook!). An iconic, highly accomplished and intelligent man and all I can now recall from our conversation is some throwaway line. As Ned Kelly said, "such is life"…
I still rate breaking the four-minute mile and getting to meet Roger Bannister in my top two or three career highlights, which also includes another mile race – winning the 2005 John Walker night of miles, held at Ericcson park in Auckland, in a pb time of 3.58.37, in front of the great man himself, the 1976 Olympic 1500m gold medallist and the first man to ever break 3.50 for the mile (you're probably wondering who I will name drop next!). On that night I was also lucky enough to meet, and briefly chat to, Walker when he presented the top three placegetters with our awards. Fortunately, I remembered something more substantial from our conversation than I did with Bannister, with Walker very generously saying that it looked like I could eventually run much quicker in the mile… alas I never did but I will always remember those words and the great privilege I had of meeting him…
But back to Bannister…
RUNNER'S TRIBE PAYS OUR WRITERS & FILM MAKERS TO CREATE EXCITING & ENTERTAINING CONTENT. HELP SUPPORT THESE PROFESSIONALS AND JOIN RT PREMIUM NOW.
TO VIEW THIS CONTENT PLEASE SIGN-UP TO RUNNER'S TRIBE'S MEMBERS ONLY PREMIUM CONTENT. WE HAVE SOURCED THE WORLD'S TOP WRITERS AND FILM MAKERS TO DELIVER ANY ATHLETE, COACH, PARENT OR FAN THE ULTIMATE PORTAL FOR ATHLETICS EDUCATION, ENJOYMENT AND INSPIRATION.
$9.95 AUD Monthly ($6.59 USD)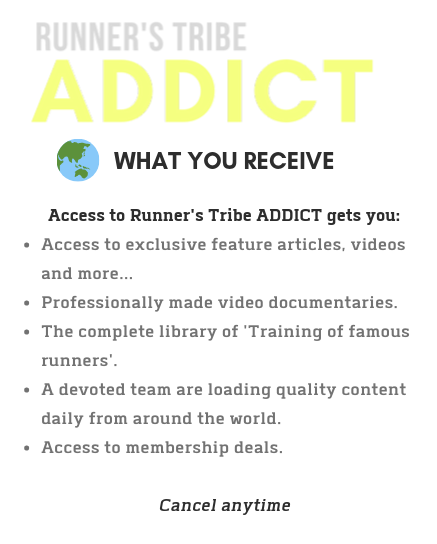 Yearly Plan (Worldwide) - BEST VALUE
$89.95 AUD Yearly ($59.56 USD)

$2.95 AUD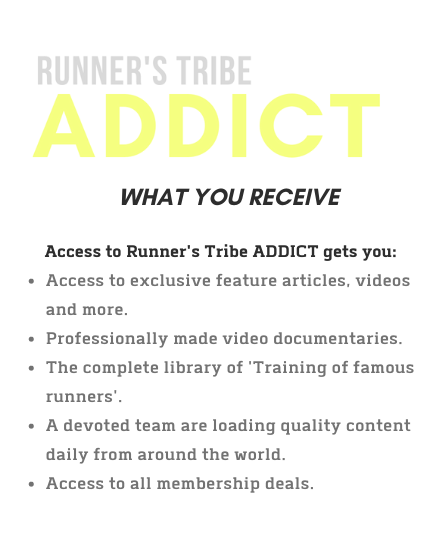 ALREADY A MEMBER? LOGIN BELOW