In 99 years, Hayward Field has built a legacy steeped in history. From the mythical genius Steve Prefontaine to our own hero Craig Mottram, its stories will last forever in the fabled pages of running folklore. Now in its final hours, the hallowed track would witness one more momentous performance. Linden Hall, her feet on fire, arms slightly askew, crossed the line in 4:00.86 – a new Australian 1500m record, eclipsing the old mark by seven one-hundredths of a second. It was the culmination of years of patient toil and endless dreaming. Her story traverses a tale of heartbreak, persistence and triumph, an endless rollercoaster only now approaching its apex. Her next stop is Stockholm, whereupon anything is possible, but for now…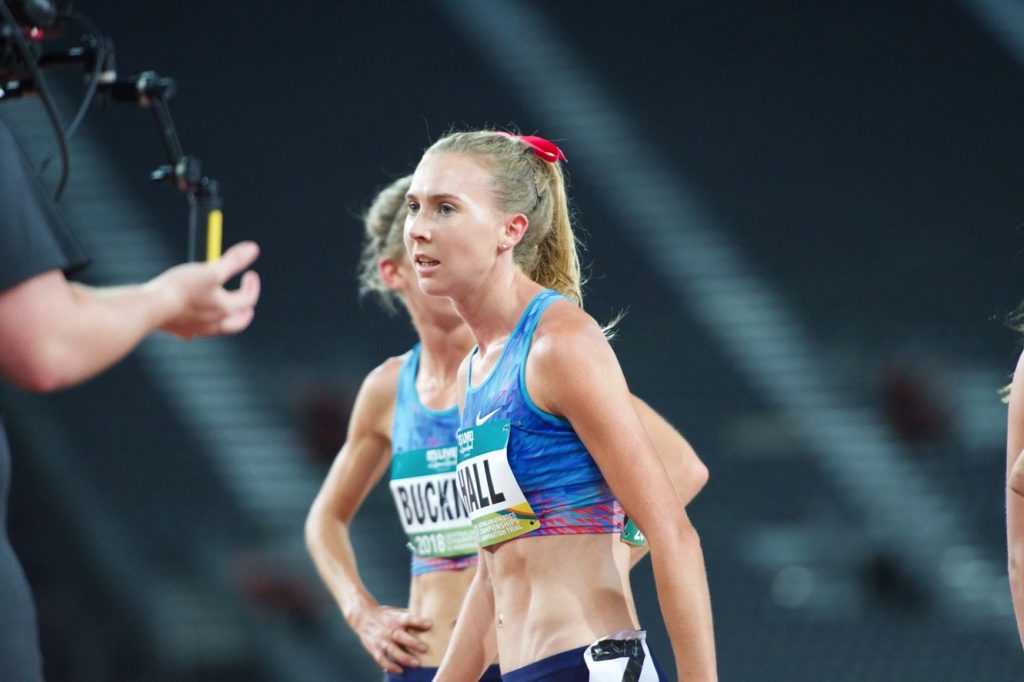 This is her story.
This story begins on a road trip familiar to most Victorian runners – the pilgrimage to Bundoora Park. At twelve years of age, Linden qualified for her first state cross-country. Despite her complete lack of experience, her heart was set on donning the 'Big V' at the nationals in Queensland, but to get there only a top five would suffice. She was stubborn with self-belief. Nevertheless, plagued by nerves, one thing was troubling her. "We were driving down from Riddles Creek and I'm sitting in the car," she said, remembering the day. "I'm like 'Mum…my shoes. How am I going to make it to Queensland in these shoes? This is all your fault if I don't make it.' So she hypothetically said, 'if you make the state team I will buy you the most expensive running shoes I can find.' Then I came second." Something special had taken place. The simple promise of running shoes had propelled a young girl down a life-defining path. It was the unearthing of a raw and untapped talent.
It was then that she became a runner. It began with three days a week highlighted by a five-kilometre run around town. Within a year, this little training program took her to the national podium, with silver over 1500m. From then on, minor medals came with frustrating regularity, the gold seemingly out of reach, forever elusive. Under the tutelage of Gregor Gojrzewski, she continued to improve with ferocious rapidity. By the age of sixteen, she had lowered her time to 4:27.56, a remarkable feat for someone her age. Alas, this was the beginning of what would become a long and tiring drought. She would not run another personal best for nearly five years.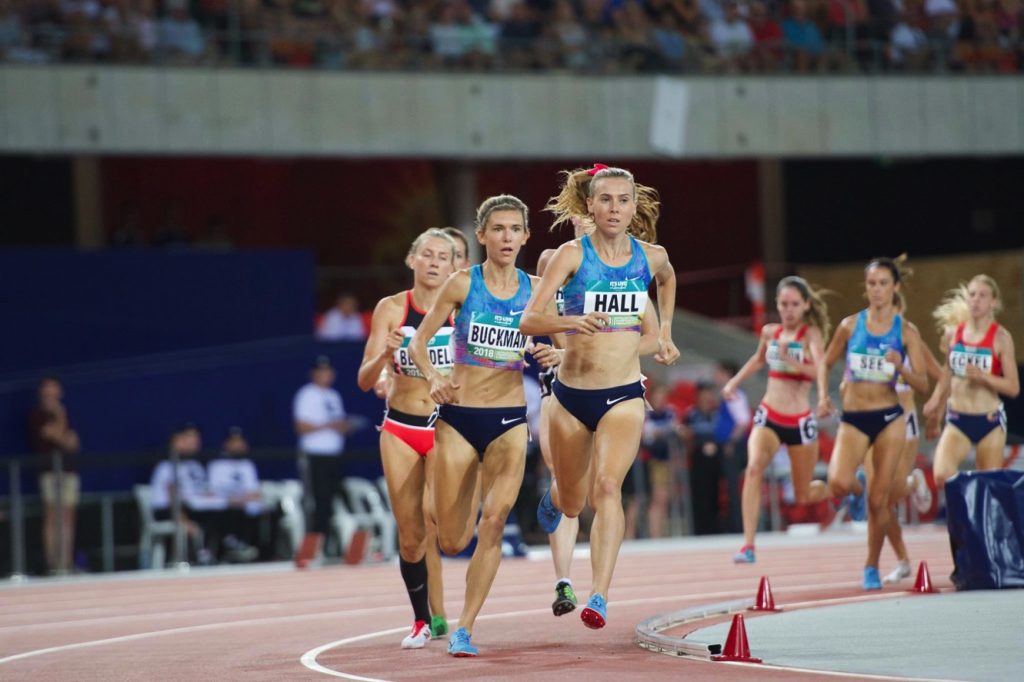 It was 2006 when she had her first encounter with the record she was destined to break. Sitting on the couch in her Essendon lounge room, she read something in the paper, that to her was scarcely believable. An Australian woman – Sarah Jamieson – had run 1500m in four minutes. "I remember just thinking it was ridiculous," she said. "But I was fifteen at the time and she was thirty, and I remember thinking she's twice my age, I've got so much time to get to that point. I wasn't like 'I want to break the record,' it was more something that was motivating. It showed me I had time, that I didn't have to do everything at fifteen." After narrowly missing a spot on the world youth team, this was a fresh dose of inspiration.
The next year, with fire in her belly, she finally caught a break. After a bounty of failed attempts, she struck gold over 1500m with a maiden national title. Soon to follow was a victory in the prestigious Zatopek 3000m. It was also during this time when she first made contact with her hero, the great Sarah Jamieson. "The first time we actually met was at nationals in Brisbane when I was in year 12. The heats had been cancelled so we all went for a jog instead. She started running with me and I was like 'oh my god. Act cool, act cool," she said, remembering the moment. As fate would have it, within a year Linden would make the decision that to be the best she would have to join forces with the best there had ever been. Sarah Jamieson became her coach.
They set to work with the goal of earning a berth in the green and gold at the World Junior Championships. However, a return to the side steps of the podium and still without a new personal best, she fell short of the mark. A cruel twist was soon to follow. Still within the international qualifying window, but outside the Australian equivalent, she experienced a breakthrough. She ran 4:23.41, a four-second improvement and a world junior qualifier. With no Australian selected in the event, the hope was that common sense would prevail and she would be a late addition to the team. However, it was not to be. "I think I was disappointed because I ended up running the time. But it was their (Athletics Australia's) policy and they were sticking to it," she said, a hint of regret still lingering. "I was really disappointed, but I remember Sarah saying, 'this isn't the end of the world. This could be good for you. You can have a good winter and get stronger, maybe this will work out better.' Coming from her it meant a lot to an upset eighteen year old. In the end, it's worked out fine. I made a team eventually; I just had to wait a long time for it."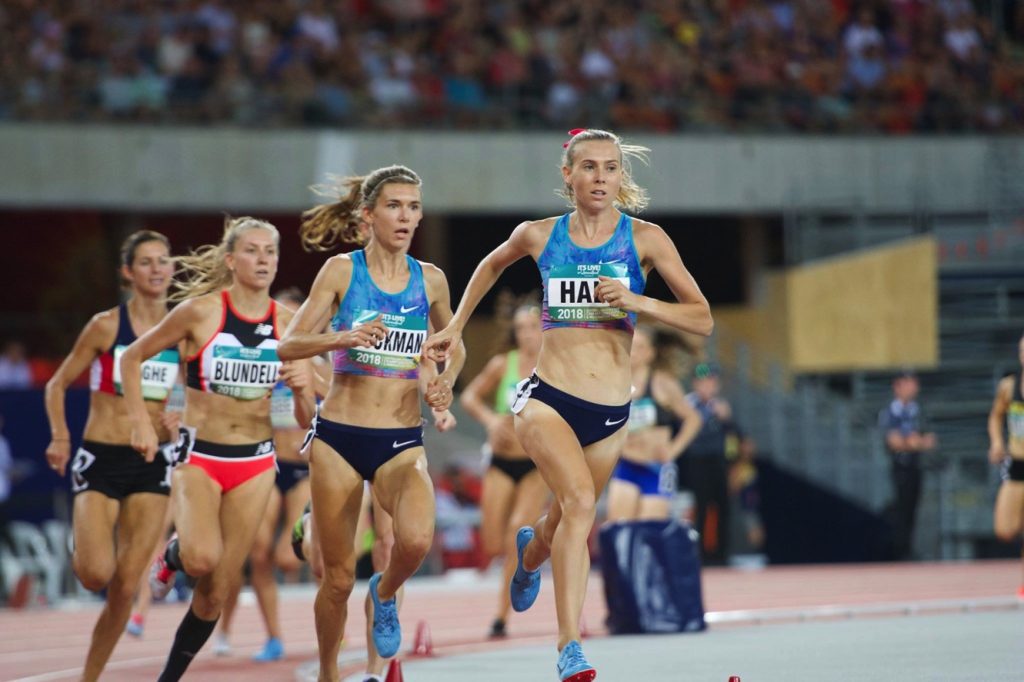 With Sarah moving back to Perth, Linden decided to take a leap of faith and head over to the United States to pursue a career in the collegiate ranks. Her school of choice was Florida State University, one of the strongest women's distance programs in the country. With that came the pressure to perform, something she struggled with in her first year. She failed to score for the cross-country team, and by missing the top-eight, she was left oat home for the NCAA championship. "It sucked. I felt really stupid about it," she said. "That was hard and it was how I started my college career. I felt like they were thinking, 'we've put all this money into bringing this girl over and she's done nothing for us.'"
The next year, now a sophomore, she was determined to show her worth. Committing to the program, she began to flourish in the college environment. In her first cross-country race of the year, she took the lead, never looked back and won the race. "That was like – okay, we've done something right, this is working. I should stay here. I haven't made a bad decision. I just had to let it come together," she said. Then disaster struck. She broke her foot.
This time on the sidelines was frustrating for Linden. Away from home and with her running hopes in tatters, the college dream seemed far from reality. Nevertheless, it never extinguished her desire to return better than before. Finally, after three months, she was allowed to resume training. Two track sessions later and she was lining up for her first race back. It did not quite go to plan. Her time: 4:41.44 "It was bad," she said. "It was kind of depressing, but exciting. I was running, but I hadn't run that badly since I was twelve."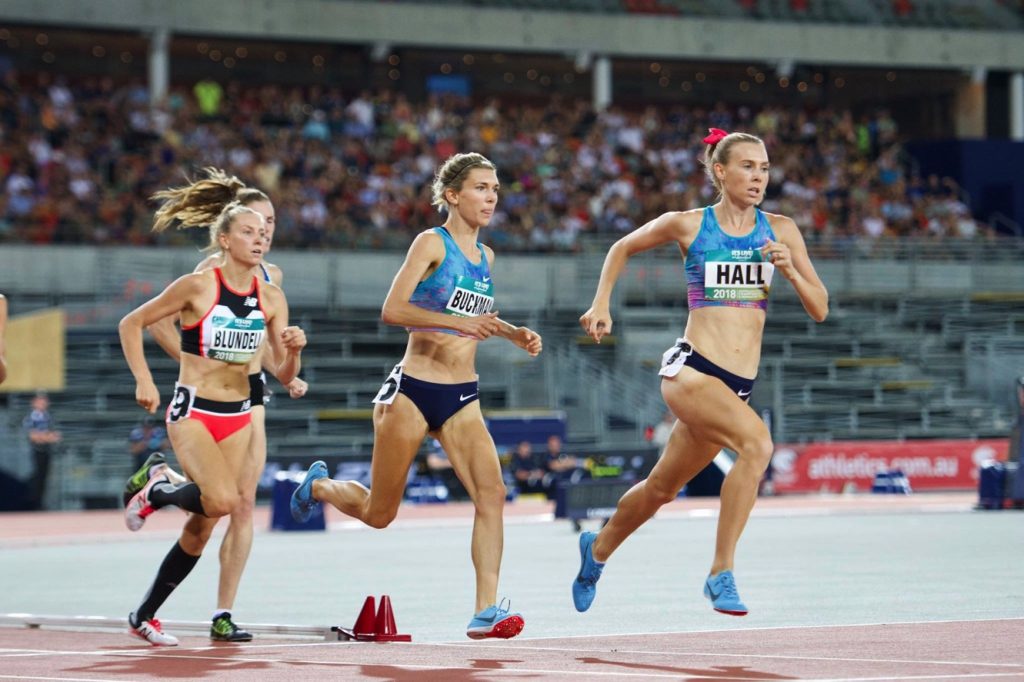 However, the tide quickly turned. Within a matter of weeks, she was running faster than she had ever run before. A 4:21.68 in Tallahassee foreshadowed a barrier breaking 4:19.47 two weeks later at the Payton Jordan Invitational. Then she qualified for her first NCAA championship. A 4:15.51 in the heats saw her progress through to the final on time, where she would place 9th, one spot outside all-American honours. It was the sweet icing on a tough, yet transformative season. Her exploits that year taught her what hard work could achieve. "I was another year older. I was wiser. I was stronger. And, I had another year of American racing under my belt."
The next year, now 2014, she took it to another level. This time there would be no surprises, she was where she was meant to be. It all came to a crux with 100m to go in the NCAA championship 1500m final. "The final was pretty slow early. I remember everyone being in it at the bell and I was sitting wide," she said, taking up the story. "I remember the last hundred, my coach was just yelling, 'Move! Move!' It was chaotic, a really crazy finish." She placed 3rd. A mighty effort in one of sport's toughest competitions. It would be the best result in her college career.
Life after college, proved fruitful for Linden. Taking training into her own hands, she embarked on an overseas tour that saw her lifetime best begin to plummet. First, with a 4:12.48 at a British Milers Club meet and then with a 4:10.41 in Heusden (BEL). Returning to Australia, decisions were looming. "The Olympics became realistic, it was like maybe I could make the team, but I didn't have a coach," she said. However, upon meeting the highly accomplished Melbourn based coach Bruce Scriven, the dilemma sorted itself out. Immediately, she was sold. "Scrivo said something along the lines of 'you better be thinking about the Olympics,' and straight away he was hired," she said.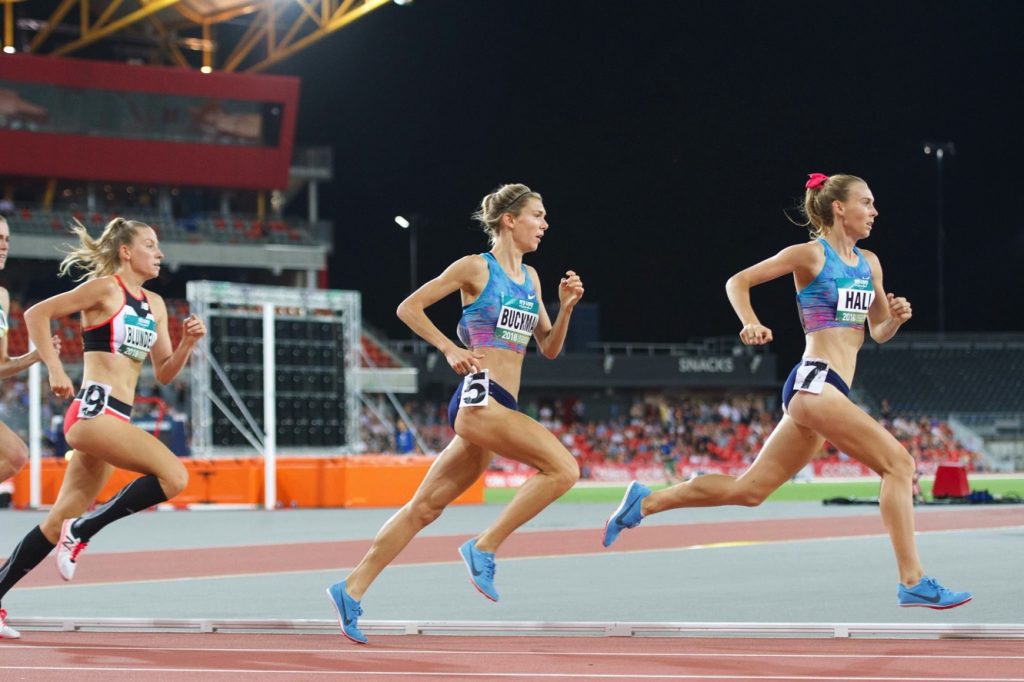 Once the pair began their Olympic quest, Scriven, who had previously coached Sarah Jamieson herself, was quick to realise the potential she had. "I can honestly say that from day one I sensed that Linden was capable of something special. Her work ethic and the fact she could mix it with the boys at training were real indicators," he said.
After missing out on the national title, qualification was still very much up in the air. As Linden headed overseas, she was merely a contender. The next two races would change that. First, she returned to the Payton Jordan Invitational in emphatic fashion, taking the win this time in an incredible lifetime best of 4:04.47. "That day still remains probably the craziest day of my life…I ended up winning the race and I think I was surprised, everyone watching was surprised," she said. However, the best was yet to come. With an invite to the Prefontaine Classic, she had booked herself a Diamond League debut. "I remember being on the plane and being like, that person has won an Olympic medal, that person holds a world record – okay this is serious business," she said. The race ensued with similar bravado. "I never looked at the pace. I was just thinking 'stay there, don't get dropped.' I remember with 600m to go just feeling good and thinking I could move up. And then coming into the final straight, I was in between Jenny Simpson (1500m world champion, 2011) and Brenda Martinez (800m world silver, 2013) and thinking what am I doing here? When the times came up on the board, I was like 'ohhhhh shit, this is crazy." Her time: 4:01.78, skyrocketing her to 3rd on the Australian all-time list and securing her Olympic berth.
The Olympic Games are the pinnacle. They are the embodiment of the suffering and sacrifice. For many athletes, including Linden, they are a dream come true. "There were lots of time where I was lying in bed and being like 'holy shit – this is happening.' We got to Rio and it was like this is the actual Olympic village. This is the actual Olympic stadium. This is the actual Olympics," she said. She would go on to place 8th in her semi-final, one position and 0.21 of a second from making the final. A great achievement in her debut games, but frustrating nonetheless. "It was frustrating missing the final by so little. It was quite hard to swallow. I spent a long time thinking about the race, but you never know what might have happened if you run it again," she said.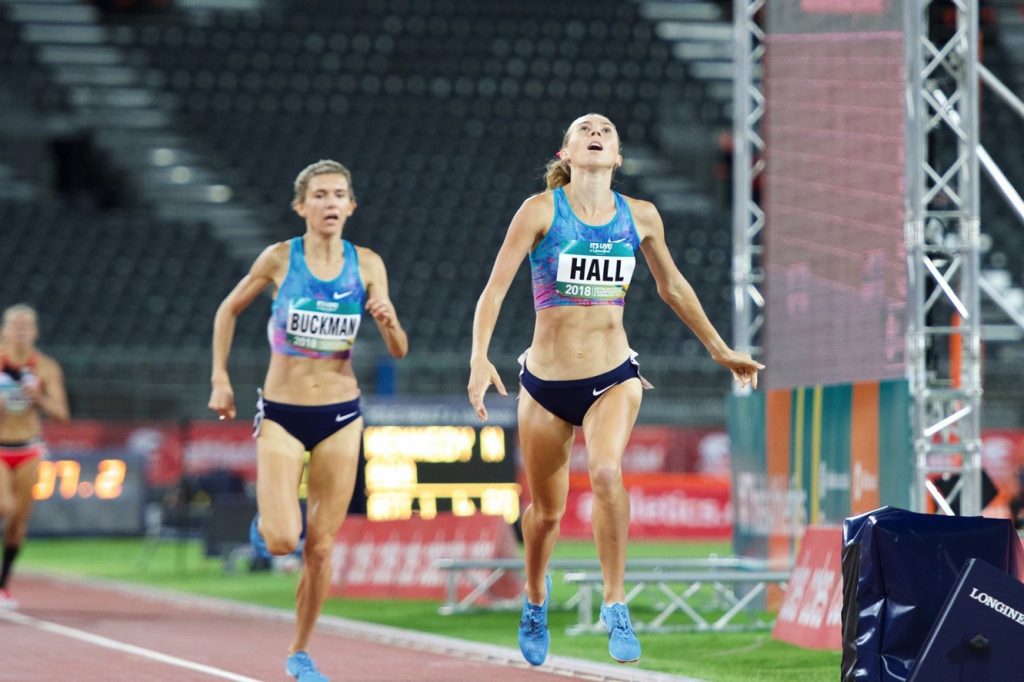 Fast forwarding through a largely uneventful 2017 where she failed to progress from the heats at the world championships, her sights shifted toward a big 2018. At the beginning of the year, she wrote down her thoughts. There were two main goals: to become Australian champion and to win a medal at the Commonwealth Games.
The first box to tick was the national title. "Having not won it two years in a row mentally made it harder and more stressful to win, because I definitely felt like I should have won it already," she said. "I'd run faster than the other girls, but hadn't been able to win nationals. It was a little frustrating I guess, especially having led the race into the straight. So, I was pretty scared of that happening again." With the race in the balance, she once more led into the straight. For a tantalising second, it looked as though there might be a challenge, that again she might fall short. But when she crossed the line, a mix of relief and jubilation etched across her face, she was finally the champion. "I was just so relieved. It was just that finally I had won that national title."
Now focus shifted to the Commonwealth games on home soil. With controversial superstar Caster Semenya in the field, Linden decided any chance of victory would lie in ensuring an honest race. "It was quite a scary way to do it. I was sort of scared all day thinking I was going to have a real hard crack at this and make it fast, and I could end up coming last if I overcooked it," she said. "I was running for the gold medal." She committed to the plan, sitting toward the forefront of the field, only relinquishing the podium in the dying seconds of the race. She was fourth, just 0.23 of a second outside the medals.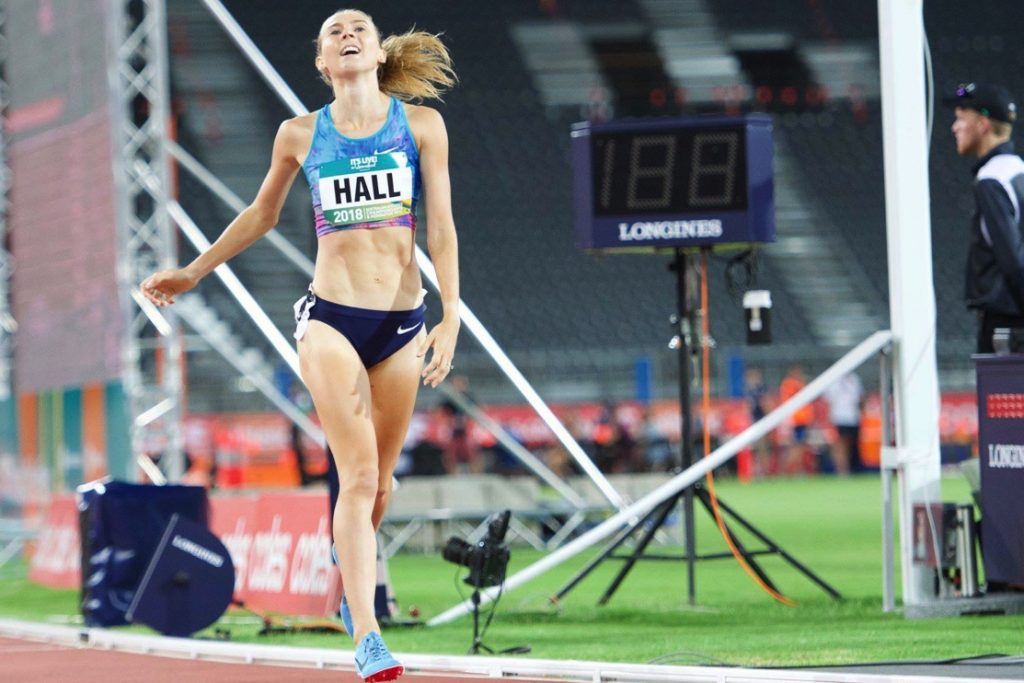 She admits it could have been her do-or-die attitude that cost her a medal, but the guts it showed was just as powerful. "I think I could have run more conservatively and maybe got a bronze medal. A medal would have been amazing, but I think I would have felt a bit stupid for not having a crack when I knew what the strengths of various athletes were," she said. "Initially on the track I was like 'ohhh I can't believe I let it slip away like that.' I think with 200m to go I probably thought I had a bronze medal in my hands and I didn't really see Melissa Courtney (Bronze) until it was too late. I was lactic and just didn't have anything left to respond."
The emotional toll it took was not clear until two nights later, when Luke Mathews won bronze in his 800m event. "It was so exciting to watch," she said. "But after his race it really kind of showed: this is what third gives you and this is what fourth is. That kind of was when I was like this is when I'm going to cry about it." It is here that a parallel can be drawn with Sarah Jamieson. In 2006, the year she broke the record, she too fell short at a home Commonwealth Games. Going in as one of the hot favourites, she missed gold by the slimmest of margins. For Linden, it was something in the back of her mind as she sought redemption overseas. "Once Commonwealth Games was done it became clear that this was the season where I could chase some fast times and also the record."
Nevertheless, one more hiccup was in store. After the emotional highs and lows of the Commonwealth Games, a poor showing at the Doha Diamond League (11th in 4:07.07) sent her confidence reeling. "I was expecting the world. I felt like I was flying and it fell so far from the mark that it hit pretty hard," she said. "I'd built it up so much and I think I got a bit overwhelmed and just didn't run as well as I should have. It took me a few days again to pick myself up after that because I was thinking that maybe I'm not in that good a shape, that I wasn't in good form anymore."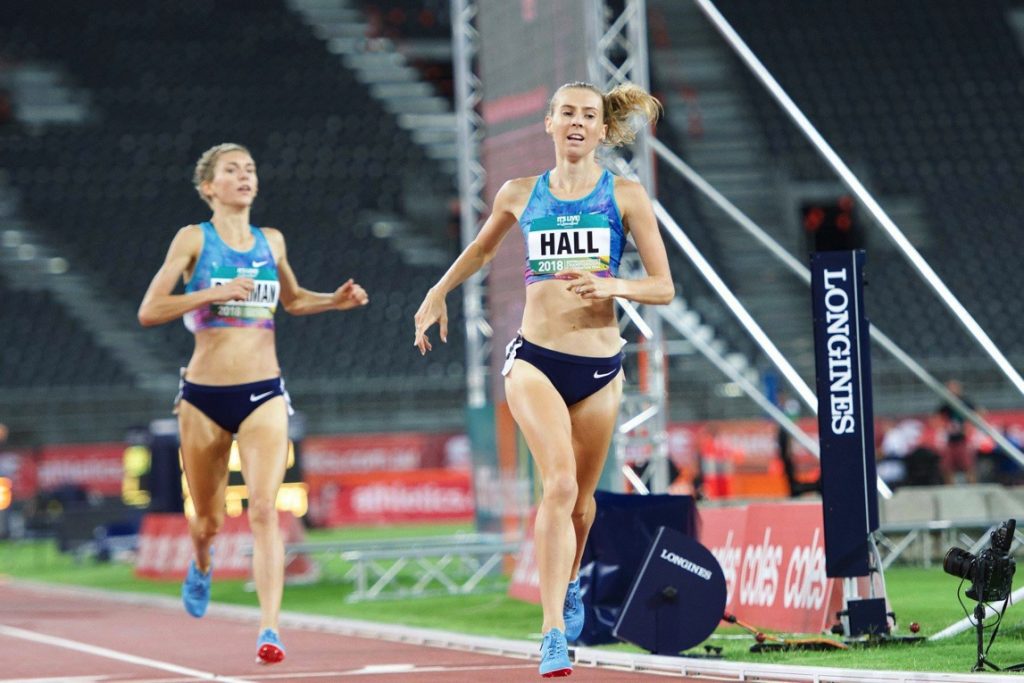 Soon she was back on her feet and she knew Hayward Field would present her with the perfect opportunity to send the script in the right direction. After nailing her pre-race session (6mins tempo @3:15/km, 2x400m @60s, 3x300m @44s, 4x200m @28s – off 3mins recovery) her confidence was back. "It was faster than I'd done it before. It was huge. Something in the back of mind. To really hit that better than ever before was really powerful," she said. The stage was set.
"I felt like it was going to be good. My warm up had felt good and that is always a confidence booster. Running at Hayward Field has had a special place for me, so I was pretty relaxed on the start line," she said. "I think I just started telling myself that I didn't have to chase a time today. It was just a race and I really wanted to put myself in it and not look at the clock, and not stress out about the little things I couldn't control."
The race was a blur. Unbeknownst to Linden, the splits were fast and even. At the bell, she was on track. With half a lap to go, all she had to do was hang on. As she crossed the line, no one knew. Had she done it?
"I succeeded in my mission to not look at the clock…I actually wasn't really sure how quick I had run, I didn't even think of it at first. I sort of finished and I felt like I was happy because I was toward the front of the race and it had felt like a strong run," she said matter-of-factly. "But then I saw the winning time and I was like 'ohhhh'. Then the top five times came up really quickly and fifth was 4:00.60 and I was like 'oh, how close was I? This is bloody close.' And they took a while to bring up my time – it took forever. Then it finally came up and I knew it was the record."
However, self-doubt was creeping in. "I was obviously really excited, but no one else knew why I was excited. It didn't pop up on the screen with 'national record', so I started thinking 'oh my god, what if I'm wrong?'" Of course, she was right. She had done it. She was the new Australian record holder.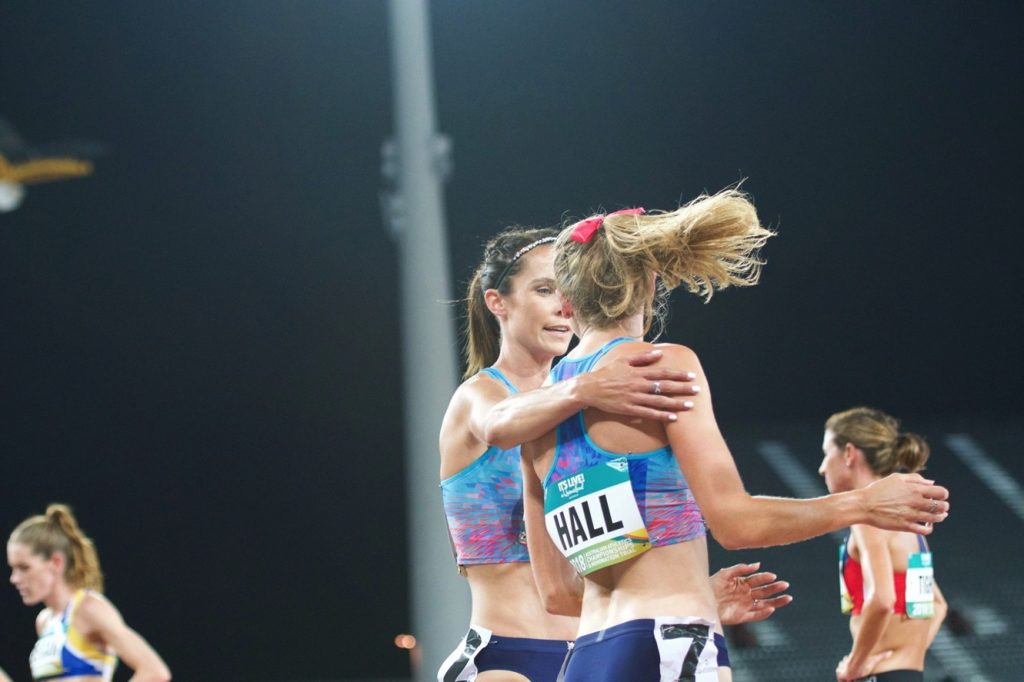 As for the support from the runner whose record Linden had broken, Sarah Jamieson was one of the first to congratulate her. "Linden breaking my record was a special moment. It was always going to be broken one day and for it to be someone who I have a close connection with couldn't make me happier," she said. "I was really happy also that Bruce Scriven remains the coach of the Aussie record holder. He is a marvel of Australian distance coaching."
Now having burst through the ceiling, the sky is the limit and the matter of the magic four-minute barrier inevitably will become the hot topic. Her response: "In terms of chasing sub-four, I think if I get in the right race it might happen. I don't want to actively chase it, you get obsessed with the time and it doesn't happen, you just stress. I think I just want to really have fun racing and I think if I can get amongst it in some of the top races then the time might come, but it might not. If it comes it comes."
With her name now eternally etched into the record books, she is free from the shackles of chasing. Now only hours away from taking to the line in the Stockholm Diamond League, home to the old record, anything is possible. After all, she is the fastest metric miler in in Australian history.