By Len Johnson
Briefly, we all became multi-event fans last weekend, what with Ashley Moloney, Cedric Dubler and Celeste Mucci competing in the Austrian town of Gotzis, long-time host to the top non-championship meeting in the world for those who take their competitions seven or 10 events at a time.
Gotzis piqued our interest. And our interest peaked after each made a great start on day one. After five events, book-ended by a personal best 10.41 in the 100 and near-personal best 46.97 in the 400, world U20 champion Moloney was in second place to Canada's Damian Warner with an impressive 4436 points.
Dubler, his training mate under coach Eric Brown, was not doing quite as well as that, but 4251 had him seventh as they headed off to rest and recuperate at the end of day one.
Mucci, a teammate of Moloney's at last year's U20 world titles in Tampere, emulated him with PBs to start and finish the first day of the heptathlon. Her 13.02 hurdles was just 0.04 off the world championships qualifier in that event, and she closed the day with a 24.05 in the 200.
All in all, it must have been a pretty happy Australian dinner table back at the chalet. The post-day two party, not so much. Dubler came out best, a solid second day taking him to an 8185 points total, a frustrating 15 short of the Doha qualifying standard. Mucci came off worst, failing to finish.
Moloney, too, went backwards, dropping from second to thirteenth. The day started alright, a 14.24 in the 110 hurdles being sixth fastest in that event and keeping him in second overall. Event by event, however, he dropped further back – third after the discus, fifth after the pole vault, eighth after the javelin and, finally, thirteenth after the 1500.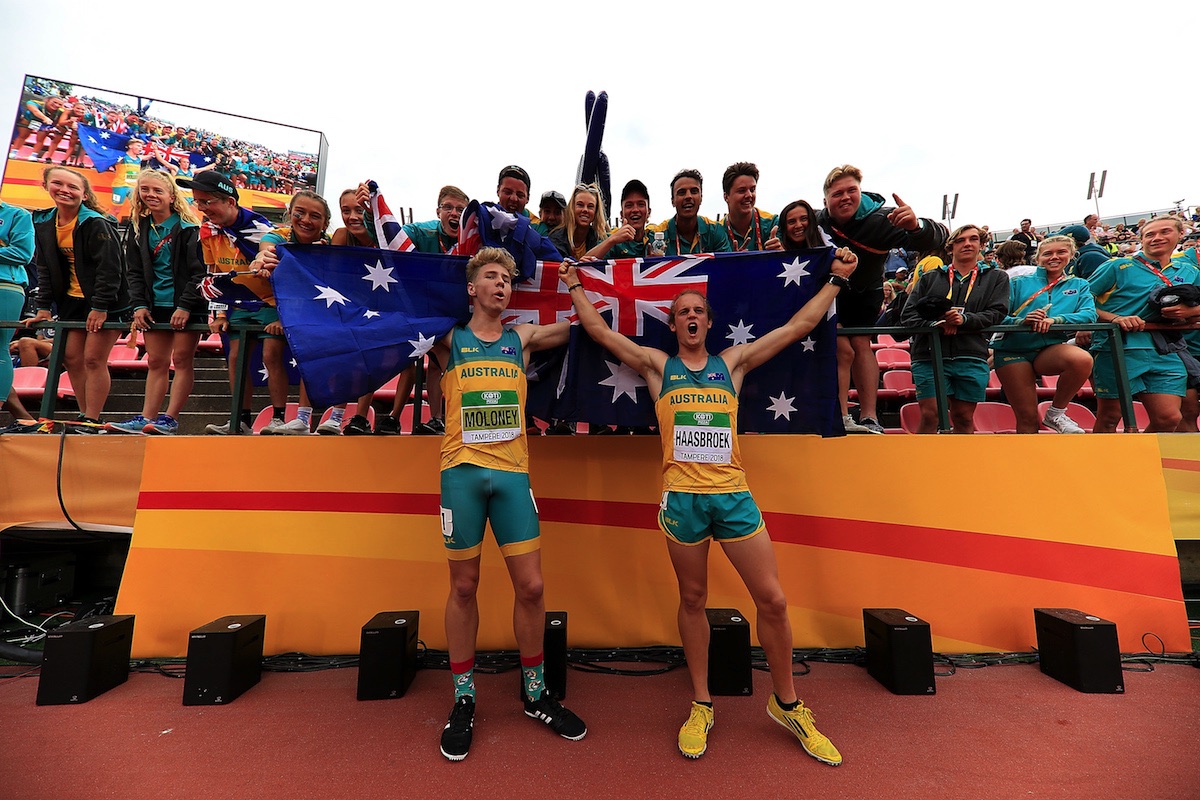 Had it been a marathon, you might have assumed Moloney hit the wall, that stage of the 42-kilometer race when the runner has depleted their glycogen stores and begins, literally, to run on empty.
Up until now, I have always assumed the only similarity between a marathon and a multi-event is that, along with the 10,000 metres and road walks, you get extra time to qualify due to the limited number of competitive opportunities. Could it be, though, that there is the equivalent of 'the wall' in a decathlon and that Ash Moloney hit it?
Maybe, and the possibility appears more likely when you look at the event-by-event positions over the final four events. Among all competitors, Moloney ranked 3 (100 metres), 5 (long jump), 26 (shot put), 4 (high jump), 1 (400) and 6 (hurdles) in the first six events. In the last four, it was 18 (discus), 26 (pole vault), 17 (javelin) and 24 (1500).
The picture changes for the better, though, when you measure Moloney's performance against his previous bests. Just as he did on day one, Moloney got two PBs on the second day, his 14.24 hurdles and 56.19 javelin throw. In the discus (41.98 v 43.06) he was just over a metre short of his PB and his 4.40 pole vault was 20 centimetres behind his best. Only in the 1500 – 5:03.20 v 4:42.65 at the world U20 – was he significantly down by his own standards, and, whatever fans of the middle distances may think of decathletes efforts at the 1500, the event is not a big point-scorer.
Turning to the overall score reveals an even brighter picture. Moloney's 8038 points in his first senior decathlon was, naturally, a personal best. He is still under 20 this year and, historically, it is the seventh best senior score ever by an U20 athlete. It also places him fifth on the Australian senior all-time list behind national record holder Jagan Hames and Scott Ferrier (8490 and 8307, respectively, at the 1998 Commonwealth Games), Dubler's 8229 at last year's nationals and Peter Winter 8074 (at the 1994 Commonwealths).
Earlier this year, I did a column for the IAAF comparing Moloney statistically with current world champion and world record holder Kevin Mayer. Like Mayer, Moloney became world junior champion at the age of 18, but the Australian is better at six of the 10 decathlon events at that age as well as holding a marked edge – 8190 to 7928 – on overall score.
That edge continues with the Gotzis result. Mayer won his world U20 title in 2010 and, like Moloney, did his first senior decathlon at the age of 19. Mayer scored 7992 then, so the gap is narrower, but still in Moloney's favour.
Of course, straight-line extrapolations in sport are largely meaningless from performance to performance, much less over a timespan of nine years. But the Moloney-Mayer statistical comparison underlines the Australian's undoubted potential.
Of immediate interest, however, is whether he can fulfil coach Eric Brown's prediction that he can qualify for Doha this year and for Tokyo 2020. Time remains on Moloney's side for the latter, and he will get another shot at the world championship standard if he competes in the Oceania championship.
Moloney, Dubler and Mucci have all been nominated by Athletics Australia to compete in the championships in Townsville later this month (25-28 June). As an IAAF area championship, the winner automatically gets a qualifying standard for Doha. Area championships do not have that status for the Olympics, but they will count for extra points if the IAAF stands by its decision to adopt the ranking system for Tokyo.
Despite his second-day slide in Gotzis, Moloney remains on course to hit his targets ver the enxt two years. The wall? He is more likely to jump right over it than to hit it.