Ryan Hall never quite achieved the stardom for which he seemed destined, but if the best actor Oscar somehow eluded him, the American marathoner certainly has a sound claim to a gong as best actor in a supporting role.
From the time he broke through as a potential championship marathon contender after winning the 2007 USA half-marathon championship in 59:43, Hall was a strong presence in championship marathons.
Like Zersenay Tadese, the irresistible force who dashed himself against the immovable object named Kenenisa Bekele in so many track championships 10,000-meter races, Hall was destined to be the catalyst in a number of memorable marathons without ever going on to win any one of them.
Where Tadese has found some consolation with wins in the world cross-country and multiple world half-marathon championships, however, Hall has remained without a major international title. With his retirement at age 33, it seems he will never win one.
Hall created a minor sensation on his marathon debut in London in 2007, moving up from just behind a stellar lead pack at half-way to take the lead at 32km. He faded to finish seventh in 2:08:24, just 43 seconds behind the winner, Kenya's Martin Lel.
After producing a sub-63 minute second half around hilly Central Park to win the US Olympic Trial in New York later in 2007, Hall was back for an even more serious tilt at London in 2008. Again he was aggressive in the second half, running up to the pacemakers to encourage them to speed up. Again he faded at the end, but a personal best 2:06:16 put him fifth behind Lel's 2:05:15.
Finally, it was Hall who pushed the pace in the 2011 Boston marathon in which Geoffrey Mutai ran what was then the fastest ever time of 2:03:02. Boston completed the hat-trick of major races in which Hall had played a big part, but did not win.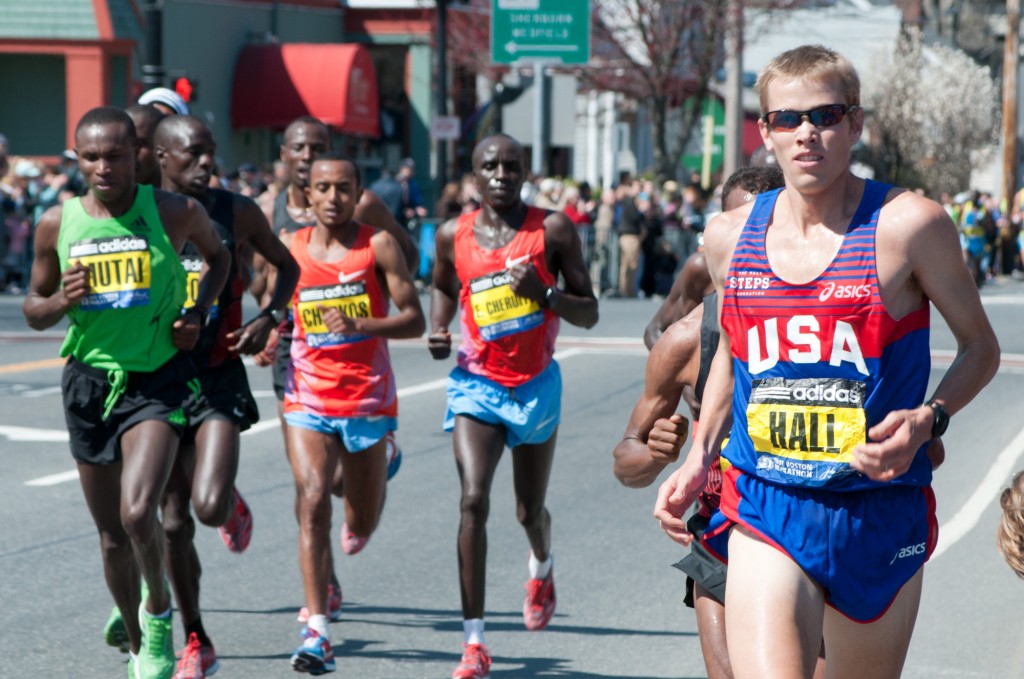 Journalists love athletes who make them look good, and both Hall and Sammy Wanjiru did that for me in 2008. Looking for two young marathoners to profile in the lead-up to the Beijing Olympics, I opted for Wanjiru, who had won the previous year's Fukuoka marathon, and Hall.
I decided to do Hall first, for no reason other than learning from Lee Troop that Hall's father, Mickey, had once taught in Australia. That left Wanjiru for later and his profile actually ran on the morning that he won the Olympic gold medal with a sensational performance on the streets of Beijing. It looked like I knew something, but it was all just happy, but dumb, coincidence.
Mickey Hall had come to Australia in the 1970s at a time when the Victorian Education Department was recruiting overseas to cover a disastrous shortage of qualified teachers. A Los Angeles boy, Mickey had wound up at a country town named Boort.
As physical education teacher, he joined the school in a 5km run around the lake. "I hadn't been running," Mickey Hall told me. "Out of a school of about 180 and 20 staff, I came in around 60th. 'Aren't you the new PE teacher', this kid asks. 'Yes', I say. 'Well you're not very good at it, are you?,' he says."
Welcome to Boort!
Hall stayed six years, his stint broken by a return to the US to get married and return with his wife, Susie. Ryan's older brother, Steve, was born at the Boort hospital.
Mickey Hall's Australian experience convinced him he was "a country kid who happened to be born in the city." On returning to the US, the Halls moved to Big Bear Lake high in the mountains in California where Ryan was born, raised and became a runner. The rest is history.
Lisa Weightman's marathon c.v. might not be as impressive as that of Ryan Hall – yet. But she keeps on adding to her credentials, most recently with her second-place finish in the Houston marathon.
In a different manner to Hall, Weightman was perhaps also born to be a distance runner. Her great-uncle – Wally Weightman – representing Australia in the Sydney 1938 British Empire Games as well as winning numerous state and national titles at track and cross-country.
After battling through a series of stress fractures early in her career, Weightman has not looked back in recent years, taking a bronze medal in the Delhi 2010 Commonwealth Games, and finishing 17th in the 2011 world and 2012 Olympic marathons as well as the 2009 world cross-country.
On times, Weightman has run under 2:30 for the marathon six times, equal to Kerryn McCann's career total and trailing only Lisa Ondieki's tally of 11.
Finally, with so many unpalatable things happening at the top of our sport, it is good to see some healthy signs at grass roots. This week's Victorian Milers Club meeting (disclaimer: the writer is involved) saw a record 400-plus entries and 365 participants, with three world junior championships qualifying performances.
And the often-disparaged interclub competition has also produced plenty of good results recently. Among the highlights have been Joel Baden (2.24m) and Eleanor Patterson (1.90) both attempting Olympic qualifiers in the high jump (Victoria), Alana Boyd clearing 4.71 in the pole vault (Queensland), Anneliese Rubie 2:02.52 in the 800 (NSW) and Morgan Mitchell running 52.29 in the 400 and then backing up to race against Tamsyn Manou later in the day (Victoria).