For quite a few years now, Athletics Australia's selection policies have offered the selectors wide discretionary powers in considering the third place in any event.
For almost all that time, many have advocated the selectors make more use of the discretionary clauses. Now, in picking the Gold Coast 2018 team, they have, and some are dismayed about the outcome.
Be careful what you wish for, it seems.
The initial selection – nomination, to be technically correct: it is the Commonwealth Games Australia's team – after the national championships a fortnight ago saw 51 athletes confirmed into the team for Gold Coast 2018, joining 14 earlier nominations. All 65 had satisfied the criteria for automatic nomination.
That's when things became interesting. Almost the same number again were nominated by the selectors as non-automatic – i.e. discretionary – choices. Most of these were by the book, the selection panel following the order of finish in the championships; but a few caused controversy. There were seven or eight, depending whose account you read, appeals and, reportedly again, another three were refused because they missed the appeals' deadline.
This deadline was five hours after notification, which seemed a little tight, especially given that the more contentious of the appeals delayed the naming of the team for over a week. What was to have been announced the Tuesday or Wednesday after the conclusion of the championships, was instead made public some eight days later.
We know all this not because details have been released by Athletics Australia, but because some of the appeals went public.
All those athletes who lodged an appeal thought they had a case. Whether they did or did not is now irrelevant: none succeeded – because, discretion. The selectors had done all that they said they would do, confirming the automatics, then brought discretion to bear as they were entitled to do.
In most cases, this discretion, too, followed down the line, picking the next available athlete who could be selected. In a few, the selectors jumped over one eligible athlete to select another.
In the three most contentious decisions – in my view, anyway – this involved leaping over six men to nominate non-finalist Joseph Deng for the third spot in the 800; over three other (Australian) finalists to select Keely Small in the women's 800 and leaping over second-placegetter, and Commonwealth champion, Eleanor Patterson to select Nicola McDermott in the high jump.
Now all these are defendable decisions: as I wrote last week, Deng and Small are very promising young athletes with outstanding performances in the selection period. McDermott, in an event which has been consistently inconsistent these past few years, has been more consistent than any of her rivals.
A more interesting consideration is whether this is an appropriate time for discretion. Usually, the selectors' task is complicated by the fact they are selecting a team to compete in a northern hemisphere summer some four months in advance. This time, the major event is at home and was just six weeks away from the trials.
That made the argument about following down the line stronger than it would normally be. Regardless of promise, regardless of other considerations such as minor injury, bad day, tactical blunder, other brain explosion, etc, if you could not beat or out-perform a rival at the trials what chance is there that things will be any different six weeks later.
Looking at the three cases, Deng at least took the opportunity to show what he could do. The wretched B-final gave him the chance to run fast, and he took it, but he had already impressed with several good runs in Europe last year (the best 0.01 outside the A-qualifier) and second to eventual champion Luke Mathews in the heats. But eight athletes performed better than him in those heats, under the same cut-throat format.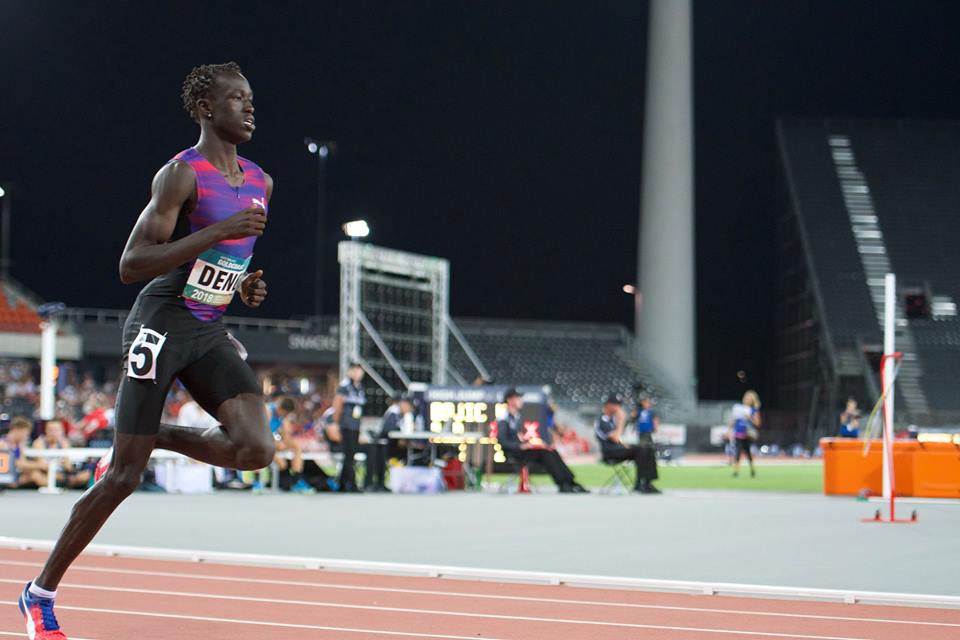 Small ran a good heat and a poor final. Her 2:01.46 in January 2017 stood up as the equal-fastest in the world by an U18 for the year. She also defeated all her domestic rivals bar Georgia Griffith in running 2:03 in a Victorian Milers Club race last December. With a world U20 championships or a Youth Olympics (AA policy is you cannot do both) in 2018, this looms as a crucial year in her development. It is to be hoped the decision to bump her up the list of Commonwealth Games aspirants will turn out to be a catalyst for greater things.
I struggle most with the decision on Patterson. The women's high jump, held in tricky wind conditions, threw a curve ball at the selectors. The winner, Cassie Purdon, achieved her only B-qualifier in winning at 1.86 at nationals. As no-one else had achieved the 1.92 A-qualifier, Purdon thus became an automatic selection.
Here things get more complicated. Patterson cleared 1.83 for second, McDermott 1.80 for third. Both she and Patterson had jumped 1.90 twice during the qualifying period, but McDermott got the nod ahead of the 2014 Commonwealth champion, 2015 world championships finalist and 2016 Olympic representative. Given her edge in consistency, there was a case for this, but not an overwhelming one.
Selection is done and dusted now. One learning – though I'll bet it will be forgotten as soon as the next major team is selected – is that it is very, very hard to overturn discretionary selections. Discretion means just that. If you want to be selected, best nail down an automatic spot. Just because the selectors had gone 'down the line' previously doesn't mean they were obliged to do so again this time.
Finally, let's endorse the sentiments expressed by Jeff Riseley after his appeal was rejected. In expressing his disappointment, Riseley said: "This was never an attack on Joseph Deng. He's a great kid, a super talent and has a great future. My appeal was against the selection process and how AA applied it."
Gracious words that, hopefully, apply to the entire appeal process.
End
Len Johnson has been the long-time lead columnist on RT and is one of the world's most respected athletic writers.
He is also a former national class distance runner (2.19.32 marathon) and trained with Chris Wardlaw and Robert de Castella among other running legends. He is the author of The Landy Era.