Maybe it's because I'm from Melbourne where the AFL media bubble is such a humungous beast that it makes the elephant in the room look miniscule. Or maybe it's because we are only a couple of weeks on from a 'local' world championships in Beijing.
Then again, maybe it's because I just wasn't paying attention, but the Sydney marathon has kind of snuck up on me this year.
The marathon is on, in any case. More precisely, it's on as part of the Blackmores Sydney Running Festival which now attracts over 30,000 participants across distances ranging from a 3k walk to the full 42.195km classic. The race is on free-to-air television, and it also incorporates the Australian marathon championship.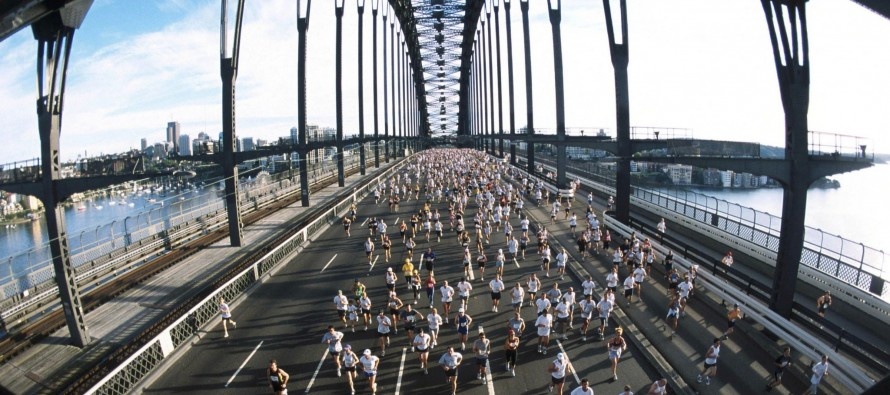 The marathon is the last remaining legacy event of the Sydney 2000 Olympic Games. This was not such a great selling point in the early years when the race ran from the northern side of the Harbor Bridge to the Olympic Stadium at Homebush.
Fair enough, this was where the Olympic Games were held, but running away from one of the most scenic inner-city precincts in the world never made that much sense, and even less when the course had more than its share of testing undulations (hills) plus a section of open, soul-destroying freeway.
Moving back to the inner-city was a winning move. For a start, it enabled the race to take in iconic parts of Sydney which the run to Homebush missed – the Rocks precinct, the finish at the Opera House, etc. For another it made the logistics easier, confining the race to a much more compact area.
With Gold Coast and the revived Melbourne marathon, Australia now has three marathons of international standard. Gold Coast and Sydney are IAAF Gold Label races, Melbourne is Melbourne (sorry, bias showing).
That gives Australian runners more local choices when looking for suitable races in which to chase championship qualifying times. I hope more of them take advantage. In recent times, Liam Adams, Sinead Diver and Sarah Klein all got Glasgow 2014 qualifying times in Melbourne; Gold Coast has delivered qualifying times since its early days when the likes of Peter Mitchell, Pat Carroll, Jillian Colwell and Brad Camp ran their way into various teams.
The Gold Coast race is in the middle of the northern hemisphere summer, when no-one but major championship organisers would think of holding a marathon, but the timing of Sydney and Melbourne give two major Australian marathons a presence in that (northern hemisphere) autumn marathon season running all the way from Berlin (next weekend) to Fukuoka (first weekend in December) via such stops as Chicago, Frankfurt, Amsterdam and New York.
I don't know about you, but I find that exciting. Likewise seeing all those television channels who won't show even a 1500 in full, much less a 5000 or 10,000, suddenly devoting three to four hours to a mass-participation marathon.
While on a marathon roll, (at least) two interesting points arose out of the world championship marathons.
The first concerned the two races themselves. Exciting, or humdrum? It seems a no-brainer when you think about the women's race – first two separated by a mere second, first four athletes within seven seconds, five athletes in contention at 40km.
Well, yes, the finish was exciting and could have been the first, and only, time that an athlete's line into a corner cost them a gold medal. It was hard to fathom why Helah Kiprop went wide as she and Mare Dibaba swung round an advertising hoarding and onto the track. With a straight run in of only 90 metres, it was not the time to give up even a metre to an opponent.
More than that, though, was the nagging doubt that the last 100 metres was so close only because no-one had tried a decisive move in the previous 42,095 metres. In Daegu and Moscow it was Edna Kiplagat who powered away in the last stages of the race. This time, in far less oppressive conditions, she was unable to mount such a move and no-one else tried.
The men's race was even less adventurous. Until its final few kilometres it was always led by someone whom you could never imagine winning it. Though it was a clear and sunny morning, conditions were no more oppressive (probably considerably less so, in fact) than when Sammy Wanjiru ran his incredible race to an Olympic gold medal. None of the favourites gave a yelp.
In the end, Ghirmay Ghebreslassie was a wonderful winner – not yet 20, Eritrea's first world championships gold medallist – but you would have liked to see more initiative shown at some stage of the race.
No Australian ran the men's marathon – disappointing enough in itself. The Olympic qualifying time is 2:17 (men) and 2:42 (women) and Australia is likely to send every qualified athlete it can. There was also the possibility of qualifying as a top-20 finisher, regardless of time. Twentieth position in the men's race went in 2:20:35, in the women's it was 2:36:17.
Congratulations then to Diver, Klein and Julie Degan who (a) ran the race, and, (b) to Diver and Klein again for achieving the qualifying time for Rio. Neither was in the top 20 but Diver was twenty-first in 2:36:38, Klein twenty-third in 2:37:58.
These two have already set the Australian selectors their first poser. Two athletes have qualified in what is surely the most important race of the qualifying period. Traditionally, Australia has placed great value on qualifying performances done under championship conditions.
So with Diver and Klein qualified by time and Lisa Weightman and Jess Trengove very likely to join them, it seems that in women's marathon, at least, there will be selection decisions required.
Hopefully, there's a few more events where the same will apply. The more work selectors have to do, the healthier the sport.