A column by Len Johnson – Runner's Tribe
Funny race the marathon.
Last Sunday in London, the British capital's warmest (I would say hottest, but London doesn't really do heat) London marathon day ever, Mary Keitany covered the 42.195 kilometres from Greenwich to the finish near Buckingham Palace entirely on her own, despite the presence of pacemakers and competitors.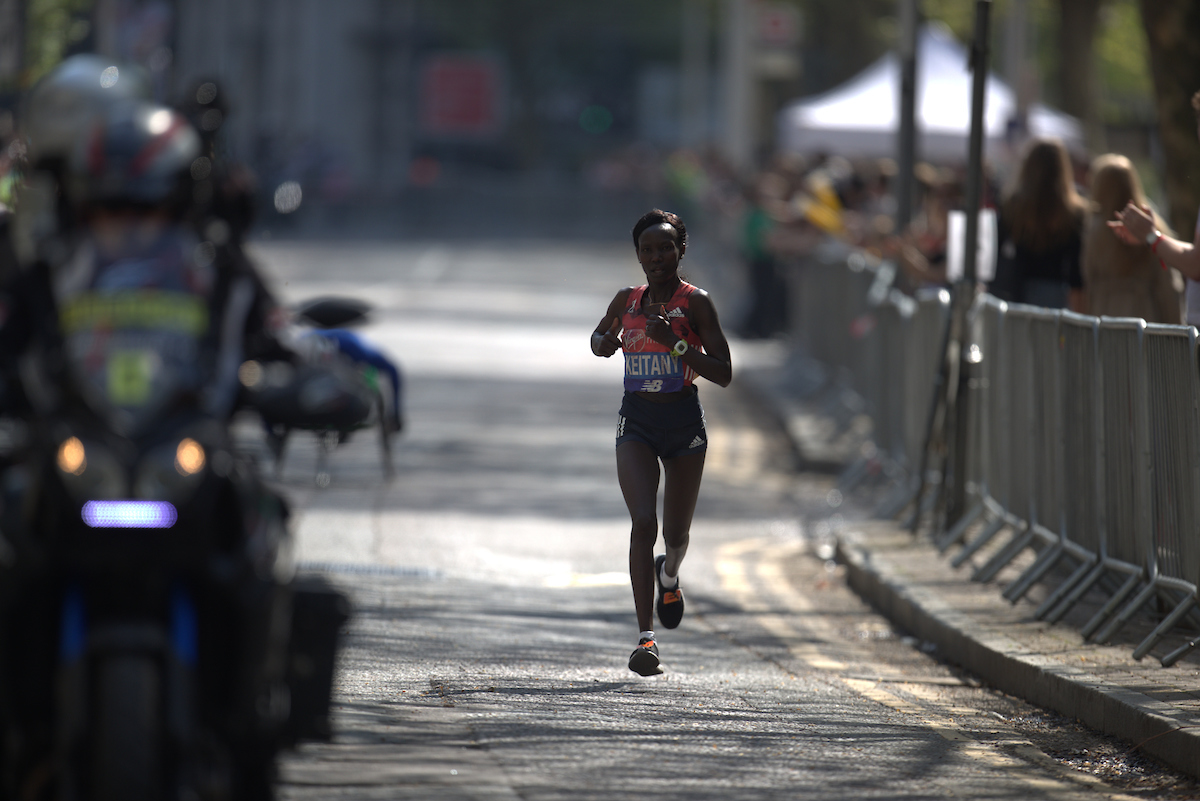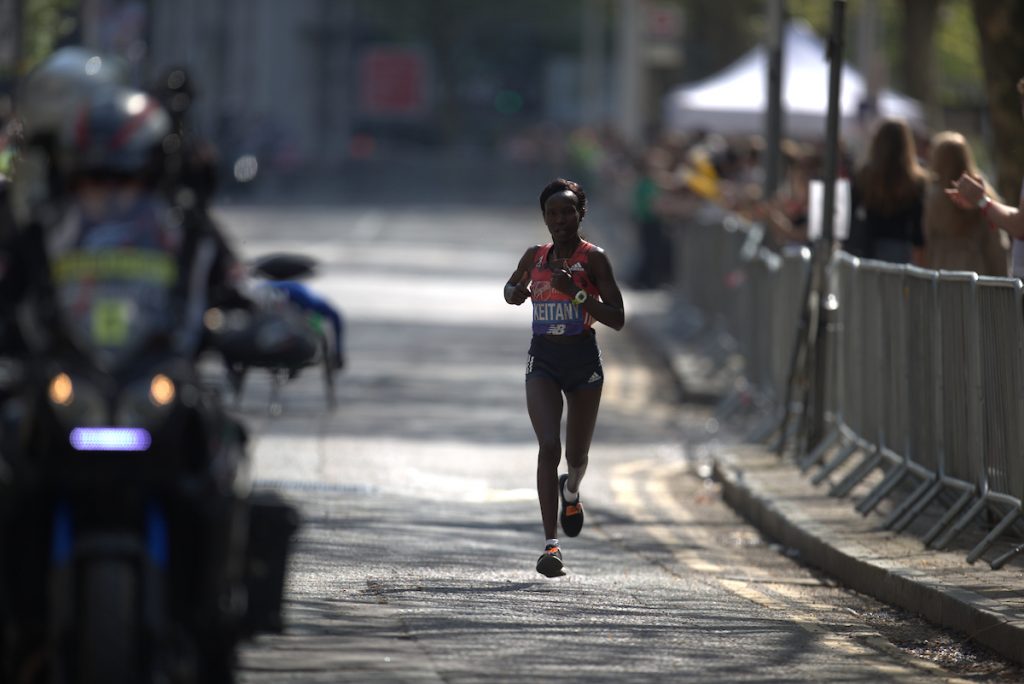 So, too, did Mo Farah, to whom we'll come back presently. Both ran largely to the beat of their own drum more or less oblivious to what was happening around them.
Despite differing outcomes, Keitany has been magnificent in two very different London marathons. A year ago, with a sole female pacemaker ostensibly helping out, she won in 2:17:01, the second-fastest time ever behind Paula Radcliffe's 2:15:25 in London in 2003.
This year, London organisers provided three male pacers for the elite women, just as London had when Radcliffe ran her so-far-untouched world record.
Last year, Keitany had passed her pacemaker by half-way and ran the remainder of the race solo. With three men helping this time, she got far greater assistance, but still her primary aim was competitive.
Keitany ran as hard as she could until she had dropped her main rival, Tirunesh Dibaba. Not much later, it became clear she had gone too hard, too early. The pacers seemed unsure whether to stay with her or to run 10-15 metres ahead, encouraging her to maintain the pace.
They chose the latter, but it didn't much matter. Keitany was once again in her own race, her opponents the distance and creeping exhaustion. She fought them off as best she could, but was powerless when Vivian Cheruiyot swept past just beyond the 35km mark, taking the pacers with her.
Cheruiyot, marshalling her resources much more efficiently than she had on her debut the previous year when she chased unavailingly after Keitany, went on to win in 2:18:31. Keitany tottered home on rubber legs, crossing the line fifth in 2:24:27.
When the hooter sounded to send the elite men on their way, Farah faced a similar dilemma to that of Cheruiyot. A warm day. A red-hot pace. Follow at the risk of burning up, or fall back at the risk of never catching fire at all.
Mo went with the race. The decision was made a little easier by the collapse of the pacing arrangements. It had been agreed, reportedly, that there would be two groups of pacers, one going at the 61-minute pace requested by Kipchoge and others; the second group at 61:45. Group two never materialised.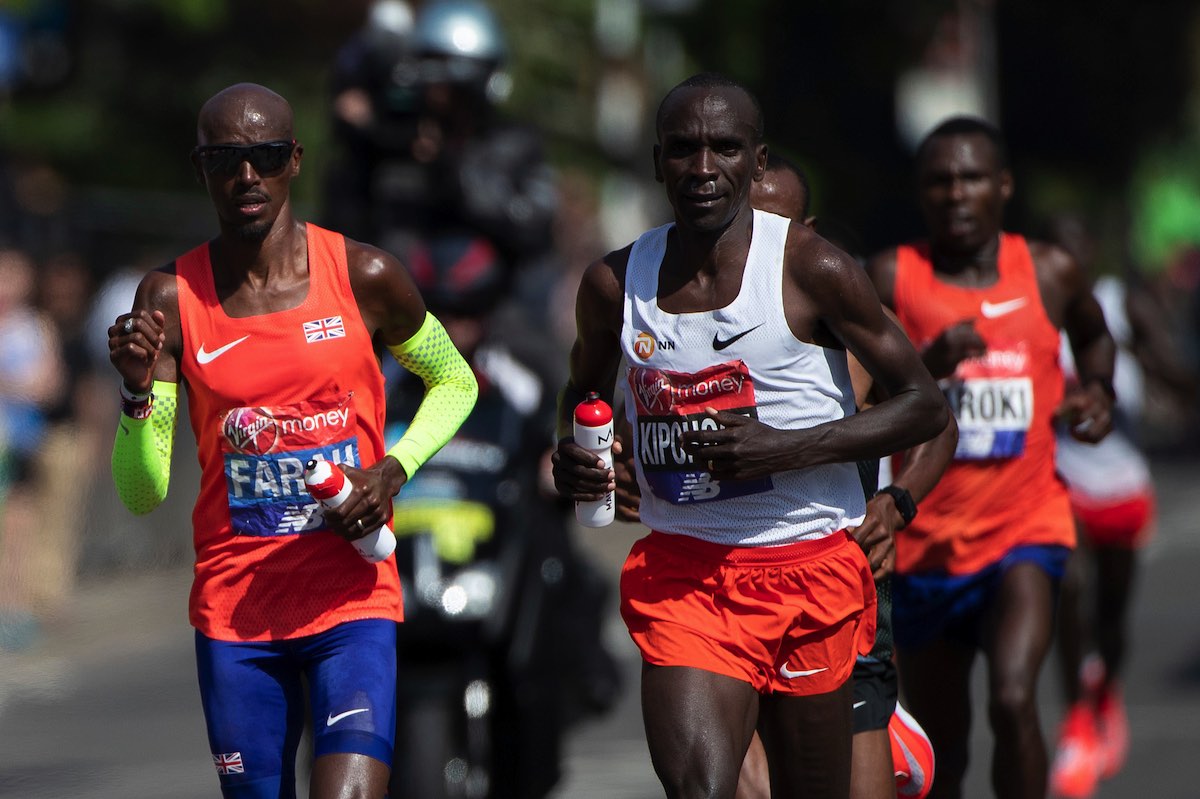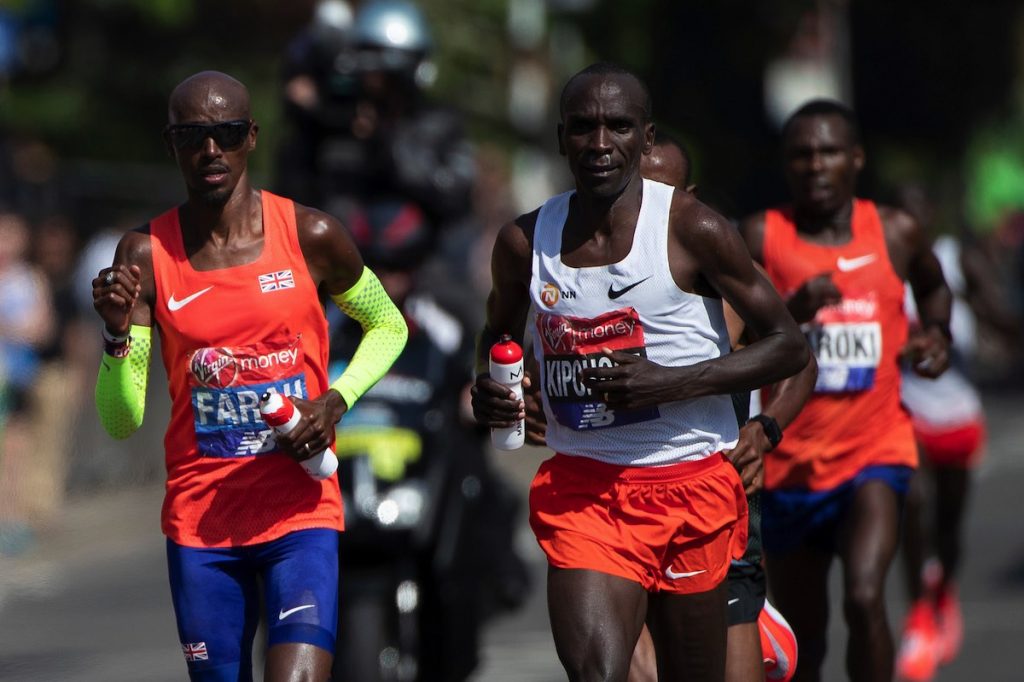 Perhaps we should not have been surprised. Farah is first and foremost a racer, and it is hard to win a race once you have let all your main rivals race off into the distance. Some, maybe most, will come back; but it is long odds that all of them will.
Farah thus raced off with the pack, working hard to close down a gap that opened up when he lost ground at a drinks station just before half-way. Past half-way, he hung in as big names fell away – dual world champion Abel Kirui, greatest distance runner ever Kenenisa Bekele and Bedan Karoki.
But from 30k to the finish, it was Mo against the marathon as Kipchoge and last year's Frankfurt marathon winner, Tola Shura Kitata, pulled clear. It was no contest: Kipchoge won his third London in a row in 2:04:17, 32 seconds clear of Kitata's PB 2:04:49. Farah hung on to break Steve Jones's UK record with 2:06:21 in third.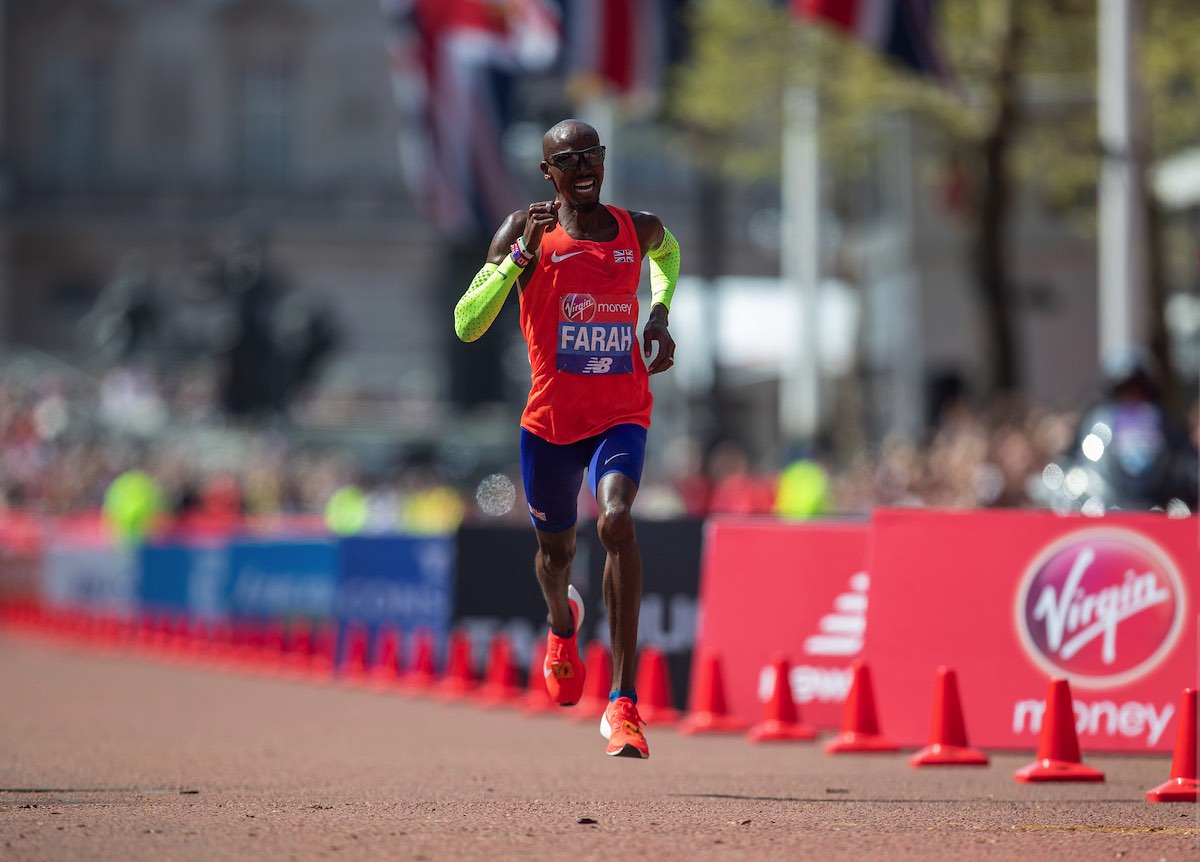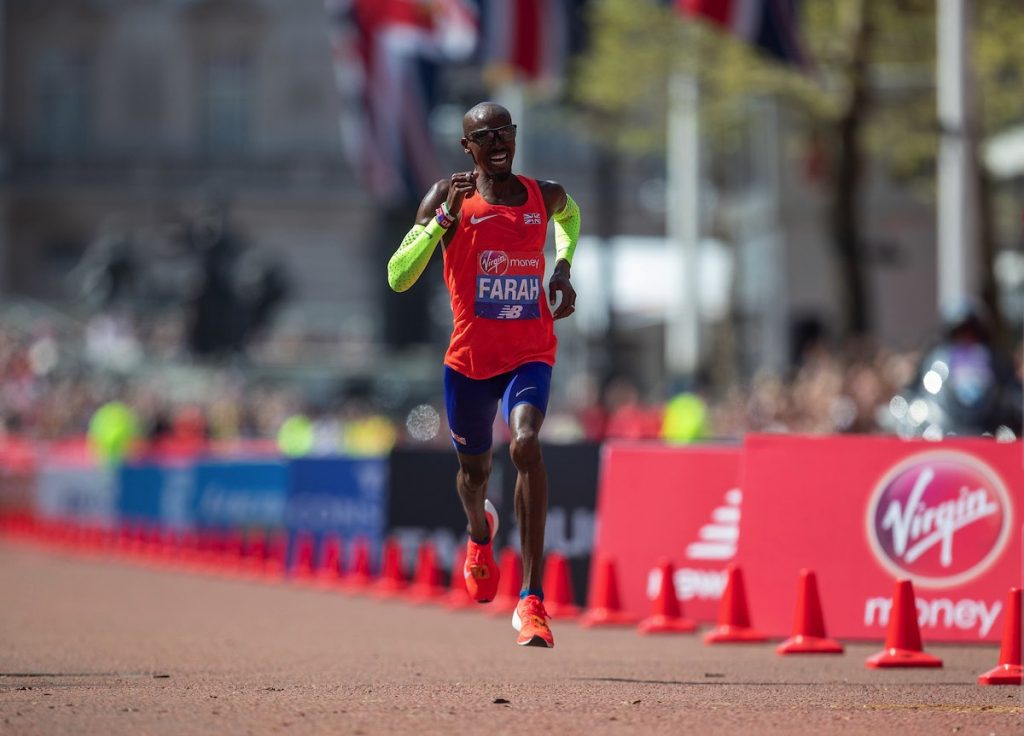 Ricky Simms, Farah's manager, was moved to describe his client as having shown he had large testicles ("I don't want to say this rudely," Simms began, before doing precisely that). Maybe, maybe not: it certainly was a gutsy performance. But the man who always runs his own race had run the only race open to him this London marathon day.
Kipchoge showed us why he is the best male marathoner currently going round. Watching him over the closing stages, the temperature rising, a pesky opponent hanging on and on, what shone through was his imperturbability and that seemingly impeccable rhythm. As in the second lap of an 800, everyone was slowing down, the key was to slow down the least while holding the greatest amount of form.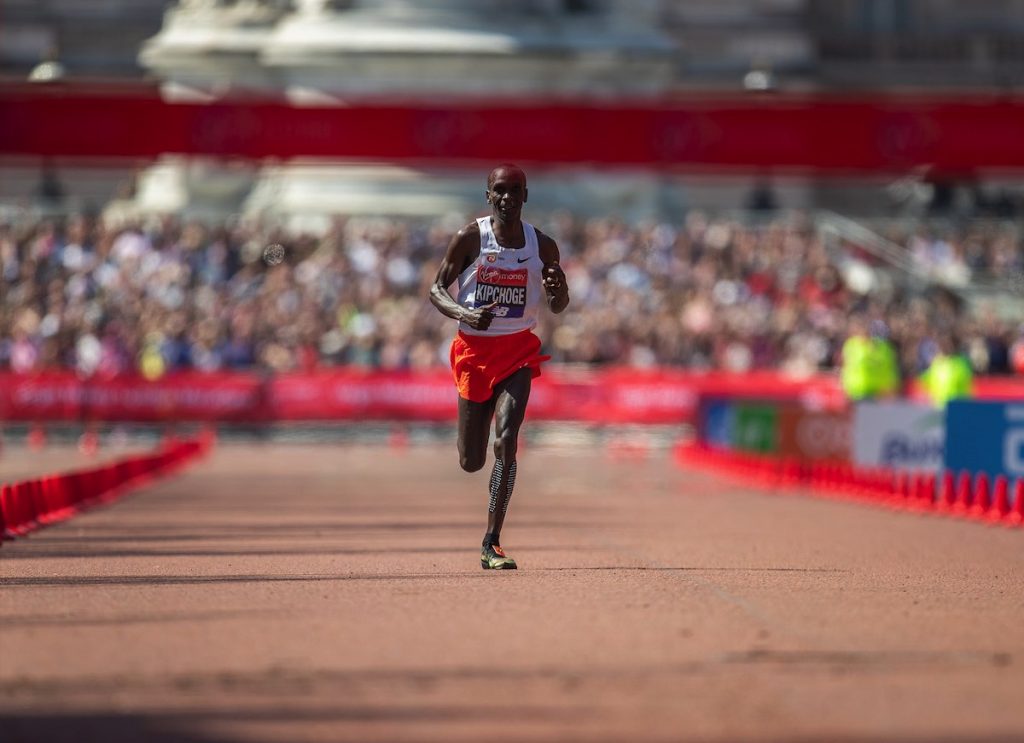 And Kipchoge is a master of that. His demeanour is reminiscent of the first great Kenyan marathoner, Douglas Wakiihuri. Whatever is happening around him – three contenders for the Olympic gold medal with a couple of kilometres to run, Guye Adola taking the lead late in last year's Berlin, heat and fatigue creeping up on him in London – Kipchoge remains outwardly unruffled.
And then there's that metronomic rhythm, hypnotically beautiful to watch even while it is destroying Feyisa Lilesa and Galen Rupp over the last 5km in Rio, pulling Adola back in Berlin or, now, pulling away from Kitata to win again in London. Somewhere, sometime, it is bound to break down, but it is hard to see that day coming just now.
It is likewise difficult to see Kipchoge's successor coming from those he is currently beating so decisively. He is every bit as much Bekele's nemesis on the roads as Bekele proved to be his on the track. Farah may still be coming to terms with the marathon, but can he get that much better at 35 and with so many track honours already to his name.
Kipchoge right now is so good he is even threatening the unpredictability of the marathon.
End
About the author: Len Johnson has been the long-time lead columnist on RT and is one of the world's most respected athletic writers.
He is also a former national class distance runner (2.19.32 marathon) and trained with Chris Wardlaw and Robert de Castella among other running legends. He is the author of The Landy Era.