Dreams fulfilled on field
A column by Len Johnson – Reporting from the Gold Coast
It might be stretching things too far to call Carrara Stadium a field of dreams – the so-far-hapless Gold Coast Suns might object, for a start.
But it has been on the field that Australian dreams have been realised so far in Commonwealth Games athletics, a trend which continued on day five despite Luke Mathews' dramatic bronze medal in the 800 metres to close the program.
The previous night it had been Kathryn Mitchell and Brandon Starc who triumphed in the women's javelin and men's high jump, respectively. To add a dollop of extra cream to the cake, Kelsey-Lee Roberts added a silver medal in the javelin.
It was two golds and one silver again in the field for Australia on day five, though this time in three different events. Dani Stevens retained her crown in the women's discus, Kurtis Marschall beat a world champion in Shawn Barber to win the pole vault and Brooke Stratton was just seven centimetres off a gold medal in the women's long jump.
Again, it was opposite ends of the age and experience scale. Dani Stevens is hardly in the same venerable age category as soon-to-be 36, Mitchell. But she won a world title in Berlin in 2009 at the age of 21 and will turn 30 in a couple of months time. She has been at or near the top of here event all that time.
She was overwhelming favourite here, but still performed with the same authority that has been evident since she narrowly missed an Olympic medal in Rio two years ago. She built into the competition gradually – a 61.39 opener, 64.51, 65.43 and then – BANG! – 68.26.
All those would have been winning throws, as silver medallist Seema Punia's best was 60.41, but her winner smashed he Games record previously held by New Zealand's Beatrice Faumuina at 65.92. Faumuina, also a world champion in the event, threw 65.92 in Kuala Lumpur in 1998.
Marschall, by contrast, is still finding his way in world sport. Added to the Olympic team after taking a silver medal at the world junior championships in 2016, he reached the final at the world championships in London last year and finished fourth at the world indoor titles last month in Birmingham.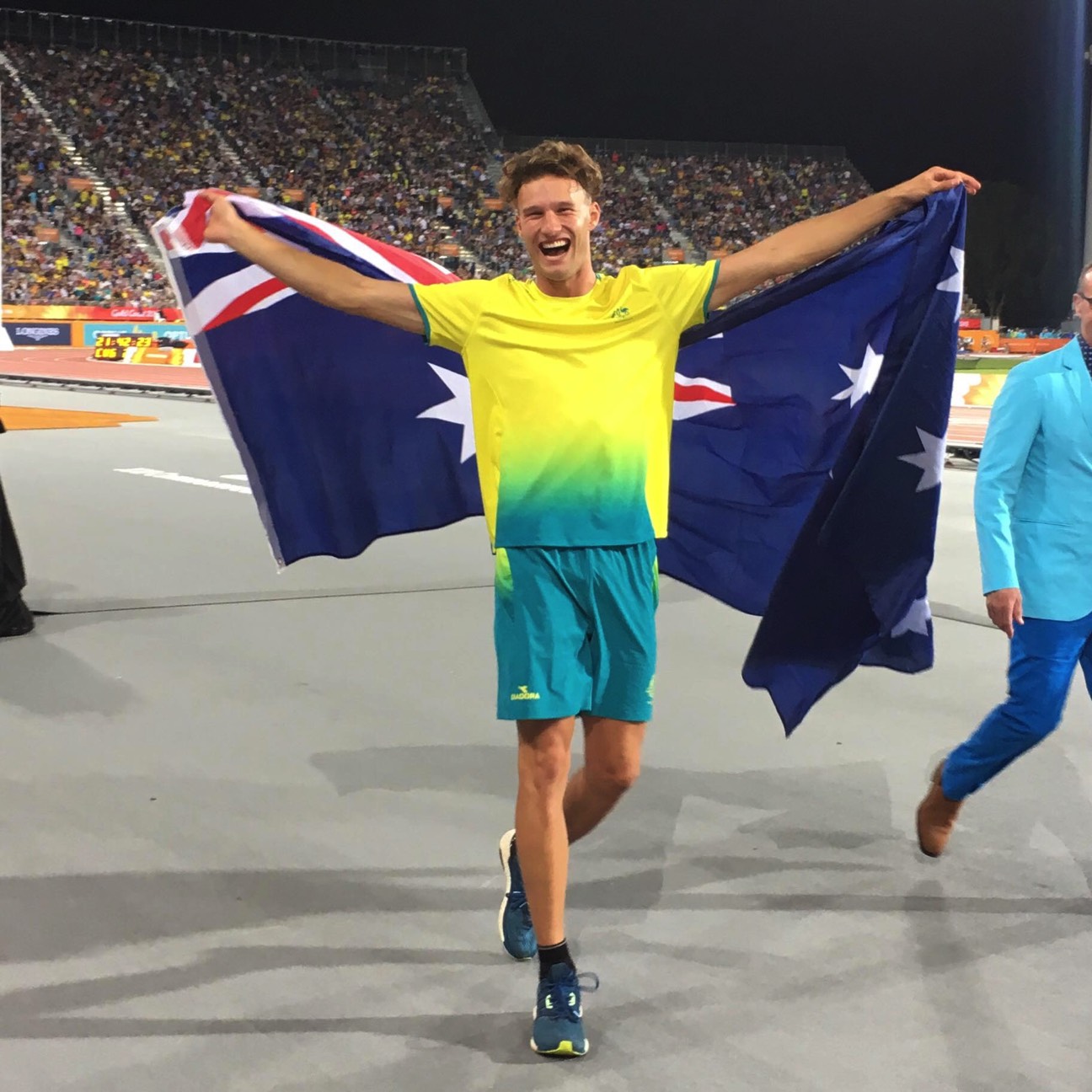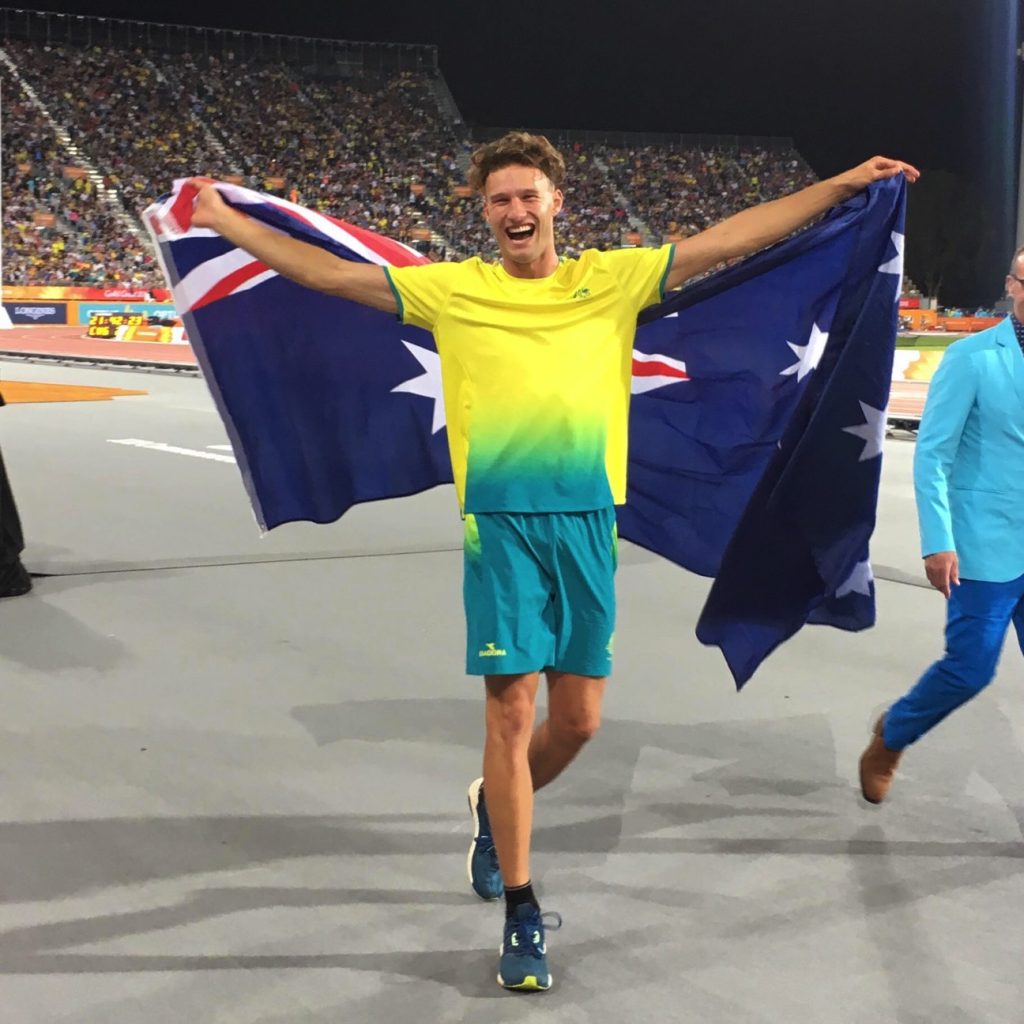 Here, he faced a world champion in Shawn Barber of Canada and also had to cope with a stressful competition. He had one miss at his opening height of 5.45, and again at his next of 5.55. Fortunately, Barber took three tries to get that height.
Then both men got 5.65 at the first try, perhaps swinging the psychological advantage back Barber's way. He has regularly scaled higher heights over the last few years. Marschall is clearing them for the first time.
At 5.70, it was two misses each and the gold medal was on the line as each took his final attempt. Barber failed again, then Marschall soared clear. Game over.
Brooke Stratton so very nearly made it three gold medals on the night in the women's long jump. The competition was slow to build, with several of the top contenders among those to foul their first jump.
Canada's Christabel Nettey was the only one to seize that moment, producing a 6.84 which would ultimately stand up as the winner. But Stratton just kept on creeping up, first to 6.72, then 6.75 and then 6.77. But she just could not close the gap. There were tears as her last jump fell just short, but she regained her composure quickly to celebrate her silver medal, the first for Australia in the event since Bronwyn Thompson and Kerrie Taurima went 1-2 in Melbourne in 2006.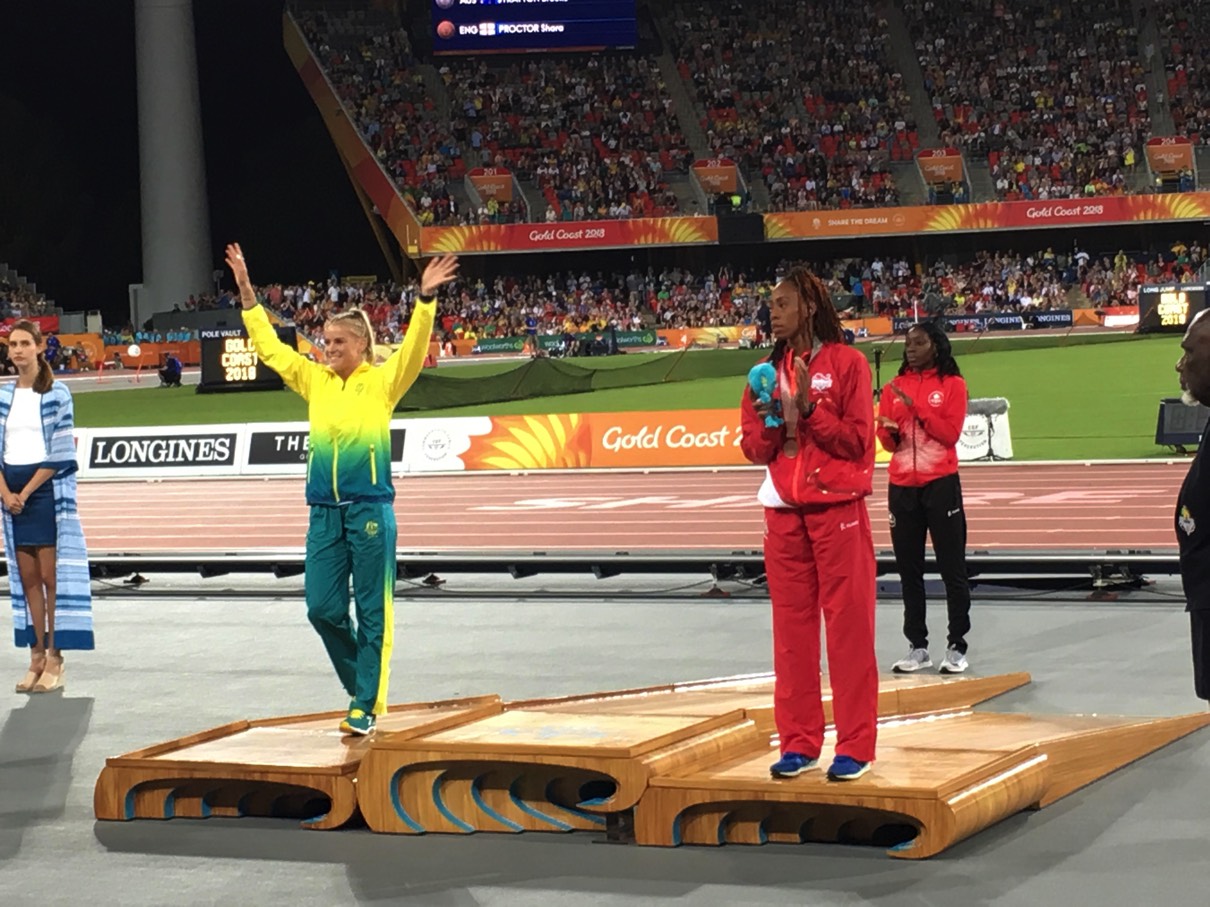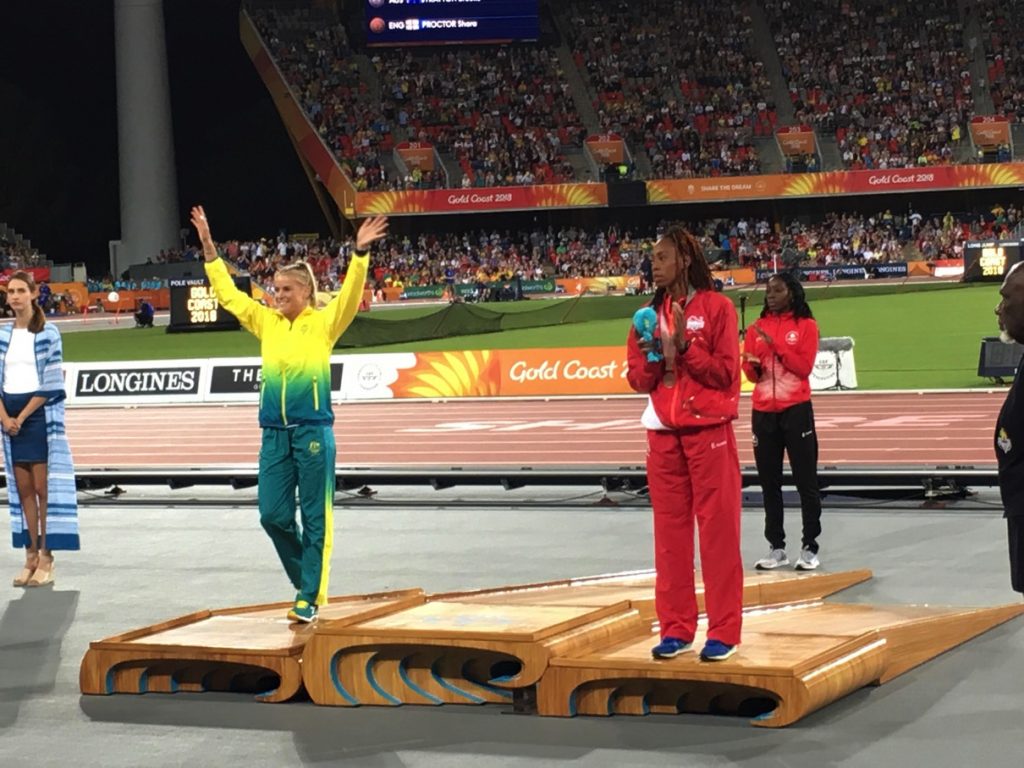 It was four years earlier that Australia won a medal in the 800, when Kris McCarthy took a bronze in Manchester in 2002. For 600 metres of the final here it looked like Luke Mathews would be the next. Then he was swamped by a sea of athletes making moves around the final bend.
Mathews dropped back to sixth. His co-leader for most of the first 600, Nijel Amos, fared even worse, the favourite ultimately dropping back up the final straight to finish last.
Mathews, though, found a way through a wall of runners in the final straight to grab a bronze medal right on the line. Wycliffe Kinyamal restored some Kenyan reputation with a win in 1:45.11, just holding off England's fast finishing Kyle Langford, 1:45.16. Mathews was third in 1:45.60.
A fine end to the day indeed and, as Mathews noted, there had also been some fine running in the women's heats in the morning from Keely Small, Brittany McGowan and Georgia Griffith. None of them progressed from the cut-throat heats, but two personal bests out of three is a strong platform on which to build.
Family ties – Parent-child coaching partnerships thrive on the Gold Coast