Five medals on Day 5 heralded the Australian team's most successful day of the 9th World Para-Athletics Championships in Dubai, while it also brought a slice of sporting history.
Among the haul of 1 gold, 1 silver and 3 bronze, was Evan O'Hanlon becoming the nation's most decorated male athlete with a disability.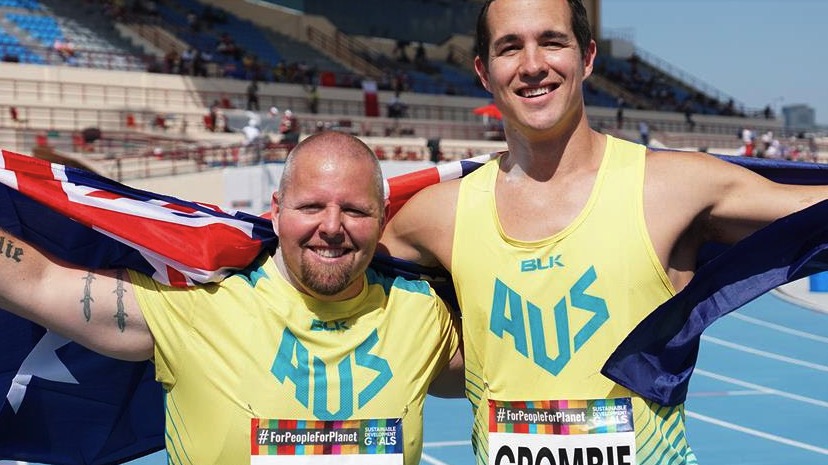 His bronze in the 100m (T38) final in 11.05s medal tonight took him to 12 medals in five world championships – one more than four-time Paralympian Neil Fuller.
The day also belonged to shot putter Cam Crombie, who became the first of six Australian athletes in the 2019 team to successful defend their gold medal from the last worlds in London two years ago.
His win in the men's F38 class gave Australia its fourth gold of the championships.
"It's massively about the support crew around me. There's no way I would have got to this without the doctors and physios from Athletics Australia. That's not a plug; that's actually how it is," Crombie said after his winning 15.73m throw.
"I live in my coach Hamish MacDonald's pocket day-in, day-out. Without him reassuring me 'You've got this. You've got this' my mind would start to wander.
"You need the faith in what you're doing – put the foundations down and then finish it off on the day.
It wasn't the only celebration for that event. Former gridiron player Marty Jackson, who has partial paralysis in his left knee due to dislocating his knee during a game, claimed the bronze in a personal best (PB) 15.14m.
"To say I'm ecstatic is an under-statement. To come into round three sitting in fourth position, my brain just switched on and I said 'You know what? I've got to try and PB. I've got nothing to lose – go hunting'. And that's what I did.
"I just put everything I could into the last three rounds."
Jackson's PB moved him within a centimetre from Ukraine's Oleksandr Doroshenko in the silver position. But the medal colour was not on his mind.
"I was hunting a world record – I know it's in me. I was going for top spot. So to come out with a bronze medal is amazing. I can still feel my heart ticking."
The third member of the F38 shot put crew was Sam Walker, who was in the unusual position of having his track (100m) and field event on the same day – in fact within 10 minutes of each other.
The 17-year-old finished 4th in his 100m heat in a PB of 11.69s, but failed to qualify for the final. He finished 9th in the shot put at his first senior world championships.
Australia's other two medallists on a glorious day for the green-and-gold was Madison de Rozario (silver) in the 1500m (T54) final in 3m:34.30s; and long jumper (T64) Sarah Walsh (bronze) with a 5.20m leap.
The 20-year-old leg amputee finished fourth in this event at the London worlds, which made a podium finish this time around extra special.
"So stoked with that… I've been dreaming about this for the past two years – just to be able to stand on the podium with the world's greatest and know I'm up there," Walsh said.
Coach Matt Beckenham must have whispered some magical words in between rounds four and five, when Walsh pulled out the 5.20 leap just over half-a-metre better from her previous mark.
She had been moving around the medals – starting in fourth spot, then to third, back to fourth, up to second and finally settling on third.
"I started off a little bit choppy and then finally got into the rhythm. My coach Matt Beckenham said to me 'Just put a jump out there that's going to scare the girls and that's what I did.
"I knew I was capable of jumping big."
De Rozario is gradually working her way up the medal ladder. It was bronze in the 1500m (T54) in London two years ago and silver in the final in Dubai on Monday night in 3m:34.09.
"That was a super cagey race. I think we always knew it was going to be," she said, adding that she and coach Louise Sauvage had tried to formulate a plan to deal with the unexpected.
"She said it was going to be anybody's race…. I'm happy since I went into a race feeling like it was going to be completely out of control.
"I was boxed in there for a little bit, but I found a gap, and got through to make it work."
Being the current world record holder probably made de Rozario a target. She and teammate Eliza Ault-Connell were in the 5th and 6th positions for two laps in the race, with nowhere to move.
De Rozario grabbed an opening and picked up the pace over the final 100m catching Amanda McGrory on the line to force the American into bronze. Ault-Connell finished 6th in 3m:36.46.
O'Hanlon's medal was highly impressive considering the 31-year-old had groin surgery after the Commonwealth Games and then battled a hamstring twinge two months ago.
His Dubai campaign is now done as he looks at a possible fourth Paralympics in Tokyo next August.
In other results, 18-year-old Ari Gesini, was 4th in his 100m (T38) to miss out on a finals berth, even though it was a PB for the teenager.
"That was my first ever senior international race… I wanted to try and get the nerves out, get used to the call room, and the officials checking everything a number of times," Gesini said.
"But I love it. I want to be here more often."
Gesini still has the long jump to come later in the week.
Jake Lappin qualified for the 1500m (T54) final in one of the most dramatic races seen at the Dubai championships.
In Monday morning's heats Tunisia's Yassine Gharbi pulled off the track after one lap with a right arm injury. Then with less than 300 metres to race, three wheelchairs collided – two flipping over in spectacular fashion.
It happened just behind Lappin and thankfully the trio of Aaron Pike (USA), Putharet Khongrak (Thailand) and Alexandre Dupont (Canada) were able to roll off the track after initial treatment from medical staff.
Lappin ran 6th in the evening final in 3m:03.27. Two hours later and he ran third (48.36s) in his 400m (T54) heat to qualify for Tuesday's semi-final.
There will be a second Australian there with Sam Carter (48.21s) winning his heat to also make the semis.
The last event of the night saw Sam McIntosh finish third (17.76s) in the 100m (T52) heats, to qualify for Tuesday's final.
By Michael Angus and Margie McDonald