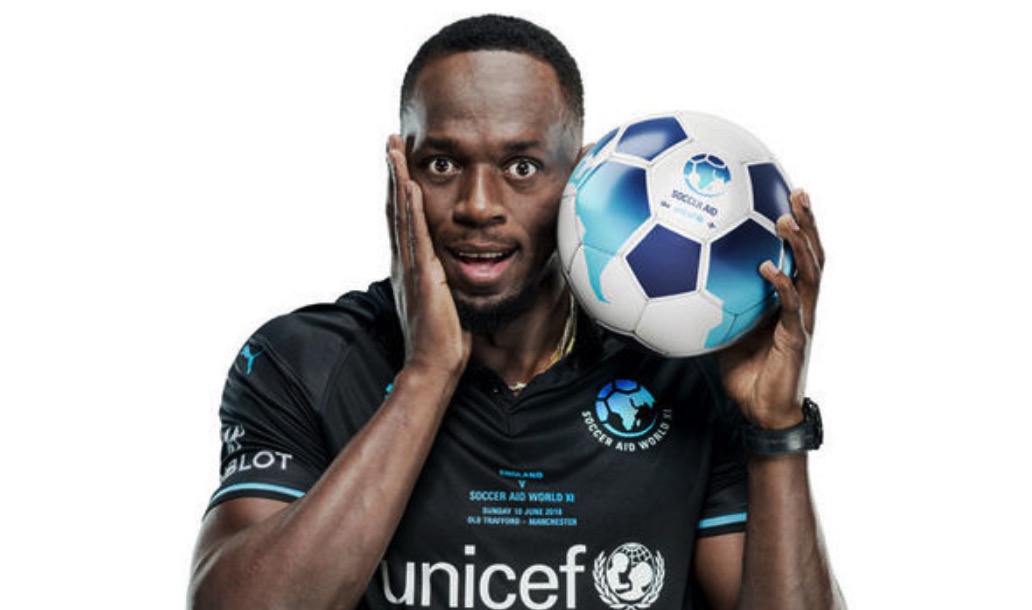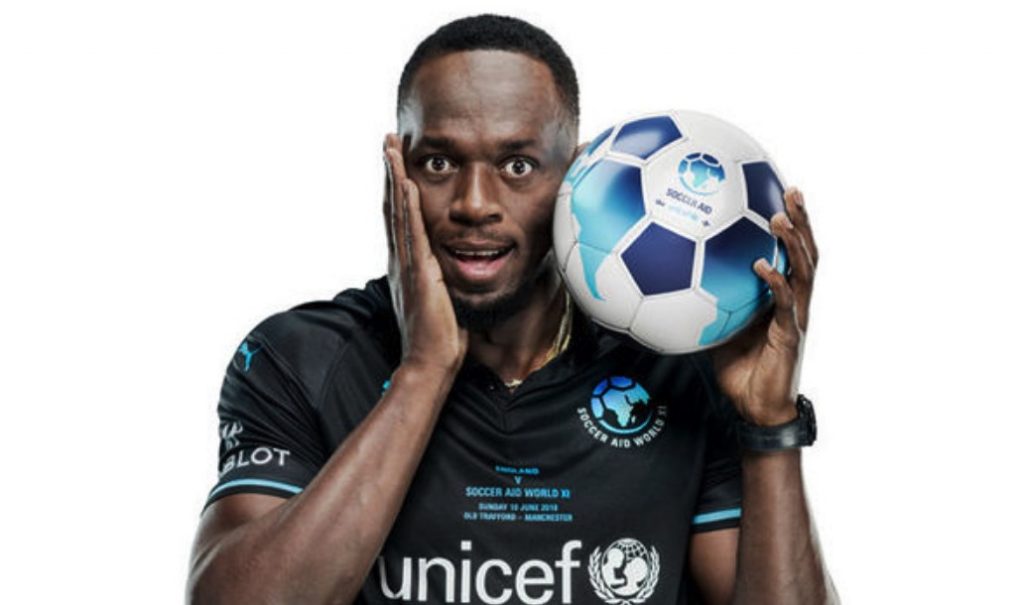 Eight-time Olympic gold medalist Usain Bolt has announced that he will be playing for the World XI side in this year's Soccer Aid match at Old Trafford on June 10, a few days before the World Cup's opening game. Bolt will captain his side against the England XI side led by singer Robbie Williams.
The eleven-time World Champion and owner of the 100m and 200m sprint world records announced his retirement from athletics last year but has kept himself quite busy since then by pursuing his dream of playing football professionally, even managing to score tryouts with several big European teams, including Borussia Dortmund and his beloved Manchester United.
A cheeky announcement
On Sunday, February 25th Bolt shared a message to all his followers announcing he had signed for a football team and that he would be announcing the name of the team two days later. As was expected, this set off a frenzy of speculation by the fans and media for days.
With Bolt recently training with South African side Mamelodi Sundowns in January, many were sure he would announce a contract with them. Others thought he'd be joining David Beckham's new team in the Major League Soccer, Futbol Miami, with Bolt having offered Beckham his services a while back.
However, everyone's expectations were completely subverted when Bolt finally made his revelation on February 27th that the team he signed for wasn't exactly a professional football club, but rather a charity friendly in support of the Soccer Aid foundation. Founded in 2006, Soccer Aid has organized biennial charity matches featuring a combination of celebrities and former football legends playing together on the same pitch. The project has managed to raise over £24 million to help children in need since its launch.
Throughout the years, Soccer Aid has seen players of the caliber of Ronaldinho, Maradona and Alan Shearer teaming up with huge celebrities such as comedians Will Ferrell and Mike Myers, or celebrity chef Gordon Ramsay.
The full line-ups for this year's teams are expected to feature plenty of well-known football legends and celebrities and will be announced in the upcoming weeks before the match.
Friendly game, serious challenge
While Bolt has also used his retirement to pursue a career in music and indulge in his love for games of chance – even becoming an ambassador for PokerStars, he has made it clear on many occasions that playing professional football is his ultimate goal at this stage of his life. So, while the Soccer Aid match may just be a friendly (and for a great cause), it is expected that Usain Bolt will be taking the match much more seriously than anybody else involved.
While in previous years participating celebrities were only in it to play with their football heroes, have a laugh and help support the foundation's efforts, Bolt actually has plenty to prove if he is serious about kick starting his football career.
Taking place just days before the 2018 FIFA World Cup, this match will be played at a time where club football is on a break and there is little other football going on. With that in mind, Bolt could easily use this opportunity to showcase his football skills and show that he won't just be novelty signing, but that he can combine his deadly speed with his football abilities to give managers a dangerous ace under the sleeve.
'It is my dream to make it as a professional footballer, so to be able to step out onto the pitch at Old Trafford in June and play against some of football's biggest legends is going to be remarkable." said Bolt.
While his agent has all but dismissed Bolt's chances of playing for a first-rate European club, he has asserted on multiple occasions that Bolt has as many as 12 different teams offering him the chance for a tryout. A breakout performance during this match is sure to raise the hype of him actually being capable of transitioning to football to the point where a team might gain a serious interest in him.
Not only does Bolt have plenty to prove to curious managers, but his famous competitive streak will push him to give his all during this friendly, particularly as it's being held in his favorite team's arena: Manchester United's Old Trafford. "I enjoy the thrill of competition in front of a crowd, so Robbie and his England team better watch out as I won't be going easy on them! I've got a pretty special celebration planned for when I score, by the way", tweeted Bolt during his announcement, 'My team is going to be unbeatable'.
Tickets for Soccer Aid are priced between £10 and £50, are available to the public by calling 0161 444 2018 or from Manchester United's website. For those unable to make it to Old Trafford, they will still get the chance to see if Bolt has what it takes by watching the live broadcast on ITV from 8pm BST on Sunday June 10th.