Running shoe company, ON Running,  holds a special place in the heart of many Australian track fans, due to their support of star miler Oliver Hoare, watch out for this gun at the Tokyo Olympics. Check out a podcast RT did with Olli HERE….
The fastest shoe that ON have ever created has dropped, as ON take a huge step closer to challenging the likes of Nike, in the race for the world's fastest shoe.
Created over two-years with help from professional athletes such as Chris Thompson, Jake Riley, Rachel Cliff, Tadesse Abraham, Javier Gomez, as well as athletes from the ON Athletic Club squad.  ON have created a fast racing shoe designed for events from the 10km and up.
With an aggressive midsole geometry that allows for a more radically shaped/curved speedboard, the Cloudboom Echo propels you forward in an explosive fashion. Like no ON shoe before it.
Runner's Tribe were lucky enough to put a pair of Cloudboom Echos through their paces. Below is our review.

Specs
Type: Road racing shoe. Built for marathon and shorter road races. Suitable for fast sessions too; threshold runs, tempos, track sessions.
Cushioning: High stack heights.
Upper:  High quality mesh, very thin and well ventilated.
Midsole: Rubber/OBC based cloud pods. And a double-stacked layer of CloudTec® cushioning, which is paired with ON's proprietary carbon Speedboard.
Midsole density:  Soft under the feet, firmer closer to the ground. Allows for a lovely plush feeling.
Flexibility: A lot more flexible that other carbon fibre shoes, potentially allowing for better running biomechanics. The shoe can be easily bent 90 degrees. But still a lot stiffer than say your average high mileage training shoe.  An interesting piece of tech from ON is that the carbon speedboard stiffness through the mid-forefoot to toe off is very stiff, thus enhancing the forward propulsion and utilising the stored potential energy from the speedboard, in order to maximise forwards movement.  The flex in the shoe is found very much behind that crucial midfoot region, vital for creating that propulsive action.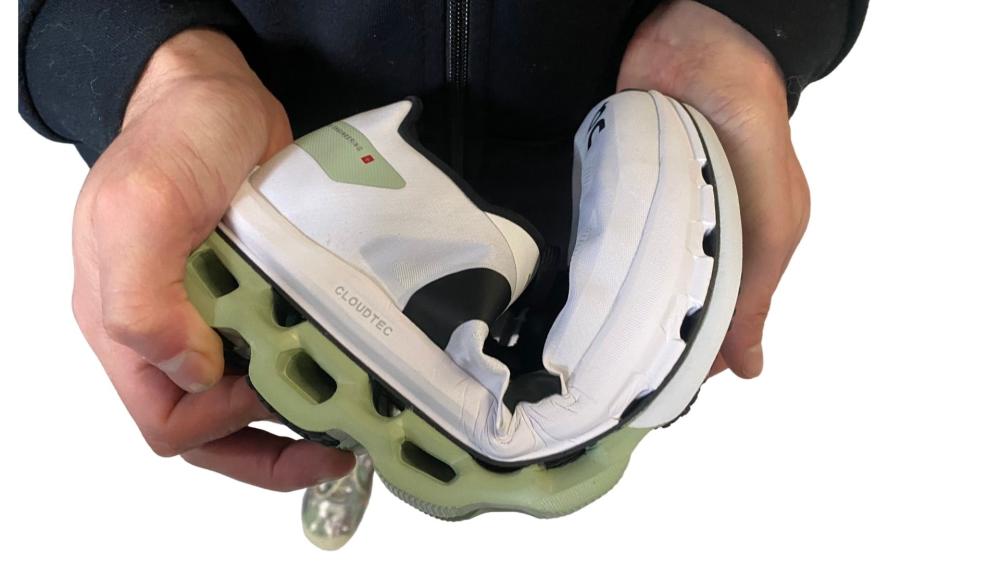 Outsole: Strategically placed high grip outsole rubber. Provides for some much needed grip in the wet. Far gripper than say a pair of Hoka Carbon X – with no real outsole rubber.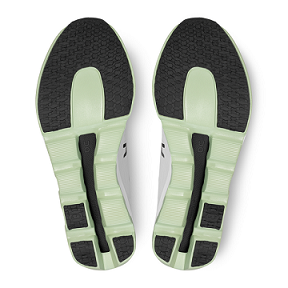 Weight: 248g in a men's US11. For comparison, the Nike Vaporfly Next% weighs 214grams in US men's size 11.  See the below table for brand comparisons in US men's size 9.
Stack heights: 35mm heel, 27mm forefoot (this has been verified by ON Running).
Drop: 8mm.
Heel width: Narrow.
Heel counter: Relatively soft, easily flexed/bent.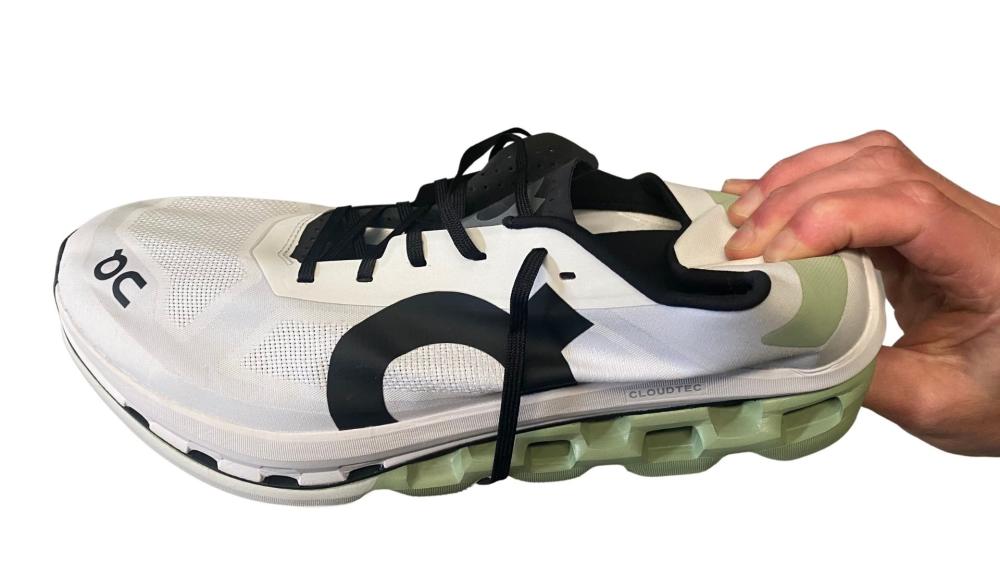 Sizing: True to fit length wise.
Toe Box width: Narrow-medium.
Toe box height: Medium.
Is it quick?  Definitely a fast shoe. Up there with the Metaracer and Carbon X for sure.
Bouncy:  Way bouncier than the original Cloudboom, a huge improvement.
Cost: $369.95 AUD at ON's Australian website.

Let's compare this to the competition

Nike Alphafly: $370
On Cloudboom Echo: $369
Brooks Hyperion Elite 2: $320
Nike Vapourfly Next%: $310
Hoka Cabon X 2: $300
Saucony Endorphin Pro: $250
Asics Metaraces: $230

Higher Stack Height
Everyone remembers the controversy over Nike's Alphafly stack heights.  With the original ON Cloudboom, ON kept their stack heights relatively low. At 30mm (heel) and 21mm (forefoot), ON were a long way away from challenging the World Athletics stack height rules of 40mm maximum. But with the Cloudboom Echo, ON have taken a step closer to mainstream, edging their stack heights up to 27 and 35mm, on par now with shoes like the Endorphin Pro. The move by ON has undoubtably made the shoe faster, with a plusher feeling, and less ground feel.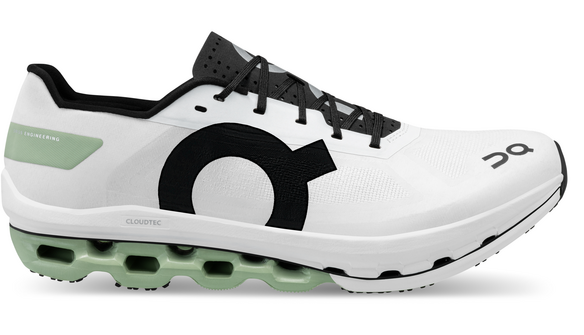 Against Some Rivals
| | | | | |
| --- | --- | --- | --- | --- |
| | Forefoot Stack height | Heel Stack height | Drop | Weight (size 9 US men) |
| Nike Vaporfly Next% | 28mm | 36mm | 8mm | 6.6oz/187grams |
| Nike Alphafly | 36mm | 40mm | 4mm | 7.4oz/209grams |
| Saucony Endorphin Pro | 27mm | 35mm | 8mm | 7.5oz/212grams |
| ON Cloudboom | 21mm | 30mm | 9mm | 8.1oz/229grams |
| ON Cloudboom ECHO | 27mm | 35mm | 8mm | 8.3oz/234grams |
| Brooks Hyperion Elite | 25mm | 33mm | 8mm | 6.9oz/195grams |
| Hoka Carbon X2 | 34mm | 39mm | 5mm | 8.8oz/241grams |
| Asics Metaracer | 15mm | 24mm | 9mm | 6.70oz/190grams |

Cool things about the ON Cloudboom ECHO
–       Upper:  ON make amazing mesh uppers. The quality of their uppers in our opinion exceeds Nike, Adidas and all the major brands.
–       Looks cool:  Huge in Europe, you can see why. Some of the old-school brands could learn a lot from ON's design team.
–       Softer under foot:  One of our issues with previous ON models is the firmness of the ride. A plush feeling under foot is all the rage these days, especially for road racing shoes. ON have taken a gigantic step towards giving the market what it wants, a fast and lightweight shoe, with a plush feel. Well done ON.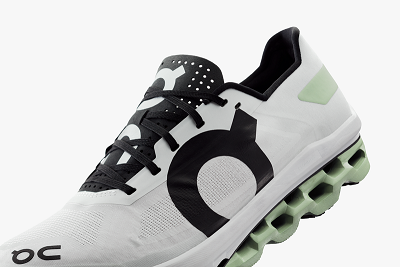 Neutral ponderings
–       Narrow toe box: Perhaps a little less narrow than some other ON shoes, but still far from a wide toe box. If you have a huge forefoot, this isn't the brand for you.   It's a little reminiscent of putting on a pair of spikes. If you ever ran in the Nike Vaporfly 4%, it's a similar feeling toe box (but with mesh not knit).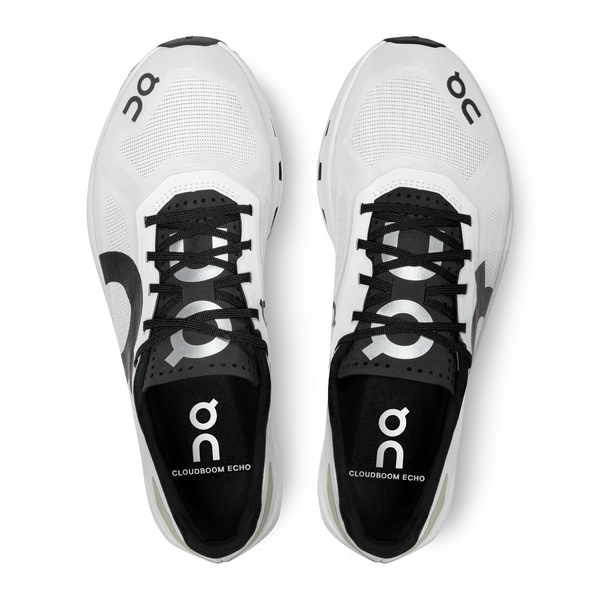 –       Price: The Cloudboom ECHO retails for $369.95 at ON Australia's website, this isn't cheap but it on par with Nike's Alphafly. A price comparison was provided earlier in this article.
To buy or not to buy:
ON have come a long way with the Cloudboom Eco. It is faster and softer than its predecessor. ON are giving customers what they want, a plush, fast ride. If money is no issue, this shoe will not disappoint.
Disclaimer: Runner's Tribe were given a pair of Cloudboom Echos for free.