(c) Runner's Tribe
2020 has been a huge year for the shoe wars that Nike kicked off with their vaporfly 4% release a few years back.
HOKA ONE ONE, the brand known for its max cushioned shoes and metarocker midsole geometry, were second to the table. In 2019 they dropped their Carbon X road racing shoe, all reports indicate they sold like hot cakes.
Now zoom to the end of 2020, and HOKA have just launched the Rocket X (dropping soon in Australia). It is to be viewed like the Carbon X, but slightly faster, subtly better.  Its stack height is slightly lower, and the shoe is lighter.   Running in the Rocket X feels more like a traditional shoe than a HOKA. The wide base of a Clifton (and most models) is gone, trimmed down to increase performance.
The midsole foam used by HOKA is still their proprietary EVA. The midsole foam found in the Rocket X is the lightest foam that HOKA has ever produced.  The EVA foam works for HOKA, and if it ain't broke….
Runner's Tribe took the Rockets through three sessions (15km in total).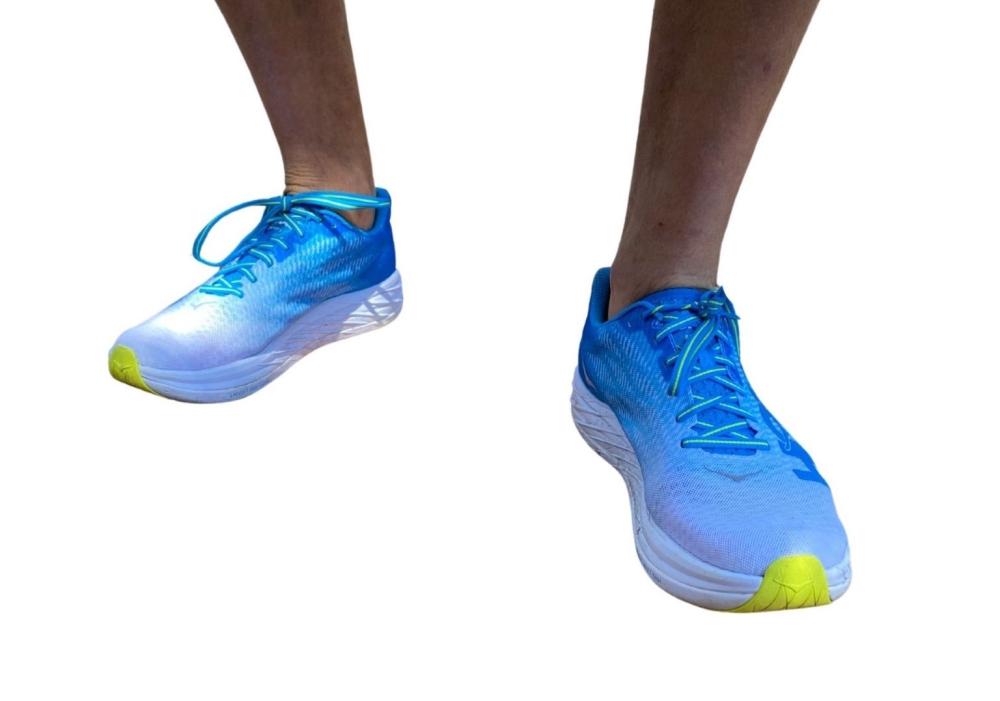 Specs
Km's run during testing process: 15.
Testers: One road/track runners.
Surface: Road, grass track.
Purpose:  Road racing shoe. Built for speed.
Pronation: Neutral.
Stack Height: 30mm heel. 25mm forefoot. These stack heights were verified by Hoka Australia. See the table below for brand comparisons.
Heel-to-toe-drop/pitch/ramp: 5mm
Weight: 

Men: 9 US:  209g. See below table for brand comparisions.
Men: 11 US: 234 grams (exact same weight as the Alphafly, Next% is 209g).

Midsole: Soft lightweight EVA foam.
Upper: Lightweight, breathable mesh.
Outsole: Exposed rubberised EVA foam. Some strategically placed outsole rubber.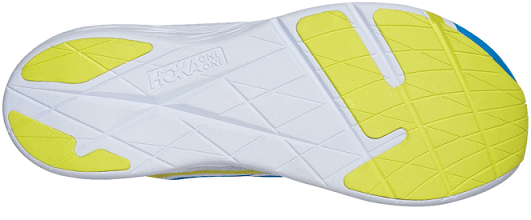 Flexibility: Very stiff (like most carbon ribre racing shoes).
Toe Box:  Narrow.
Density of midsole: Soft.
Heel cushioning: Soft.
Forefoot cushioning: Soft.
Heel counter: Hard/rigid, doesn't collapse easily.
Fits: Runs true to size.
Price: –
Against some rivals
| | | | | | |
| --- | --- | --- | --- | --- | --- |
| | Forefoot Stack height | Heel Stack height | Drop | Weight (size 9 US men) | Foam type |
| HOKA Rocket X | 25mm | 30mm | 5mm | 7.4oz/209grams | EVA |
| Nike Vaporfly Next% | 28mm | 36mm | 8mm | 6.6oz/187grams | PEBAX |
| Nike Alphafly | 36mm | 40mm | 4mm | 7.4oz/209grams | PEBAX |
| Asics Metaracer | 15mm | 24mm | 9mm | 6.7oz/190grams | EVA |
| Saucony Endorphin Pro | 27mm | 35mm | 8mm | 7.5oz/212grams | PEBAX |
| ON Cloudboom | 11mm | 20mm | 9mm | 8.1oz/229grams | EVA pods |
| Brooks Hyperion Elite | 25mm | 33mm | 8mm | 6.9oz/195grams | Nitrogen infused EVA |
| Hoka Carbon X | 30mm | 35mm | 5mm | 8.8oz/249grams | EVA |
| Adidas adizero Adios Pro | 39mm | 30.5mm | 8.5mm | 8.0oz/226grams | EVA and TPU. |
As seen above, the Rocket X has lower stack heights than all its competitors (barring the Cloudboom) and is competitive on weight.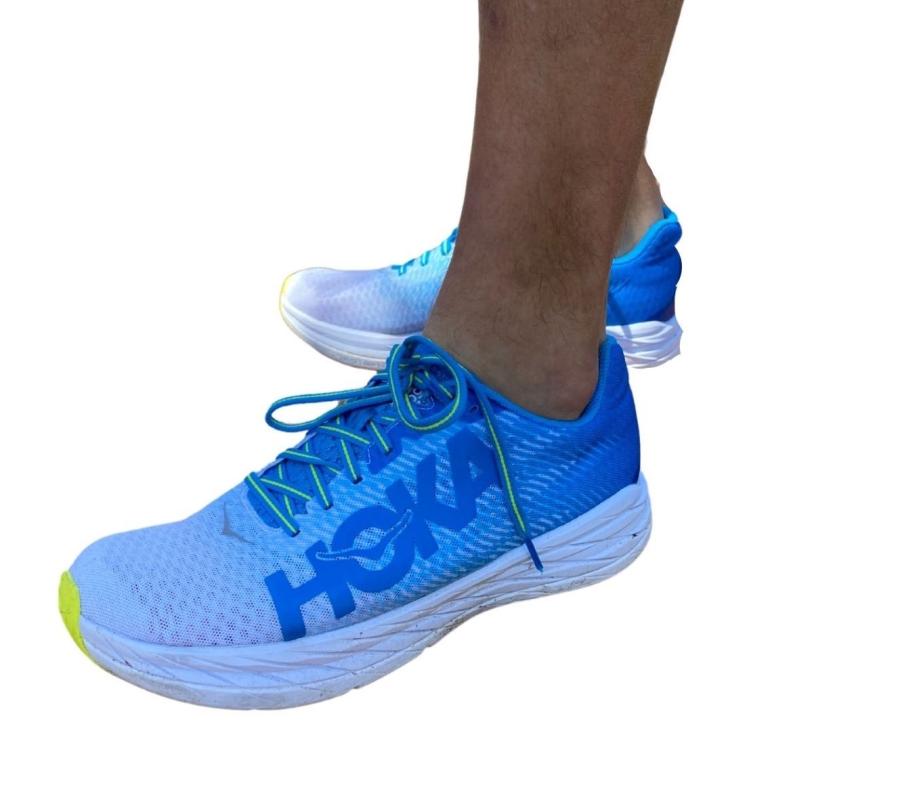 Cool things about this shoe
–       Lower Stack Heights:  Not everyone likes running with 40mm of foam under foot, especially during a race. At 25mm (forefoot) and 30mm (heel), the Rocket X is still far from a minimalistic shoe, yet retains a degree of responsiveness that is hard to achieve in the higher stack shoes.  If you are a HOKA fan and want more cushion, go the Carbon X.
–      Very Responsive:  In some of the shoes with greater stack heights, and even softer foam, it really feels like you are sinking into the foam.  The Rocket X has soft foam, to that there is no argument, but it isn't so soft it's mushy.  It is soft while remaining snappy.
–     Cool Colour Combo:  Design team nailed it.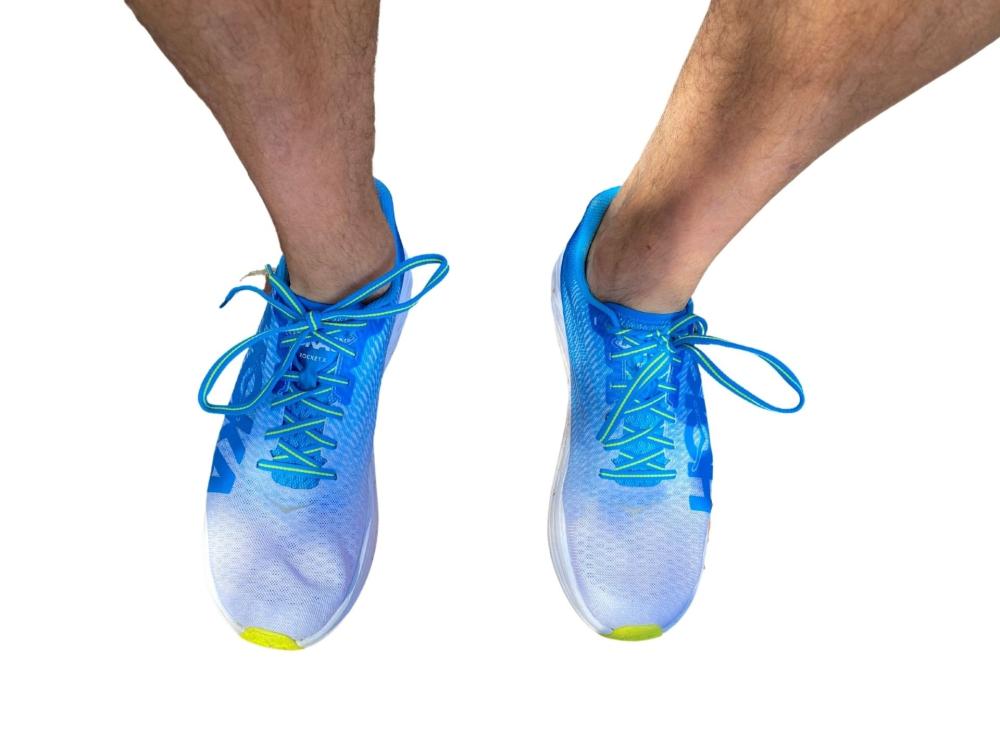 Neutral ponderings
–       A different road:  Like ON with their Cloudboom, and Asics with their Metaracer; HOKA elected to not challenge World Athletics' stack height rules (limits the stack height to 40mm). There are pros and cons of this decision, and it's each for their own.
To buy or not to buy?
The Rocket X is loaded with HOKA's lightest midsole foam to date, and probably its softest. It's a fast, snappy ride. If you want a road racing shoe that doesn't make you feel as though you are running on stilts, then the Rocket X may be your ideal racer. Coming soon, be quick, most carbon shoe drops are selling out the same day…
Disclaimer:  Runner's Tribe were given a pair for free.
Written and tested by Sam Burke for Runner's Tribe.