(c) Runner's Tribe
Our first ever HOKA Mach review, will not be out last. One of HOKA'S nicest rides to date.
The Mach 4 is a shoe designed as a sort of cross between a daily trainer, and lightweight speed shoe. It is lightweight, durable, and fast.  In the HOKA range, it fits somewhere between the Rincon and the Clifton.
We whacked 84K into our pair, below is the rundown.
View this post on Instagram
Specs
Km's run during testing process: 84km
Testers: Two road/track runners.
Surface: Road and light trails.
Purpose:  Neutral daily trainer, some long runs, tempo runs, suitable for some sessions.
Pronation: Neutral.
Stack Height:

Men: 29mm heel. 24mm forefoot.
Women: 27mm heel, 22mm forefoot.
Note: These heights were provided by HOKA Australia.

Heel-to-toe-drop/pitch: 5mm
Weight: Very light (see the below table for brand comparisons)

Men: 9 US:  227g.
Men: 11 US: 261 grams.

Midsole: Soft lightweight EVA foam and a rubberised outsole that doubles as part midsole, part outsole.
Outsole: Rubberised outsole foam to reduce weight. No independent layer of traditional outsole rubber.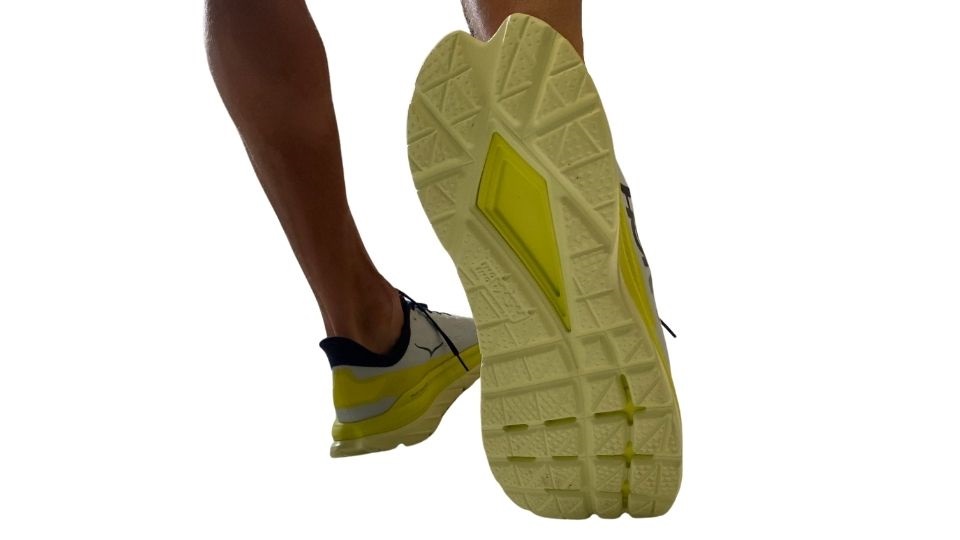 Upper: One piece mesh upper with some overlay around the heel counter for added support.
Flexibility: More flexible than a Clifton, slightly less flexible that a Rincon. Easily flexed.
Toe Box:  Standard HOKA, not a wide toe box.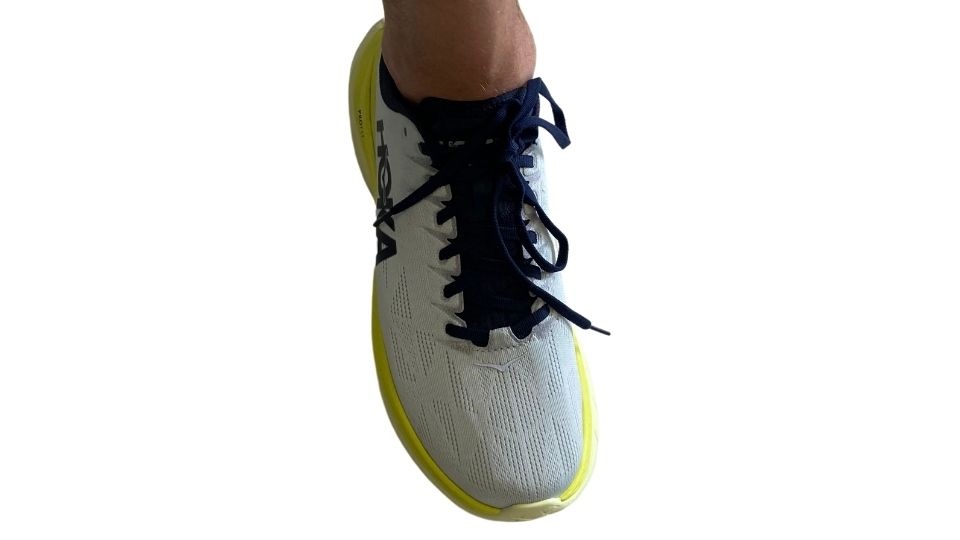 Durability: Good.
Density of midsole: Dual density midsole/outsole. Soft midsole under foot, with a harder rubberised midsole/outsole touching the ground.
Heel cushioning: Soft.
Forefoot cushioning: Soft.
Heel counter: Hard/rigid, doesn't collapse easily.
Fits: Runs true to size.
Marketing Hype: Low.
Does it live up to the hype: Hell yes.
Price:
View this post on Instagram
Against some rivals
| | | | |
| --- | --- | --- | --- |
| Shoe (all size US 9 Men | Weight (grams) | Drop(MM) | Stack Heights (heel/forefoot cushioning) |
| Hoka Rincon | 210grams | 5mm | 32mm/27mm |
| Hoka Clifton 6 | 255grams | 5mm | 32mm/27mm |
| Hoka Mach 4 | 227grams | 5mm | 29mm/24mm |
| Hoka Carbon X 2 | 241 grams | 5mm | 39mm/34mm |
| Saucony Kinvara | 212 grams | 4mm | 28mm/24mm |
| Nike Vomero | 281grams | 10mm | 27mm/17mm |
| Nike Pegasus | 266grams | 10mm | 28mm/18mm |
| Adidas Solar Boost | 301grams | 10mm | 28mm/18mm |
| Asics Nimbus | 315grams | 10mm | 31mm/21mm |
| New Balance 1080 | 283 grams | 8mm | 30mm/22mm |
| Mizuno Wave Rider | 289 grams | 12mm | 32mm/20mm |
| Brooks Glycerin | 309 grams | 10mm | 32mm/22mm |
| Brooks Ghost | 286grams | 12mm | 29mm/17mm |
| Nike Infinity React | 281grams | 8mm | 34mm/26mm |
NB: To be fair, comparing the Mach 4 to say a Brooks Glycerin, is not very useful. The Glycerin is made with a 5mm thick independent outsole rubber, and rubber-based midsole. The Glycerin method adds weight, but also increases durability significantly.  There are various ways to make shoes, RT isn't arguing one method is better than another. Horses for courses.
Cool Things
Soft Yet Snappy: The Mach 4 in reality has a two layered midsole/outsole stuck together (think Nike Pegasus Turbo).  The upper layer is a soft EVA foam, that provides an incredibly soft feeling underfoot. The bottom layer is a harder, denser, rubberised midsole/outsole. It makes the shoe responsive and snappy.

Interestingly, the top layer of soft foam uses HOKA's next generation EVA that was developed in  the Rocket X and updated to be more resilient and stable for a broader variety of runners. Rather than simply using a lighter foam to make even lighter shoes, HOKA instead converted the saved weight to increase the outsole coverage, maximising the stability/balance of the shoe.
Good Durability: HOKA have really improved the durability of their outsoles. Their rubberised outsole quality improves every year. Whilst it is never going to as durable as a shoe with a thick layer of traditional rubber outsole, HOKA have found a nice balance between weight and durability.
Built with Class: We have pairs of HOKA's first Cliftons, the Clifton 1. The improvement in quality from then to now, is off the charts. HOKA these days make shoes of fine quality.
View this post on Instagram
Neutral Ponderings
HOKA's Wide Range: HOKA have so many shoes these days. I'm a massive shoe geek, but even I struggle to keep up. The Rincon, Clifton, Clifton Edge, Mach, Carbon X, Elevon, Cavu, and a few others.  For first time customers, it must be tricky figuring out what shoe is for them.
To Buy?
The Mach 4 is an awesome shoe. For Hoka fans than love the Rincon, it's similar but more responsive. For Clifton fans, it is similar but slightly faster. For old fashioned Nike fans, view the Mach 4 like the Pegasus Turbo – lightweight and fast, yet still suitable for the occasional long run where you want to clip along a bit faster than normal.
Written by Sam Burke for Runner's Tribe. Tested by Ross Johnson and Sam Burke.
Disclaimer: Runner's Tribe were given a pair for free.