Asics took their time responding to the carbon fibre racing shoe movement that Nike triggered when it launched its Vaporfly 4% a few years ago. The Metaracer is Asics reply; a shoe made for speed, designed and manufactured in the Asics style.
Runner's Tribe took the Asics Metaracer through 90km of road running.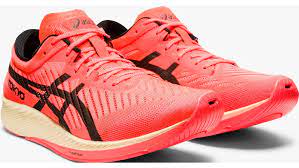 Specs
Type: Road racing shoe. Built for marathon and shorter road races. Suitable for fast sessions too.
Cushioning: Quite low stack heights when compared to many of its competitors. Some will find it not to have enough cushioning for a marathon, and may use it for shorter races, training etc.
Stack heights: 24mm heel, 15mm forefoot. 9mm drop.
Upper:  High quality thin mesh with numerous ventilation holes.
Midsole:

Flytefoam midsole. Flytefoam is an EVA based midsole.
There is a dual-sided lobster claw carbon plate from midfoot to toe, bottom-loaded beneath the FLYTEFOAM midsole (ie it is wedged between the outsole and midsole, but it is not full-length, it is only found from the midfoot to the forefoot).
Midsole density:  The foam is super soft. Like most carbon fibre shoes it is counteracted by the carbon fibre plate.
Flexibility: A stiff shoe due to the carbon fibre. However, quite a lot more flexible than the Nike 4%, next%, Alphafly or Hoka Carbon X.
Outsole: Pretty much a full-length outsole rubber. Has decent grip on wet roads, but not tested on icy roads.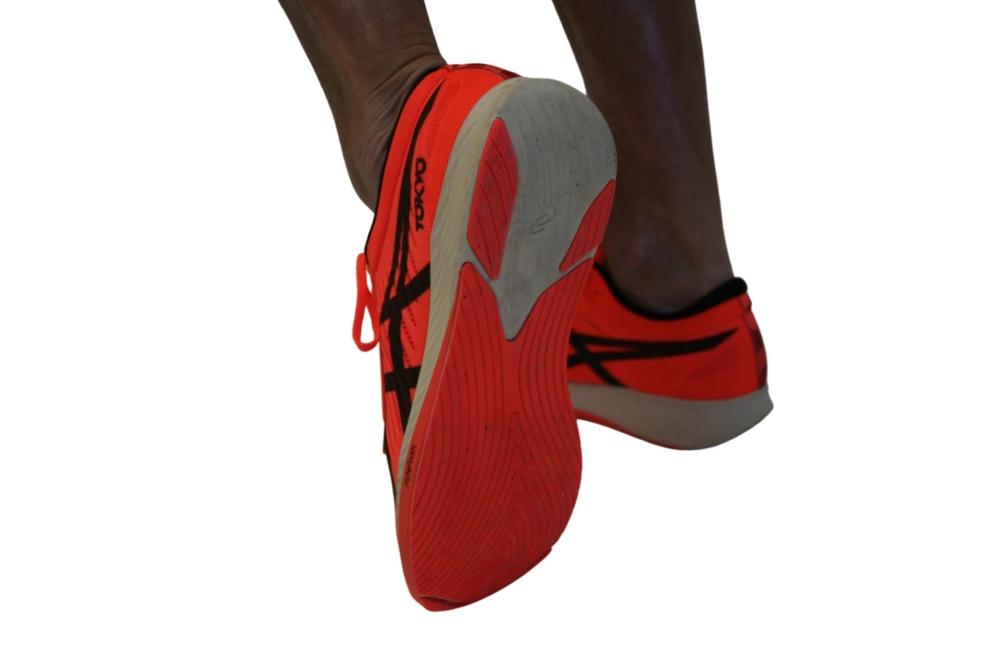 Weight:  Light, but still heavier than some of its competitors (that have way more cushion). See the below table for comparisons.

206 grams in men's size US10.
190 grams in men's size US9.
223 grams men's size US11. Nike Vaporfly Next% weighs 214grams in US men's size 11. See the below table for brand comparisons.
156 grams women's size US9.

Heel width: Standard.
Heel counter: Very soft and bendy. Not a hard back to the heel counter.
Colours: One colour option.
Sizing: True to fit length wise. Quite a narrow shoe width wise.
Toe Box width: Narrow.
Toe box height: Medium.
Is it quick?  Snappy, light, fast.
Bouncy:  Not as bouncy as Next% or Endorphin Pro. But equally as snappy.
Cost: $250 AUD at Asics Australia's website.

Stack Height Comparisons
Everyone remembers the controversy over Nike's Alphafly stack heights.  The theory simplified, a greater stack height leads to more bounce (when coupled with the right midsole foam and a rigid carbon fibre plate).  Asics with their Metaracer have not followed the traditional path to higher and higher stack heights. Below is a comparison of the main road racing shoes (that have anything resembling a carbon plate within them).
| | | | | |
| --- | --- | --- | --- | --- |
| | Forefoot Stack height | Heel Stack height | Drop | Weight (size 9 US men) |
| Nike Vaporfly Next% | 28mm | 36mm | 8mm | 6.6oz/187grams |
| Nike Alphafly | 36mm | 40mm | 4mm | 7.4oz/209grams |
| Asics Metaracer | 15mm | 24mm | 9mm | 6.7oz/190grams |
| Saucony Endorphin Pro | 27mm | 35mm | 8mm | 7.5oz/212grams |
| ON Cloudboom | 11mm | 20mm | 9mm | 8.1oz/229grams |
| Brooks Hyperion Elite | 25mm | 33mm | 8mm | 6.9oz/195grams |
| Hoka Carbon X | 30mm | 35mm | 5mm | 8.8oz/249grams |
If a higher stack height, coupled with a carbon fibre plate and the correct foam, is correlated to more speed, then Asics must have another theory in mind. The Asics is more of a traditional racing flat, but with an extra springy ride thanks to the carbon fibre. There is ample ground feel, and the cushioning feels mild. A vastly different feeling to the Vaporfly road racing shoes so many are used to. Horses for courses.
Cool things about the Metaracer
–       Old School Racer Feel:  For distances of 200m reps to 10km races, the Metaracer is a fast, nimble shoe. Perfect for people who enjoy a bit of ground feel. It reminds me of how road racing shoes used to feel, before high stack height shoes changed the game, but with a lot more spring.
–       True to Asics Brand:  Feels like an Asics, looks like an Asics. If you have been running in Asics for years, this shoe will feel like home. Asics have not turned their back on their way of making road racing shoes, it feels similar to past models, with a bit of extra stiffness due to the carbon fibre plate (and of course more snap).
–       Breathable:  The mesh upper is thin with many ventilation holes. It makes for a shoe that is ideal for hot conditions. On cold mornings, wear thick socks, but on hot days, this shoe is great for keeping your feet cool.

Uncool things about the Metaracer
–       Slightly Narrow  Toe Box: It's a little reminiscent of putting on a pair of spikes. Where Nike have moulded more of a wider toe box for their Next% and Alphafly shoes, Asics have kept with their traditional narrow racing shoes. Definitely not intended for runners who enjoy some room for their toes to splay.  If you ever ran in the Nike Vaporfly 4%, it's a similar feeling toe box (but with mesh not knit). Also a similar feeling to say the ON Cloudboom.
–       Maybe not Quite Enough Cushion for a Marathon: It's an individual thing, but the trend for marathon racing is way more cushioning than the Metaracer provies.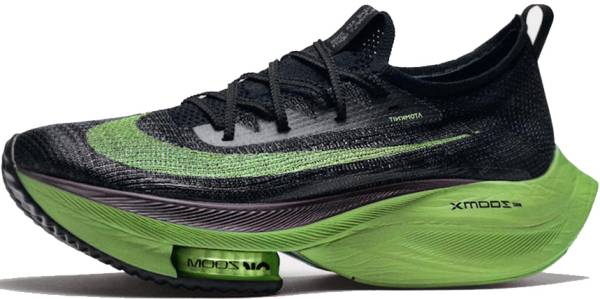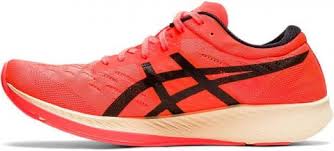 Neutral Ponderings
–       Flexible for a carbon fibre shoe: When compared to most road racing shoes (with the exception of the ON Cloudboom) with a full-length carbon fibre plate, the Asics Metaracer is quite a flexible shoe.  Obviously, it is stiffer than say a high mileage trainer (with no plate etc).  Made more so, as the carbon plate in the Metaracer is only found under the forefoot, meaning, the shoe flexes quite easily at the point where the plate ends. For some, the extra flex will suit, for others, not so much.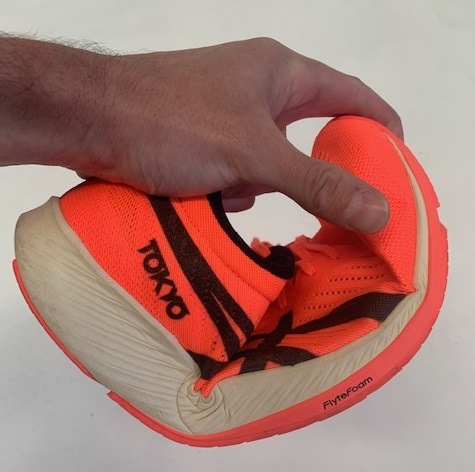 To buy or not to buy:
If you love some ground feel when you race or do fast sessions, the Metaracer is one of the best shoes on the market.
Written and tested by Sam Burke for Runner's Tribe.
Disclaimer: Runner's Tribe were given a pair of Metaracers for free.