George L. Young (July 24, 1937 – November 8, 2022)
American middle-distance runner George Young, has pased away.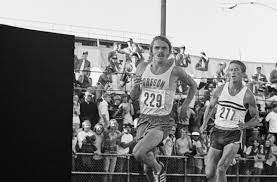 Young will be remembered most of all for establishing American steeplechasing on the international map, for solidifying the 1952 gold-medal achievement of Horace Ashenfelter. Young placed fifth and third in the 1964 and 1968 Olympic Steeplechase finals and set an American record of 8:30.4. He will also be remembered for his competitive toughness. This toughness was perfectly exemplified near the end of his career (at  age 36) when he had an memorable battle with 21-year-old Prefontaine in the 1972 USA Olympic Trials 5,000. Young's ongoing reputation as a tough guy was brilliantly captured in the Prefontaine movie Without Limits. In a memorable scene (http://cdn1.anyclip.com/BTCO2tntJhYbu.mp4), Donald Sutherland, playing Coach Bill Bowerman, visits Prefontaine (Billy Crudup) to announce with great gravity: "George Young is in town." This echoes a classic line in many western movies when locals learn that a famous gunfighter has arrived in town. George Young was indeed a "famous gunfighter" on the American track scene in the 1960s and early 1970s.
Excerpt taken from Racing Past, full article here