SYDNEY– Thousands of runners took to the streets of Western Sydney this morning, taking part in the extraordinary community fun run, NAB RunWest.  Following a turbulent year in 2020, the Western Sydney community turned out in force, with over 4,000 participants crossing the finish line, marking the largest mass participation event in Australia since the pandemic first hit.
The 12km Fun Run commenced at Sydney Motorsport Park before dawn, with participants enjoying one of the most unique running courses in the world, winding into Sydney Zoo to run past lions, elephants, giraffes and plenty of cute and cuddly animals.  Runners then followed the course into Sydney's biggest backyard, the Western Sydney Parklands, before reaching the finish line located at West HQ.
View this post on Instagram
Mosman runner Annabele White took out the top spot for female runners, smashing the 12km course record by almost two minutes, in a time of 41:50.  Amy Cogle from Beacon Hill followed closely behind, claiming second in a time of 42:48, and Patty Nowak took out third in a time of 42:50.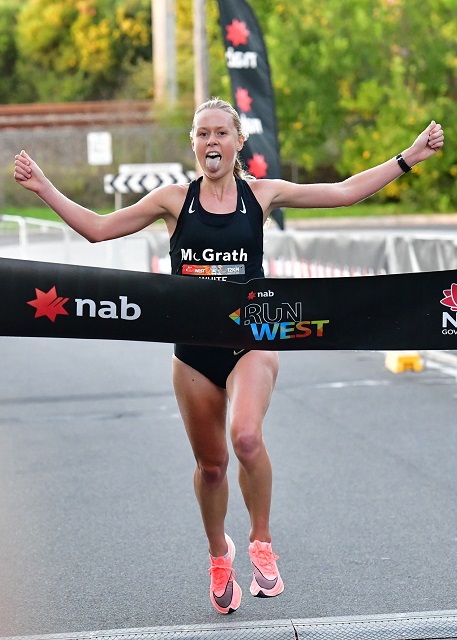 Kieren Tall from Terrey Hills was the first male to cross the finish line in the 12km,  breaking the men's record with a time of 36:02.  The course record was previously held by Kieren's coach, elite runner Ben St Lawrence, who set the record of 36:20 in 2019.  Second place went to Keith Macpherson who travelled from Forbes to participate in the event, in a time of 37:36, while Sam Hopper of Greenwich crossed over third in a time of 37:54.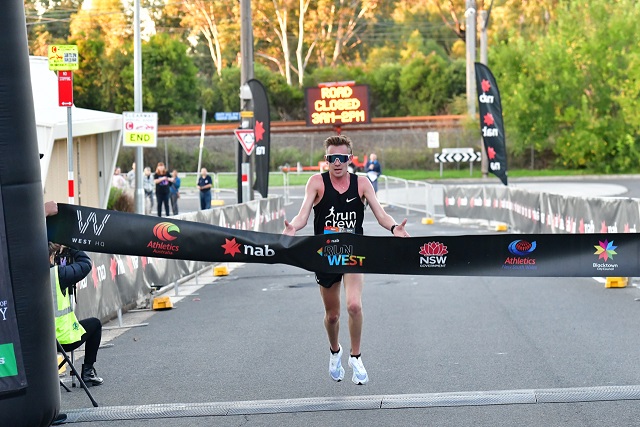 The 4km Family Fun Run started at Blacktown International Sportspark and had an unbeatable community atmosphere, championing inclusion for people of all abilities and fitness levels, from toddlers to grandparents, walkers to piggy-back riders, those in wheelchairs, those smashing personal goals and those pushed comfortably along in their prams all the way to West HQ.
Will Summer sprinted to the finish line in the 4km event, taking out the top spot in a time of 14:18.  Cam Williams followed in second, crossing in a time of 15:16, and Thomas Olbrich was in third in a time of 16:21.
Briony Norton set the pace for the female runners, crossing the 4km finish line in first in a time of 16:08.  In second place was Emalee Olbrich in a time of 18:09, followed closely by Sarah Eyears who claimed third in a time of 18:20.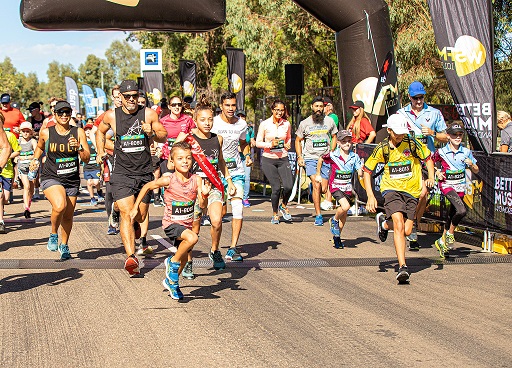 NAB RunWest General Manager, Peter Bromley, said; "We continue to be inspired by the incredible participants from all backgrounds and fitness levels, coming together in our incredible Western Sydney community, to achieve their personal best at NAB RunWest.  We have worked tirelessly with our partners, NSW Health, and the NSW Government to bring this incredible legacy event back to the people of Western Sydney, and we were so pleased with the amazing number of participants today."
NAB is proud to be the naming rights partner of NAB RunWest, helping to encourages runners of all ages and abilities to get out and be active, while supporting the local Western Sydney community.
RESULTS: A full list of results for all events across the weekend can be found on the NAB RunWest website at https://www.multisportaustralia.com.au/races/nab-runwest-2021
MAJOR PLACES FOR 2021: 
| | | | |
| --- | --- | --- | --- |
| 12KM MALE | TIME | 12KM FEMALE | TIME |
| Kieren Tall | 36:02 | Annabel White | 41:50 |
| Keith Macpherson | 37:36 | Amy Cogle | 42:48 |
| Sam Hopper | 37:54 | Amy O'Halloran | 44:05 |
| | | | |
| --- | --- | --- | --- |
| 4KM MALE | TIME | 4KM FEMALE | TIME |
| Will Summer | 14:18 | Briony Norton | 16:08 |
| Cam Williams | 15:16 | Emalee Olbrich | 18:09 |
| Thomas Olbrich | 16:21 | Sarah Eyears | 18:20 |
-ENDS-