World Athletics has today amended its rules governing competition shoes to provide greater clarity to athletes and shoe manufacturers around the world and to protect the integrity of the sport.
After a prolonged wait, World Athletics won't be banning Nike's controversial carbon-infused Vaporfly Next% road racing shoes.  Instead, the governing body has tightened regulations regarding footwear in the lead up to Tokyo 2020.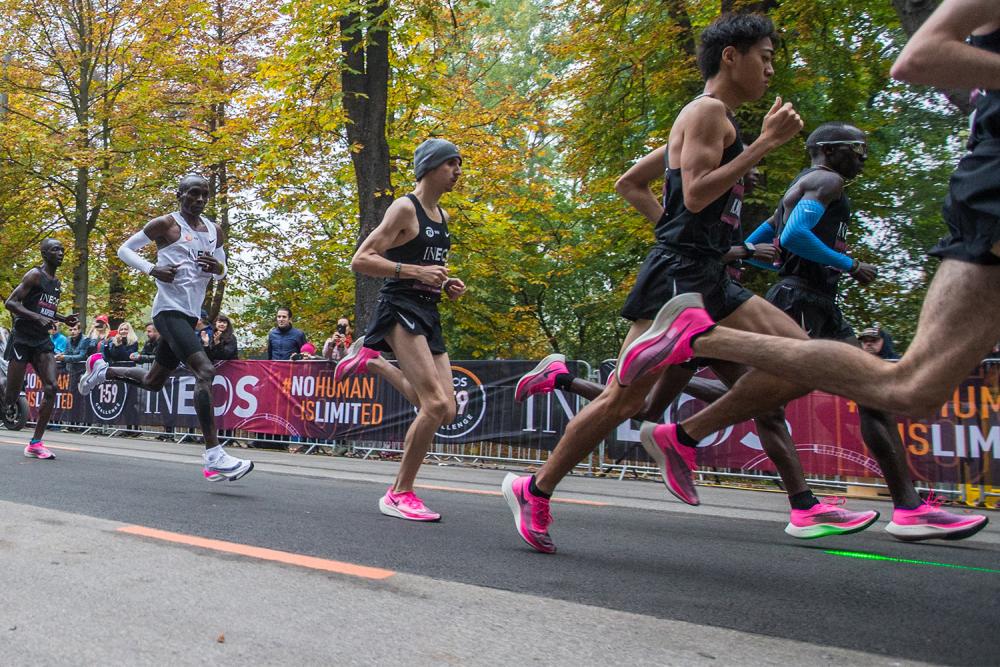 World Athletics have announced the following new rules, with immediate effect:
The sole must be no thicker than 40mm.
The shoe must not contain more than one rigid embedded plate or blade (of any material) that runs either the full length or only part of the length of the shoe. The plate may be in more than one part but those parts must be located sequentially in one plane (not stacked or in parallel) and must not overlap.
For a shoe with spikes, an additional plate (to the plate mentioned above) or other mechanism is permitted, but only for the purpose of attaching the spikes to the sole, and the sole must be no thicker than 30mm.
The following new rules will come into effect from April 30:
From 30 April 2020, any shoe must have been available for purchase by any athlete on the open retail market (online or in store) for a period of four months before it can be used in competition.
If a shoe is not openly available to all then it will be deemed a prototype and use of it in competition will not be permitted. Subject to compliance with the rules, any shoe that is available to all, but is customised for aesthetic reasons, or for medical reasons to suit the characteristics of a particular athlete's foot, will be allowed.
Where World Athletics has reason to believe that a type of shoe or specific technology may not be compliant with the rules or the spirit of the rules, it may submit the shoe or technology for study and may prohibit the use of the shoe or technology while it is under examination.
See the full press release HERE
Facing potential legal challenges from Nike, it appears the World Athletics review panel chose to back down and not to impose a blanket ban on the Vaporfly shoes.  However, what this means is that newer modified models (ie. the Alphafly) will be barred from elite competition in order to give athletes more transparency as we approach the Tokyo Olympics.  This means the Nike's Alphafly shoes will not be allowed for use in Tokyo.
The competition referee will have the power to request that an athlete immediately provide their shoes for inspection at the conclusion of a race if the referee has a reasonable suspicion that the shoes worn by an athlete do not comply with the rules.
World Athletics has also recommended that further research be undertaken to establish the true impact of this technology and that a new working group, comprising biomechanics specialists and other qualified experts, be formed to oversee this research, and to assess any new shoes that enter the market, where required. Shoe manufacturers will be invited to be part of this assessment process.
In the interim, manufacturers will be asked to submit any existing new prototypes to World Athletics for approval to be used in major competitions. Additionally, all existing records set by athletes wearing Vaporflys will be allowed to stand.
World Athletics President Sebastian Coe said: "It is not our job to regulate the entire sports shoe market but it is our duty to preserve the integrity of elite competition by ensuring that the shoes worn by elite athletes in competition do not offer any unfair assistance or advantage. As we enter the Olympic year, we don't believe we can rule out shoes that have been generally available for a considerable period of time, but we can draw a line by prohibiting the use of shoes that go further than what is currently on the market while we investigate further.
"I believe these new rules strike the right balance by offering certainty to athletes and manufacturers as they prepare for the Tokyo 2020 Olympic Games, while addressing the concerns that have been raised about shoe technology. If further evidence becomes available that indicates we need to tighten up these rules, we reserve the right to do that to protect our sport."