Sydney, Australia; April 15 2021 –  The Tokyo nomination trials are officially underway at the 2021 Australian Track and Field Championships, with a plethora of elite athletes eyeing off national glory and potential selection for the Tokyo Olympic and Paralympic Games.
Queensland decathlete and 2018 World Under 20 champion Ash Moloney announced himself as a contender for his first Open age title today, battling it out amongst fellow Queenslander and current Australian champion Cedric Dubler.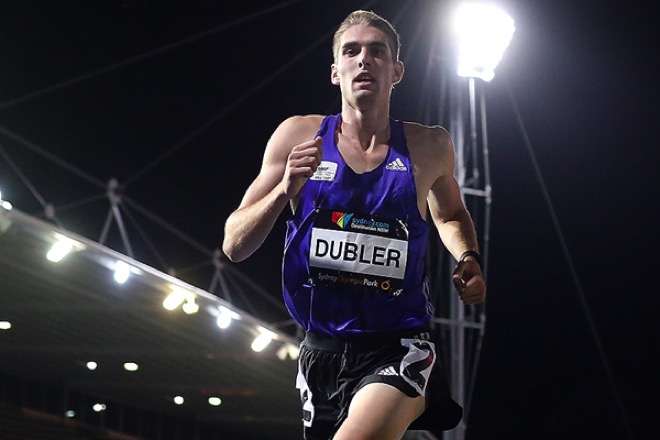 After breaking the Oceania record in the decathlon last December, Moloney proved his result was no fluke. His scorching form today saw him run 10.45 (+1.1) over 100m, nearly 0.4 ahead of Dubler who came in third, creating a point score difference of 90 between the two powerhouses of the event. Moloney widened the gap further with a 7.72m jump (+0.8), ahead of Alec Diamond (NSW, 7.69m) and Dubler's 7.47m.
The tables turned when Dubler jumped 2.09m in the high jump, but the power reverted back to Moloney, who won the 400m in 46.72m – over a second ahead of Dubler (48.42) in the fifth and final event of the day.
On paper, the national title is still up for grabs, with 259 points separating Moloney and Dubler in third place, but competition is guaranteed to be just as fierce tomorrow, with both racing to secure their Olympic berth, after both posting qualifiers at the Queensland Combined Event Championships last December.
Dubler said Moloney's rise not only makes for good competition, but is adding fuel to his fire as he looks towards his second Olympic Games.
"Ash is incredible. He's the next big thing in track in field and it's incredible to train with him," Dubler said.
"I took on a mentoring role when he first joined the squad, and ever since then I had to pull him away from those Milo cups, mid lactic session and just keep him focussed, so I've gone above expectations and he's blizting it now.
"It's a really good friendship and mutually beneficially. We push each other in sessions and we keep each other honest, and it's going to work for both of us."
While both athletes have Olympic qualifiers in tow, Dubler said without much international competition, the Championships presents both with an opportunity to test out strategies before the pinnacle event arrives.
"Nationals is a really important comp for us. We've been looking forward to it ever since we got that Olympic qualifier and we came here with the aim of trying things we can take to Tokyo, like cooling strategies, some heating strategies, timing, physio times and treatment we can do. It's a big experience as we look to optimise performance in Tokyo.
"Today has been a really long day and to get your body through this, you just need a bit of extra stimulus to shock your body. I jumped really well after that, with a 2.09 in the high jump, so there are definitely some things I've learnt today that I will take to Tokyo."
Bronze medallist at the Dubai 2019 World Para Athletics Championships Sarah Walsh (NSW) won her first Open age title in the ambulant long jump, with a jump of 5.17m. The jump was her 14th Paralympic qualifier over the Tokyo qualifying period.
"It's pretty exciting. I think this is my first Open age national title. I've had such a great season, it's a nice way to cap it off," Walsh said.
"It's pretty exciting knowing that Tokyo is just around the corner and it's just back to work for the next few months so that I can hopefully bring out the big jumps and quality jumps in Tokyo.
Already selected for the Australian Paralympic Team heading to Tokyo, Sarah Edmiston (WA, F44) stamped her authority on the women's ambulant discus, throwing 35.49m notching up another A qualifying standard.
Preliminary events saw some of Australia's top Olympic contenders take to the track as athletes look to book their tickets to Tokyo.
Australia's most recent record holder Linden Hall (VIC) effortlessly floated across the line first in her heat for the women's 1500m, but she'll be up against strong competitors with Australian 5000m champion Jenny Blundell (NSW), Lauren Ryan (VIC) and Genevieve Gregson (QLD) in the final.
View this post on Instagram
"It's exciting that the Australian Track and Field Championships are finally here and we're finally doing them. It makes the Tokyo Olympics real, and it's nice to have an Olympic qualifier in my pocket already ahead of the final," Hall said.
"I'm quietly confident but it's Nationals and you can never rule anyone out. I'm going to have to be on my game on Saturday night."
The women's 400m saw a strong field of Australian talent line up over three heats. Bendere Oboya (NSW) produced a smooth run over one lap to take the win over Gabriella O'Grady (NSW) and Kendra Hubbard (VIC), while Rio Olympian Anneliese Rubie-Renshaw (NSW) crossed the line first in the second heat. In the third, it was 18-year-old Ellie Beer who placed first, ahead of Rebecca Bennett (NSW) and Jessica Thornton (NSW).
As the Open age athletes continued their momentum towards Tokyo, Australia's junior athletes continued to shine.
Mackenzie Mielczarek (VIC), Lianna Davidson (NSW) and Salumi Robberts (SA) all competed twice today, in both the Under 20 javelin throw finals and the preliminaries for the Open age javelin throw. Mielczarek secured another World Under 20 qualifier and automatic selection with her throw of 54.91m. Lianna Davidson (NSW) also with 52.11m. But it was Western Australia's Mia Gordon who impressed with her first World Under 20 Championships qualifier, throwing 53.28m for a 6m personal best.
After coasting through to win the Under 20 800m preliminaries, Charlie Jeffreson (NSW) continued his winning streak, running 1:48.96 to win the title. Behind him was fellow New South Welshman Joshua Atkinson (NSW) in second place, who too secured a World Under 20 qualifier to go with his 400m qualifier, finishing less than 0.2 seconds behind Jeffreson.
The women's Under 20 800m saw a trifecta of New South Wales World Under 20 qualifiers, with Matilda Ryan stepping atop of the podium after clocking 2:05.90 over two laps.
Jaylah Hancock-Cameron who won the Under 20 1500m just two nights ago came in second placed in 2:06.51, while Nicola Hogg landed herself a spot on the podium with a 2:06.79 performance.
Winning his second title of the week was Jude Thomas (QLD), who ran sub 14 for the second time in the Under 20 5000m to set a new meet record (13.57.86). Thomas flew across the finish line more than 30 seconds ahead of Brandon Ford (WA) and Daniel Kelly (NSW) who placed second and third respectively.
Olivia Sandrey (SA) won gold in the Under 20 10,000m race walk clocking a World Under 20 qualifier, with a 47.03.55 finish. Sandrey beat Alanna Peart (VIC) who had won the 10km event at the Australian Race Walking Championships just last month.
The Women's Under 16 200m Hurdles saw Delta Amidzovski (NSW) win her fourth gold medal of the Championships. She won the 100m hurdles and high jump, and although too young, qualified for the World Under 20s in the long jump with a PB of 6.25m. This time she hurdled her way around the bend of the track in a time of 28.11.
For full results visit: http://athletics.resultshub.com.au/