Both the men and women's race records for the Blackmores Sydney Marathon have been comprehensively beaten, Kenyan runners storming to victory on a record setting day for marathons in Australia.
Smashing the NSW record set in the Sydney 2000 Olympic Games, in what is the Legacy event of the Sydney Olympic Games Kenyan Filex Kiprotich doubled his prize money when he crossed the line for the win.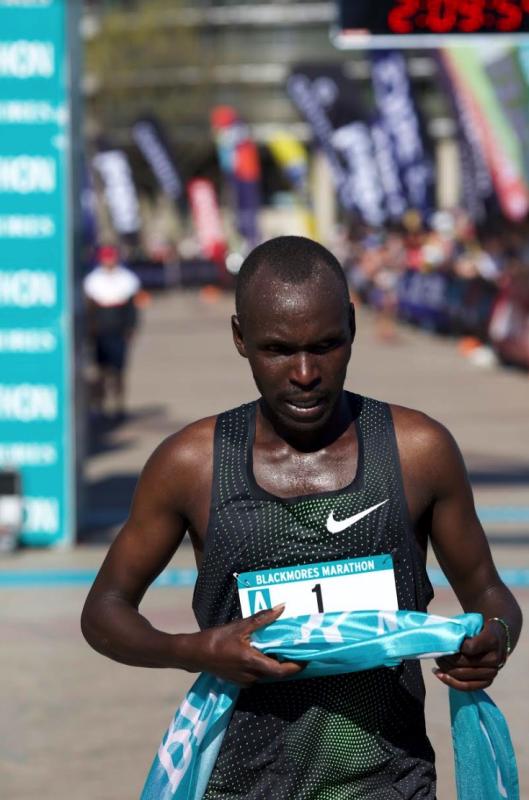 Under perfect spring conditions it wasn't just the race records that fell, a new participation record was also achieved as 40,050 people set out across the Sydney Harbour Bridge, finishing at the Sydney Opera House.
Kiprotich was the man of the moment when he won his first Blackmores Sydney Marathon in a time of 2:09:49. His effort to beat the record time of 2014 winner Gebo Gameda (Ethiopia) by one minute and 29 seconds drew wild applause from the crowd gathered on the steps of the Opera House.
Supporters maintained their enthusiastic support as second placed runner Michael Kunyuga (2:10:05) made it a Kenyan double, with Japan's Saturo Sasaki (2:11:02) coming home third and ensuring all three podium finishers stopped the clock under the previous race record time.
For Kiprotich the race was won around the 30km mark, when he surged ahead of his rivals. Early on in the race it had been fellow Kenyan Joseph Aperumoi who had set the pace, but Kiprotich ran down his compatriot by the 18km mark, before making his calculated move to the lead.
"Today's race was good, I was thinking as I went through the 30km mark that I could go and nobody followed me, so I tried," Kiprotich recalled.
"The time was good, a 2:09, I thought could break the record and that was the best I could do today."
It was double honours delight for Kenya as Stellah Barsosio slashed the women's race record by just under three and a half minutes, her winning time of 2:24:33 well clear of the 2:28:00 mark that Ethiopian-born, Australian resident Makda Harun Haji ran in 2017.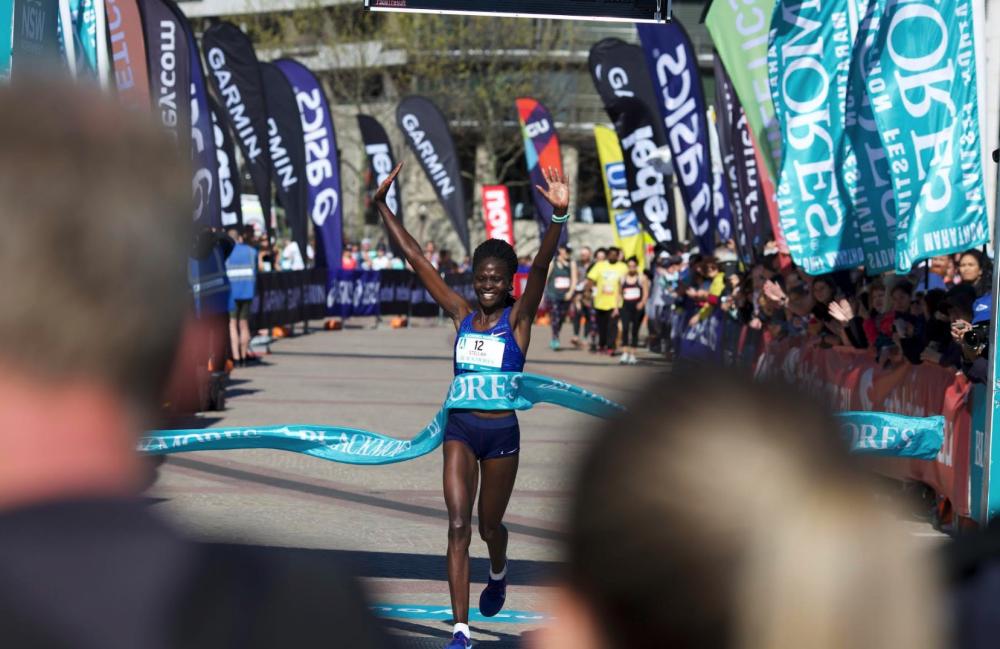 Second was Josephine Chepkoech (2:26:43), also of Kenya, who rubber stamped the speed of this year's elite competitors by coming in under the previous race record. Crossing third was 2012 London Olympic Games 5000m finalist Tejitu Daba (2:28:22) of Bahrain.
For first-placed Barsosio, sheer joy was the dominant emotion as she climbed on to the top step of the podium for her 11th major marathon win in the past five years.
"I am so happy, I broke away at the 28km mark and I thought of the race record and soon after I knew that I could run under two hours and 25 minutes, so I tried to push," Barsosio said with a broad smile on her face.
"It was very good to get a race record; the weather was good for me and I enjoyed being on the course."
In the Blackmores Sydney Wheelchair Marathon, it was a return to fine form for four-time Paralympian Richard Colman of Geelong, as he completed the course in 1:55:42. Hot on Colman's wheels was Canberran Jake Lappin, who finished two seconds shy of victory in 1:55:44. The first woman wheelchair athlete for the second year in a row was Eliza Jane Ault-Connell (2:03:28), who beat home three-time champion Christie Dawes (2:05:27) of Newcastle.
This year's event also hosted the Australian Marathon Championships, Queensland's Isaias Beyn winning the men's race in 2:21:16, NSW athlete Ingrid Cleland stopping the clock in 2:52:44. Completing the men's podium was Victorian Dion Finocchiaro (2:24:55) and Tasmanian Thomas Murton (2:27:36). Rounding out the top three in the women's race was for NSW was Larissa Tichon (2:57:22) in second and Magda Karimali (2:59:30) in third.
While simply contesting a marathon is a large enough challenge for most, eight competitors upped the ante by also chasing a Guinness World Record. In total, four world records were gained, including the record for the fastest marathon dressed as a television character. Bethany Wormald transformed herself into Flintstones character Betty Rubble for the day to become queen of the stone age.
The Blackmores Sydney Half Marathon was the domain of Japan, as their runners claimed first and third in the men's race. Ryota Komori was first (01:05:00) and Kazumasa Asakura third (1:05:52), the pair split by Aussie two-time Blackmores Sydney Half Marathon winner Thomas Do Canto (1:05:32). For Komori, careful planning saw him break away around the 13km mark to claim the result he travelled to Australia for.
"The start of the course is quite up and down, it is quite hard, but I'm very happy that I won. I planned well for this race and got the result I wanted," Komori said.
"I like Sydney and I would like to come back."
Komori's time equalled that of Do Canto's winning time in 2017, but the second placed Aussie conceded that he didn't have the pace to go with the Japanese victor today.
"I couldn't go with the break today. I've been running long enough to know that I would have blown up if I had tried to stick with him," Do Canto surmised.
For the second year in a row – and third time overall – Sydney's Belinda Martin was the first woman over the line in the Half Marathon, the 45-year-old super mum besting her 2018 winning time by just over a minute to finish in 01:14:50. It was an all-Aussie podium in the women's race, as Vaucluse's Rebecca Lowe finished second (1:17:04) and Launceston's Karinna Fyfe placed third (1:18:09).
Martin highlighted that her ability to train with her kids had allowed her more time than ever before to dedicate to her running.
"At 45 I'm able to do more with my time and my kids are that bit older, so I can actually train with them now. My 11-year-old is training for national championships and he can do part of a run with me, and my daughter runs too, so I've got friends," Martin beamed.
In the 10km Blackmores Bridge Run, race record holder James Nipperess from Sydney was first across the line in 30:08, his second victory since 2010. Second was Kieran Tall (NSW) who improved by one place on his effort from last year and completed the course in 30:12, while third was the ACT's Bryce Anderson in 30:26. Marnie Ponton (34:21), Lauren Reid (34:31) and Michelle Pearson (35:30) made it a NSW clean-sweep on the women's podium.
Participants in today's event will raise more than $2 million for Australian charities, and at close of race it was Sydney's Jacqui Bruyn leading the charge with an astonishing sum of more than $35,000 raised for the Stillbirth Foundation Australia. Her contribution and those of today's record number of participants has helped bring the total raised by the event since its inception in 2001 to more than $20 million.
Blackmores Sydney Running Festival Event Director Wayne Larden said record event entries were the foundation of making this year's event one of the most memorable.
"To have more than 40,000 people getting out and taking part in this event on a sunny Sydney morning, running past Sydney tourist icons and a glittering harbour not only sets an outstanding participation record, it also emphasises that we have one of the best events, certainly the most scenic and on par with the very best of international marathons in around the world," said Mr Larden.
"Every year we talk about how great this event is and we have accolades such as being awarded IAAF Gold Label status in 2015 to show that. But on top of that we have an event that has grown by 32,000 participants since its inception in 2001, we will inject approximately $18 million into the local economy via direct visitor spending and we have raised millions for Aussie charities.
"This year's event has beamed the best of Sydney into more than 450 million homes worldwide, including live to China for the first time on Shanghai TV, and again into EuroSport Asia and FUJI TV Japan, amongst a host of other international broadcasters.
"Today we have seen a fiercely contested marathon take place and it will grab global attention. Weve seen sub 2hr10min marathon results which will most certainly encourage marathon tourists to give the Blackmores Sydney Marathon a go. We've also had thousands of people running and walking the half marathon, 10k Bridge Run and Family Fun Run, which exemplifies the spirit and camaraderie of participants in this event."
TOP THREE RESULTS IN ALL EVENTS:
BLACKMORES SYDNEY MARATHON
Men
Filex Kiprotich (Kenya) 02:09:49
Michael Kunyuga (Kenya) 02:10:05
Saturo Sasaki (Japan) 02:11:02
Women
Stellah Barsosio (Kenya) 02:24:33
Josephine Chepkoech (Kenya) 02:26:43
Tejitu Daba (Bahrain) 02:28:22
BLACKMORES SYDNEY WHEELCHAIR MARATHON
Men
Richard Colman (Highton, VIC) 01:55:42
Jake Lappin (Canberra, ACT): 01:55:44
Women
Eliza Ault-Connell (Albury, NSW) 02:03:28
Christie Dawes (Newcastle, NSW): 02:05:27
BLACKMORES SYDNEY HALF MARATHON
Men
Ryota Komori (Japan) 01:05:00
Thomas Do Canto (Sydney, NSW) 01:05:32
Kazumasa Asakura (Japan) 01:05:52
Women
Belinda Martin (Sylvania, NSW) 01:14:50
Rebecca Lowe (Vaucluse, NSW) 01:17:04
Karinna Fyfe (Launceston, TAS) 01:18:09
BLACKMORES BRIDGE RUN
Men
James Nipperess (Sydney, NSW): 00:30:08
Kieren Tall (Terrey Hills, NSW) 00:30:12
Bryce Anderson (Turner, ACT): 00:30:26
 Women
Marnie Ponton (Blue Mountains, NSW): 00:34:21
Lauren Reid (Sydney, NSW): 00:34:31
Michelle Pearson (Woolgoolga, NSW): 00:35:30
Full results available at www.sydneyrunningfestival.com.au