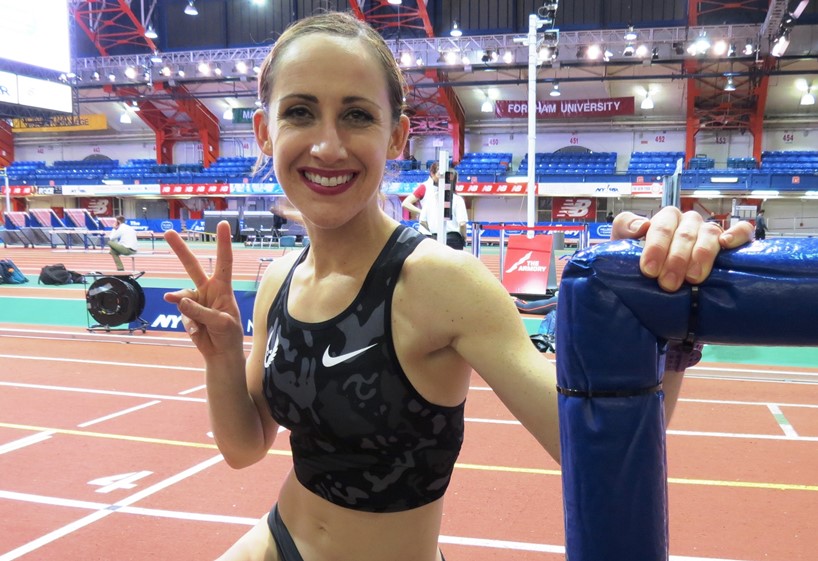 By David Monti, @d9monti
(c) 2016 Race Results Weekly, all rights reserved
PORTLAND, ORE. (10-Mar) — In an on-line video posted earlier this week which has been watched over 68,000 times, reigning USA indoor mile and two-mile champion Shannon Rowbury lamented the ruinous influences of doping in athletics.  After learning that two more of the women who beat her in the 2012 London Olympic 1500m had tested positive for doping, a frustrated Rowbury felt that she had to speak out.
"While I can't even begin to imagine why someone would dishonor themselves, their country and the sport by cheating, I can speak to my own experiences as a result of such a bad behavior," Rowbury began, looking downcast.  "While those women were doing their victory lap in the London Olympic Stadium, I was crying through my cool-down and then sobbing in the Olympic Green, trying to gather enough self control to face my family with a smile and tell them that I was fine."
Rowbury, who finished sixth in that race, is one of only four athletes who finished in the top-10 who hasn't either been convicted of doping, or is currently under investigation.  Earlier this week, Turkey's Gamze Bulut, the London silver medalist, was reported in the Turkish media as having failed a doping test.  Earlier, Sweden's Abeba Aregawi, who finished fifth in London running for her native Ethiopia, tested positive for meldonium, a drug prescribed for heart conditions which was recently banned by the World Anti-Doping Agency for enhancing aerobic performance and endurance.
"These cheaters rob people like me and my competitors of medals, but they also rob our family, our support group, and our country," said Rowbury, who could eventually be moved up to a medal position.
Here in Portland, where the two-day USA Indoor Championships begin tomorrow at the Oregon Convention Center, Rowbury is looking to shake off her frustration and defend both of her titles –this time at the international distances of 1500m and 3000m– and secure team spots in both disciplines for the IAAF World Indoor Championships which begin here in a week.  Rowbury, who is originally from San Francisco but now lives and trains here under the Nike Oregon Project, is trying to look past the sport's doping scandals and taste victory on home turf.
"I live and train in this area; I live in Beaverton and train on the Nike Campus," Rowbury explained.  "So, Portland had become home for me, at least for the time being.  So, to me it just made total sense to incorporate this U.S. Nationals, and then hopefully Worlds, into my training program.  With the Nike Oregon Project we have two peaks within a year; I found that to be really useful for my development."
Rowbury, 31, is by far the fastest American miler so far this indoor season, clocking 4:24.39 at the NYRR Millrose Games.  She also ran a controlled 8:53.52 for 3000m at a low-key meet just to make sure she had the World Championships qualifying mark (9:00.00).  Her personal best at the distance is a world class 8:29.93 (outdoors), while her best indoor mark is 8:47.18.  Her potent combination of endurance and closing speed will make her hard to beat here in both events.
"My training has been coming along pretty well," said Rowbury, looking upbeat.  She continued: "Workouts have been good.  I've been focusing on strength, but my top-end speed is coming along really well, also.  So, I'm excited for my odds this weekend."
Nevertheless, the doping issue weighs heavily on Rowbury, the USA 1500m record holder (3:56.29) who has been in the top-tier of middle distance runners for nearly a decade.  In the Beijing Olympic 1500m final she finished seventh.  She won a bronze medal at the 2009 IAAF World Championships 1500m, but didn't make the final in 2011 in Daegu, and competed in the 5000m in 2013 in Moscow after not making the USA team in the 1500m for a technical reason.  In the 2015 World Championships last August in Beijing, she was seventh.  She still wants another medal, despite all the chatter about doping.
"It is an issue very near and dear to my heart, and is something that is very upsetting to me," Rowbury said.  "But, I have to look forward to the things that I can do, and not things that I can't control, and what I want to accomplish."  She added: "I still, God willing, can have another shot at an Olympic medal that I can have the right way.  I just look forward to the opportunities which are ahead of me.  I'm trying really to focus on that."