A flurry of late entries has been received from a number of high-quality athletes for the world's richest mile in Darwin this Sunday September 16.
Among them is American trackstar Craig Engels.  The 24-year-old is in the prime of his career, having finished 7th in the final of the IAAF World Indoor Championships earlier this year.  Dubbed the 'mullet miler', Engels only made the decision over the weekend to race the Lottoland Mitchell Street Million Dollar Mile.
Engels joins 20-year-old returning Japanese athlete Kazuyoshi Tamogami and New Zealand 1500m champion Hamish Carson as the international stars to take on Australia's best.
"The addition of Engels, a 3:53 miler and world championships finalist, is a testament to the standing of this event internationally now.  He contacted us and said I'm in good shape, can I come.  That's the respect this event now has around the global running scene," Athletics NT Executive Officer Shane Wylie said.
"Kazuyoshi was full of fire last year, as he lead the men's race to the halfway point and was keen to come back and finish higher up the ladder in 2018.  Together with NZ champion Hamish Carson, Australian record holder Ryan Gregson, 2016 race winner Jordan Gusman and a host of other world class Australian milers, we're in for a treat this Sunday.
Watch last year's men's elite race below:
The women's field is super strong at the pointy end, featuring new Australian record holder Linden Hall, Commonwealth Games 5th placegetter in the 1500m Georgia Griffith, 3-time Australian 1500m champion Heidi See and dual Olympic Finalist Genevieve Lacaze.
"At the top end, the women's field features the best milers in Australia.  Injury and illness has plagued the women's field a bit more than usual this year which detracts from the depth a bit, but any number of women will be able to win on Sunday," Wylie said.
Full list of elite entries below: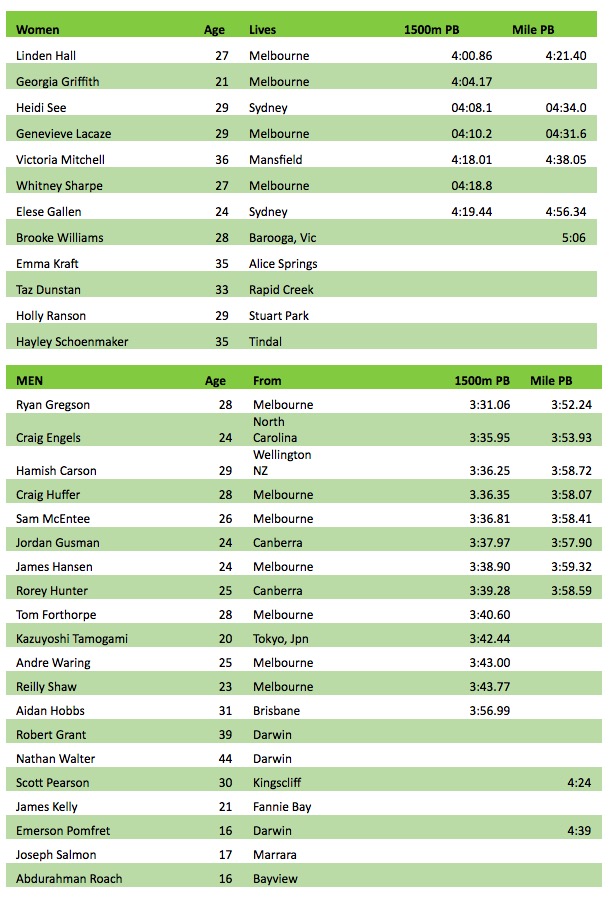 Entries have been flooding in for all categories, including the new street skating events that will kick the event off at 1pm.
From 1:30pm onwards there will be a sequence of 2 runs, followed by a ride, until the final event, the Lottoland Elite Men start at 5:50pm.
"It's a whole afternoon of exciting and colourful racing.  With 13 events on over a 5 hour period, we feel like the balance of fun, recreational and elite competition is just about spot on for our fifth edition of the event.  There will be kids, elderly, men, women, bikes, skates, a creative collection of dress ups and of course some of the worlds best athletes.  If people can't participate, it sure will be an entertaining afternoon to come and watch," Wylie added.
Watch last year's women's elite race below:
Entries close online on Thursday (tonight) at midnight – mitchellstreetmile.com.au.
The Lottoland Mitchell Street Million Dollar Mile includes eight running/walking events, three cycling and 2 street skating events.  The full program for the September 16 event is;
1pm 1:30pm – Roller Derby (2 x 15min events)
1:30pm – Lottoland Defence and Services Mile Run
1:50pm – Lottoland Masters Mile Run
2:10pm – Darwin Family Law B Grade Cycling – 15min + 1 Lap
2:35pm – Hilton 12 years and under Mile Run
3:00pm – Territory Health Fund U'18 Youth Mile Run
3:20pm – Darwin Family Law Women's Cycling – 15min + 1 lap
3:50pm – Donate Life NT Fancy Dress Mile Run
4:20pm – Royal Flying Doctors Service Open Mile Run
4:40pm – Darwin Family Law A Grade Cycling – 20min + 1 lap
5:20pm – Lottoland Elite Women Run
5:50pm – Lottoland Elite Men Run
Enter online at www.mitchellstreetmile.com.au.