Hengelo, Netherlands.  The man many tip to be the first Aussie to break the 1:44.00 barrier over 800m has inched ever so closer with a second-place finish at the Hengelo World Challenge.  The race was won by the young Kenyan Johnathan Kitilit. Kitilit's time of 1:43.77 is the second fastest in the world so far this season. Deng finished second, stopping the clock at 1:44.97.
Deng becomes the 5th Australian in history to run sub-1:45.00.
Australia's top-10 800m all-time list
1:44.40A Ralph Doubell V 110245

1:44.40 Alex Rowe

1:44.48 Jeff Riseley

1:44.78 Peter Bourke

1:44.97 Joseph Deng

1:45.03 Brendan Hanigan

1:45.16 Luke Mathews

1:45.21 Grant Cremer

1:45.21 Peter Bol

1:45.36 Bill Hooker
"The race went to plan for sure" – reported Deng.   Justin Rinaldi, the coach of both Deng and fellow 800m star Peter Bol, advised Deng before the start, "Don't be afraid to get out there and attack it – you are in great shape."  Deng listened and slotted in 4th behind the pacemaker and two Kenyans and kicked on over the closing stages.
"I felt great afterwards, the legs felt really good during the cool down so that was a good sign."
Deng's run places him 7th in the world so far this year.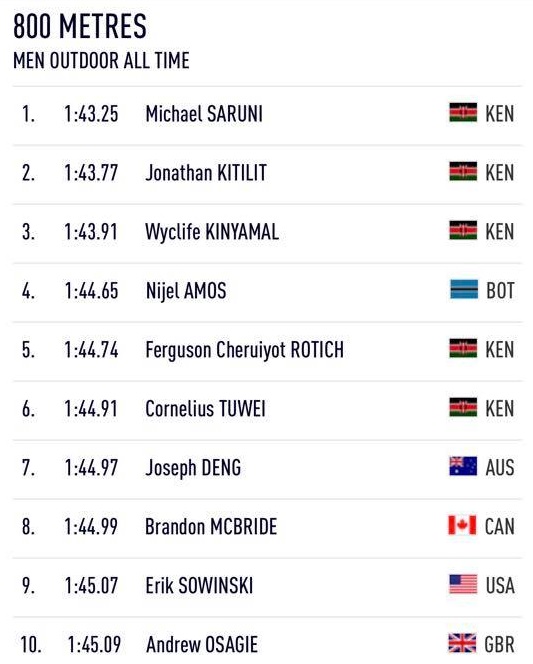 Deng races next on 10 June at the Stockholm Diamond League. With manager, James Templeton, dictating his racing calendar, Deng is guaranteed fast races and all the opportunity in the world to have a crack at that illusive Australian 800m record.  We wish him well – #dengfever
End
Main cover photo | Joe Deng, Aussie Athletics Champs 800m B final 2018: Photo by Ewa Facioni