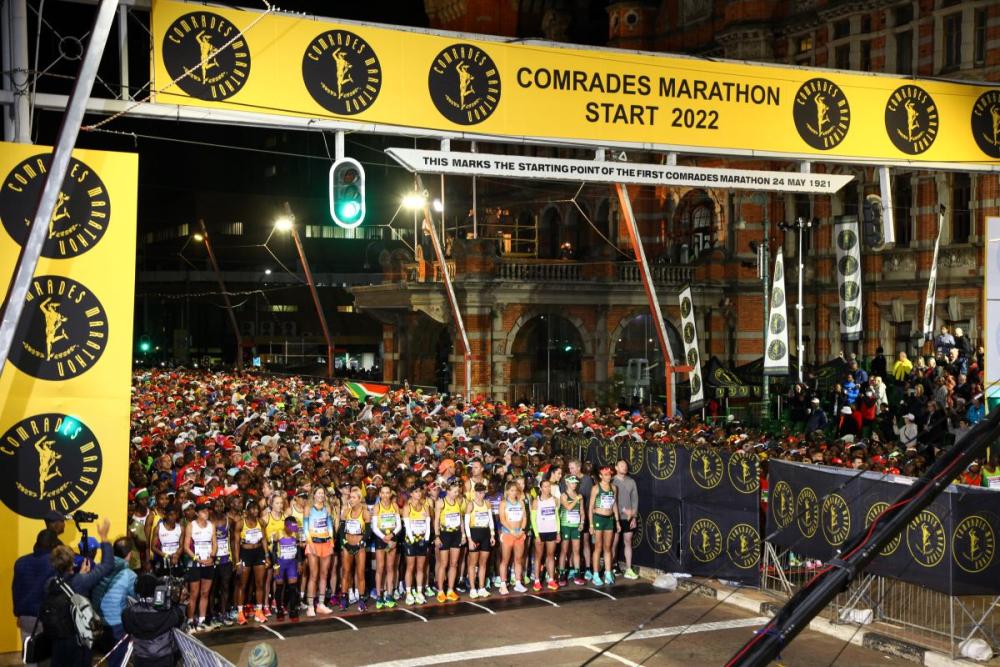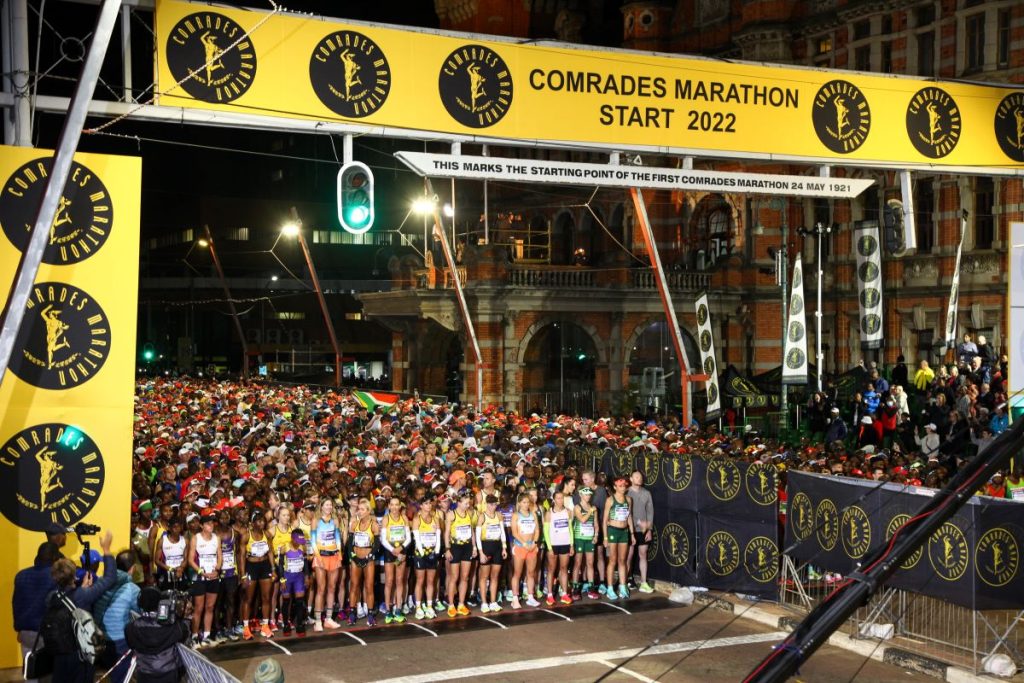 ABOUT THE EVENT
Known in South Africa and within the running community simply as 'Comrades', this is the world's largest and oldest ultra-marathon.  Comrades is an annual race that switches direction each year, taking place in KwaZulu-Natal South Africa. The route itself is hilly, hot, and long (average of 90km) between Durban and Pietermaritzburg.

With the changing direction there is an 'Up' and a 'Down' run, but don't be fooled into thinking one is far easier. The men's course record differs in direction by only 4 minutes and the women's by less than 30! 
Earning your place on the start line is an achievement in itself, you must post a sub 5 hour marathon finishing time just to qualify. Even still, during the race are brutal cut-offs to test your resolve at every leg. You must cross the halfway point in Drummond by 6 hrs 10 min and make the finish line by the 12-hour mark with more checkpoints in between. 
Whether you're a seasoned runner or a first timer to ultra events, the atmosphere of this race is so unique. The streets are lined with thousands of cheering spectators who come out to support the runners and add to the party-like atmosphere. The energy from the crowd rarely dulls along the entire route and is infectious enough to keep to going when you need it most. This is an opportunity to conquer challenges many can only dream of.

The great guarantee of Comrades is that you will be tested, but you'll also have the time of your life. This event is truly a bucket list item for any runner, and it's a race that will stay with you forever.


INSIDER EVENT INFO from Marathon Tours and Travel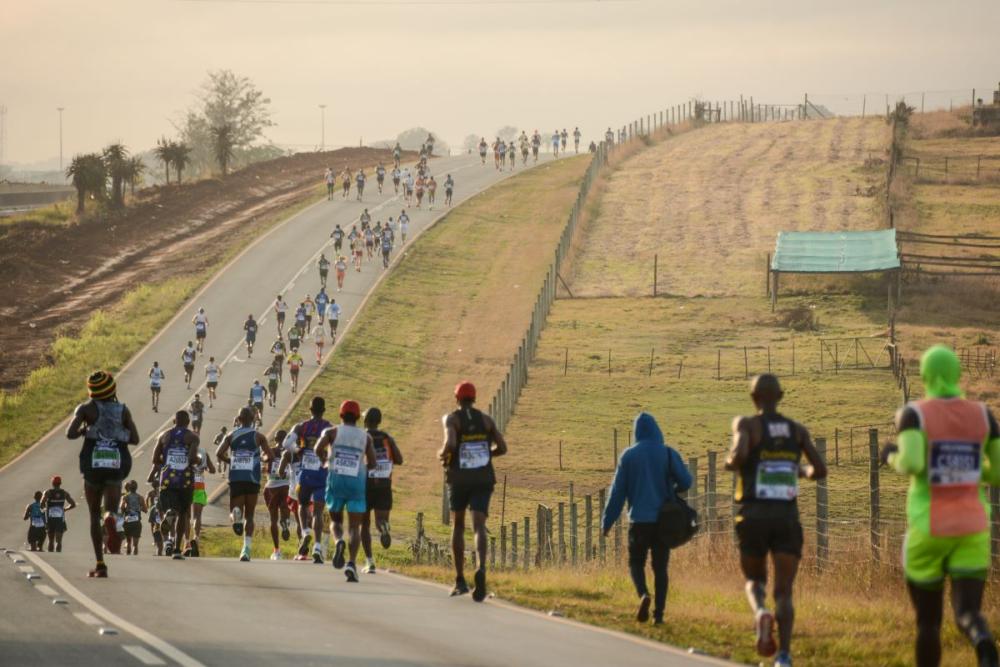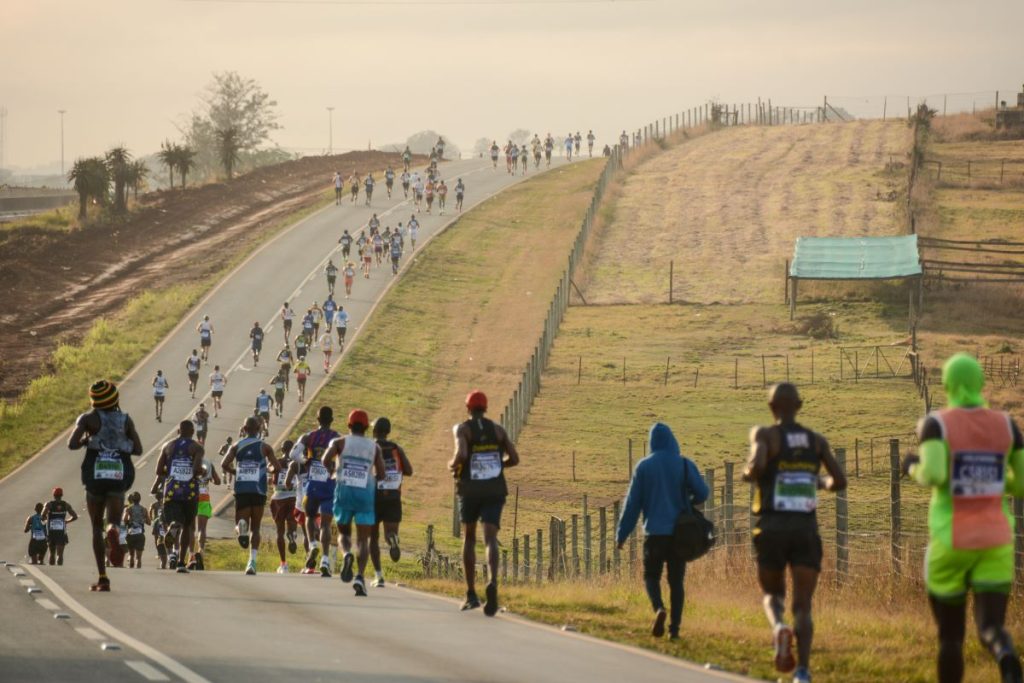 One of the biggest highlights of the race is the unrivalled camaraderie this challenge creates. Amongst the crowd you'll spot plenty of different bib colours around you and each has its own meaning. 

White – First Race
Yellow – 9 finishes, going for their 10th
Green – 10 or more finishes under the belt
Green Stripes – 20 or more previous finishes
Orange – back-to-back runs
Blue – International runner
With the visual indicator of everyone's standings in the field comes the ability to share moments of elation and seek support during your most dire battles. You may summit a hill with a fellow white bib and celebrate the achievement together. Or as you grind into rhythm wearing blue, the support of a green-striped veteran could be all you need to dig that little bit deeper.

There are a few extra steps to prepare for an ultra-marathon besides training. The nature of the race means that despite constant crowd support, medical and supply stops along most of the route, you will need to be more self-sufficient.

It's important to be prepared for the challenges to come so here are a few things to keep in mind when you're packing!

Keep extras on your person: Ensure your belt, bag or vest are stocked up with gels, water, and electrolytes. Tablets and powder you like can help you stay space efficient. Keep in mind you're likely to lose 3-5kg of weight as you run. 
First Aid: it's worth taking a small collection of bandages, painkillers, and anti-inflammatories to prop yourself up when you need it. It wouldn't hurt to even bring some disinfecting wipes, eye wash and worst-case, a foil blanket.

Sunscreen and glasses: If you don't normally run with glasses, this is the race to consider it, the South African sun can be intense so make sure you protect your skin and eyes. 
Clothing: Despite the heat, it's still worth bringing a light-weight waterproof jacket and a few extra pieces of clothing such as spare socks, a hat, and some gloves, but this is really personal preference.

Lip balm: This is a big one, a tiny stick of balm can save you hours of struggle!

Creature comforts: The reality of an ultra-marathon means you may want to bring some toilet roll, and wet wipes.

Torches: You will be running in the dark, bring at least one headtorch and ideally a second, smaller one. 
Mobile: While the event draws 20,000 people a year, there is a chance you will need to make contact alone, run with a device to do this with!
These are some of the key essentials we'd recommend. The Comrades Marathon is a long and challenging event, so it's important to be prepared. The community is a great resource for tips as well as your expert tour operator. By making sure you have everything you need you'll be able to focus on the task at hand and take the most from the experience.

In 2023 Marathon Tours and Travel are privileged to have become the exclusive international tour operator and are working directly with the organising committee and ambassadors to continue the growth of this incredible event.
TESTIMONIAL 
MARIE HOWARTH AT MARATHON TOURS AND TRAVEL
"I had no intention of returning but the lure of the 'back to back' medal brought me back."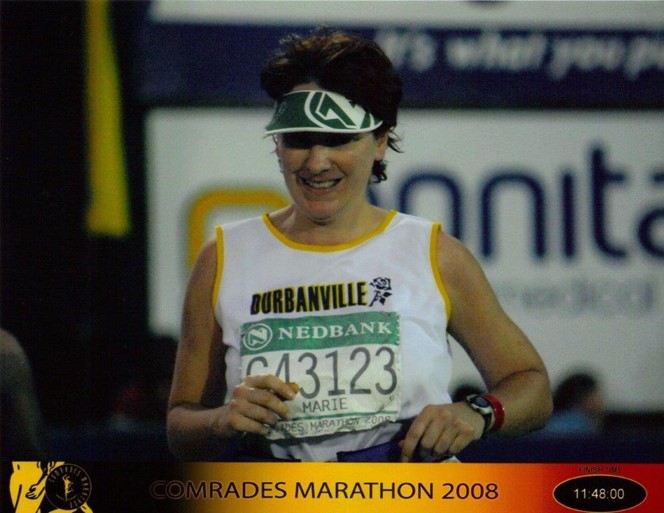 I had planned to only run it once, after all I am not a fast runner, not young or a natural athlete so the thought of running a marathon more than twice in one day was definitely going to be a one-off deal! But they say never say never and this is my condensed story of 3 starts and 2 finishes! 

2008
The Up Run. After 10 months of training and weekly long runs I stood at the start, in the dark, under the street lights outside Durban City Hall. Together with the thousands of nervous and excited runners we made friends with our neighbours and sang together … the National Anthem, Shosholoza … and then we were off at the sound of the gun. This was now very real, and there was no turning back. You can read a km-by-km account of the route but for me it was a battle of mind over body to get through to the end. The scenery became a blur as I had developed ITB at around halfway. I visited a medical tent, got strapped up and honestly didn't think it possible to carry on. Very soon after I was blessed to get a tap on my shoulder from a green numbered friend on the road, he told me I can do it and with his encouragement and the 'gees' of the runners around me I made it to the finish…. with 12 minutes spare before cut off!

I crossed the finish line, wobbled wearily to grab a drink, clung onto my medal and walked into the arms of a friend waiting for me … I burst into tears and hugged everyone and anyone willing to receive a hug!

2009
I had no intention of returning but the lure of the 'back to back' medal bought me back.
This year, work commitments got in the way of my training. I arrived at the start line with no sleep (at all) the night before, and undertrained. We'll make this one short as I didn't make it to the finish. Somewhere in the middle of the thousand hills as they are known, after vomiting nonstop for an hour and being told by a fellow runner … "Marie, you look terrible, I'm bailing, bail with me" I did exactly that. Back-to-back medal forever lost!

2010
This year was to be a Down Run, time to wipe away the memories of the previous down run failure and prove I can do the Down Run, and with a better time than 2008! Starting in Pietermaritzburg, outside the City Hall I can identify several memorable moments through this race that will live with me for a lifetime.
Reaching the top of Polly Shorts hill just as the sun was coming up. I was Feeling strong. Magic!

Tears and goosebumps (mine) as the boys from a local school sang and high fived. To be honest there was a lot of this support, and throughout the entire route, but those boys really got to me!

A stranger giving me his very last gel and with still many kms to go.

Coming into Durban, seeing the stadium in the far distance and feeling an overwhelming desire to pick up speed.

Sprinting into the stadium and feeling like an absolute winner (far from it) with 45 minutes to spare before cut off! My second medal. My most treasured.
Mission accomplished! 
Lets not sugar coat it … hard it is but hard is what makes it so great!

If you want to get yourself to the event or more info, get in touch with the Marathon Tours and Travel team.