By David Monti, @d9monti
(c) 2018 Race Results Weekly, all rights reserved
LONDON (19-Apr) — At 33, Kenya's Eliud Kipchoge's marathon career is already the stuff of legends.  In nine starts, he has won eight times, including twice here at the Virgin Money London Marathon and at the 2016 Rio Olympics.  He has run sub-2:05 six times and sub-2:04 twice. And, although not recognized as an official world record, he ran 2:00:25 for the standard 42,195m marathon distance at the special Nike-sponsored Breaking2 exhibition race last May in Italy, the fastest-ever time in history.  He has twice won the Abbott World Marathon Majors points series and pocketed $1,000,000 from those awards alone.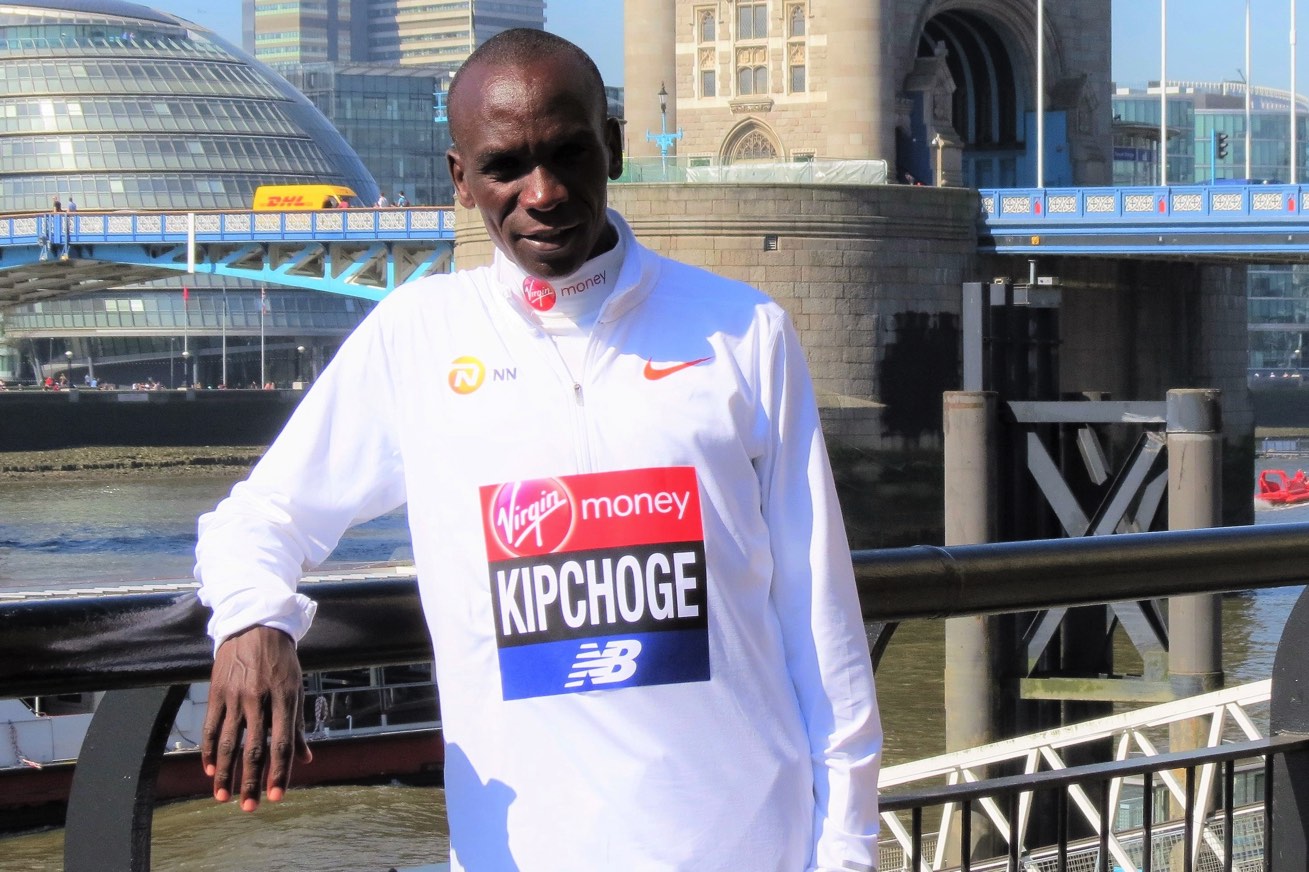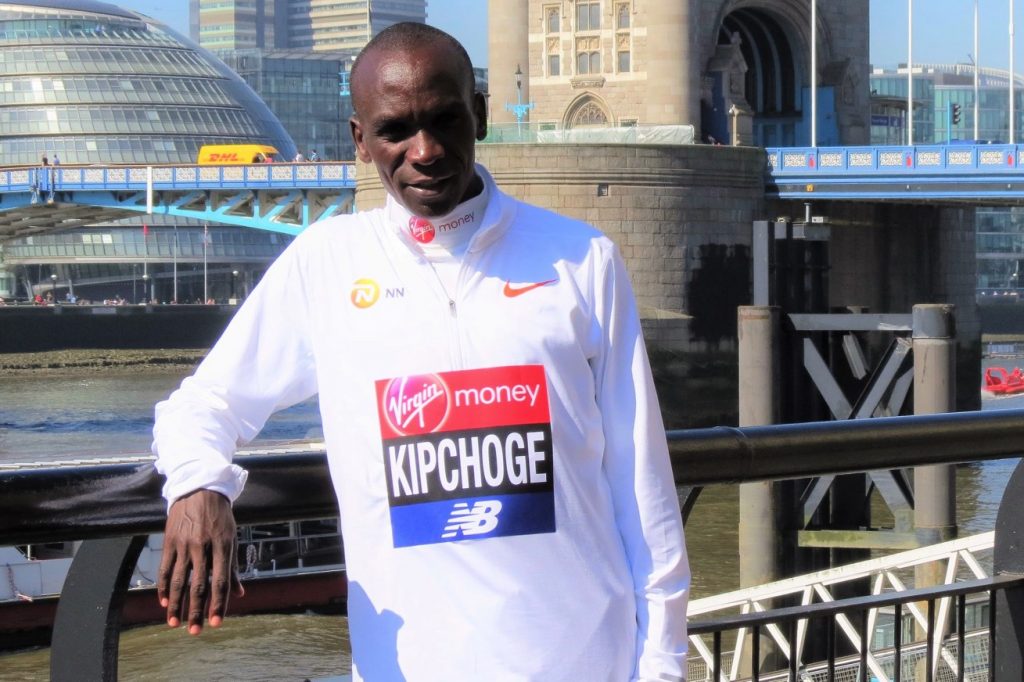 As he makes his final preparations for Sunday's marathon here, Kipchoge offered no training secrets in response to the media's questions, but one: he never stops learning.
"I am still a student," he told reporters solemnly, "and I am doing the work the student is required to do."
Under his long-time coach Patrick Sang, Kipchoge has learned to embrace not only the simple hard work required to be one of the world's best-ever distance runners, but also to apply an intelligent approach so that every ounce of work leads to improvement on the field of play.  At the Global Sports training camp in Kaptagat, where his primary training partner is reigning TCS New York City Marathon champion Geoffrey Kamworor, Kipchoge uses a combination of sweat and science to extend his five-year reign as the world's top marathoner.
"With a combination of talent, science and technology, everything can be perfect," Kipchoge intoned.  "Success is not depending on hard work (alone).  Success is depending on the skills provided by the coach (and technology)."
While Kipchoge, nor his coach, would provide details of his training program, they did say that it was highly specialized, and depended heavily on a level-of-effort approach, not simply piling on the kilometers.  Sang asks his athletes not only to complete a workout, but not to exceed a certain effort level in doing so.  That's the only way to know how much fitness has been gained so far, the coach said.
"Overall I think he trained well for this specific event," Sang told Race Results Weekly in an interview.  He continued: "I think, generally, any specific session has a target as far as the effort put in.  So, if an athlete is supposed to put in a sixty percent effort, or seventy percent effort, for a specific session, and they actually do it at that level, or less effort, that is a good indicator that you are going in the right direction."
Sang said that Kipchoge sometimes uses a heart-rate monitor, but they also have other ways to measure effort.  He said they get all the feedback they need on his race readiness through this process, and that he doesn't need to send his athlete to a tune-up race to test his fitness like other coaches do.  This has the further benefit of keeping Kipchoge at the camp where he can stay focused and get all of the rest he needs.
"That's why you have Eliud saying I don't really need to go to a test race," Sang continued.  "If you are doing, for example, using a heart-rate monitor, (or) we use other steps like hard, medium, easy.  If a session that is supposed to be done at the medium level is achieved exactly at that medium level, that would mean you are on the right track towards your goals.  Most of the athletes, and it's a big challenge, when you say medium they end up doing the level of hard.  So, when you go to hard, where do they go?"
For Sunday's race, Kipchoge faces a power-packed group of challengers led by Ethiopia's Kenenisa Kipchoge, whose 2:03:03 personal best makes him the second-fastest marathoner ever on a record-quality course.  The other contenders are defending champion Daniel Wanjiru of Kenya (2:05:21 PB), Guye Adola of Ethiopia (2:03:05), Abel Kirui of Kenya (2:05:04), and Ghirmay Ghebreslassie of Eritrea (2:07:46) the 2015 world champion.  He will also have to contend with four-time Olympic track gold medalist Mo Farah (2:08:21) who will be running in only his second marathon.
"I think Mo Farah will have a good time on Sunday," said the always respectful Kipchoge.  "Think he will run a good time.
Although a wealthy man, Kipchoge has kept his life simple so that he can stay focused on training.  He doesn't own any outside businesses, except for a 60-acre farm where he keeps animals, including 20 cows.  His training partner Kamworor says his humility and dedication are what makes Kipchoge great.
"Eliud trained very well," Kamworor told Race Results Weekly in a text message.  "He is self-disciplined, focused, determined, and a very humble and respectful guy.  He values running as the number one activity in his life and he does everything as expected.  So, I am so sure he will deliver a great result."
Asked if he ever takes a break from training, Kipchoge flashed a smile.
"Sometimes I take a rest, maybe on Sunday," he said.  "Not every Sunday.  I don't know.  I need to go through my diary."