Jack Rayner continued his fine form when taking out the ASICS Half Marathon
There was a green and gold glow in the ASICS Half Marathon on the Gold Coast this morning as Australian runners Jack Rayner and Sinead Diver defied wet conditions to win their respective 21.1km races.
The in-form distance running duo further pressed their claims to represent Australia in the marathon at next year's Tokyo Olympic Games with their performances against crack opposition.
Rayner, from Glen Iris in Melbourne, reigned supreme for a second time in this Gold Coast race after a good tussle with Japanese runners Yuki Sato and Yuma Hattori, making his winning break with about 1km to go.
The 23-year-old crossed the line in 1:02:30, bettering his winning time from last year (1:03:12), but outside his personal best of 1:01:01 set in Cardiff in October.
Sato placed second in 1:02:36, only six seconds outside his PB set in May, with his countryman Hattori finishing third in 1:02:39.
Japanese runners filled places second through to eighth in the men's race before Aussies Michael Roeger (ACT) and Andy Buchanan (VIC) completed the top 10.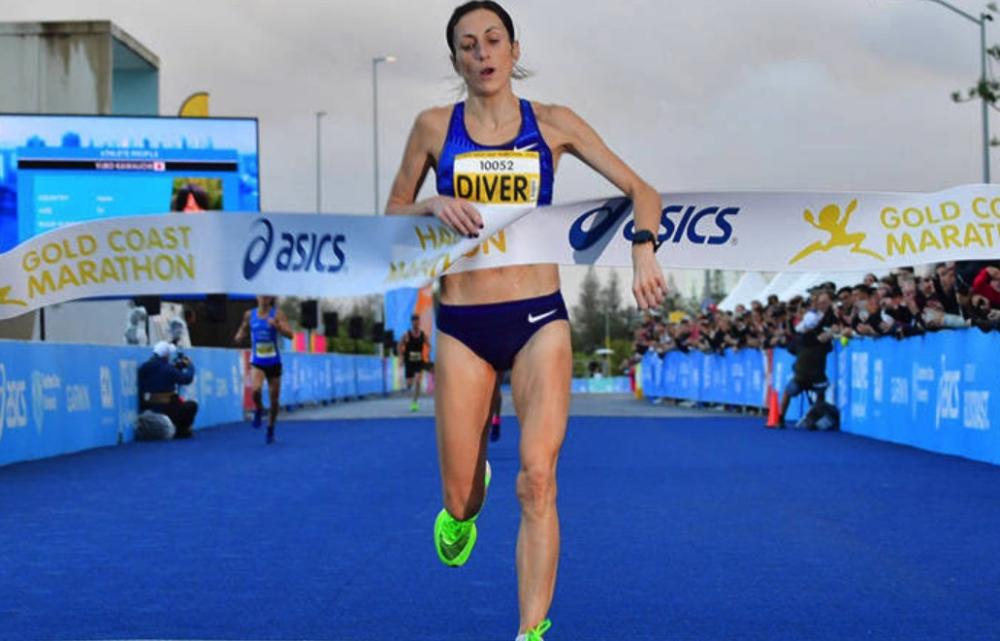 After being runner-up last year, Diver went one better this year to claim her first ASICS Half Marathon in 1:09:46, the fifth fastest performance in the history of the race.
The 42-year-old from South Yarra in Melbourne was too strong for her rivals over the closing 5km leading home an Aussie trifecta in the damp conditions.
Ellie Pashley (VIC) was second in 1:09:51 with three-time race winner and course-record holder Lisa Weightman (VIC) third in 1:10:32, while winner of the past two editions Sara Hall (USA) was fourth in 1:11:59.
Today's results have continued a great year for Rayner and Diver, both having recorded 2020 Olympic marathon qualifying times and today also securing a $6,000 each winner's purse for their efforts.
In a race within a race, the IAAF Oceania Area Marathon Championships were also won by Rayner and Diver, with Roeger and Buchanan filling the placings for the men's title, and Pashley and Weightman for the women's.
Flash Quotes
Men
1st– Jack Rayner (AUS) – 1:02:30
On his win:
"Ecstatic! I didn't quite know what to expect going into it. There was a really strong field of Japanese this year. I had a race there (Japan) at the start of this year so I knew how they ran.
"They always go pretty hard. So, I knew if I tuck in behind them, get blocked out of the winds and then try and out kick in the last little bit if I was still running with them."
On his final break clear from the other runners:
"I knew they would be pretty tired towards the end. A lot of people can't run that change of pace, I knew if I had that in me I would be able to break them."
On his race going to plan:
"I wanted to run as comfortable as I could through until at least 15km and I knew if I was struggling in those last few kilometers, I had to stick it out and I would be able to finish off pretty strong."
On his goal for the Tokyo Olympics:
"That's my goal for next year. I've got the qualifier and I ran that in London. So, I think I won't do the world championships this year and will focus on doing a different marathon maybe towards the end of the year."
On his last moments in the race:
"I was struggling a bit at around 50 minutes and I thought 'I've just got to keep on these two guys (Japanese competitors) and try to make a move'."
On the conditions:
"I knew it was going to be raining, but I had no idea it was going to be as bad. It was bucketing down up until about 14kms and most of the way I couldn't even see in front of me."
2nd– Yuki Sato (JPN) – 1:02:36
On today's race:
"I am very happy. It was good."
On the conditions:
"The rain was hard, but it was a good course."
Women
1st– Sinead Diver (AUS) – 01:09:46
On her performance:
"Today was definitely a tough race, I mean the front was so strong. Myself and Ellie and Sara and Lisa ran together for quite a long time, I think I got a break around 16km and I just kind of went for it from there.
"It was super close all the way and there was a lot of rain just before 10km, which was kind of good in a way because it distracted us. Lisa had a few surges just before 10km, so I stuck with her for that. Myself and Ellie and Sara and Lisa were just together playing cat and mouse and then I made a break, probably around 15km and 16km and I just thought I will just got to go for it."
On how the marathon fits into the bigger picture:
"Half marathons are always great prep for the marathons."
On her opposition:
"To race against Ellie and Sara and Lisa it was such a tough race and anyone of us could've taken it out. This is my day today, so I was just lucky I think."
2nd– Ellie Pashley (AUS) – 1:09:51
On her performance:
"I was happy with it. It was a very tactical race, a big pack of girls and 20 guys sitting on the back of us. The last 5km were very hard."
On the conditions:
"It broke the pack up and was a bit of a distraction. It would have slowed us down, but it kept it interesting."
On why she loves the Gold Coast Marathon:
"It's a good and fast field in the Half Marathon – very well organised and I would come every year if I could."