Although not an Olympic distance, the 1000m is an event that has drawn the attention of some of the greatest athletes in middle-distance history, being recognised for record purposes since 1913.
One such record was written by Canberran Hayden Todd, who continued his spectacular start to the season by eclipsing both the Australian and World Best marks for the U16 1000m at the Athletics in the ACT Summer Series #2 in the ACT on October 24.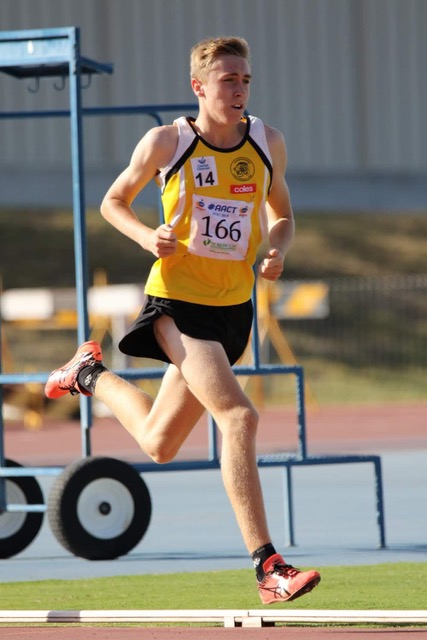 The history of the 1000m record is a 'who's who' of running royalty, featuring the likes of Olympic champions Noah Ngeny, Sebastian Coe and Peter Snell. These athletes epitomised the finely tuned blend of raw power and endurance required to cover a kilometre of tartan on the knife edge.
Here in Australia the men's open record of 2:16.09 is held by multiple-Olympian Jeff Riselely, with the previous U16 1000m record of 2:27.7 held by Sydney 2000 Olympian Michael Power. Beyond that you have to go back to 1974 when the East German Andreas Busse set the World Record of 2:26.3.
Yet on a wet and windy day at Woden Athletics Track, Hayden Todd erased almost half a century of history when he crossed the line of the 1000m in 2:25.70. At just 15 years of age he had taken down a record which had stood for 46 years and in doing so, catapulted himself onto the world stage. He now stands as both the fastest U16 in Australian and indeed, world history.
The results of the race paint an almost perfect picture of One Athletics in the ACT; the record-breaking race was one in which athletes from Little Athletics, seniors and master's all faced off together. 
21-year-old superstar Jaryd Clifford won the race in an impressive 2:23.09, paving the way for Hayden's record run. Meanwhile, Jaryd's renowned coach and master's athlete Philo Saunders finished less than a second behind 3rd place to claim 4th in a time of 2:31.69.
View this post on Instagram