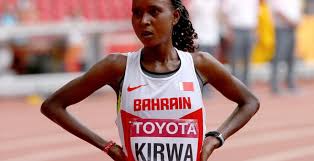 Kenyan-born Bahraini long-distance runner Eunice Kirwa has received a four- year ban after testing positive for Erythropoietin (EPO) during a doping test in Kapsabet.
In a ruling rendered by Athletics Integrity Unit (AIU)\, Kirwa tested positive for the prohibited substance in an out-of-competition test held this year April 1, 2019 and was consequently handed a provisional suspension in May.
"The athlete was requested to provide an explanation for the presence of EPO in the Sample and was afforded the opportunity to request analysis of the B Sample…,"
Kirwa has claimed that it was not an intentional act.
"…the Athlete provided her explanation for the IAAF in which she stated that she did not dope intentionally. She could only assume that the EPO entered her body through contamination during a caudal epidural injection she received on 29 March 2019…"
The Olympic silver medallist's four-year ban has been backdated to May 7 and will also include disqualification of her results since April 1, 2019.
If an appeal is filed against this decision by World Anti Doping Agency (WADA) or the Anti Doping Agency of Kenya (ADAK), the Athlete will be entitled to exercise her right of cross-appeal.
Kirwa becomes the second Bahrain national to test positive for EPO after the Olympic Games 3000m steeplechase champion Ruth Jebet was suspended last year in February.