Geoffrey Kamworor, the winner of the last three World Half Marathon Championships has been reported to be out of next month's 2020 edition in Gdynia, Poland. Kamworor was hit by a motorcycle in June while training near Eldoret, Kenya and suffered a fractured tibia. His fracture required an operation and even as it seems he is recuperating well, he is unlikely to be defending his title next month.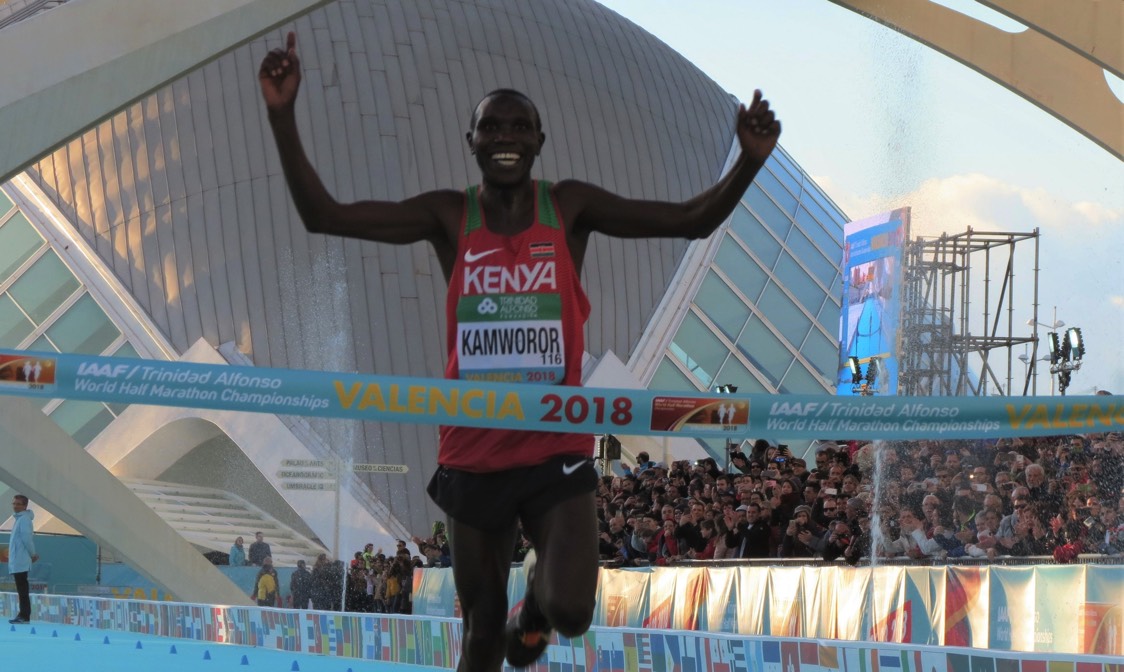 Even so, this does not make the event short on talent. Joshua Cheptegei who recently set a 5000m world record, in August during the Diamond League meeting in Monaco, is scheduled to make his half marathon debut in Gdynia.
It is entirely possible that Cheptegei will be on the start line as the world record holder in both the 5000 and 10,000m as he, just ten days before the half marathon championships, will take a crack at Kenenisa Bekele's 10,000m world record of 26.17,53, in Valencia. Even after having watched the 5000 meter race in Monaco, I feel Cheptegei is a better 10,000m than 5000m runner and his chances of leaving Valencia with a new world record are in my opinion far from bad.
The Ugandan team will have strength in depth as Jacob Kiplimo surprisingly was announced as a team member a few days ago. Kiplimo has been a long distance wunderkind of epic proportions. Aged 15 he managed bronze at the 2016 Bydgoszcz U-20 World Championships in the 10,000m. The 12.48,63 he achieved in Ostrava, earlier this year, while outkicking Selemon Barega was truly impressive. Recently he became the fastest ever teenager at the 3000m, as he ran 7.26,64 in Rome. He has run several hugely impressive road races, none as long as a half marathon though.
Even as neither Cheptegei nor Kiplimo have ever competed in a half marathon, both of them must be considered among the favourites in Gdynia.
Reports indicate that another teenage prodigy Jakob Ingebrigtsen who was beaten by Kiplimo in the Rome 3000m, is considering making his half marathon debut at the World Championships. As the 1500m arguably has been his best distance so far, the half marathon can maybe be a bit too long for him, at least at this point of his career. Even so it would be interesting to see how he would perform against the best at such an unusual distance for him.
The powerhouses of Kenya and Ethiopia have yet to announce their teams for this competition, but it seems likely that the world leader in the event, Kibiwott Kandie will be representing Kenya. Kandie sits fifth on the half marathon all-time list after running 58.38 in Prague on September 5th. He is bound to be a major player together with Cheptegei, Kiplimo, his Kenyan teammates and the Ethiopian team.