Dreams and nightmares are conflicting phenomena. One is what we endeavour for, the reason for the toil; the other is simply what we hope never takes place, the dreaded disaster. In running, they are untamed beasts, bestowed with unbridled power, wilfully determining the fates of those brave enough to throw their hat in the ring. It is the nightmares, which become the creators of fear, of the moments cast in the shadow of bleak and brutal despair. It is the truth and possibility embedded in nightmares that renders running such a precarious pursuit; it is true that running can be cruel. Standing atop London's iconic Tower Bridge, Josh Harris understood the candour of this statement.
Emblazoned on a ceiling of unabated blue, the sun beamed down expectantly on the mighty River Thames. The noise from the crowd lining the city's ancient streets rose and fell with zealous gusto. The 2017 World Championship marathon was preparing to embark on its meandering journey. For many, the day would witness their success, their reward at the end of a long road of sacrifice. However, for one runner, things would be different. On that day, Josh Harris would simultaneously live both his dream and nightmare.
What went wrong? Why did he choose to run? And, where to now? This is his story.
Josh Harris has always been someone to do things others might think are odd. It started with a small loop around his backyard. As a boy, he would hurtle around the makeshift track, and then check his time, before repeating the imaginary race – a relentless pummelling. It was the wild and unruly initiation of a future marathoner. "I just loved running," he said simply.
Steadily he clambered his way toward the top. Australian junior medals over the steeplechase foreshadowed his steady rise to longer distances. A Beer Mile world record preceded unconventional Australian records over 25,000m and 30,000m on the track. Before long, it was time to tackle the marathon. "It was terrible," he said, reflecting on his first attempt at the historic footrace. "The last hour was the worst hour of running in my life. It's horrible. You can't do anything, you're running so slow and that is all you can do. You're in so much pain and you just want it to be done." Nevertheless, he would return.
Entering 2017, Harris was experiencing an unmistakeable upswing in performance. A 10,000m personal best at the Zatopek meeting indicated a fast marathon was on the cards. Lake Biwa swiftly became the goal and running for Australia at the world championships became the dream. "Training went really well leading in. I had the best block of my life," he said. "I certainly believed I could run the qualifier."
From the outset, his confidence never wavered. His legs were strong, his determination stronger. "I felt amazing pretty much the whole way…I just didn't feel like I was ever going to slow down," he said. Fist pumping the air, jubilance disguised exhaustion; he entered the stadium a new athlete. "Those emotions I had when I got into the stadium, knowing how quick I was running, that was definitely the most special moment of my running career," he said, remembering the feeling. "So many emotions hit me all at once. It was a realisation that what I'd been working towards for so many years was most likely about to happen…I think I started to tear up a bit. I'd done it." His time was 2:17:06, three minutes quicker than he had ever run before and enough to book his ticket to London – the IAAF World Championships.
This race could be labelled many things. 'The beginning of the end' would be most dramatic. However, in reality, although this was the race that propelled him onto the global stage, the injury that would follow could be put down to an impossibly expansive list of potential culprits. The easiest assumption is overtraining. Harris became renowned for amassing unprecedented mileage, week after week, until his training became an interwoven repertoire of unbroken consistency. Could this have been his undoing? He does not believe so. "I've never been caught up in how many kilometres a week I do, I just do what's on the program. I've always taken rest days, so there wasn't any big streaks," he said. "It comes down to mindset. Even when I was doing 230km a week, for a lot of the time, I felt relatively conservative. I honestly think I can do more. I guess it comes down to what you've got used to…I just do what's best for me, and not worry what's best for other people. I had my program and I had my goals, and I just wanted to reach them."
He believes the injury arose from a dormant hot spot, ignored and quashed as a mere inconvenience since 2014. "In my head, there was always something coming up. I wanted to make a team. I've got to run this half marathon to qualify for World Uni Games. I've got to start my marathon career. I've got to try qualify for Rio. I've got to try qualify for Worlds. So, while it tested life a little bit, I didn't think it was anything to worry about because I was running the kilometres with no worries and it wasn't getting any worse. It was just something I dealt with," he said. Alas, one piece of straw too many will always break the camel's back. "I had one bad step and it was different…that one bad step changed everything."
The idea to go to St. Moritz – an idyllic town nestled on the slopes of one of Switzerland's mightiest mountains – was hatched in an attempt to mimic Harris' Lake Biwa preparation. He had embarked on a lonesome pilgrimage to Falls Creek then, and this was as close to mirroring that as possible. However, as the story will inevitably tell, things did not go according to the dreamlike script. Sixteen days out from the biggest race of his life, calamity struck.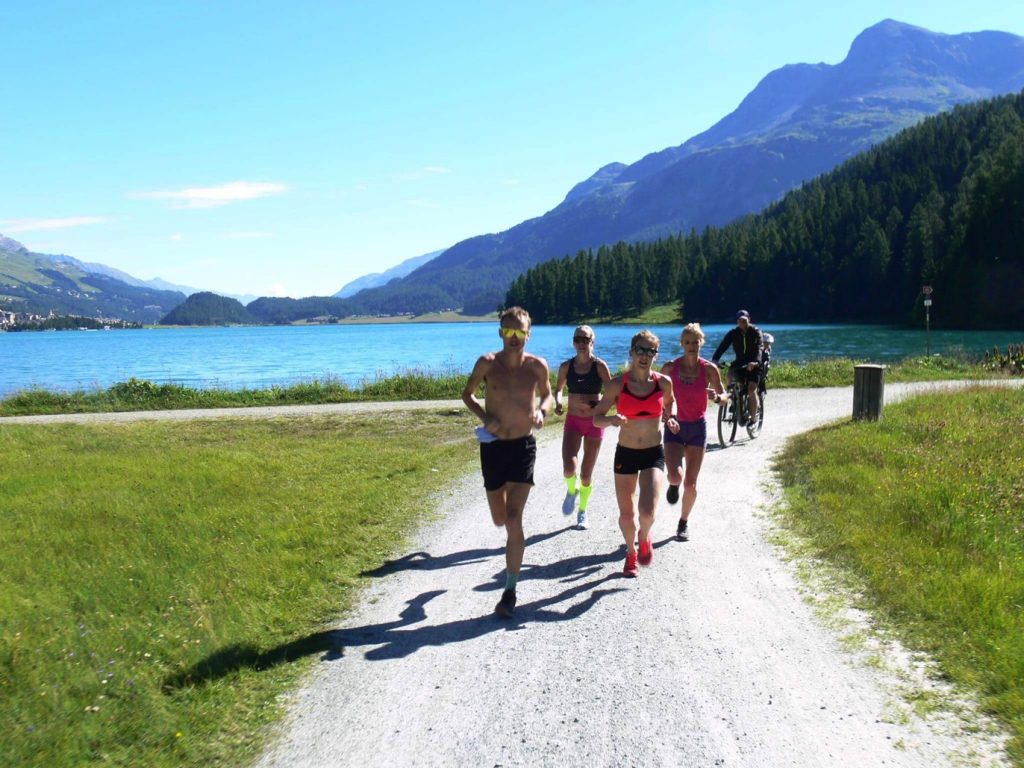 "It was a pretty key session, my last really crucial session before the race," he said. "I was ready to settle in. I was eight or nine minutes in and I remember thinking 'geez, I'm flying today'. I felt a million bucks." Approaching a corner, he moved aside to allow a car to pass through, and that is when it happened. The moment everything broke into pieces. "I came down on my foot at a really weird angle and a shock went through it. I tried to take the next step and I just couldn't. My foot just broke down. My first thought was 'I'm in trouble here'."
After finally breaking into something that resembled a jog, he found the physio, but they could not identify the problem. He jogged on. For a whole week, he attempted to persist with his program, refusing to give in. "A lot of me was like 'she'll be right, she'll be right', but I was thinking about it every step, which is draining," he said. "The pain was getting worse; I was in pain every run, but I knew I could gather enough mental energy to get through."
His grit and valour, though some might perceive it to be foolhardy, was undeniable when only days later he ran 33km averaging 3:47/km. This was both an implausible and dangerous dose of confidence anaesthesia. "Given that I got through such a big session, there was no way I was thinking I couldn't get through the marathon after that. For me there was no reason why I couldn't keep running. There was no reason why I couldn't run a marathon. Then the next day, I got my scan –."
It was a broken talus in his right foot. A rare and incredibly severe injury, which could possibly bare repercussions for an entire lifetime. "Once the diagnosis came through the suggestion was not to run. They told that if I ran on it, I risked never running again. It scared me a little," he said, his voice never wavering. "But from where I was it gave me no reason to pull out. I'd made the team. I'd worked so hard for it. There was no one waiting to be selected behind me. I wanted to do everything to get on that start line. You never know, I might not get that opportunity again, regardless of if I start the race or not."
He had made his decision and there was no changing it. Running in the green and gold was his dream, now it was his right. "When I was sixteen, I wrote down that I wanted to make an Australian team and for a long time that wasn't realistic," he said matter-of-factly. "So, when I started to get towards those times, you realise how much you've put in and how much you've sacrificed and how many hours you've trained over the years to make that dream a reality. You want to achieve your goals; it is what you've worked so hard to do. You're not going to give that up."
Nevertheless, the pain was agonising, it was a constant reminder of his forlorn state of affairs. Refusing to throw in the towel, he trained on. "I'm a guy that loses fitness really quickly and if I gave up running two weeks out, I wouldn't have been fit before the race," he said. "Whenever I tried to run on the foot, I was in agony. I didn't know whether I'd be able to finish. I didn't know if I'd be able to run it fast. I didn't know whether I'd make it five kilometres. It was so unknown, but there was no way I wasn't going to race."
On race day, any nerves had dissipated. All expectations had diminished with the injury. It left only one thing to do – try. "I was standing up on that bridge thinking 'shit!'. I had said before the race that worst-case scenario, I would do at least one lap. I was just hoping the adrenaline would mean it was pain free," he said. It was a quixotic hope.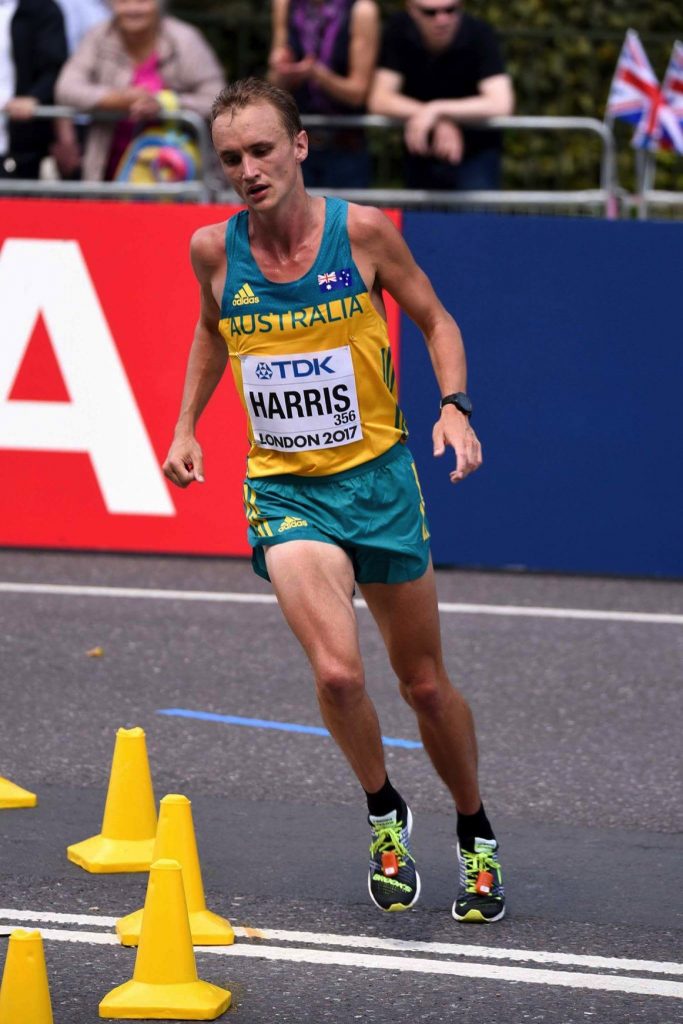 Once the race got underway, it became clear that there was going to be no fairy tales. It was simply to be a war of attrition, of pure survival. Retreating to the rear of the field, Harris found a rhythm. His plan was to be conservative and that with some luck he would be able to pick up any ambitious stragglers later in the race. Alas, it was not to be. After setting out at 3:10-3:20/km for the first 20 kilometres, things rapidly began to unravel. "It just got worse and worse. I started running 4:30s, then 4:40s. I wasn't feeling any agony, it just had no power. I had absolutely nothing. That is when you start to get self-conscious," he said. "When I started to slow a little bit, I saw all these familiar faces, people I respect in athletics and I wondered if they knew about my injury. And you kind of hope they do, because I was starting to run like shit."
As the pressure mounted, so did the emotion. "Some people were like 'keep it going mate'. I was pretty chill for most of it," he said. "But there were a few people that when they said it I was like 'mate, my foots broken, my foot's f***ed'. I felt a bit shit out there, running that pace in front of so many people."
Then came the decision to surrender. The white flag finally raising at the 28km mark, an astounding distance for a man with a broken foot. "I had been given the advice that if I ran too far, that might be the last steps I ever take," he said. "Once I started slowing, it was a simple choice that could save my running career. So I stopped."
Pulling out can leave you feeling empty, hollowed and guilty. It can be haunting, eerily exposed. For Harris, it was slightly different. "I felt really weird on the motorbike. You would expect it to be a really shameful moment," he said. "But because I'd given it everything, I was riding along on the motorbike knowing I did what I could."
Now, nearly twelve months on, the question lingers: Are there any regrets? Harris' answer is simple. "I don't regret anything I did, because making that team was what I wanted to do. Obviously I wanted it to go better and I wanted to do better, but I still got there," he said. "If I never made a team again, I would have regretted every day not stepping on that start line. But now, I sit here, knowing what I had on the day, giving it all I had and that is all you can do."
Nevertheless, nothing has been easy. He is still a long way off taking his first steps, and even further from lacing up the racing shoes. "If you had of realised I'd be where I am right now, still cross training, still quite a long way off from taking a step, I think that is when people think 'shit, that is some serious stuff that he went through to get there'. I think many people at the time thought 'oh, he's got a stress fracture, in a couple of months he'll be back'. That is just not how it went. I'm still six weeks away from being able to run for ten seconds." Somehow throughout it all, he has remained strong.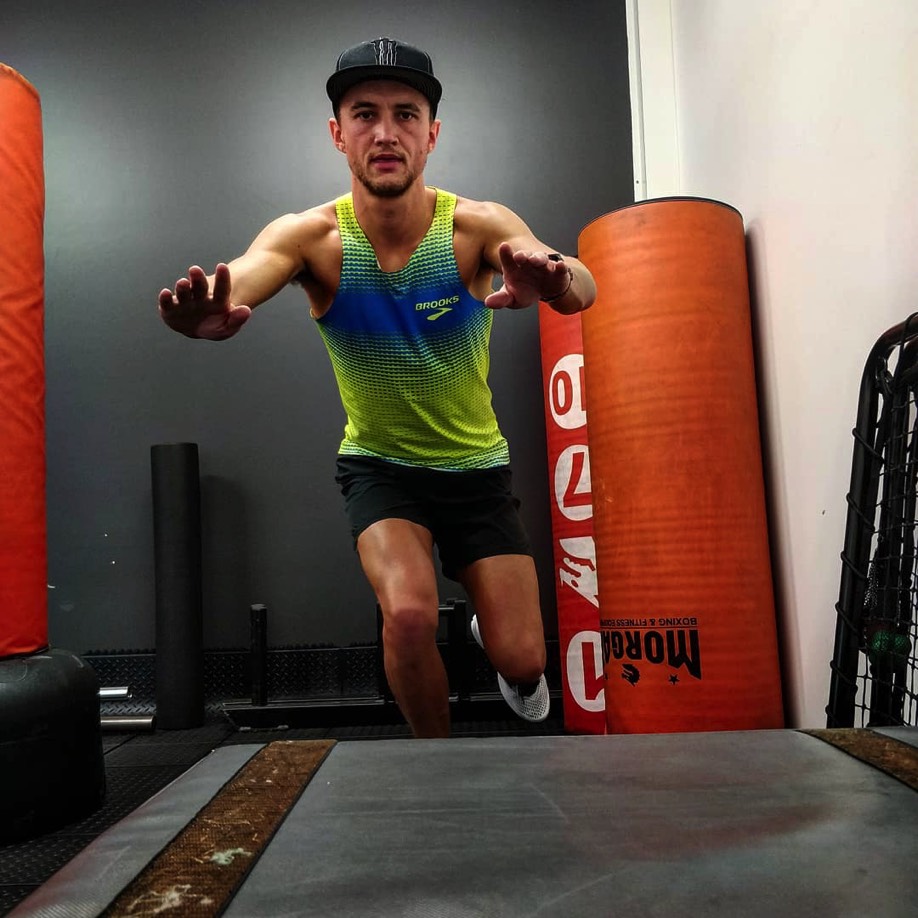 "I've been coping with it really well. I knew I was going to be out for this long and there's nothing you can do. You've just got to change focus to make life worthwhile with other things," he said. "It is what it is, there's nothing I can do about it except the right things. I've just got to be patient."
After a surgery, months in a moonboot and hours upon hours of self-inflicted torture in the pool, progress is steadily becoming visible. "I still wake up sore some mornings, which reminds me of the pain I've been in, but it's progressing. It always feels better after exercise, and that it's feeling better is a great sign," he said. "If I start walk/running in June, it will still be another two months until I do anything continuous. The rest of this year will be about building up so I can start 2019 in a good way."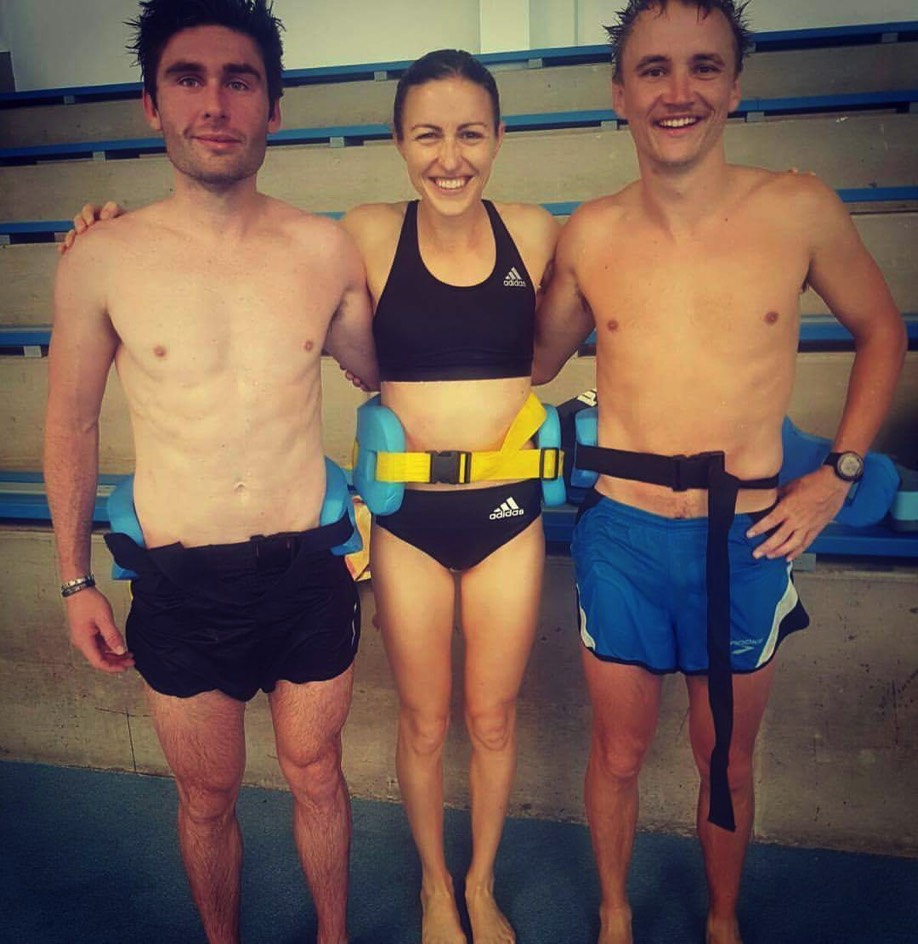 However, nerves are still rampant. The 'what ifs' a constant concern. "I haven't thought about the first session, or the moment I know I'm back," he said. "I've just got that worry in my mind for the first run. Some people have said they want to be there for my first steps back, but I want to do it on my own. I don't want people to see it, just in case it's bad."
Nevertheless, doubts are not standing in the way of dreaming big once more. His sights are still firmly set on future heights. "If everything goes perfectly, I could be ready to run a marathon by March or April next year. Which means there's some chance I could qualify myself for worlds and redeem myself," he said hopefully. "But that's a perfect world, so I'm not going to rush things to make that a reality. I'm putting no pressure on myself."
In regards to the long term, nothing is concrete other than determined ambition. "I have two ultimate goals: One is to make the Olympics. The other is to redeem myself at worlds," he said. "I might be limited to less volume or intensity though. I'd love to run sub-14 and sub-29 for 5000m and 10,000m, but on the other hand if intensity is what limits me, I think I can become one of the best ultra-runners in the world. I can see myself breaking records at 50km and 100km on the roads."
The story of Josh Harris is remarkable, and it is not over yet. We will see him pounding the pavement again. After all, what does not kill you makes you stronger and this experience will do just that. However, if that never happens, he can still hold his head high. He will forever be an Australian marathoner. No one can take that from him.
"If I never get back to the level that I want to, then I can leave running really satisfied with what I've achieved. Obviously, I want to do more, but if that's it – I'm proud of what I've done."