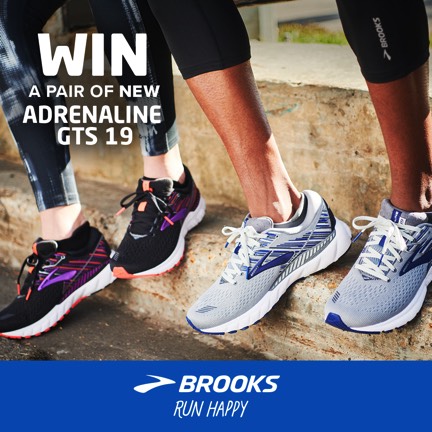 The Training of Craig 'Buster' Mottram

"I didn't think I would see an Australian do what he is doing. To have an Australian under 13 minutes for 5km is unbelievable."  –Steve Moneghetti
Free Sources:
– With thanks for help from Neil MacDonald from Geelong Cross Country
Steve Moneghetti once blamed Craig Mottram for Australia's current lack of sub-2:10 marathon runners; "I blame Craig Mottram!! Everyone wants to be a 1500 or 5000 metres runner now and no one does long slow distance running on Sundays anymore."
Such is the influence of Craig 'Buster' Mottram; the man who showed the world that white men can beat the Africans, that running sub 13:00 for 5000m is possible, and that with 'big balls' you can achieve anything.
We took a very detailed look over Craig's training and related areas such as diet, travelling, coaching and much much more…
Profile
Coaches: Bruce Scirven, Nic Bideau, Chris Wardlaw.

Date of birth: 18

th

June 1980.

From: Frankston, Victoria, Australia.

Major international championships medals: 3

Nickname: 'Buster', 'Big Mazungo'.
Personal Bests
1500m: 3:33.97 (6

th

Australian of all-time as of 20/08/2017)

Mile: 3:48.98 (Australian record)

2000m: 4:50.76 (Australian record)

3000m: 7:32.19 (Australian record)

5000m: 12:55.76 (Australian record)

2 Miles: 8:03.50 (Australian record, 4

th

fastest of all-time)

10,000m: 27:34.48 (5

th

Australian of all-time as of 20/08/2017)

10,000m Road: 27:54 (Australian record)
Career Highlights
World Championships 5000m bronze, Helsinki, 2005.

World Cup 3000m gold, Athens, 2006.

Commonwealth Games Silver, Melbourne, 2006.

Multiple national records.
Early Days… Soccer – Tri – Shoes – Boom
Mottram's Father, a keen soccer player, got Craig involved in soccer from a young age, a trait seen in many successful distance runners over the years including the likes of Steve Cram and Steve Ovett.
"I played soccer. Probably from about five years old I played soccer because that's what my Dad played when he was younger and that's what he brought us up playing. I loved playing soccer."
Craig then took up triathlon in 1993 and showed immense talent, winning an Australian junior title. Craig regularly beat athletes who went on to represent Australia at the highest of levels.
Craig started running in 1998 at School, and it was here where he met Nic Bideau.
"And with Nic, he met me at the school sports in 98 as well. He thought that I had a bit of ability and sent a few Nike products in my direction and probably sucked me into athletics, I suppose. You could almost say he bought me with some shoes and clothes."
And so that is how it came to pass. Mottram, once the triathlete, turned runner. It sure is intriguing to ponder just how good he could have been at Tri….
"A lot of the guys I used to compete against and beat are now competing at World Championship level and are some of Australia's top triathletes so I'd hope that if I had continued I would have gone on to represent Australia and be one of the best triathletes in the world."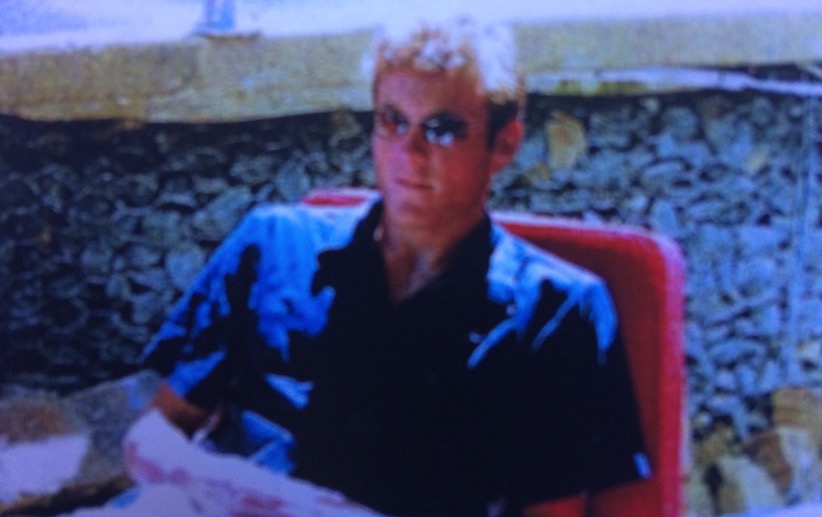 Training Camps EPO Boosting – the Natural Way
"St. Moritz is without doubt, the best place I have ever been to train. It's completely different to Falls Creek. It's at a higher altitude (1850 metres), there's a lake, there's a city with shops and lots of things to do, a four lane synthetic track, a gymnasium, a 50 metre indoor swimming pool. It's been set up as a training camp for the Swiss Institute of Sport so there's everything a runner could want."
Mottram believed to be the best required travelling to the best training locations, usually at altitude, where he could focus solely on training. From St. Moritz, to Mt Laguna to Falls Creek.
"I've been to St. Moritz, which is 1800 metres above sea level, and Mt Laguna, which is the same height. Falls Creek is the lower end of altitude training at about 1600 metres but the difficult terrain at Falls Creek makes up for that as it's so much more challenging than anywhere else in the world."
Mottram truly believes in altitude training. The secluded lifestyle, the natural landscapes, learning from other great runners such as Sonia O'Sullivan and Steve Moneghetti, the confidence building that goes hand in hand with devoting one's self to training – and training only – were instrumental in building Mottram into a world class runner.
"I had three really good weeks of training up there and came off the mountain fully confident after my first full preparation leading into our domestic season. I also had a blood test done up on the mountain that showed that my natural EPO count was really high so that gave me a lot of confidence too."
Small adjustments needed to be made for the altitude, slightly longer recovery times between reps for example. But the altitude didn't really slow him down that much.
"I don't find any problems going to Falls Creek. I puff hard and whatever but I can run 1 km. reps in 2.40 and quarters in 65 seconds. "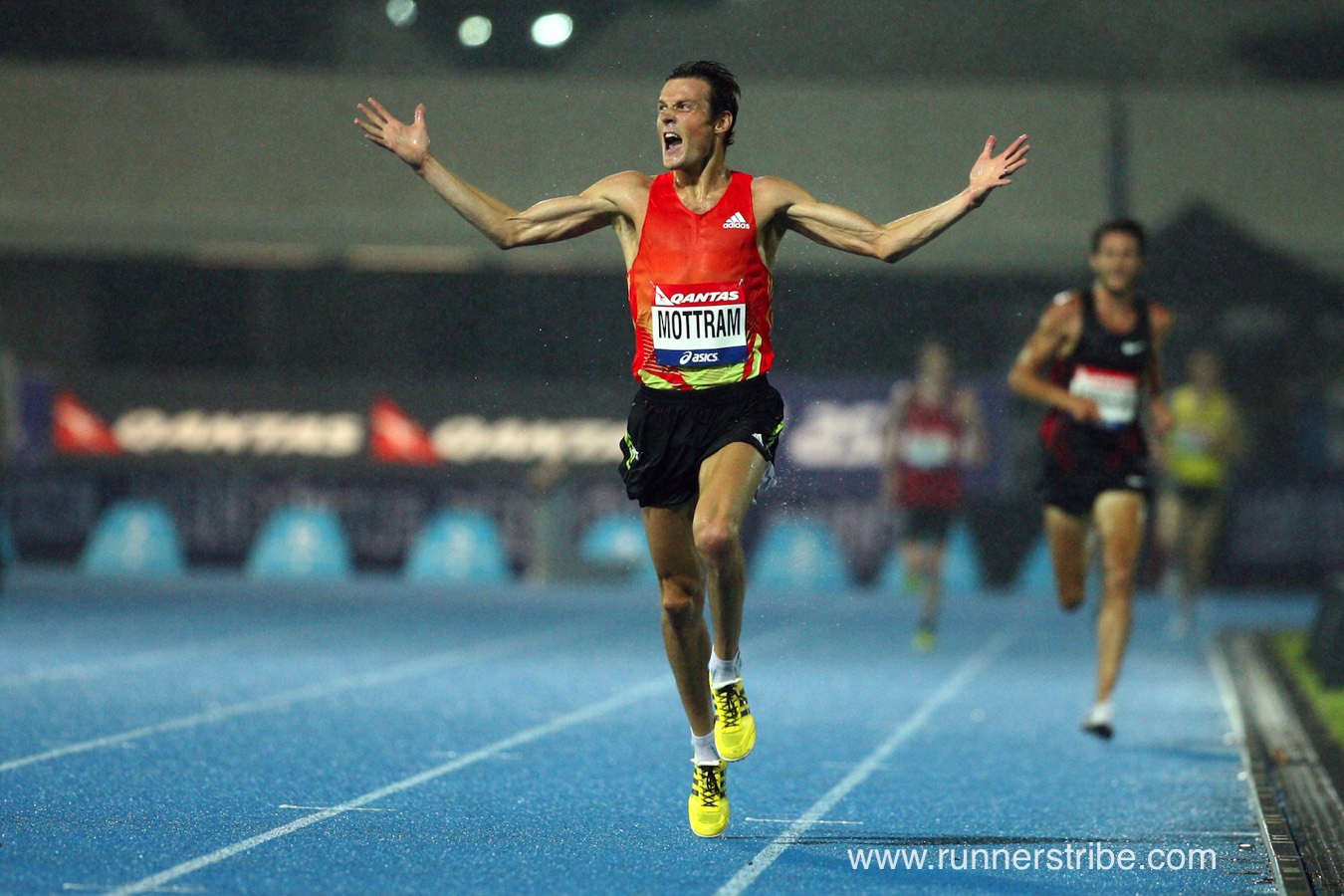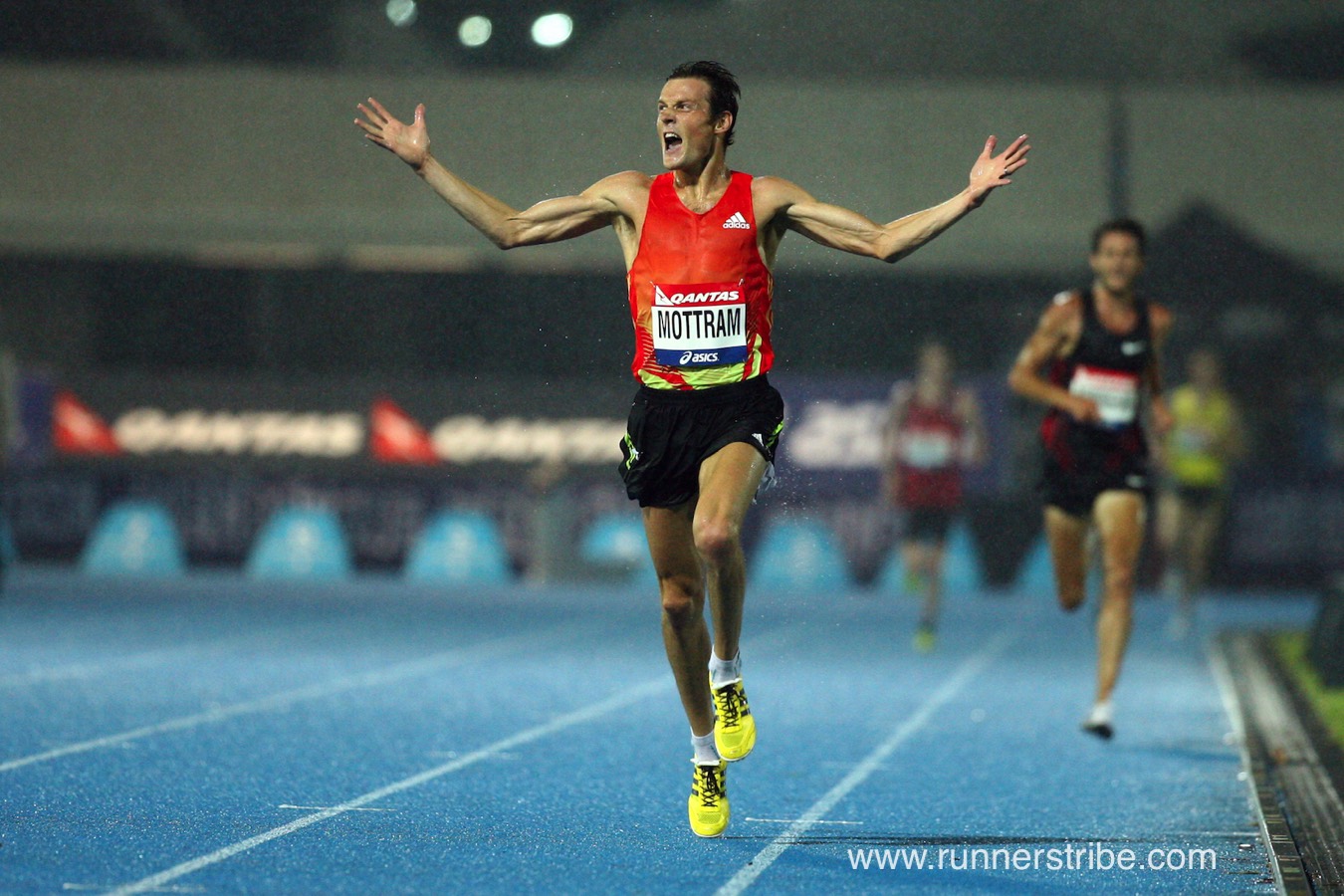 Life on the Road
When in Europe, Mottram's usual base was Teddington, London, a well- known training area regularly frequented by top runners from around the world.
Life in Teddington was pretty simple. Train, rest, coffee… repeat
"Training twice a day at about nine in the morning and four-thirty in the afternoon.  We don't go out that much. Just basically have a coffee, kick back and relax, rest for the next session. When we go to meets it's, fly in one day, then fly out the next."
However, life on the road wasn't always as glamorous as it sounds
"Probably the toughest part of the year was lasting the four and a half months away, so that was an achievement in itself."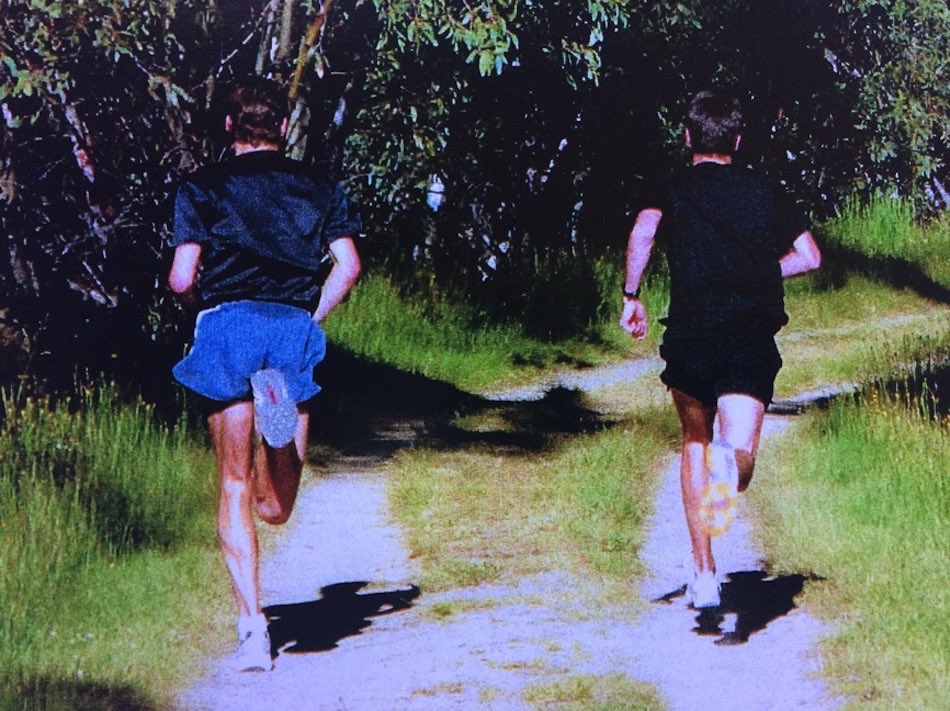 Heart Rate Threshold Training
Like all the greats Mottram did a lot of threshold/tempo/pace running throughout his career, with the aid of a heart rate monitor. With guidance from max heart rate and VO2 max testing, the ideal heart rate training zones were calculated in a scientific manner. Mottram then completed his threshold runs within these set guidelines, making sure not to exceed the upper heart rate limits, especially when at altitude.
"Back at sea-level we do a lot of threshold running at varied heart rates.  Up here at altitude you can be feeling great for the first half of a session but can fall in a big hole and fatigue so quickly. Using the heart rate monitor as a guide, you can sustain the work load for the whole session."
In testing Mottram has had his heart rate as high as 211 b.pm. But at Falls Creek the general rule was to go no higher than 180 b.p.m. as it would take too much out of him and require lengthy recovery times.
"My Falls Creek maximum is 180, but I do most of my Falls Creek harder training at 165 – 175 beats per minute."
An example of a common threshold session is three times 15 minutes, with one minute jog recovery. Another example is Mottram's Saturday runs at Falls Creek which would usually involve a 30-40 min threshold/pace run.
"At Falls Creek the important thing is that the Saturday run is made up of 30 minutes of easy running followed by 30 – 40 minutes of solid pace running."
Banking Mileage
"A lot of people train too hard and don't leave themselves any room for improvement when they race."
Mottram's training involved high volume, pretty much all year round. Unlike many UK or American trained distance runners, Mottram's mileage did not drastically reduce during the season.
"My aerobic fitness is good all year; the base is always there. The basic principal is a lot of running, longer reps and pace runs. There are maybe only six weeks in the year when I'm not at 150 to 170 kilometers for the week. I don't go much below 140 kilometers a week even when racing in the European summer."
Below is a training diary from January 2003 from Falls Creek.
Monday 5/1/03

AM: 60 mins. easy run. (Langfords Gap).

PM: 30 mins. easy run. (Ropers Hut). Circuits in gym.
Tuesday 6/1/03

AM: Fartlek. (Langfords Gap). 25 mins. warm-up. 8 x 3 mins. 'on' with 90 secs. 'off'.  Ran just over 1000 metres in each rep. 20 mins. cool-down.

PM: 30 mins. easy run. (Ropers Hut).
Wednesday 7/1/03

AM: 70 mins. steady run (Fitzy's Hut).

PM: 30 mins. easy run plus drills / strides (Ropers Hut). Circuits in gym.
Thursday 8/1/03

AM: Quarters (Langfords West). 20 minutes warm-up.  8 x 400 metres with 200 metre float. 15.01. "Ran in snow. It was #@&%ing cold!"  15 minutes cool-down.

PM: Off – travel to Adelaide for Erin Hewitt's wedding.
Friday 9/1/03

AM: 60 mins. steady run.

PM: 30 mins. easy run. Circuits.
Saturday 10/1/03

AM: Track session in Adelaide.  

10 laps @ 71 – 72 seconds per lap. 1 lap easy jog recovery.

10 mins of 15 secs. 'on'/ 15 secs. 'off' up and down the straight. 1 lap easy jog.

10 laps @ 70 seconds per lap.

PM: 30 mins. easy jog. Then wedding.
Sunday 11/1/03

AM: 1 hour 35 min. run over fat terrain.

PM: Travel back to Falls Creek.
Monday 12/1/03

AM: 68 mins. easy run (Langfords Gap).

PM: 30 mins. easy run (Ropers Hut). Circuits in gym.
Tuesday 13/1/03

AM: Fartlek (Langfords Gap). 25 mins. warm-up. 8 x 1000m metres 'on' with 60 secs. 'off'. Ran 2:50 – 2:56 for each kilometre. 20 mins. cool-down.

PM: 30 mins. easy run (Ropers Hut).
Wednesday 14/1/03

AM: 70 mins. steady run (Fitzy's Hut).

PM: 30 mins. easy run plus drills/strides. (Ropers Hut/Baby Aqueduct). Circuits in gym.
Thursday 15/1/03

AM: Quarters (Langfords West). 20 mins. warm-up. 8x 400m metres with 200m float. 14:41. 3 mins. recovery. 15 minute surge (Heart rate 180 b.p.m).  15 mins. cool-down.
"I was running the 400"s in about 65 seconds and the 'floats' around 43 – 44 seconds.  The point of the session is to run the 400 metre sections 'fast', keep moving, then accelerating up to speed out of the bends. It's also about accumulating some lactic acid, which you don't often get at Falls Creek because of the altitude and varied terrain."
Friday 16/1/03

AM: 60 mins. easy run (Water Tower).

PM: 30 mins. easy run (Ropers Hut). Circuits in gym.
Saturday 17/1/03

AM: 20 mins. warm-up.  12 x 1 min. hill reps (jog down recovery). 20 minutes cool-down.

PM: 30 mins. easy run (Ropers Hut).
Sunday 18/1/03

AM: 1 hour 45 mins. easy run.

PM: Rest.
"Generally in the winter we'll run upward of 100 to 110 miles per week. We might go up to 100 miles a week as well during the middle of the track season. But not every week obviously, as you've got to pick the weeks around the races."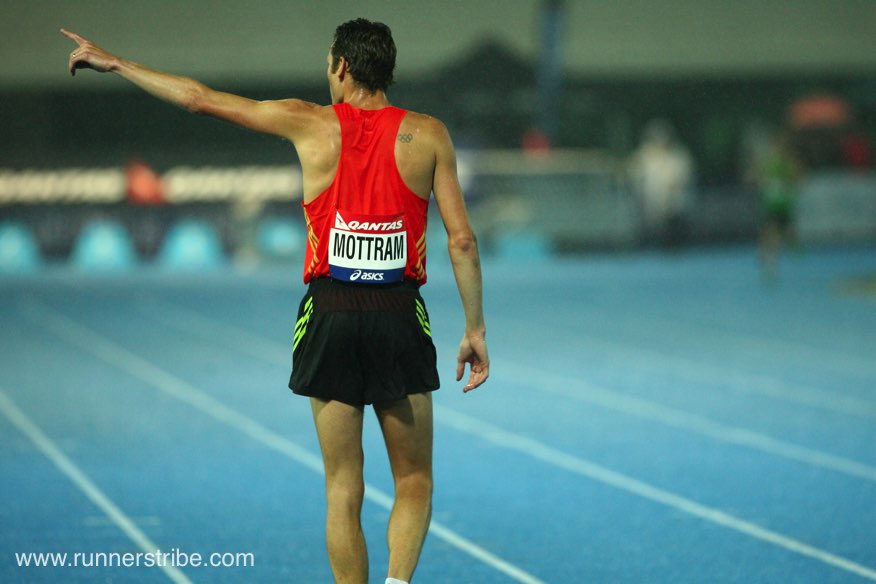 Track just for the Finishing Touches
"The only time we go on the track is during the track season and we won't go on the track more than once a week."
Compared to many runners, Mottram didn't step onto the track for training all that often. Once a week during the season, rarely during winter. The lack of track never worried him; the vast majority of his training was carried out on bush trails, paths and parks.  
"Maybe two times this year I was on the track more than once a week. You just don't need to. You need to do the runs and the hard sessions in the park – the aerobic stuff."
Despite this, Mottram was never far from his peak fitness. The track sessions were simply 'icing on the cake' for Mottram, the finishing touches. The hard yakka was mainly done off-track.
"But to be honest, if I need to be, I'm never more than six weeks away from being in sub-13:00 shape."
As an example of race specific training, sharpening and speed work, two weeks prior to the Melbourne Commonwealth Games Mottram completed a session of:
1000 metre time-trial, followed by 5 x 300 metres and 1 x 200 metres.
"The main thing I remember about the session was running the 200 with England's Mo Farah to finish and we ran through in 24 high and I was cruising, just chatting to Mo as we ran, and I knew then that I was on and ready to go."
Buster's World Cup 3000m Victory
Speed, Strides, Drills…
As seen in Mottram's training diaries, strides and drills were regularly completed at the end of some easy runs, approximately 1-2 times per week – more regularly during the racing season.  
"Every Monday and Friday night, we do those to keep the fast twitch fibres ticking over. At Falls Creek we do them along the aqueduct above the village but wherever I am in the world, I do that session twice a week. At Falls Creek the distance would be maybe 80 metres but the important thing is to regularly get the legs turning over quickly with good form. In fact, the drills are probably more important than the strides as they are emphasising good sprinting form and biomechanics. You have to practice it because, as at some point in a race, you need to be able to run fast."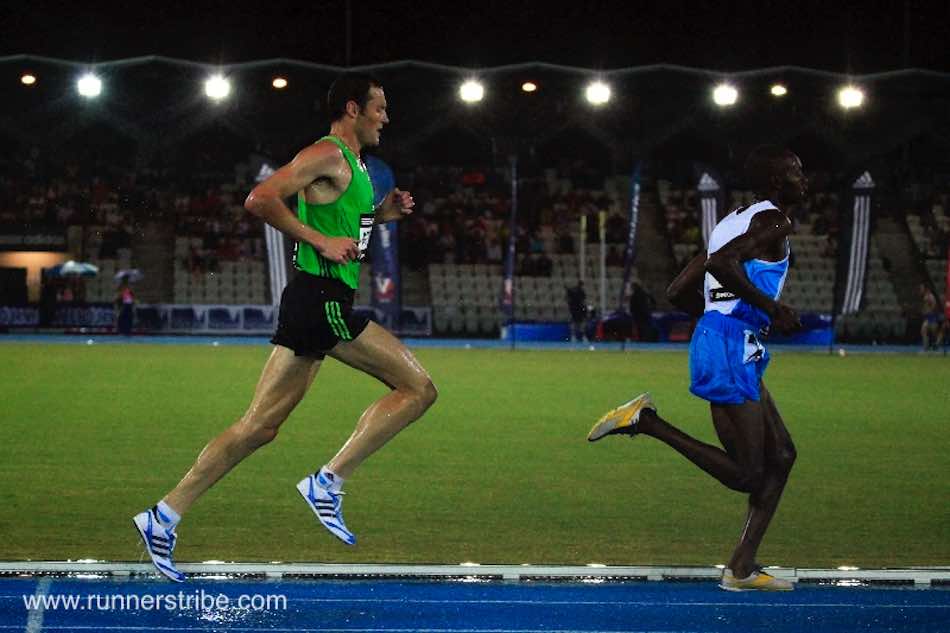 Championship Race Practice Varied Pace Training
"We do a lot of things in training that mimics race situations. However, you can never beat the race environment and you can never train to the standard that you can race at. That's one of the problems some athletes encounter – they train too hard and leave their best form on the training track rather than stepping up another gear in races. Better to train smart and just get many of the sessions done so the fitness levels accumulate slowly over time."
Mottram was never one to shy away from a strung out time-trial time type race. However, with major championship races came vastly different styles of racing and the importance of a kick down, or prolonged surge for the line was never lost on Mottram and his two main coaches, early in his career.
Leading into the Sydney Olympics, Mottram was still coached by Bruce Sciven ('Scrivo'), and managed by Nic Bideau. In order to prepare for the anticipated changes of pace through the races, Mottram did a lot of training with varying paces.
"We did a lot of 800 metre reps with one 400 at 64, then one 400 at 60 seconds. It wasn't really hard, it was more about changing pace and staying relaxed where you let your face wobble and concentrate on your breathing."
The training paid off, in Mottram's heat the pace at one stage varied from 70 seconds one lap, to 59 seconds for the next lap.
"Because of that training I was able to deal with the changes."
Track sessions for Mottram, especially during his earlier years also involved a lot of varied pace running. Tuesdays were the traditional track days.
"Every session ranges from about 4 – 6 kilometres on the track of varied pace running. We do say, 700 metre reps to 1000 metres. We don't often do reps shorter than 400 metres. That's the way the rest of the world is training and that's what we will have to do to match them."
And under the careful eye of his coach, it was also kept it mind that training is just that – training. And the best running was to be left for races. Target times were set prior to sessions and if it became clear that Mottram and his training partners were racing, not training, then Scrivo would intervene.
"As soon as these sessions become a race, Scrivo will split it up to make sure that the sessions are run correctly to the set times. Otherwise we don't get the benefit, will overtrain and go backwards."
An example of  a shorter varied pace session is outlined below:
3 sets of (6 x 300m) at varied paces.  Reps 1, 3 and 5 of every set were in 46 seconds while number 2,4 and 6 were in 44 seconds.

Recovery between reps was 30 seconds. Recovery between sets was a lap jog.
An interesting excerpt written by one of Mottram's coaches, Nic Bideau, taken from "Coaching Middle and Long Distance Runners: A Commentary" Modern Athlete and Coach Volume 44 Number 3 July 2006, is outlined below.
"Closer to the big race, these type of workouts (interval or repetition training on the track) often mimic planned strategies due to be employed in a race whilst surrounding it with volume to ensure aerobic fitness is still maintained. Before the Melbourne Commonwealth Games 5000 metres, Mottram ran a series of 3 x 1600 metres. The first one was done in 4.20 (basically what we felt was around 10 000 metre race pace for him or more specifically, the slowest we could imagine the Commonwealth 5000 metres race being run at inside the last 2km.) The 2nd rep was to practice the tactic, which we hoped could take him clear of the Kenyans in the Melbourne 5000m. His training partner, England's Mo Farah, ran the first lap in 65 seconds before Mottram went to the lead, running the second lap faster, the 3rd lap faster again and once more increasing the pace on the last lap. He ran those last three laps in 59, 58 and 57 seconds for a final 1600 metre time of 3.59. He then eased back to 4.20 again for the 3rd rep and finished the workout by cruising 4 x 200 metres at 1500 metre race tempo with an easy 200 metre jog recovery. We felt he was ready for Ben Limo, and he was. But unfortunately for us, Augustine Choge had something else.")
Commonwealth Games 2006 5000m Silver
Easy Run Pace
"We always run slowly. That's why you have your (hard) sessions. Recovery runs are just that – recovery runs. I train a lot of the time with girls, and they drop me some of the time. They're just able to get rolling sooner than I am."
Mottram was well known for cruising and taking it easy on his recovery runs. Although the pace of these recovery runs increased as Mottram's fitness levels naturally progressed over the years, the recovery runs always remained just that, recovery runs.
These easy runs were run depending on how he felt on that particular day.
" If you're feeling good – get rolling, if not – go very easy."

"90% of it is Mental"
"The people behind me are very important – supporting me the whole time. But the big thing is believing you can do it."
Mottram no doubt understates his raw talent. However, no matter how great his talents, his level of belief and propensity to 'have a crack' was key.
"You have to believe you can beat the African runners. You live by the sword and die by the sword. You've got to go out and try. And if you don't win then so be it. You know where you stand and can try to improve for next time."
A lot will argue that such confidence is easy if you are born with a heart the size of 'Phar Laps' or with pedigree akin to 'Black Caviar's'  –  however, as Mottram argues:
"Ninety per cent of it is mental. I mean, I'm no freak. I've done sports science tests on the treadmill and all that sort of stuff and I'm no better than anybody else. There are people who are better than me at those tests, but I have a belief that if I do the right things and work hard and if the people behind me believe I can do it and if we're sensible about it and don't try to go too hard too soon, then why not?"
If there is a race Mottram is perhaps most proud of, it's his World Championships 5000m bronze medal in Helsinki. Mottram was desperate that day, desperate for a medal, desperate to make it. It was his edge.
"There were probably around 10 people who could have made the podium in Helsinki, depending on how the race was run. But the three who did were the three who believed they could more than the others."
Interview Post Helsinki World Champs Bronze
"Confidence, I just have it, I don't know why."

Core, Cross Training, Massage – the 1 Percenters
"All the little things that can make a difference if you want to compete with the best in the world."
A common theme with top athletes is their ability to not neglect the small things, the 1 percenters. Mottram was no exception. From standing in the freezing aqueduct waters at Falls Creek post-runs, to regular physio, massage,  and circuit/core stability work.  Mottram wasn't a huge fan of heavy weights believing that it was detrimental to the quality of his running sessions.
When injured, Mottram would turn to cross training.
"No exercise can replace running if you're a runner but a lot of the hardships in running: the routine, the discipline, the running twice a day, if you can mimic that with other exercises like swimming and riding and circuits, then you're keeping fit and strong while the injury heals."
Circuit work would take place usually on Monday, Wednesday and Fridays
"This involves lots of body weight exercises like chin-ups, dips and push-ups, some light upper body weights and core stability work "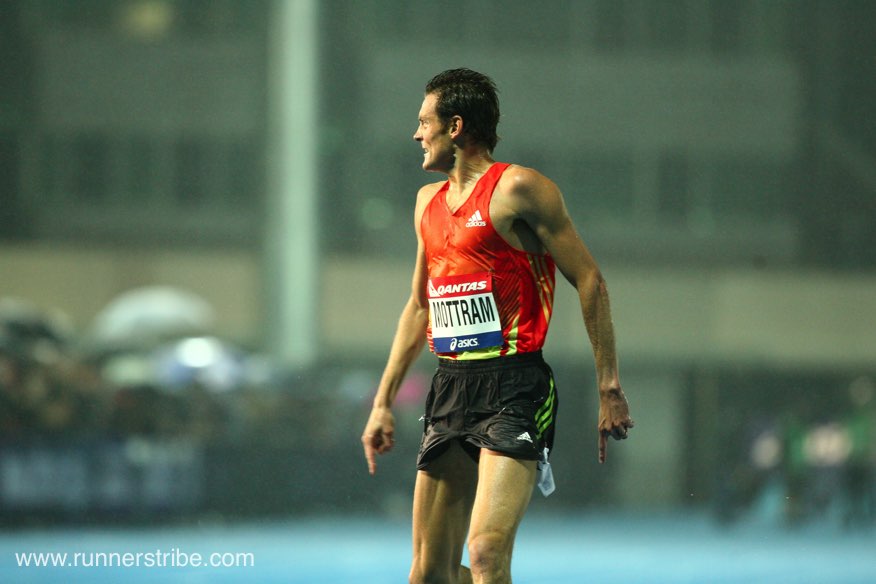 Beans Beans are Good for Your Heart
"If you run 160 kilometres a week, you're going to look lean even if you only eat Doritos and pies all day, but you certainly won't run to your potential."
Mottram's diet improved drastically once he started spending significant amounts of time with fellow athletes including Sonia O'Sullivan, Lee Troop and Benita Willis.
"The first night we ate steamed rice and beans and that was it. I got a bit of a rude shock – I was starving and looking around for what was next, I thought the rice and beans were just the entree. And that was pretty much the basis of my eating up at Falls Creek, just very healthy food. I was eating what Sonia was eating – I think I lost about 4 kilos but I started to run really well."
Despite this, Craig's diet wasn't overly strict, but with subtle changes he was able to drop his weight from 76 to 72kg and ran faster for it. Craig's diet was always one of common sense, avoiding the bad fats, bad oils, and eating mainly healthy foods, including plentiful amounts of vegetables and fruit. However, the occasional treat was allowed.
"I do feel that a bit of variation is important in your diet and if I feel like a piece of chocolate cake, I'll have a piece of chocolate cake."
When at altitude Craig would always make sure that adequate levels of iron was being ingested to prevent iron deficiency anaemia and to help his red blood cells produce as much erythropoietin (EPO) as possible.
"Here at Falls Creek I concentrate on foods with a high iron content, things like red meat and iron supplements, so that our blood gets the greatest benefit from training at altitude."
On the hydration front he always drank a lot, especially at altitude. Post-run Mottram would routinely drink a sports drink and take recovery supplements to aid recovery and rebuild as fast as possible.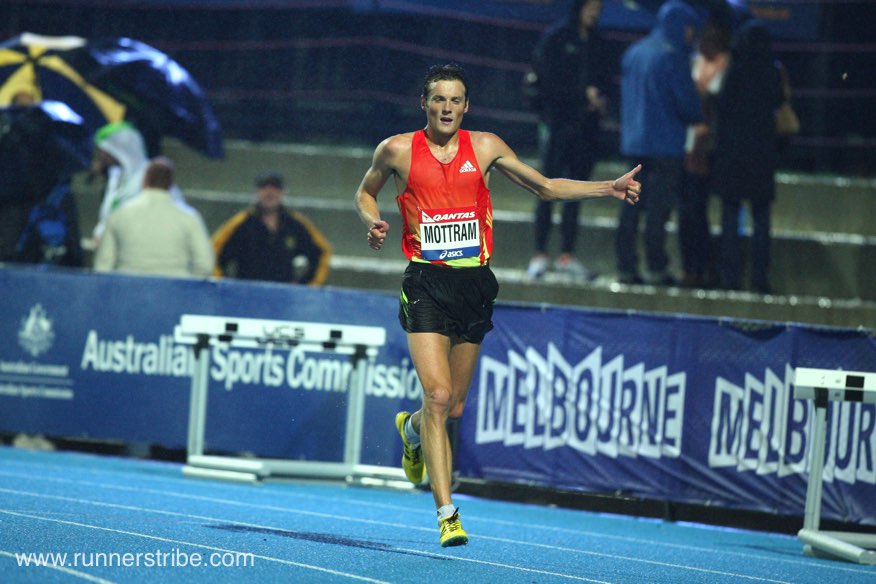 Training Diary – 2002 Australian 5000m Record
Below is Craig's training diary leading into his 13:12.04 in 2002.
Monday 11/2/02

AM: 50 min. relaxed run in Melbourne.

PM: 32 min. easy run.
Tuesday 12/2/02

AM: Track (Olympic Park).  12 x 400 metres made up of 3 sets of 4 with 30 secs between reps and lap jog b/w sets.  Ran 61, 61, 61, 58 for all sets.

PM: 30 min. easy run.
Wednesday 13/2/02

AM: Off – Sore Achilles.

PM:
Thursday 14/2/02

AM: Fartlek inc. 15 minute warm-up. 3 x 3 mins  'on' with 1 min. b/w.  15 minute warm-down.

PM: 30 mins. easy run.
Friday 15/2/02

AM: 50 mins. steady run along river.

PM: 30 mins. easy run.
Saturday 16/2/02

AM: 50 mins. steady run. Got rolling at end.
"I reckon that I'm just so much stronger and fitter now. I don't find the runs any harder even though many of the guys I run with have mentioned that I'm running quicker. If I can run a little faster but not work any harder, why not? Nic has mentioned to me that if I'm feeling good in the last 10 – 15 minutes of a run and I think I can pick it up without really exerting myself, do it. Sometimes I actually feel better running a bit faster rather than slowing down. It's certainly an area where I think I can improve – running a little quicker on the easy runs."
PM: 35 mins. easy with Mona and Troopy in Ballarat.
Sunday 17/2/02

AM: 90 mins in You Yangs

PM: Off
Monday 18/2/02

AM: 50 min. relaxed run in Melbourne.

PM: 30 min. easy run.
Tuesday 19/2/02

AM: Track (Olympic Park).  1600 metres @ 61 – 62 sec pace. 1 lap jog. 5 x 300 metres in 43 secs. 100 m. easy b/w. 1 lap jog. 1200 metres @ 62 sec pace.

PM: 30 min. easy run.
Wednesday 20/2/02

AM: 70 mins relaxed run in You Yangs

PM: 30 mins along river. Got rolling.
Thursday 21/2/02

AM: 45 mins from Landy Field with 4 x 100 m strides and drills at end.

PM: 35 mins. easy run.
Friday 22/2/02

AM: 40 mins. easy.

PM: 20 mins. easy run. (Newcastle).
Saturday 23/2/02

AM: 20 mins. easy run. (Newcastle).

PM: 1500 metre race in Telstra A Series at Newcastle. 2nd in 3.38.9. "p@#*$% off"
Sunday 24/2/02

AM: 90 mins at Ferny Creek (solid run!)

PM: Off.
Monday 25/2/02

AM: 50 min. along river. Got rolling.

PM: 35 min. easy run.
Tuesday 26/2/02

AM: Track (Landy Field). 9 laps continuous made up of:

4 laps @ 70 secs pace.

3 laps @ 64 secs pace.

2 laps @ 60 secs pace.

Jog 1 lap.

Then 3 x 300 metres in 43 secs. (100 metres easy b/w.).

PM: 30 mins. easy run.
Wednesday 27/2/02

AM: 60 mins relaxed in You Yangs.

PM: 30 mins easy along river.
Thursday 28/2/02

AM: Fartlek along river inc.

8 minutes of: 15 secs 'on' / 15 secs 'off'.

4 minutes easy.

6 minutes of: 15 secs 'on' / 15 secs 'off'.

4 minutes easy.

2 x 3 min. reps with 1 minute b/w.

PM: 30 mins easy run.
Friday 1/3/02

AM: 30 mins. easy run.

PM: 1500 metre heat @ Victorian Champs. 1st in 3.46.
Saturday 2/3/02

AM: 35 mins. easy.

PM: Victorian Champs. 1500 metre Final. 1st in 3.42 off 2.02 @ 800 metres.
Sunday 3/3/02

AM: 70 mins. in You Yangs.

PM: Off.
Monday 4/3/02

AM: Easy track. 2 sets of 5 x 200 metres in 29 / 30 secs with 30 secs b/w reps and lap jog b/w sets.

PM: 35 min. easy run.
Tuesday 5/3/02

AM: 40 mins. very easy from Troopy's place.

PM: 30 mins. very easy.
Wednesday 6/3/02

AM: 35 mins easy along river.

PM: 15 mins easy then drills / strides. Finished with 10 minutes easy.
Wednesday 7/3/02

AM: 15 minutes easy.

PM: Melbourne Grand Prix. Ran 13 minutes 12.04 seconds for 5000 metres.

AUSTRALIAN RECORD
"I'm pretty fit pretty much all year round. At the end of the European season, I rest a bit, but I still run every day, because I like going out for a run and I just like feeling fit. There's no point in the year when I'm not fit or I'm putting on weight or anything like that."
Stay tuned to Runner's Tribe for more awesome Craig Mottram content
The Big Mazungo Documentary