The Sub 4 Minute Miler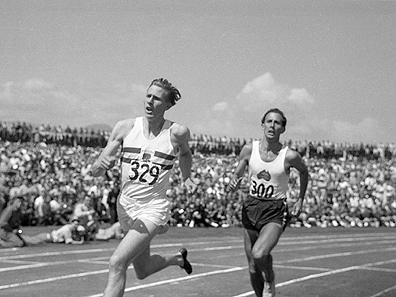 Well if Track & Field News can create a list why can't Runnerstribe! After some research, we have created a listing in chronological order of all our male sub 4-minute milers in Australia. The list contains the who's who of Australian middle distance running, which of course started with none other than the great John Landy.
On 21 June 1954, at an international meet at Turku, Finland, Landy became the second man, after Roger Bannister, to achieve a sub-4-minute mile, recording a world record time of 3:57.9, ratified by the IAAF as 3:58.0 owing to the rounding rules then in effect. That record held for more than three years.
Interesting Fact: In the 18 months after Bannister broke the 4 minute barrier it  was broken another 40 times. The realisation for so many others that it was possible opened the flood gates.
The one statistic that is even more amazing is how many times Pat Scammell broke the magical 4 minute barrier. He broke through the barrier on no fewer than 28 occasions, with Mike Hillardt coming in at no.2 at 24.
The Top List of Sub 4 Minute Miles Completed:
Pat Scammell (28)
Mike Hillardt (24)
Herb Elliott (17)
Graham Crouch (15)
Ryan Gregson* (14)
Craig Mottram* (14)
Simon Doyle (11)
Ken Hall (9)
John Landy (6)
Collis Birmingham*, Merv Lincoln, Mike Power, Jeff Riseley* and Mark Fountain (5)
*still active athletes
The Australian record still stands at 3.48.98 – when Craig Mottram placed 5th at the famous Oslo mile in 2005.
The Chronological List – Australian Men (Mile Rankings)
There are a few notes to accompany the list:
We acknowledge the assistance of Athletics Australia and AllTime Athletics in producing the listing below.
We acknowledge Dave 'Robbo' Robertson in inspiring us to complete the list
Any amendments are most welcome
Please note that any athlete who has switched alliance to another country only have their performances when running for Australia included in the list below (e.g Brenton Rowe (AUT) and Kevin Batt (NIR)
The list does not include indoor performances from Ryan Foster (3.58.49 in 2011) and Matt Gibney (3.58.12 OT in 2011)