Michael Roeger is up there with the toughest people on the planet. As many of you already know, Roegs just broke his own T46 marathon world record and smashed the 2:20 barrier along the way. We had the pleasure of interviewing the 'great man' a few days after the record-breaking scene in the Houston Marathon.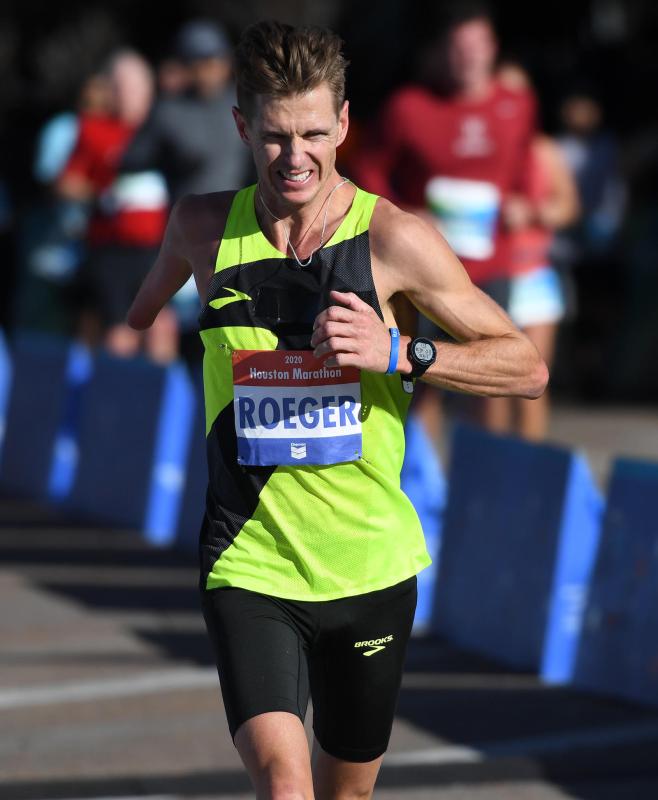 (RT): You've just broken your own T46 marathon world record by dipping under the 2:20 (2:19.33) mark. You're the first ambulant athlete ever to break the 2:20 mark. How good does this feel?
(Roegs): That was one of the big goals going into Houston, to make sure we went under 2:20. I knew I was in shape to do it, I just needed to execute and navigate my way through the challenges that the marathon brings. To be the first ambulant para-athlete under that barrier is special. It's something I'll look back on one day and will be proud. It's history, and I'm very grateful to have had the opportunity in Houston and for my team for getting me there because in this sport it's rare to be all 'smooth sailing,' we had our barriers but dealt with them.
(RT): What was the race plan?
(Roegs): Philo is always pretty spot on for what shape I'm in, and I fully trust his judgment. We decided to go for a big performance and hit 3:14s – 68 minutes through half so 2:16 pace. I went through half in 68.25, big headwinds made for tough running and I faded towards the end, but I'm proud to have stuck to our plan and have a crack. I could have sat in and gone out with a big pack of Americans who were going for there Olympic trial time of 2:19, but I feel like I left nothing in the tank and gave myself every opportunity on the day.
(RT): How hard was it to get through the last 7km, staying on WR and sub 2:20 pace? What was going through your mind?
(Roegs): It was mentally tough, I had to be so strong and really focused on keeping a pace that would allow me to go sub 2:20 but also allow the cramp and my body not shut down. I kept drawing on my training runs, my family/friends but mostly my last two marathons where I dealt with the physical challenges of this great event. I knew I'd been deep in before, so I was prepared to go there again, thankfully, my training, my will and dedication allowed me to get to the finish.
(RT): What did your training schedule look like for the 12 or so weeks leading into Houston?
(Roegs): I had a really good prep leading into Houston apart from the last three weeks. I hit two months of 170-180km weeks I got every workout in, and I got two long runs at 40km which I'd never done previously. All these workouts and long runs were a huge confidence booster for me. If you do the work, the result generally takes care of itself.
I sustained a small lower leg injury just before Christmas, which meant we had to make some adjustments and days off running and in the pool and on the bike. This was a bit tough mentally for me, but if I was going to get a niggle it came at the right time, it just meant I started the taper a little earlier and absorb the last three months of training.
(RT): Why Houston?
(Roegs): Good question, I left this up to Philo. I wasn't fully committed to running Houston after coming off Para world track champs in November. It was tabled early October and we fully committed after worlds early November. It is a very flat, quick course and we knew there would be a bunch of Americans going between 2:16-2:19 for the OG marathon trials. It also was pretty food timing in terms of when the Paralympic Games are later in the year and my schedule.
(RT): How much has your coach and training partner Dr Philo Saunders helped you on this marathon journey?
(Roegs): Philo is a genius. The program he has put together for me in preparing for the marathon has been exceptional. The way he can adapt or adjust the program has got me to the start line. He knows exactly what I need to reach my full potential, and I back him 110%. I think with him out there doing the hard yards on the roads as well; he gets an even closer understanding of what is needed and required. It's a truly unique relationship that Philo has with his athletes and one I know we are all truly appreciate and grateful of.
(RT): Growing up did you dream about the amazing accomplishments you have inevitably achieved?
(Roegs): Growing up in Langhorne Creek playing footy I dreamed of being the best. When I started running, I was always competitive but never the best as a kid. I remember my first Paralympics in Beijing 2008. I made the final of the 1500m but got beat pretty bad, I was happy to be there, but I wanted to win, I dreamed of winning. Since then I started to train to win and haven't looked back
(RT): What's the next race/s on the calendar?
(Roegs): We haven't locked in anything yet, maybe a quick half marathon in March, I'd also like to get on the track for a 5k. We've been invited to race Boston Marathon in April, so that's a pretty exciting opportunity.
(RT): Do you think you could potentially break the 2:15 marathon mark in the future?
(Roegs): There is no doubt in my mind that I could potentially do that one day. I feel with my half time last year of 64.17 gives me the confidence I can. With more experience in the marathon, more km in the legs and consistency, I feel like there is a lot more room for improvement.