If there is a shoe that stands for Saucony, it has to be the Kinvara. A shoe with substantial pedigree that has developed a cult like following among die hard Kinvara fans.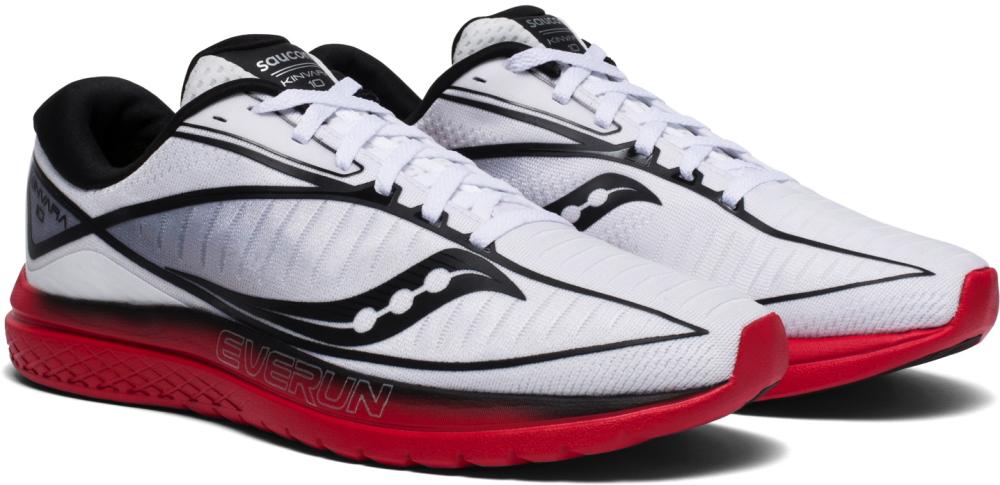 The Kinvara 10 is a throwback to the first ever Kinvara in terms of looks. A homage to the lineage of Kinvaras that have been so successful. Runner's Tribe testers put the Kinvara 10 to the test on the roads and trails.
Specs
Surface:

Road or trail.

Pronation:

Neutral.

Stack Heights:

23mm heel, 19mm forefoot.

Heel-to-toe-drop:

4mm.

Weight:

Men's size 9 =

221g approx.

Women's size 5.5 =

190g grams approx.

Midsole:

An 'Everun' (TPU) topsole with the rest of the midsole made from lightweight EVA.

Upper:

Mutli-layered mesh.

Toe Box:

Wider than your average shoe.

Flexibility:

Moderately flexible. Version 10 is stiffer than both 8 and 9.

Heel cushioning:

Soft but not too squishy. Much firmer (and lighter) than Saucony shoes with 100% Everun (TPU) midsoles.

Fits:

True to size.

Outsole:

Mainly exposed EVA, hardly any rubber outsole at all.

Heel counter:

Not very easy to bend. Very padded on the inside.

Purpose:

Sessions, tempo runs, medium length runs, race day from 5km to the marathon.

Insole:

Removable insole, fine for those with orthotics.

Price

: $189 AUD at Saucony Australia.

Testing process:

1 pair. 2 testers. 190km covered. Sessions and warm-up/down jogs only.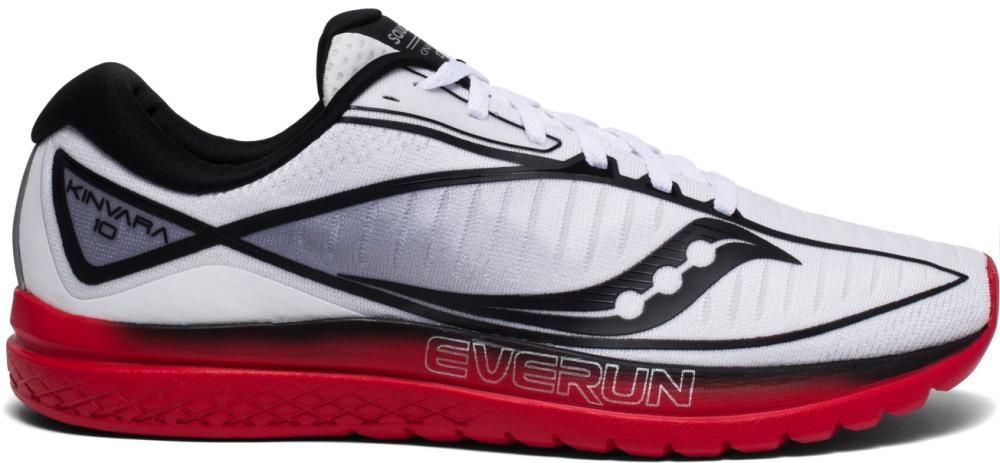 Cool things about this shoe
Simplicity

: Saucony is an old-school brand, the oldest of all running shoe brands. They make shoes without the marketing bells and whistles that you see in so many other brands, it's refreshing. The Kinvara fits this mould while still looking awesome.

No Prolock

: Previous models (including the 9) had a locking device across the midfoot. It caused issues with fitting and lacing and wasn't necessary. We are glad to see that it has been ditched for model 10.

Soft Comfortable Upper:

The upper is made from a very soft mesh, it moulds to your feet and is very comfortable. It feels high-end and is very durable. An impressive upper.

Weight:

The Kinvara is a light shoe. Weighing in at 221g for men's size 9, it's far from a heavy shoe. In comparison the Pegasus Turbo is 238g, the Pegasus 35 is 266g and the Vaporfly is 198g. It is right up there in terms of lightness.

Uncool things about this shoe
Laces:

We found the laces a bit long, but serious not a big issue.

Extra Padding:

There seems to be lots of padding around the heel area. It makes for a comfortable shoe, but also adds weight. In an industry where the lighter the better, we don't feel as though the heel padding is necessary.
Neutral ponderings
4mm Drop:

If you grew up wearing Nike, Asics, Adidas etc, then chances are your body is used to running in shoes with a 10-12mm drop. Recently, companies such as Saucony, Altra and Hoka One have helped make lower drop shoes more popular (0-5mm). We don't have an opinion on which is best, it's each for their own. However, just be conscious of this fact as the subtle change in drop can really flare up calf and Achilles injuries (as occurred to one of our testers). Gradual adaptation is wise.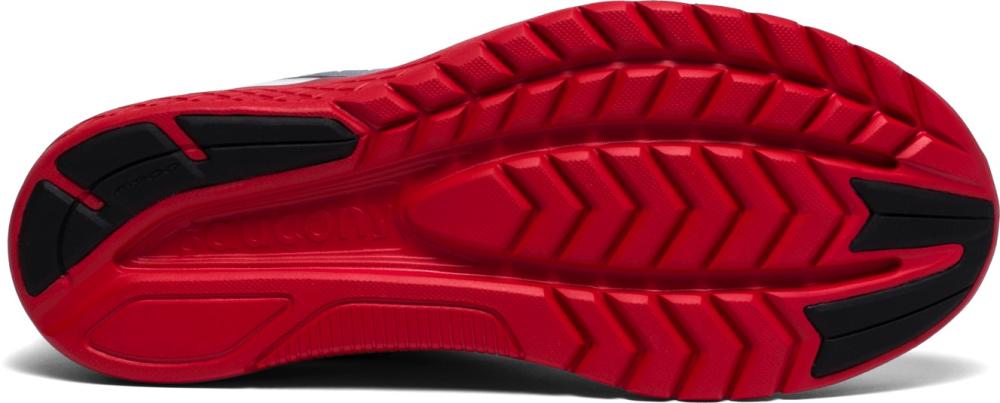 To buy or not to buy?
The Kinvara's are priced fairly at $189, not bad for a high-end lightweight trainer. For those who like lower drop shoes, you can't go too wrong. The 10 remains a lightweight, cushioned, comfortable shoe that can handle hundreds of miles. They are suitable for any kind of running, from repetitions to medium length runs or races. If a workhorse is what you are after, then the Kinvara is a pretty good option.
Disclaimer: Runner's Tribe were given a pair of Kinvaras for free. We receive free shoes all the time, some of our reviews are brutally negative, some are positive. Either way, the free shoes keep coming. We like to think we offer fair and impartial reviews, but we leave it to the readers to decide that for themselves.