(c) Runner's Tribe
Nike are the kings at marketing, among other things. And few shoes exemplify this more than the Infinity React. Nike's marketing machine had people spinning with talk about injury risk reduction. They cited an external study by the British Columbia Sports Medicine Research Foundation (BCSMRF) on 226 runners using the Nike React Infinity Run as well as the Nike Structure 22. It indicated that runners using the former had a 52% lower injury rate. It's an area in which more research is required.
So, is this all complete BS, or are the shoes legit? Runner's Tribe took them through 310kms and below is our unpaid for review.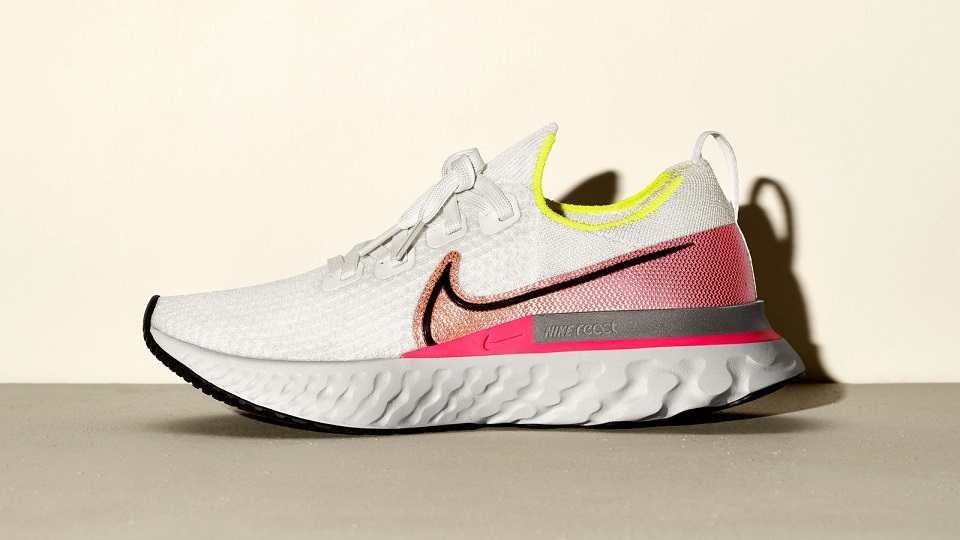 Specs
– Km's run during testing process: 310
– Testers: Two road/track runners.
Surface: Road or very light trails.
Purpose: Everyday high mileage trainer. Good for warm-ups and warm downs. Good for easy runs or long runs. Not a speed shoe.
Pronation: Neutral.
Stack Height: 33mm heel. 24mm forefoot. These stack heights were verified by Nike Australia. Note: Running Warehouse USA state the stack heights are 22/30. See the table below for brand comparisons.
Heel-to-toe-drop/pitch: 9mm
Weight: Light (see the below table for brand comparisons)
Men: 9 US: 273g
Women: 7 US: 226g.
Midsole: React foam (rubber).
Upper: Knit.
Outsole: Rubber full length.
Flexibility: Very flexible, can easily bend the shoe in half.
Toe Box: Wider than your average pair of shoes, your toes have more room to splay than average. The midsole base is wider than the Pegasus or Epic React. But not as wide as say a pair of Altra shoes.
Durability: Excellent.
Density of midsole: Very soft and quite dense.
Heel cushioning: Soft.
Forefoot cushioning: Soft.
Mechanics: Rocker bottom for a flowing landing and push-off.
Heel counter: moderate, it does collapse when pushed hard.
Fits: Runs true to size.
Marketing Hype: Blow out high.
Does it live up to the hype: Matter of opinion.
Price: $230 AUD at Nike Australia. $159.95 USD at Running Warehouse USA.
Against some rivals
| | | | |
| --- | --- | --- | --- |
| Shoe (all size US 9 Men) | Weight (grams) | Drop(MM) | Stack Heights (heel/foefoot cushioning) |
| Saucony Triumph 17 | 305grams | 8mm | 33mm/25mm |
| Hoka Rincon | 210grams | 5mm | 29mm/24mm |
| Hoka Clifton 6 | 255grams | 5mm | 29mm/24mm |
| Nike Vomero | 281grams | 10mm | 27mm/17mm |
| Nike Pegasus | 266grams | 10mm | 28mm/18mm |
| Adidas Solar Boost | 301grams | 10mm | 28mm/18mm |
| Asics Nimbus | 315grams | 10mm | 31mm/21mm |
| New Balance 1080 | 283 grams | 8mm | 30mm/22mm |
| Mizuno Wave Rider | 289 grams | 12mm | 32mm/20mm |
| Brooks Glycerin | 309 grams | 10mm | 32mm/22mm |
| Brooks Ghost | 286grams | 12mm | 29mm/17mm |
| Nike Infinity React | 273grams | 8mm | 33mm/24mm |
As seen above, the Infinity's cushioning rivals even the most cushioned of shoes on the market.
Cool things about this shoe
– Weight: The shoe is light, crazy light for a high mileage trainer with so much cushioning. Check out the table above comparing weights of popular high mileage trainers. It is lighter than all its rivals, except for the Hoka Clifton.
– Soft midsole: If you enjoy a soft midsole then you will love this shoe. It's probably the softest shoe on the market.
– Perfect for easy runs: The shoe isn't fast, but it is a soft cruisy ride that is easy on your legs. For those casual warm-ups and warm-downs, or for easy runs or long runs, the shoes provide a soft ride that feels great.
– Extra Forefoot cushioning: Nike are perhaps learning from Hoka. Hoka figured out 10 years ago that many Runners really dig some extra forefoot cushioning. It makes sense for those who land on their forefoots.
– Durable: Nike's React foam is super durable. After 310kms the outsole rubber and midsole foam are as good as new. But the white knit upper obviously gets dirty very quickly.
Uncool things about this shoe
– Too soft? I know a soft midsole was listed above as something 'cool'. But this is a subjective game. I have met many runners who just hate the softness of this shoe. And I've met others who love it. That's the nature of running shoes.
– Heel moves around: There is something about the heel counter. We really struggled to lock down our heels and found them slipping around in the shoe a lot. It is a common issue encountered when chatting to other runners.
– Marketing Hype: It was a bit intense, but I bet it worked.
To buy or not to buy?
If you love a lot of cushion and a super soft midsole, this is one of the best shoes on the market. It is softer than a Hoka Bondi, and most comparable to the Hoka Clifton.
Disclaimer: We were not paid a cent for this article.
By Sam Burke for Runner's Tribe