(c) Runner's Tribe
Hoka's Bondi 7 encapsulates all that the brand Hoka One One is about, better than perhaps any other shoe.  High stack heights, metarocker midsole geometry and oh so soft midsole foam.
Runner's Tribe took the Bondi 7's through about 150km of road and light trails, below is our unpaid for review.

Specs
Km's run during testing process: 150
Testers: Two road/track runners.
Surface: Road, light trail.
Purpose:  Every day high mileage training shoe. Designed for road or easy trails. The huge levels of cushioning make it suitable for easy runs and days in which your legs are sore/tired and need a rest. Not a speed shoe.
Pronation: Neutral.
Stack Heights:

Women: 31mm heel. 27mm forefoot. Confirmed by Hoka Australia.
Men: 33mm heel. 29mm forefoot. 4mm drop. Confirmed by Hoka Australia.

Heel-to-toe-drop/pitch: 4mm
Weight:

Men: 9 US:  303g.
Women: 7 US: 252g .

Upper: High quality mesh upper with a lot of built up padding. Provides for a very comfortable fit. The new and upgraded upper eliminates the need for the horizontal bonded seams that were one of the only shortcomings of the Bondi 6.
Outsole: Exposed EVA foam, strategically placed soft outsole rubber in high impact areas.
Midsole: 

Soft EVA foam, and lots of it. Metarocker geometry.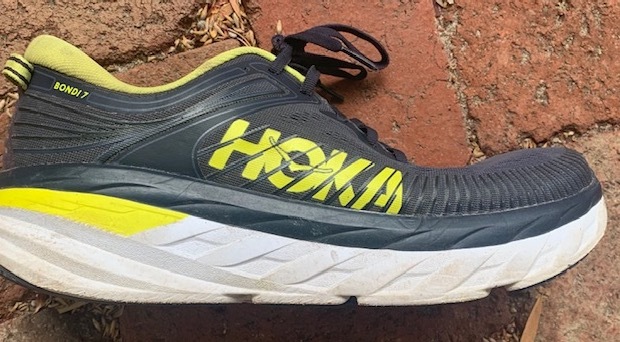 Flexibility: 

Moderately stiff, as you'd expect a shoe with such high stack heights to be. But shoe is still easy enough to bend.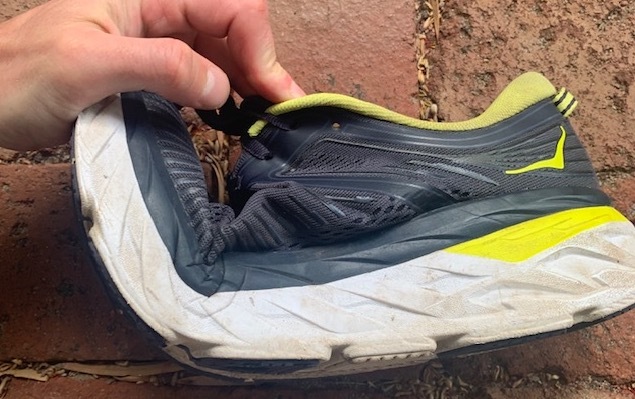 Toe Box:  Standard for Hoka. Wide than many of the old-school brands, not as wide as Topo or Altra.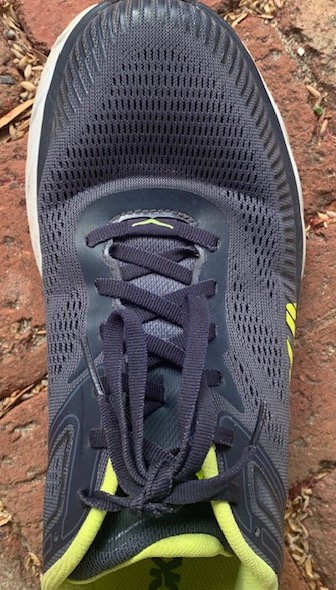 Durability: So far, durability seems fantastic. There is just so much midsole foam, you feel as though you can therefore get a lot of mileage out of it.
Density of midsole: Soft.
Heel cushioning: Soft.
Forefoot cushioning: Soft.
Heel counter: Medium. The heel counter does have a hard structure to it, it can be bent, but not easily.
Fits: Runs true to size.
Marketing Hype: Low.
Does it live up to the hype: Yes.
Price: $269.95 AUD at Hoka Australia.
Against some rivals
| | | | |
| --- | --- | --- | --- |
| Shoe (all size US 9 Men) | Weight (grams) | Drop(MM) | Stack Heights (heel/foefoot cushioning) |
| Saucony Triumph 17 | 305grams | 8mm | 33mm/25mm |
| Hoka Rincon | 210grams | 5mm | 29mm/24mm |
| Hoka Clifton 7 | 255grams | 5mm | 29mm/24mm |
| Nike Vomero | 281grams | 10mm | 27mm/17mm |
| Nike Pegasus | 266grams | 10mm | 28mm/18mm |
| Adidas Solar Boost | 301grams | 10mm | 28mm/18mm |
| Asics Nimbus | 315grams | 10mm | 31mm/21mm |
| New Balance 1080 | 283 grams | 8mm | 30mm/22mm |
| Mizuno Wave Rider | 289 grams | 12mm | 32mm/20mm |
| Brooks Glycerin | 309 grams | 10mm | 32mm/22mm |
| Hoka Bondi 7 | 303grams | 4mm | 33mm/29mm |
| Nike Infinity React | 273grams | 8mm | 33mm/24mm |
As seen above, the Bondi 7 is one of the heaviest high-mileage trainers on the market, but it also has the highest stack height. It's all a compromise.
Cool things about this shoe
Huge Stack Heights: It's the current trend. And if a lot of foam is what you are after for your high mileage trainer, the Bondi 7 does it best.
Soft Landing: I did 3km one day with the Nike Pegasus 37 on one foot, and the Bondi 7 on the other (wouldn't recommend it). The outsoles of the two shoes are vastly different. The Bondi 7 has a lot of soft EVA midsole exposed to the ground, and the outsole rubber that they do use is softer than most outsole rubbers. Therefore, it creates a very soft landing. In comparison the Pegasus 37 has a very tough and hard full length outsole rubber, it makes the landing a lot harder.  There are pros and cons of both shoes, but the Bondi 7 provides for a level of softness not found in most other brands, if that's your thing.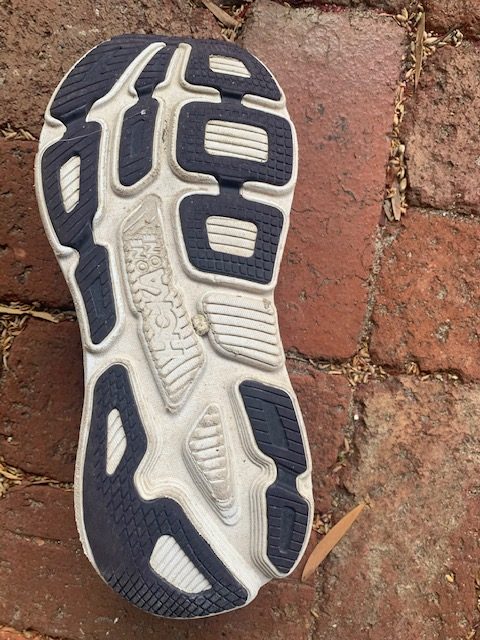 Comfortable: As already stated the mesh upper is very well padded, and the shoe is more comfy than my ugg boots.
Uncool things about this shoe
It's a struggle to come up with anything, the shoe achieves all that it set out too.  Bondi 7's are designed for a certain runner in mind, those that just love a lot of cushion. We can't find anything uncool with this shoe, it's far superior to the last few Bondi models, especially the Bondi 5, that had a lot harder foam.  One of the reasons Hoka became so popular is their soft foam, the harder foam in some previous Bondi models, just made no sense.
Neutral ponderings
4mm drop: It's very low. Like most ex-track runners I am used to 6-10mm drops, the 4mm drops flare up old Achilles tendon issues. That's not Runner's Tribe passing an opinion on the whole drop argument, simply stating that if you are used to a higher drop, be careful, or whack in a 2-6mm raise.
To buy or not to buy?
We feel as though the Bondi 7 is far superior to previous Bondi models. If loads of cushion is your thing, and a soft landing, then the Bondi 7 is the Mack Daddy.
 Buy from:
Written and tested by Sam Burke for Runner's Tribe.
Disclaimer: Runner's Tribe were given a pair of Bondi 7's for free by Hoka Australia.