We are back with the one of the most successful daily trainers of all-time, the Nike Pegasus. Nike's Peg 37 comes with some significant changes from the 36. Namely, the use of React Foam throughout, instead of Nike's Cushlon foam used in the 36. There is also an extra 2mm of cushioning, and changes made to the outsole.
We took our pair through 160km of road and trails.
Specs
Surface: Road, mild-moderate trails.
Pronation: Neutral.
Stack Height: 28mm heel, 18mm forefoot. Peg 36 was 26mm (heel) and 16mm (forefoot).
Heel-to-toe-drop: 10mm.
Weight: Slightly heavier than Peg 36 (2019), but not enough to actually notice a difference.

Men size 9US: 272 grams (9.6oz).
Women size 8US: 238 grams (8.4 oz).
Men size 11US: 314 grams (11.07oz).

Midsole: Nike React Foam throughout (styrene-based rubber). Peg 36 used a phylon based midsole foam. It is a significant improvement. It is softer yet bouncier, and more durable.  Also present is a zoom air unit in the forefoot, twice as large as previous pegs (10mm   thick compared to 4mm thick in the Peg 36). The air unit is found only in the forefoot, unlike the Peg 36 which was found in the entire length of the midsole.
Outsole: Traditional full-length outsole rubber that is hard and durable.  Updated from the Peg 36 by a decoupled groove in the mid to distal outsole (heel region etc). Provides for more of a springy feeling than the 36 and saves some weight presumably.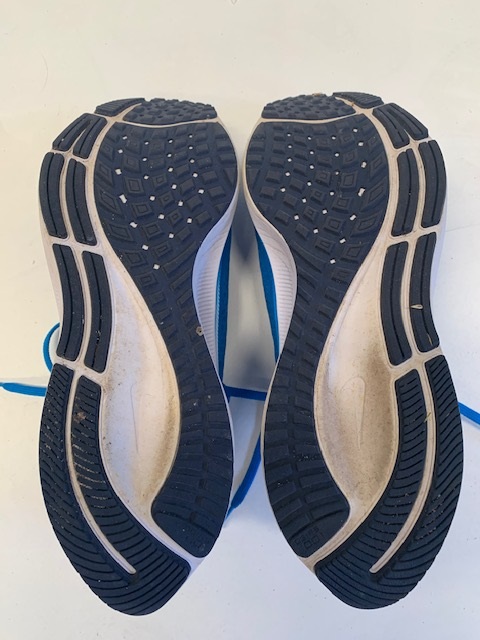 Heel Counter: Very stiff. Slightly shorter than the Peg 36.
Upper: Translucent mesh, pretty standard feeling mesh.
Flexibility: Moderate. Can bend the shoe easily enough. Standard for a Peg.

Nike Zoom Pegasus 37 has a full length rubber based midsole. With no carbon, and softish foam, the shoe tends to bend quite easily

Fits: To size.
Heel cushioning:

Soft.

Eyestay:

Flywire cables from the Peg 36 have been replaced with wire bands. Works well.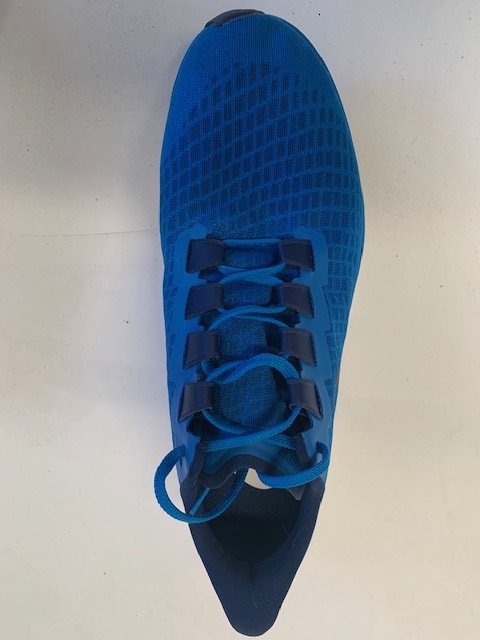 Marketing Hype: Standard Nike.
Does it live up to the hype: Does it ever.
Price: $180 AUD at Nike Australia.
Against some rivals
| | | | |
| --- | --- | --- | --- |
| Shoe (all size US 9 Men) | Weight (grams) | Drop(MM) | Stack Heights (heel/foefoot cushioning) |
| Saucony Triumph 17 | 305grams | 8mm | 33mm/25mm |
| Hoka Rincon | 210grams | 5mm | 29mm/24mm |
| Hoka Clifton 7 | 255grams | 5mm | 29mm/24mm |
| Nike Vomero | 281grams | 10mm | 27mm/17mm |
| Nike Pegasus 37 | 272grams | 10mm | 28mm/18mm |
| Adidas Solar Boost | 301grams | 10mm | 28mm/18mm |
| Asics Nimbus | 315grams | 10mm | 31mm/21mm |
| New Balance 1080 | 283 grams | 8mm | 30mm/22mm |
| Mizuno Wave Rider | 289 grams | 12mm | 32mm/20mm |
| Brooks Glycerin | 309 grams | 10mm | 32mm/22mm |
| Hoka Bondi 7 | 303grams | 4mm | 33mm/29mm |
| Nike Infinity React | 273grams | 8mm | 33mm/24mm |
Peg 37 is a pretty standard weight for a high mileage trainer.
Cool things about this shoe
React Foam: It is soft, durable, springy. Nike's midsole foam is what really sets then apart from their competitors.  The switch to using React Foam in the 37, compared to the phylon used in the 36, is a gigantic improvement.
Bigger Zoom Air Unit:

I've never really noticed an air unit in a pair Nike's before, and I've been wearing them for over 20 years. The Peg 36 had a full-length air unit and it was one of the flattest shoes I've ever worn. The Peg 37 has a large 10mm thick air unit just in the forefoot, and it is slightly noticeable.

Outsole: Plenty of rubber provides for ample traction.
Consistency: Despite adding in 2mm of cushion compared to the Peg 36, at 18mm forefoot, and 28mm heel, the Peg 37 range stays true to its history and provides customers with a relatively consistent feel.
Durability: I've clocked 140km in my pair and they feel like new. I presume being full length React Foam, that they will have similar durability to the Epic Reacts, which lasted about 1000km.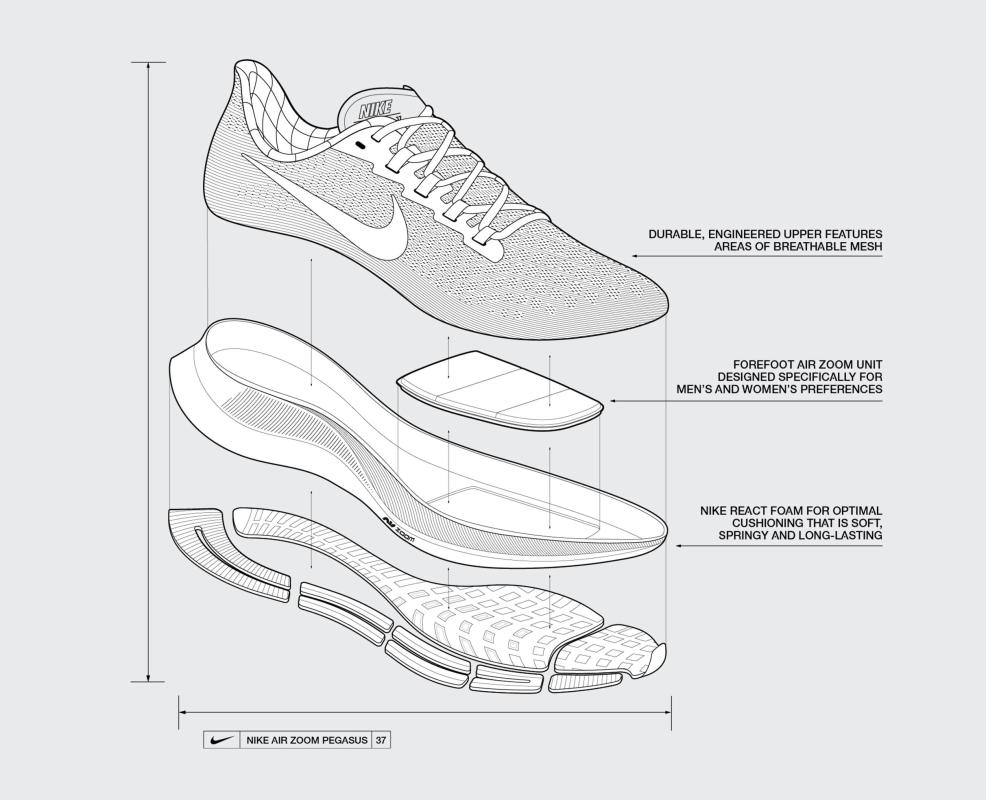 Uncool things about this shoe
Narrow Toe Box: It's a little narrow. But it's such an individual thing.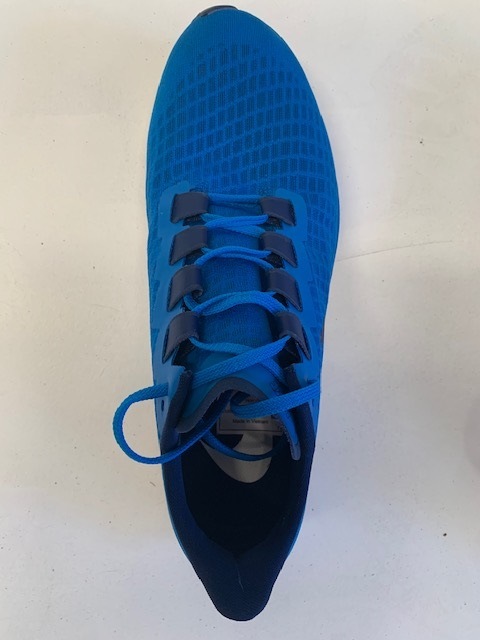 Summary:
A big improvement from the 36. The better midsole foam makes all the difference.
Written and tested by Sam Burke for Runner's Tribe.
Disclaimer: Runner's Tribe were given a pair of Nike Pegasus 37  for free, but we receive no money from Nike.