Hall's Amazing Rise to International Stardom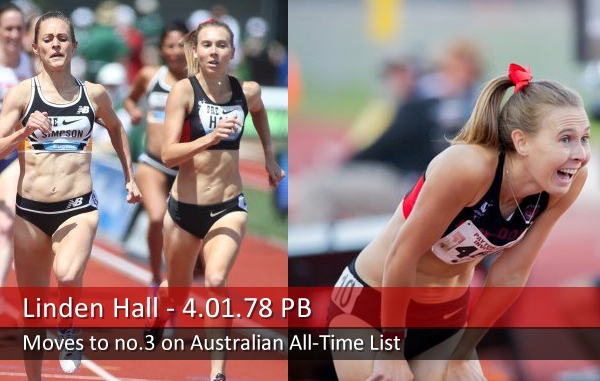 It's hard not to get a little carried away with the success of Linden Hall over the last 4 weeks. Her latest performance at the Prefontaine Classic in Eugene (4.01.78) had to be seen to be believed. Not only did she run a controlled race (which included a 64 second final 400m), she took some big scalps in the process – which included Laura Weightman (PB of 4.00.17), Brenda Martinez (PB of 4.00.94), while she was only just behind Jenny Simpson who ran 4.01.57, but more importantly owns a PB of 3.57.22 and was the 2011 World Champion.
All of this coming after leaving Australia in April with a PB of 'only' 4.10.41. Hall's performances now places her fairly and squarely in calculations for a top-8 placing at the upcoming Rio Olympics – and also has many people talking about when Hall will better the current Australian record (held by fellow Athletics Essendon athlete in Sarah Jamieson at 4.00.93, set back in 2006).
Should Hall make the top-8 in Rio it would be the first time we have seen a top-8 Australian performance in the women's 1500m at an Olympics since 1996 – when Margaret Crowley placed 5th in the final in 4.03.79. While the only other Australian in the history of the Olympics to finish inside the top-8 was teenager Jenny Orr in 1972, where she placed 8th in 4.12.15.
Big Mover: Linden Hall moves to no.7 on the 2016 Power Ranking List – scoring 1,191 points for her 4.01.78 performance in the 1500m in Eugene. Hall moves past Alana Boyd's 4.77m AR in the women's pole vault (1,190 points).
The women's 1500m in Australia has been one of the most interesting events to watch in 2016, with the realistic chance that we could see a '4.04' athlete miss out on an Olympic berth. Jenny Blundell's 4.04.62 has her ranked 14th on the 2016 World List, although if Heidi See (with the bonus of being National Champion) runs an OQ of 4.07.00 then there is every chance Blundell will miss a place on the Australian team for Rio. Blundell's next race will likely be the Putbos Memorial Léon Buyle Meeting in Oordegem, Belgium on June 4 – where she will go head to head with yet another Australian looking for a berth in the women's 1500m in Rio – Zoe Buckman.
Denny Makes it Happen in the US – 'Target 60' Remains on Track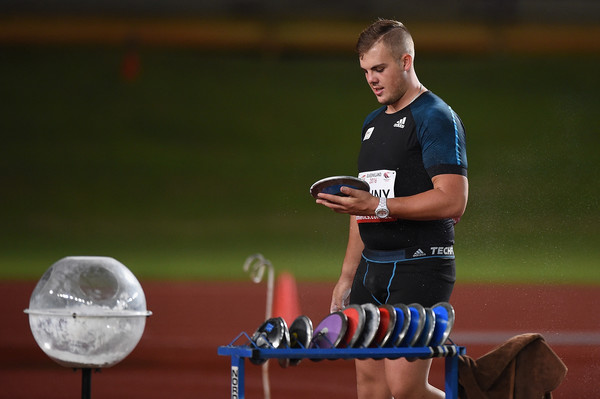 Matt Denny can finally say 'I have an Olympic qualifier' after recording an impressive 65.37m PB in the men's discus at the Pat Young's Throwers Classic at Hartnell College in Salinas, California. He only made a late decision to fly back to the United States, and it was the correct one as it only took three throws for him to book a ticket for Rio.
Taking to Facebook Denny said "Came to America for one job, took 3 throws and got that job done! So thankful for my coach Grahame Pitt ! Thankful for all my support and thankful that I finally got the job done! On top of the world right now 😊😊😊👍🏻👍🏻". Denny (who will be 20 in Rio) now joins high jumper Elenor Patterson (20) and 4x400m candidate Jess Thornton (18) as one of the youngest athletes to wear the green and gold at this year's Olympics. Josh Clarke, Luke Mathews, Cedric Dubler and Morgan Mitchell are next in line – all will be 21 when they compete in Rio.
The target to send 60 individual Australian athletes to Rio (excluding any relay athletes) is fast becoming a reality, with the current team looking at numbering 55 if selections were to happen today. The athletes on the borderline of selection include:
Melissa Breen (right) (100m) – ran a 11.40s (+1.1) on the weekend in conditions more accustomed to penguins (yes Canberra gets cold in May). She will venture to a warmer climate next weekend, when she lines up in the ANQ All Comers Competition in Townsville. There she should find the all important 11.32s OQ.
Brianna Beahan (100mH) – unsure of her next meeting (as she's not on the start list for the Townsville meeting, although fellow sprint hurdler Michelle Jenneke will be lining up). Her 13.03s PB is agonisingly just shy of the OQ time of 13.00s.
Steve Solomon (400m) – will be running in Townsville, hoping to find the extra 0.10sec required to ensure a spot on the plane for Rio (45.40s is the magical number).
James Nipperess (3000mst) – made the 2015 World Championships just prior to the cut off date, and will be looking at doing it again in 2016. Recorded a new PB of 8.32.59 in the United States last weekend, and is currently right on the cut off line at no.45 on the qualification list for Rio – but knows a 8.30.00 will be required to officially make it his first Olympics.
Lora Storey and Brittany McGowan (800m) – both athletes have been within reach of the all important 2.01.50 OQ time. with Storey (2.01.67 PB) and McGowan (2.01.64) now looking at events in both the US and Europe over the coming weeks to find the all important OQ time.
The other interesting athlete still chasing Olympic qualification is Patrick Tiernan. He will take his place on the start list for the 5000m in the upcoming NCAA Championships (June 8-11). The Villanova star will go head to head with Edward Cheserek – who owns a PB in the event of 13.18.71. The question mark, if Tiernan did record an OQ of 13.25.00, would then be around Collis Birmingham – who has a OQ from 2015 but has only recorded a 13.43.56 (National Championships) in 2016. With Sam McEntee and Brett Robinson taking two of the three spots for Rio, Birmingham could be left without a ticket for Rio.
Another athlete still chasing his Olympic dream (currently in Europe) is James Gurr. His recent performance was a 1.47.56 800m in Belgium, after also recording a 1.46.74 in Japan in early May. With some question marks around the form of Josh Ralph (who owns an OQ from 2015), Gurr could still force his way onto the Australian team if he could produce the all important 1.46.00 qualifying time over the coming weeks (next race for Ralph is set down for June 4 in Belgium).
Eleven Aussies Qualify for NCAA Championships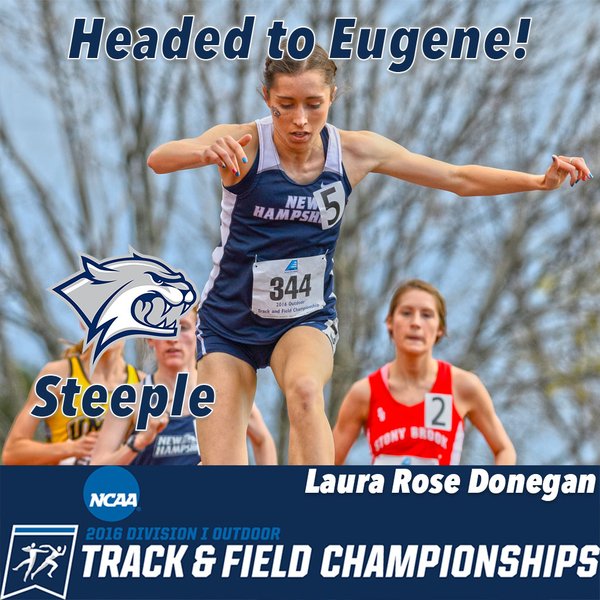 At the conclusion of both the NCAA Division I East and West Championships we have a total of nine Australians who have qualified for the NCAA Championships in Eugene (June 8-11). They are as follows:
Men's 5000m – Patrick Tiernan, Morgan McDonald and Chartt Miller (note: Jack Bruce was a 'dns' at the West Championships but did start in the 1500m).
Women's 3000mst – Laura Rose Donegan, Brianna Ilarda (note: Isabel Batt-Doyle missed out on qualifying after running 10.20.74 for 17th place in the West)
Men's 1500m – Jordan Williamsz
Women's Javelin – Mackenzie Little
Women's Triple Jump – Aliyah Johnson and Daisy Ding
Men's Discus – Mitchell Cooper
Men's Long Jump – Kurt Jenner
Other notable performances came from Reilly Shaw (16th in his heat of the 3000mst in 8.50.29), while Frances Schmiede ran a 4.19.01 for 7th in her heat, but could only manage a 4.25.69 in her QF to miss qualification for Eugene. Amy Cashin produced a PB of 10.11.08 in the women's 3000m steeplechase. Jack Bruce ran a 3.44.14 in the men's 1500m to miss out on the finals by a mere one spot.
Other 'Flash' News
Brooke Stratton will make her Diamond League début on June 16 in Stockholm, Sweden. This is on top of the great news that Morgan Mitchell will take her place in both the Birmingham Diamond League and Oslo Diamond League meetings over the coming weeks.
Jeff Riseley will race for the first time in 2016 at the Leonora Golden Gift, June 3-5, against a stacked men's field, including Zac Paterson, Peter Bol, Jack Stapleton and more. Riseley will be flying to Europe for a meet in Nancy, France on June 14.
RT will be covering The Leonora Golden Gift through this week and next with articles, video's and more.
We will also bring you all the latest from the all important Townsville meeting from June 3-5, while important meetings in Belgium (June 4), Diamond League Meeting in Rome (June 2) and Birmingham (June 5) also ensuring a feast of athletics over the next 7 days!!
Also coming up will be our first edition of our Aussie form chart for Rio, where we will look at all our Australian athletes and how they will go at the biggest event of 2016. To give you a hint of what to expect we have 4 medal chances, 4 'outside' medal hopes – with up to another 13 athletes with legitimate top-8 chances. (ed. the most top-8 performances by Australians at an Olympic Games, since we had 26 at the 1956 Melbourne Olympics, was 16 at Mexico City in 1968 followed by 15 at the 2000 Sydney Olympics.)
END