Countdown to the Rio Olympics
[TS-VCSC-Countdown counter_date="08/12/2016″ date_seconds="false" style="horizontal" color_flippers_horizontal="#d80000″]
Rio Competition Less Than 60 Days Away
It's hard to believe but the Rio Olympic Games are less than 60 days away. The Australian team is far from being finalised, although some athletes are understanding that time is starting to run out if they are to produce the required performances required for Rio selection.
Over the weekend we again saw many athletes striving for the all important Olympic qualifying performance, but this time we were unable to add any names to the qualifying list – although we again saw athletes come extremely close to the Rio marks.
Portland Track Festival – Spencer PB's Again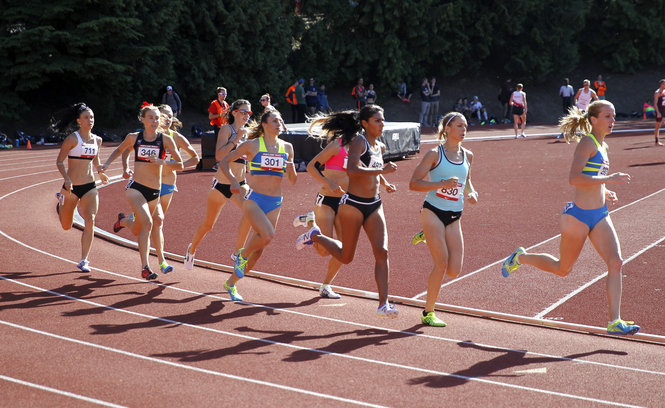 Not many people would have expected Kate Spencer to be in line for Olympic selection after a 16.15.86 5th place effort in the 5000m at the National Championships. Three races later and the 23 year-old only marginally missed the OQ, recording an impressive 15.28.47 PB at the Portland Track Festival on Sunday (US time).
This came after previously recording a 15.33.40 on May 20, which was just outside her PB from 2014. We will now have to wait and see if Spencer will have one last attempt at the required 15.24.00 required for Rio selection.
Also in Portland Lora Storey continued her push for Olympic selection, this time placing 4th in 2.02.58 – behind Brenda Martinez (2.00.21). Storey will now move her attentions to the Harry Jerome International Track Classic in Canada, where she will be joined by a host of other Australian athletes hoping for quick times.
Storey has now raced on seven occasions in 2016 over the 800m, including times of 2.02.69 at the Perth Track Classic and a PB of 2.01.67 in Stanford, CA on May 1. Her latest performance was her second quickest time of her career, but was still over a second outside the all important OQ time of 2.01.50. 
Other notable performances from Portland:
Linden Hall smashed her PB (a 2.06.49 from 2014) in the 800m (same race as Storey), recording an excellent 2.02.85.
Katelyn Simpson easily had her best performance of her career, recording a 4.11.82 PB in the women's 1500m (section 1). Her previous best for the year was a 4.14.49 from the Sydney Track Classic and her previous PB, a 4.12.09, was set at last years National Championships.
Josh Wright finished 10th in section 1 of the men's 1500m (3.41.53), while Jordan Gusman failed to finish in the section 2 race.
Rain Dampens Any Hopes of Quick Performances in Geneva
Another athlete hoping for an Olympic qualifier is 2012 Olympic finalist Steve Solomon. After coming ever so close to the 45.40s OQ in Townsville last weekend, Solomon's first race in Europe was unfortunately plagued by persistent rain. It all contributed to the fastest 400m time of the day at the Geneva meeting in Switzerland being a very pedestrian 45.86s, with Solomon back in 3rd place in 'race A' in a time of 46.36s.
Ben Offereins (46.63s) and Alex Beck (47.14s) also struggled in the tough conditions, as did Morgan Mitchell (52.42s for 5th place) fresh from her PB of 51.25s at the Birmingham Diamond League meeting on June 5.
Solomon will now travel to Spain for his next competition in Madrid in 10 days time.
Oslo Diamond League: Gregson Continues to Shine, Hills is Back and Peacock All Class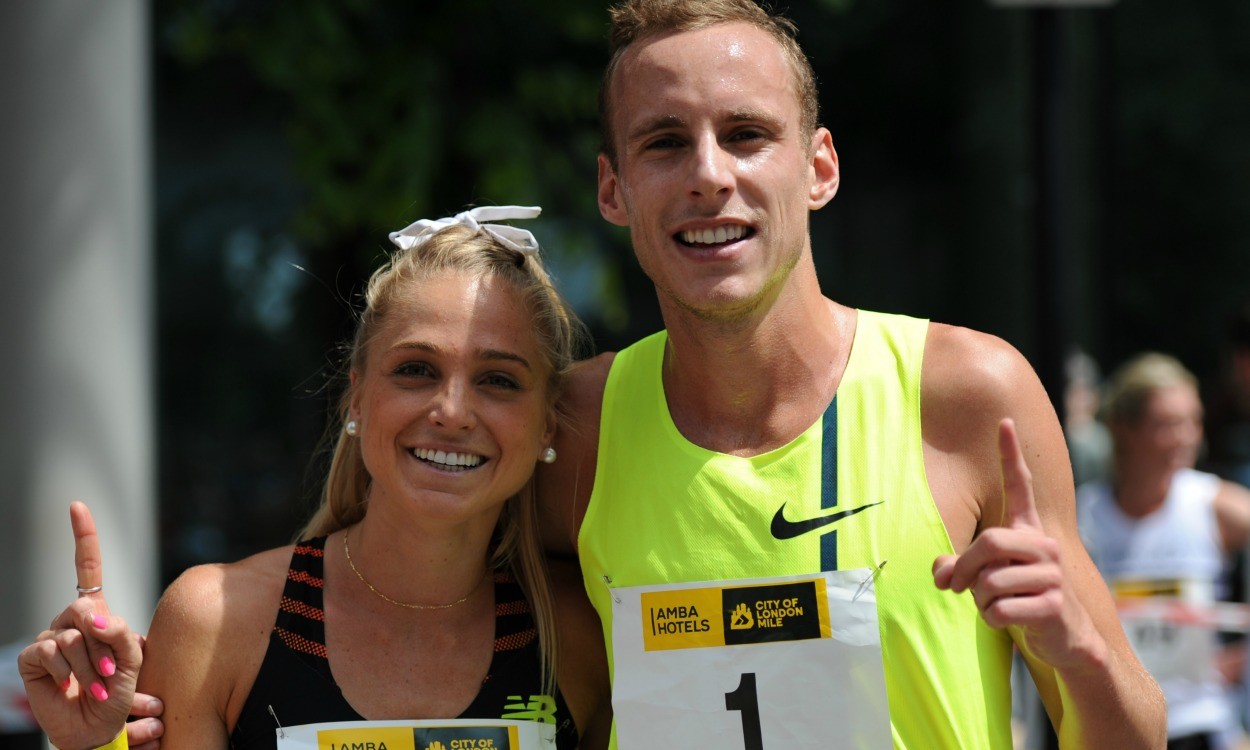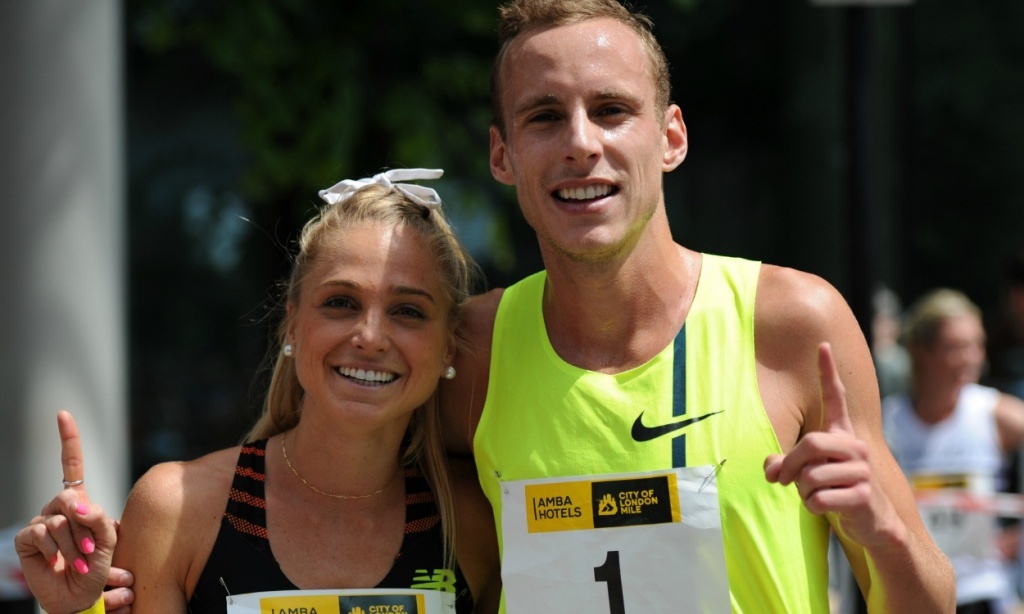 Over the past 6 years since Ryan Gregson broke the 1500m AR with a spectacular 3.31.06 (aged only 20), there has been times when many thought we would never see the very best of Gregson ever again. In 2016 everything has changed, and Gregson is back in the mix at every international meeting that he lines up in.
The Diamond League meeting in Oslo, Norway was no exception, with the 26 year-old coming away with another impressive performance – his second fastest mile time of 3.52.59 (behind his PB of 3.52.24 set in London in 2010) and a 5th place finish, just behind New Zealand mile star Nick Willis (3.52.26).
Moving through 1500m in 3.37.80, Gregson again showed his fight and strength over the concluding stages of the race, and although he was never going to catch the eventual winner (Asbel Kiprop 3.51.48) the signs again were clearly there for everybody to see that Gregson will be a factor in Rio.
The other big performance from our Australian men came in the form of javelin star Hamish Peacock. Since his PB of 84.39m back in Hobart on May 22, Peacock has since won in Huelva, Spain (83.17m) and then placed a very creditable 4th in Oslo with a best of 84.25m. The even more impressive part was his series, which included a 81.86m, 83.84m, 79.48m, 82.90m, 83.47m and 84.25m – an exceptional showcase of throwing from the 25 year-old Tasmanian record holder.
All of his throws in 2016 suggest that he is in for a great competition in Rio, with his consistency now having 8 of his 10 best throws of his career all being produced this year – including 4 times over 83.00m. Top-8 in Rio? We certainly think he has an excellent chance of producing such an effort.
On the women's side most of the excitement came from Madeline Hills and Genevieve LaCaze in the women's 3000m steeplechase. A SB of 9.24.73 from Hills coupled with a PB from LaCaze (9.30.52) were exactly what each athlete had wanted leading into the meeting.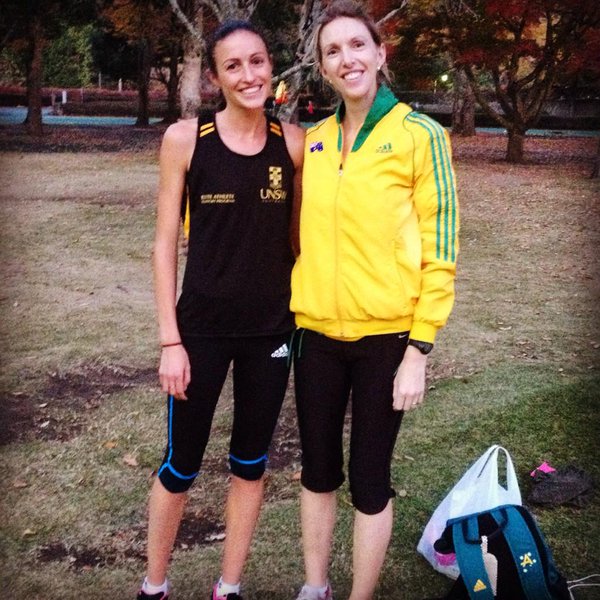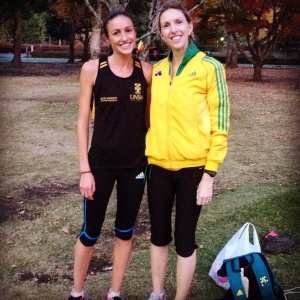 Hills had come into the Oslo meeting with a sub par 8.59.34 over the 3000m in Doha back on May 6, but that result was quickly erased as the 29 year-old produced an effort only bettered by her brilliant 9.21.56 set at last years Rome Diamond League meeting. All of a sudden we can again see why people have been talking about the AR of 9.18.35 (which was in fact set in Oslo back in 2008 by Donna MacFarlane) being broken by Hills this year.
Hills time of 9.24.73 also has her moving up to no.14 on the 'Road to Rio' world ranking list, ranked by each athletes qualifying time (and only having 3 athletes per country included). This is a good indication of where Hills is at leading into Rio, with 11 women on the list owning sub 9.20.00 performances.
On the other hand LaCaze simply continues to produce PB after PB. Her latest one comes after PB's in 2016 over 800m (2.04.77), 1500m (4.10.20), 5000m (15.27.13) and a previous PB in the 3000m steeplechase of 9.32.67 when 4th in Rabat on May 22. It also moves her up to 22nd on the 'Road to Rio' list, with the expectation that something around 9.25.00 to 9.30.00 will be required to move through the heats in Rio (dependant on the pace of the races, although actual temperatures should only be in the low to mid 20's).
In other important Aussie action:
Luke Mathews took out his first win in Europe with a quality 3.37.99 in the men's 1500m
Sally Pearson was 7th in the women's 100m hurdles in a SB of 13.14s. The race was quite slow for many of the athletes on the start list, won by Brianna Rollins in 12.56s (-0.4) from Dawn Harper-Nelson (12.75s) and Jasmin Stowers (12.79s) – with all three athletes capable of much faster times. Although some concerns over Pearson's recent performances, she recently took to Twitter to say: "I'm not injured! I'm healthy and happy! I came home 2 get another week of training in for my preps for Rio! I hope this clears things up!!!!".
Morgan Mitchell was 5th in the women's 400m (51.92s), although it must be said that it was always going to be difficult to match her brilliant 51.25s PB from only 4 days earlier in Birmingham.
Additional Notes: Road to Rio
In other important news regarding our Australian athletes:
Alana Boyd cleared 4.55m on Saturday night in Brisbane, with three additional attempts at 4.70m being unsuccessful. This was the first competition back for the 32 year-old since her injury set back at the World Indoors in March. Her previous competition that she completed was back on March 5, where she cleared 4.71m to win the World Challenge meeting in Melbourne.
Brianna Beahan (100m hurdles) will start her European campaign in Lucerne, Switzerland on June 14, with the 24 year-old Western Australian then likely to move onto meets in Nivelles, Belgium (June 18) and the Belgium National Championships (June 25-26). She is also on the start list for the women's 'B' race at the Stockholm Diamond League meeting of June 16. Beahan was unlucky not to produce the OQ of 13.00sec over the domestic season, finishing with a best of 13.03s at the National Championships on April 3.
Beahan will be joined in Lucerne by Anneliese Rubie (400m), Alex Rowe (800m), Brooke Stratton (long jump) and Hamish Peacock (javelin).
In Leiden, Netherlands (June 11), Damien Birkinhead returned to competition after a serious ankle injury earlier this year with a best of 19.43m. His last three throws were all fouls.
Also in Leiden there were excellent results from

Eloise Wellings (31.53.44) – which was her second fastest time of her career (PB of 31.41.31 back in 2011)
Ian Dewhust – SB of 50.54s in the men's 400m hurdles, only his second race of 2016 (after a 50.63s performance in Canberra on May 28)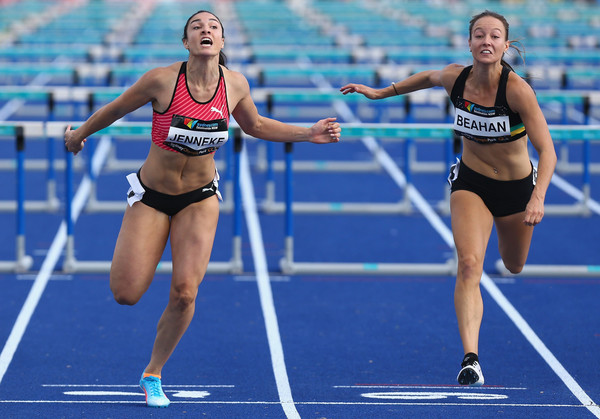 Over the weekend we also saw wins in the Launceston:10 road race in Tasmania to Rio bound Liam Adams (29:10) and Makda Harun Haji (32:51), while Victoria Mitchell was second in the women's race (33:24).
Over at the NCAA Championships in Eugene, Oregon there were excellent results from our up and coming distance stars. The highlights were:

Patrick Tiernan (who was looking for a OQ time of 13.24.00) finished 3rd in the men's 5000m in 13.27.07, while a superb run from 20 year-old Morgan McDonald ended with a PB (13.29.79) and 5th place. Both finished behind the dominant distance star of US College ranks, Edward Cheserek (13.25.59)
Rosie Donegan finished 6th in the women's 3000m steeplechase in 9.52.57, while Bri Ilarda was back in 10th in 10.07.80 (after running a 10.00.02 in her semi final).
Mackenzie Little placed 7th in the women's javelin throw (53.65m)
Jordan Williamsz placed 9th in the final of the men's 1500m (3.47.61)
Finally both Mitchell Cooper (discus) and Aliyah Johnson (triple jump) finished 10th in their respective finals.
Moving Onto Stockholm Diamond League
The action now moves onto the Diamond League meeting in Stockholm, Sweden on June 16th (Friday morning AEST). There we will see some of the biggest Aussie names in action:
Damien Birkinhead (shot put)
Brianna Beahan (100m hurdles)
Benn Harradine (discus throw)
Brooke Stratton (long jump) – in what will be a competition similar to an Olympic final
Brett Robinson (5000m)
Genevieve LaCaze and Madeline Hills (3000mst)
We will keep you updated with the results and news from the above meeting and so much more right here on runnerstribe.com! Can we see the likes of Beahan, Kajan, Solomon, McGowan, See and Nipperess join the long list of Rio qualified athletes – we can only hope so!