Written by Caitlin Murdock – Runner's Tribe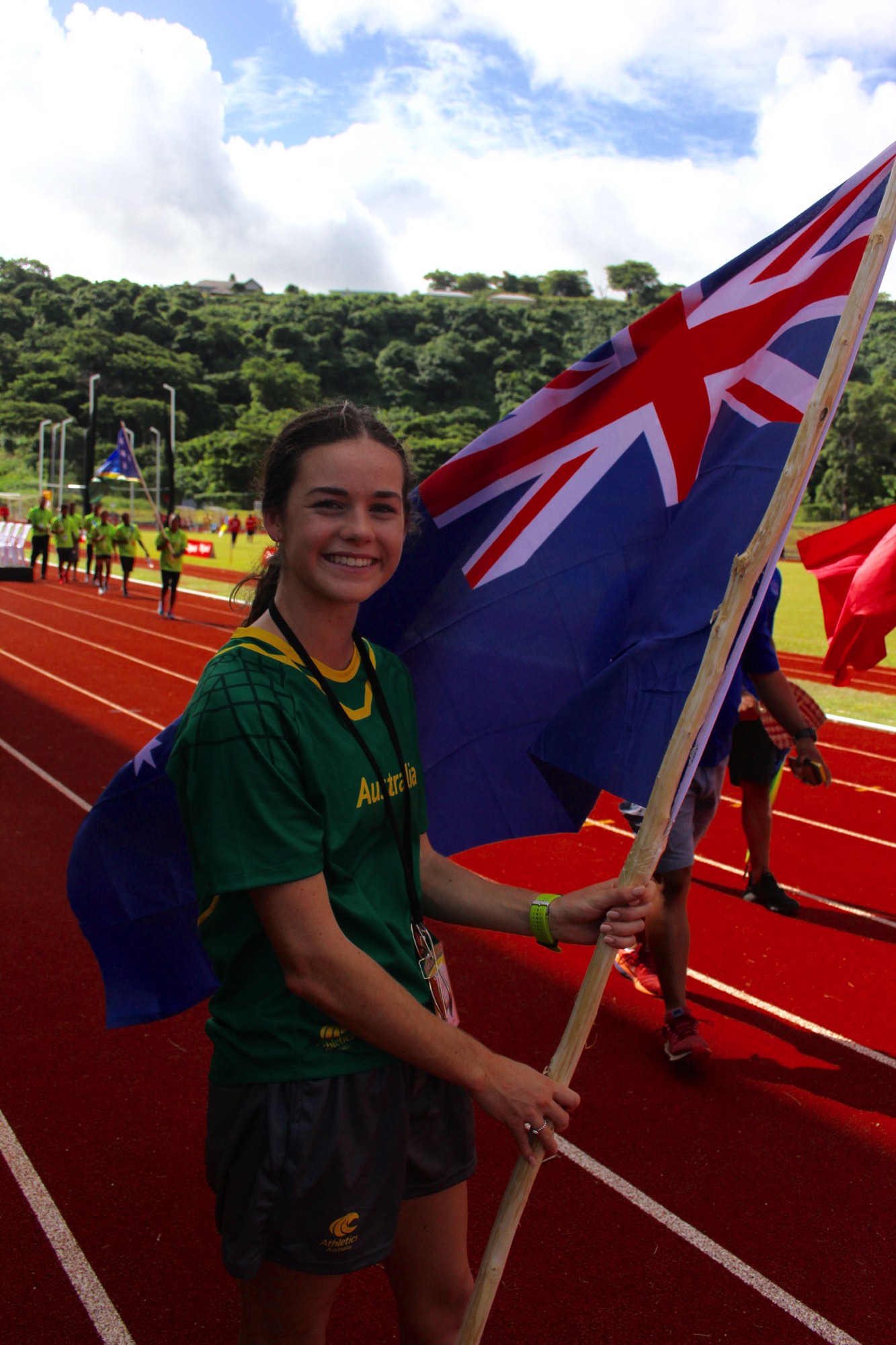 Over 100 Australian athletes have recently returned from Port Vila, Vanuatu where they competed in the Melanesian Championships conducted by the Oceania Athletics Association.  These championships doubled as the official trials for the Youth Olympics to be held in Buenos Aires, Argentina in October 2018.
Given the significance of the event, Australia sent a very strong team and there were some excellent performances over the three days of competition (9-11 May), particularly from the U18s.
There were a total of 20 countries competing, including: American Samoa, Australia, Cook Islands, Federated States of Micronesia, Fiji, Guam, Kiribati, Marshall Islands, Nauru, New Zealand, Norfolk Island, Palau, Papua New Guinea, Samoa, Solomon Islands, Tahiti, Tonga, Vanuatu and Tuvalu.
The first event of the competition was the Hammer Throw.  In the U18 Women, Rochelle Vidler (AUS) won with an impressive throw of 58.37m and Tristan Churchward (AUS) took out the U18 Men with a throw of 59.83m.
The first track event was the 100m heats.  In the U18 Women's Division it was Australia who dominated with both Sophie White (AUS) and Stephanie Welsh (AUS) winning their heats to progress to the final.  Spectators were on the edges of their seats during the nail biting final. In the end it was Sophie White (AUS) who took the gold with Stephanie Welsh (AUS) in a very close second – their times were 12.19 and 12.20 respectively.
New Zealand (Dominic Overend) took out the U18 Men's division with a time of 11.02 with Australia in 2nd and 3rd (Matthew Otto 11.07, and Godwin Opoku-Mensah 11.08).
The Senior Women's 100m race was a straight final and Nicole Kay (Aus) won silver to Fiji's Heleina Young. In the Senior Men's 100m final, Anas Abu-Ganaba (AUS) won the final with a time of 11.69.
One of the stand out performances over the competition was the U18 Women's 3000m where Ruby White (AUS) had a spectacular race, blitzing the rest of the field with a time of 9.36.08.
Australia's domination continued on Day 2.  The women's long jump was a highlight with a particularly strong competition in the U18 division between Annie McGuire (AUS – 6.04m) and Samantha Dale (AUS – 5.90m). Australia also won the Senior Women Division with Allison Nankivell jumping 5.87m.
The U18 Men's Long Jump event was also excellent. It was won by Joshua Cowley (AUS – 7.52m) from Godfrey Okerenyang (AUS – 6.76m). The Para event winner was Lleyton Lloyd (AUS – 5.26m – 82.95%)
The U18 Division 2000m Steeplechase saw a close battle between rival countries Australia and New Zealand with Jamie Hiscock (AUS) narrowly beating Hannah O'Connor (NZL). Jamie's time was 6.36.93 to Hannah's 6:37.69. The U18 Men's Steeple was another Australia v New Zealand clash. Australia persevered with Patrick Thygesen taking gold in a time of 6:06.50 ahead of Murdoch McIntyre (NZL 6:10.23).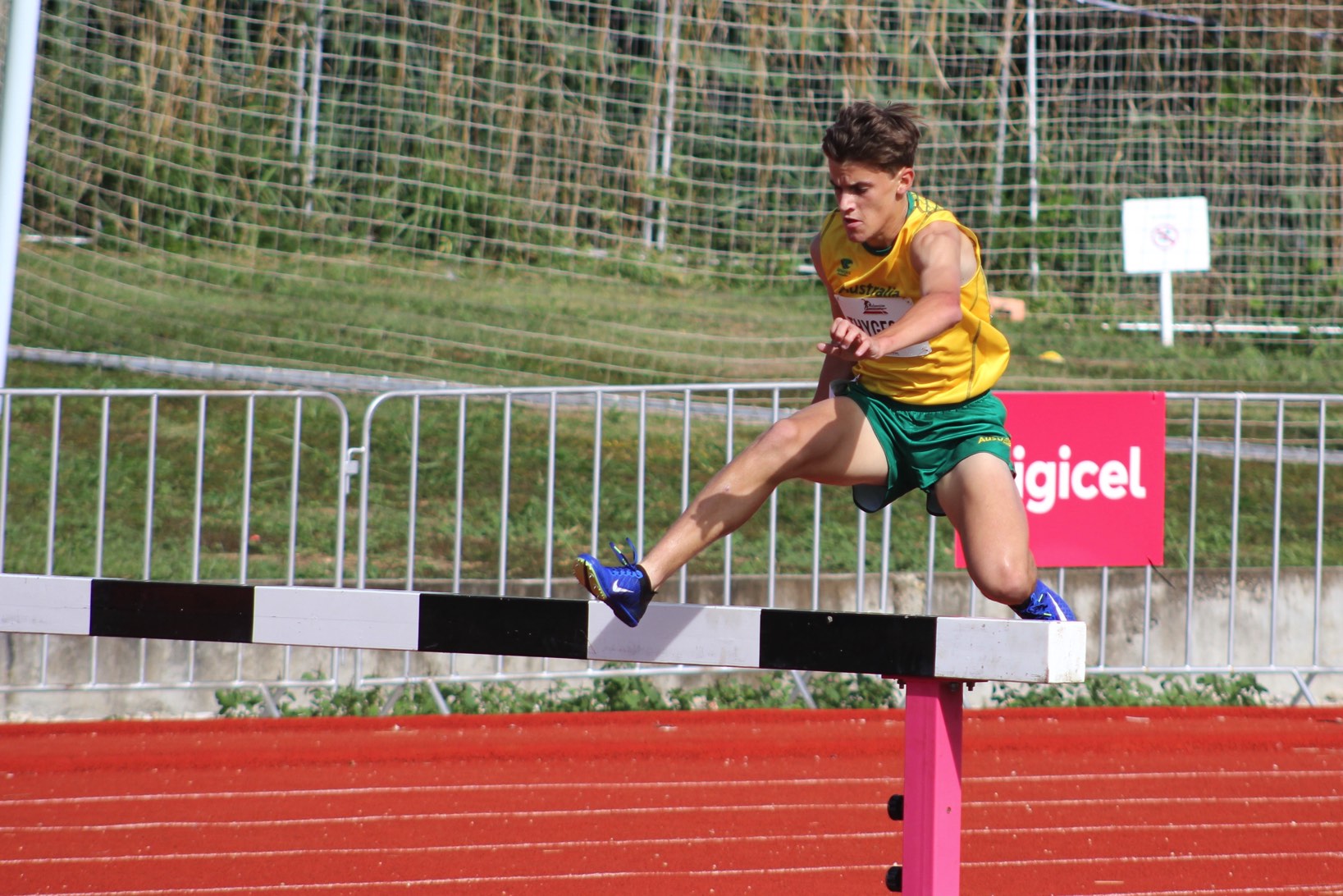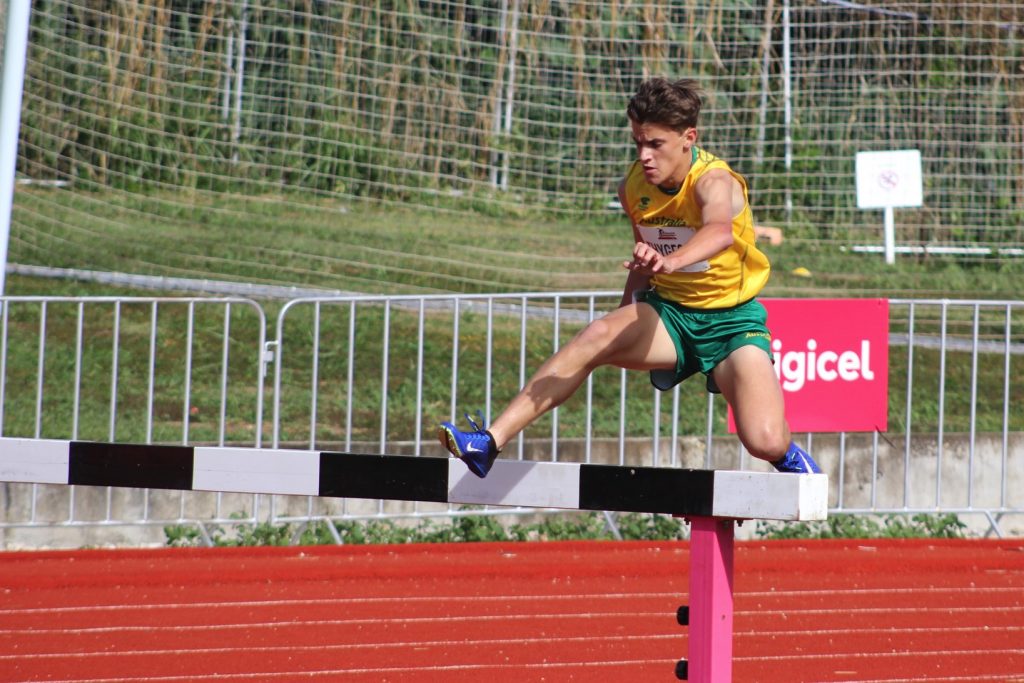 Australia also did well in the women's High Jump with Elizabeth Moss (AUS – 1.76m) winning gold in the U18 Division, and Laura Perich (AUS – also 1.76m) in the Senior Division.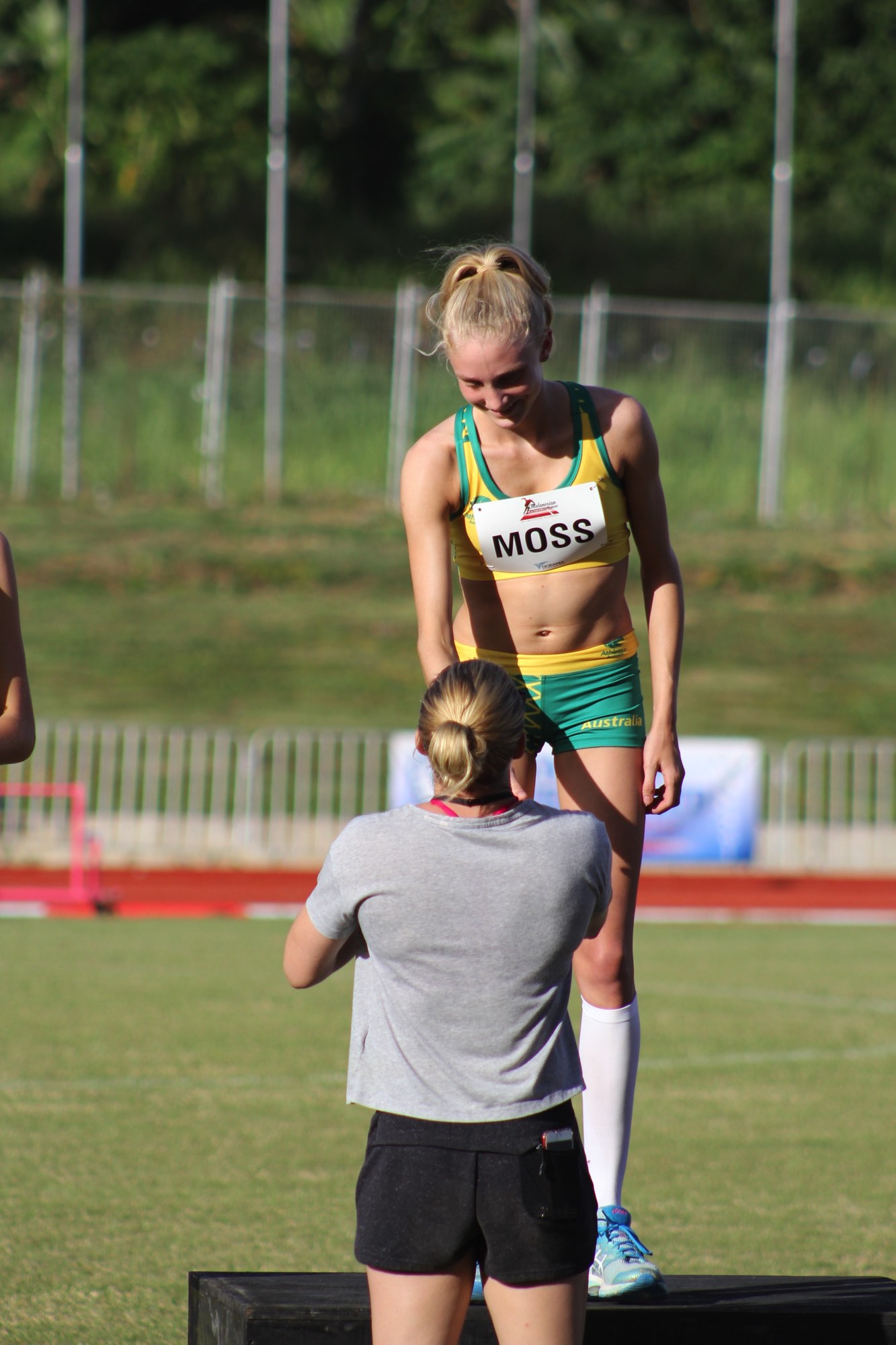 In the 400m U18 competitor Keegan Bell (AUS) ran a Youth Olympic Games qualifier of 47.88 to win the race and the Senior Men's 400m was won comfortably by Australia's Jordan Sarmento (47.22).  The gold in the Para Event went to Kyle Potgieter (AUS) – 58.49 with 82.95%.
In the 100m Hurdles Sophie White (AUS) and Rhonda Byrnes (AUS) both won gold in the U18 and Senior Division respectively.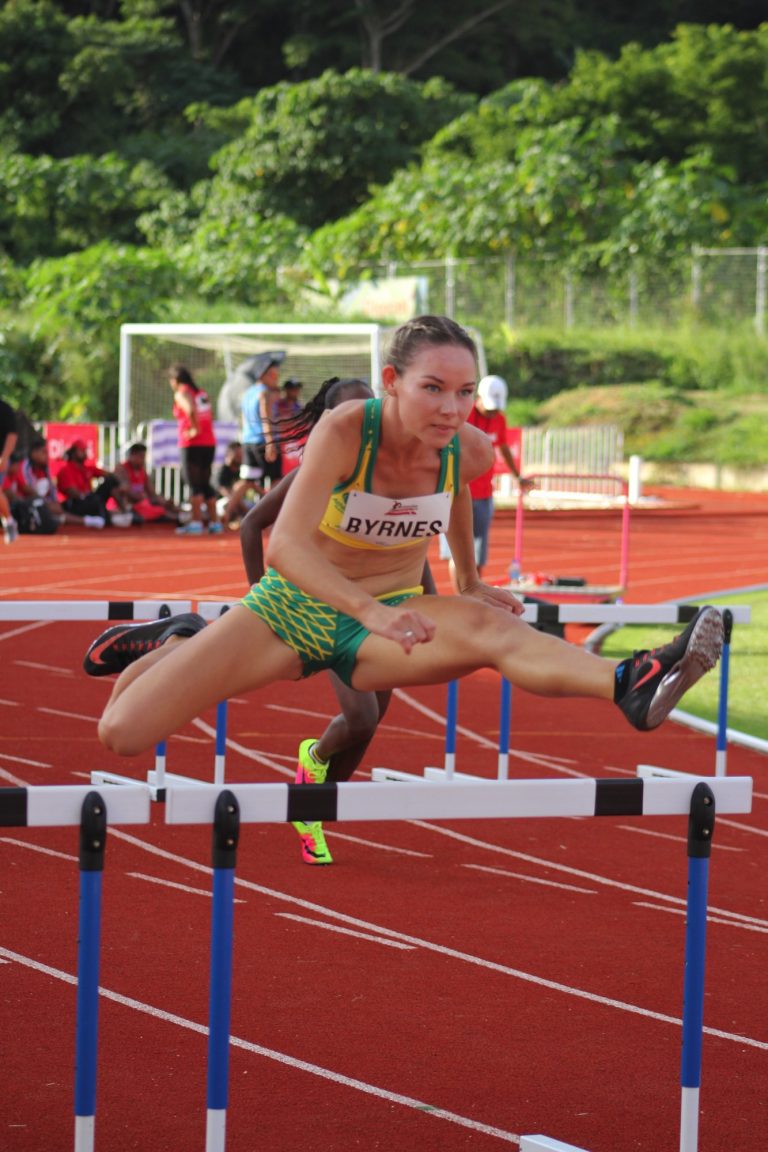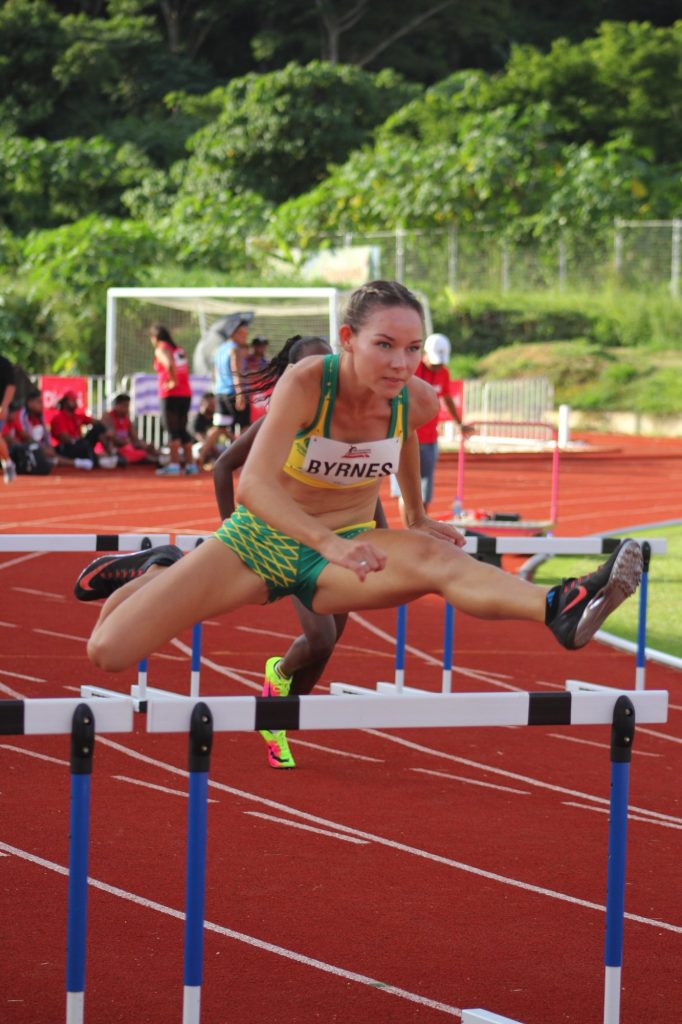 Day 2 concluded with the 1500m. The winner of the U18 Women's was Jaylah Hancock-Cameron (AUS – 4:21.72) and the Senior Women's event went to Caitlin Murdock (AUS – 4:46.67).  Australia also took out 1st and 2nd in the U18 Men's event with the winner being Luke Young (AUS – 4:07.64) from Oli Raimond (AUS – 4:08.48).
Day 3 commenced with Oscar Miers (AUS) incredible win in the U18 high jump with the height of 2.10m, from Kurtis Smith (AUS) who cleared 2.00m The Men's Senior High Jump had Matthew Tilley (AUS) as the top seed and he won with a jump of 2.00m.
The Men's 5000m event had Australian Para athlete, with mild visual impairment, Benjamin Said, up against five Vanuatu runners.  Said clocked 19:44.11 to enthusiastically accept his gold medal later in the afternoon.
The U18 Women's Javelin was won by Jasmin Lockwood (AUS) with a distance of 45.70m.
In the U18 Women's 200m it was Australia and Fiji who took out the fastest times. Monique Quirk (AUS) was fastest with 24.84 (-1.6).  The U18 Men heats were dominated by Australia and New Zealand.
Kayla Goodwin (AUS) won the Women's Triple Jump U18 Division with 12.62m (+1.0). Australia also won the Senior Women's TJ with Allison Nankivell taking the gold with 12.75m (+0.8).  In the Men's events, the U18 Champion was Joshua Cowley (AUS) 14.58m (-2.8) from Tully Murphy (AUS) 14.42m (+2.9).
Day 3 also saw the 800m finals take place.  The attention was on Keely Small (U18 AUS) following her incredible run in the Commonwealth Games.  Keely easily won her 800m with a time of 2:05.35.  In the Senior Women's event, Isabella Thornton-Bott (AUS) had a comfortable win in 2:10.67.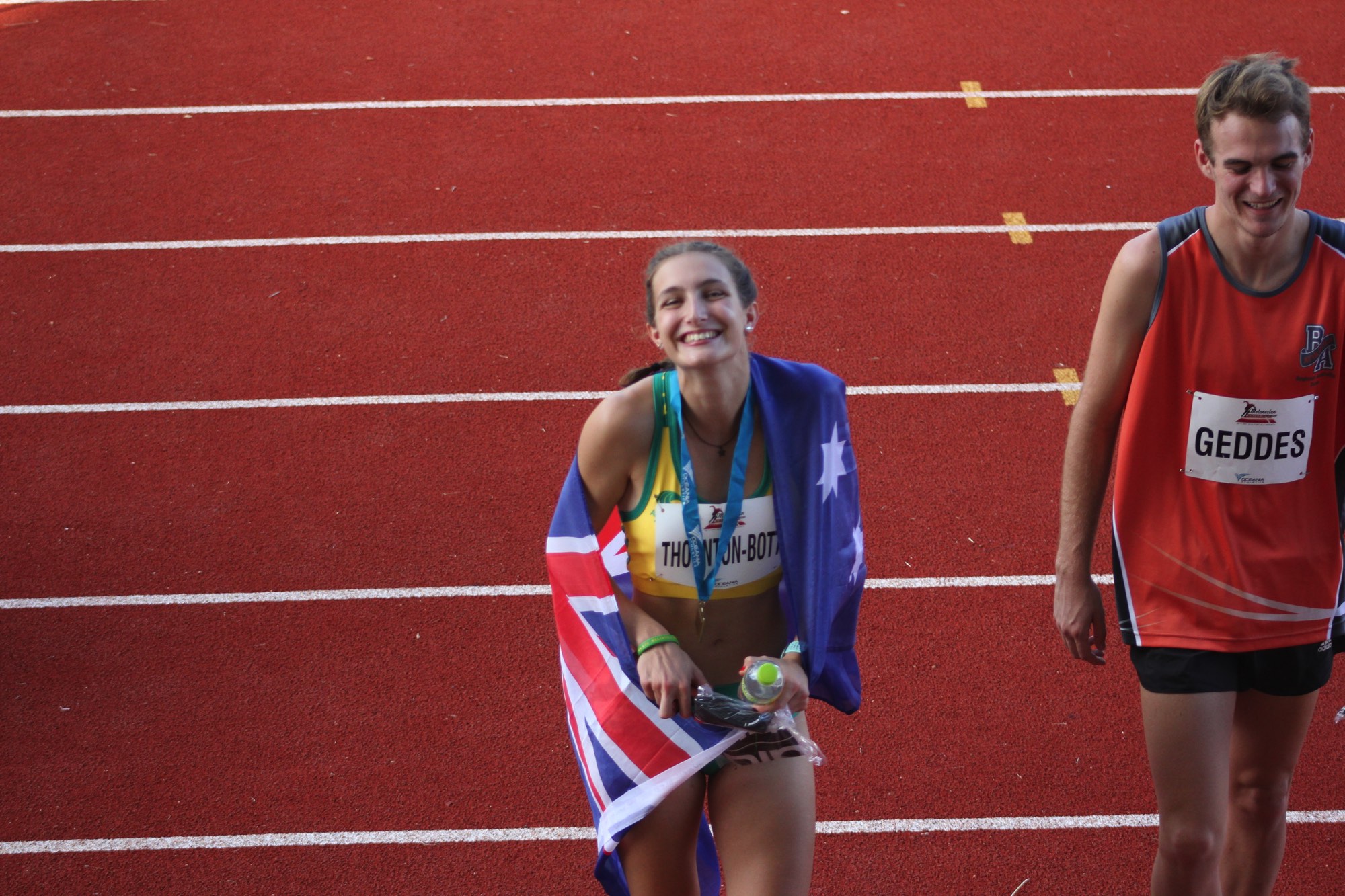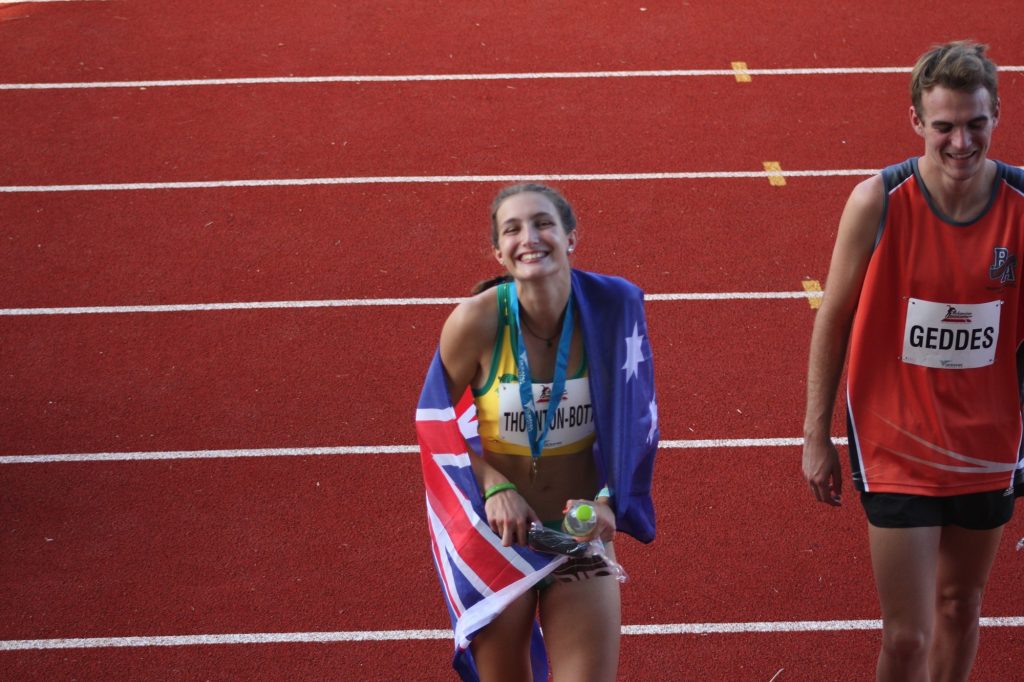 The men did equally as well with Anthony Vlatko (AUS) taking gold in the U18 final in a time of 1:53.76 with Luke Shaw (AUS) in a close 2nd (1:53.97).  The Senior Men's Race was won by Stuart Geddes from Regional Australia (2:02.14) from Fiji's Marika Cabenagauna (2:03.34).
Australia had a couple of wins in the throwing events too with Lyvante Su'emai winning the U18 Women's Shot Put with a throw of 15.73m and Saxon Ward winning the Senior Javelin with a massive throw of 65.77m.
The 200m races were also a Day 3 highlight with the U18 Women's race taken out by Emma Klassen (AUS) in the time of 24.64 (-0.8) with Monique Quirk (AUS) in 2nd with a time of 24.94. Nicole Kay (AUS) got here revenge in the Senior Women's race beating Fiji's Heleina Young who edged Nicole out in the 100m final on Day 1.  Nicole ran 24.50 to Heleina's 24.77 (-1.3). In the Senior Men, it was Anas Abu-Ganaba (AUS) who prevailed in 21.27 (-1.1) to take the 100m and 200m double.
All in all, it was a great three days of competition for the Australian's who can be very proud of their efforts.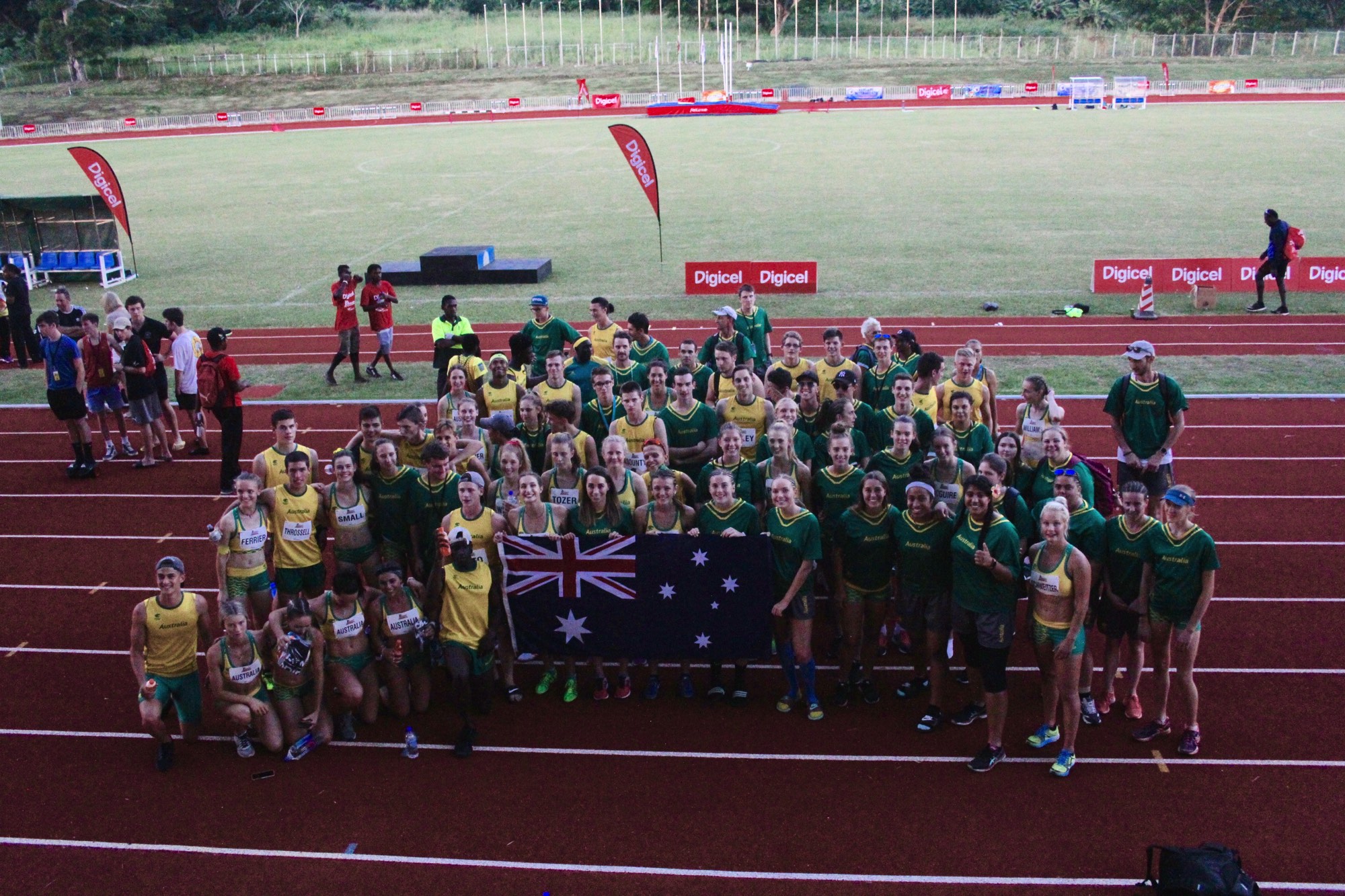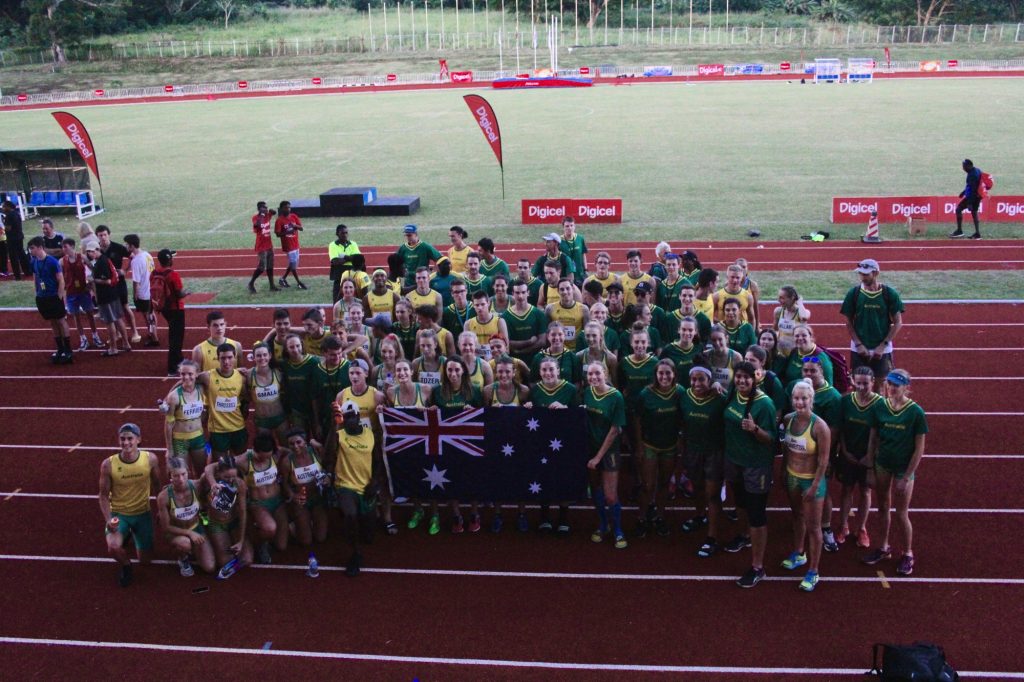 The full results are available at https://athletics-oceania.com/wp-content/uploads/2018/05/Melanesian-Championships-2018_Full-Results.pdf.