One should always pay attention to Track & Field News' guide to a world championship, but it was the image of the "Welcome to Eugene" sign heading its preview of Eugene 2022 which caught the eye and prompted further thought.
Welcome to Eugene.
Pop. 171,210
Track Town USA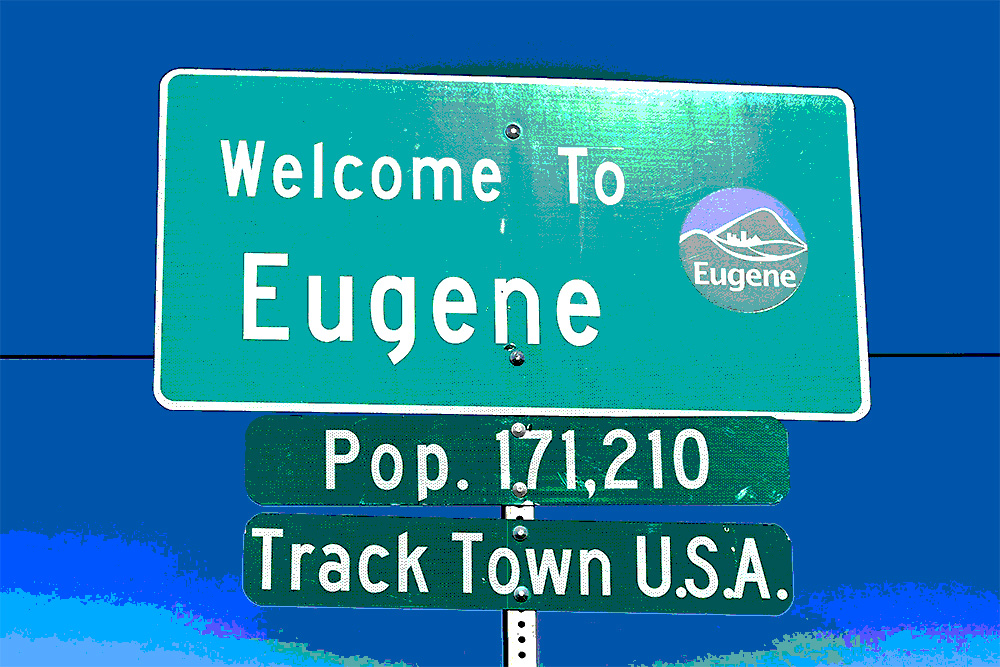 Makes you wonder, and not for the first time, whether a city of this size can pull off a successful world championships. It's that population base. To put the number into context, 14 Australian 'cities' have a population greater than Eugene and you would not want to stage a major international sporting event in most.
The only Australian capital city with a smaller population is Darwin (an estimated 132,921 in the 2021 Census). Wollongong (312,167) and Geelong (287,704) have substantially larger populations. Victorian cities Ballarat (111,348) and Bendigo (103,575) lag behind Eugene, but are closer than the world championships host is to Wollongong or Geelong. Ballarat, of course, is the athletics venue for the 2026 Commonwealth Games, though it will have the promotional weight of a multi-sport event behind it while Eugene 2022 is stand-alone.
But does size matter that much. English journalist Pat Butcher looked at the issue this week in his Globerunner blog. Harking back to a previous world championships staged in a smaller venue – Gothenburg in 1995 – Butcher introduced his column by referencing Jonathan Edwards' world record 18.29 triple jump and Michael Johnson's rehearsal of his 200-400 double at the Atalanta 1996 Olympics, before a segue into then IAAF president Primo Nebiolo's comment that the world championships were too important to be held at such small venues.
What would Nebiolo think of Eugene, I wonder. One thing for certain, he would not express his view over diplomatically. At his pre-championships press conference in Stuttgart two years earlier, he dismissed various criticisms of the event as "a salad of absurdities."
Other preview pieces have focused on what is likely to be delivered in Eugene 2002 against what was promised when the city was awarded the championships in a decision which pre-empted the bidding process. The comparisons were not flattering.
And yet, and yet . . .
One thing we do know about Eugene is that it punches well above its weight when it comes to delivering thrilling athletics meetings. Its small population reflects the reality that it is basically a university town. Like Canberra, however, this also means it has an unusual concentration of highly qualified citizens. You don't need a PhD to be organising the volunteers or the transport in a city like Eugene, but it would be no surprise to learn that there is one!
So, as always with a major championships we must wait and see. Tokyo 2020-in-2021 was postponed once and held to be a disaster-in-waiting for most of the final lead into the event. It went ahead without spectators. Result? A great sporting success. Likewise as to whether Eugene 2022, and other events; Tallahassee will host the 2026 world cross-country, will further the ambition of World Athletics for athletics "to become a top five sport in the US by 2028, the year of the Los Angeles Olympic Games."
By the time this is published action in Eugene will probably have already kicked off. And, as Carl Lewis once said on the futility of boycotts, once the first starting gun goes off no-one cares about who isn't there, just those who are there.
It's largely been all positive around the Australian team's final preparations. That changed with Brandon Starc's withdrawal from Eugene to focus on getting right to defend his Commonwealth title in Birmingham next month. One of Australia's most consistent major championships performers, Starc has been battling to get on top of a foot injury.
That left Joel Baden and Yual Reath to contest men's high jump qualifying on the opening morning of competition with Jemima Montag heading the challenge as the women's and men's 20km road walks were contested in the early afternoon.
Friday's evening session (Saturday morning AEST) was to see Australians in action including in the women's 1500 heats (Olympic finalists Linden Hall and Jessica Hull, and Georgia Griffith), men's steeple (Ben Buckingham and Ed Trippas) and men's 100 (Rohan Browning).