By Clio Ozanne-Jaques
When I think about representing Australia at the World U20 Track and Field Championships, I always think about the very beginning of my athletic career and all the people who have helped me get to where I am today. I started this unconditional passion when I won my school cross-country in grade four at my local primary school.  Now I'm writing this from the other side of the planet, in Mississippi, America.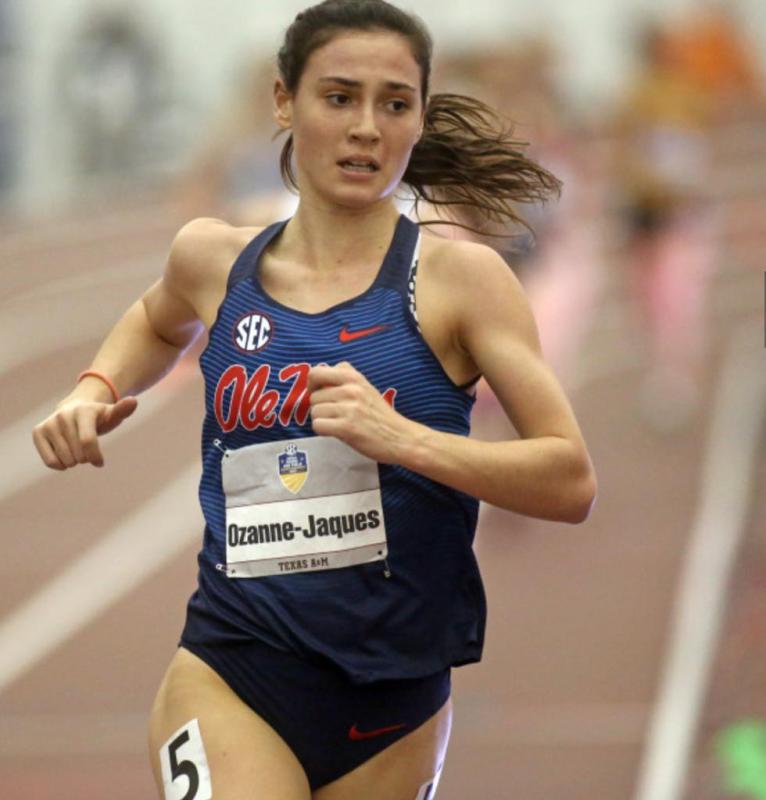 As I reflect on this journey, I am reminded of how lucky I am to have such supportive, inspiring people in my life. My gratitude and appreciation for those around me is never ending. Although I grew up without the luxury of the best facilities and had to travel quite a distance for competitions, I would not change anything. I already had everything; I had a coach who believed in me and who inspired me to believe in myself. Although this may sound cliché, my coach Jill Boltz has been there from day one and even though I live half way across the globe, she is still here for me. Jill herself was a two-time Olympian, world record holder for the ten-mile, Commonwealth Games silver medalist (10,000m), three-time top ten finisher at the World Cross-Country Championships (this list could go on…), yet she is one of the most humble, inspiring people you will ever meet. Jill has taught me so much in life and is most definitely both a person and an athlete I aspire to be like.  I don't think I can ever emphasise how much I look up to her.
View this post on Instagram
Furthermore, I think about Jayden Russ who took me under his wing and helped me make the transition to running competitively in the States. Finally, I owe much of the credit to my current coach at Ole Miss, Ryan Vanhoy. I really believe that things happen for a reason and so in hindsight it was by no coincidence that Ryan reached out to me at the start of 2017. Since I've arrived, my mileage has doubled, two gym sessions are now integrated into my training schedule and I am working harder than ever. Ryan has not only provided the foundation for physical improvement but has also taught me so much in the way of my mentality, teaching me to be tougher, smarter and more professional. He, as well as the past alumni, have created a special atmosphere in this team which is unrivalled in terms of its balance between and work ethic and enjoyment.
As I was based in Australia for about a month before we departed to Europe, I was fortunate enough to have Jill (who was frequently communicating with Ryan) write and oversee my training. We used my program from the states as a foundation, however, I found that my sessions were more intense. A typical week would involve a total mileage of about 110-115km with two hard sessions, two gym sessions and a long run. My last hard week in Australia was perhaps the best week I've ever had, and is outlined below:
Monday:  
AM: 8km.  PM: 8km, strides, core.
Tuesday:  
[AM]: 6km

[PM]: Warm Up: 4km
(On Grass) – 8 x 1km (90 sec recovery)
Rep 1) 3.26 Rep 2) 3.23
Rep 3) 3.20 Rep 4) 3.18
Rep 5) 3.19 Rep 6) 3.15
Rep 7) 3.12 Rep 😎 3.10
Warm Down: 3km
Wednesday:
Thursday: AM: 14km
Friday:  
AM: 6km

[PM] Warm Up: 4km
4(4×400) (100/100/200 jog recovery with one lap between sets)
Target times: 78/78/74/72
Set 1. 76, 76, 73, 71
Set 2. 78, 77, 74, 72
Set 3. 78, 77, 73, 72
Set 4. 78, 78, 74.5, 70
Warm Down: 3km
Saturday: AM: 8km
Sunday: AM: Long Run: 20km
Total Weekly Mileage: 116km
In terms of the race, I was bitterly disappointed. Every single athlete has felt this utter frustration and devastation (it's almost too difficult to put into words). You work so hard, make countless sacrifices, put your body on the line – both physically and mentally – yet on the day something's missing and your body just refuses to perform. Without sounding overly dramatic, it's almost soul crushing. However, I feel that what separates a good athlete from a great one is how they react to this very moment… do they let it be the weight that keeps them from getting back up or do they use this to their advantage, to remain hungry and commit themselves to work even harder? I experienced this moment after I crossed the finish line in Finland. As I attend university in the United States, I had trained hard all year round for the three seasons; cross-country, indoor track and outdoor track. As the order of seasons are almost opposite to what we have at home in Australia, June/July was meant to be my break/base. Perhaps I was exhausted after such a long season, however, I refused to waste an opportunity to learn. As a result, I resolved to remain hungry, keep my head down and focus. There was no point in wasting energy on being negative when I needed everything I had for what lay ahead of me.
Race aside, in terms of the actual experience itself, it was most definitely one of the best I've had in my life. As I come from a small town in Far North Queensland and did not attend any of the U19 talent squad camps, I was not acquainted with many people on the team. In saying this, I was not too worried about the social aspect before we departed Australia as I knew that a month was a long time away and it would be inevitable that new friendships would form. In the end, not only was I able to compete and hang around with other likeminded, hardworking individuals, but I made so many friends and consider this experience a valuable learning curve that helped me grow as both a person and athlete. Competing on an international level, running for the green and gold was a phenomenal opportunity and to really feel as if you belong as a part of the team is something that cannot be explained.