(c) Runner's Tribe
Eliud Kipchoge dassled the running world by taking the massive chunk of 78 seconds off the world record at the BMW BERLIN-MARATHON on Sunday. Kipchoge, hailed as the greatest marathoner of all-time, is now also the fastest marathoner of all-time and by a good amount as well. With such a giant leap forward from Dennis Kimetto's 2:02:57 clocked in at the Berlin Marathon in 2014, the realms of what is possible have been significantly expanded. It was the single biggest improvement on a men's marathon world record for 51 years. An improvement of just 100 seconds more is now needed for the first sub-two-hour marathon. Can it be done, and if so who by and when?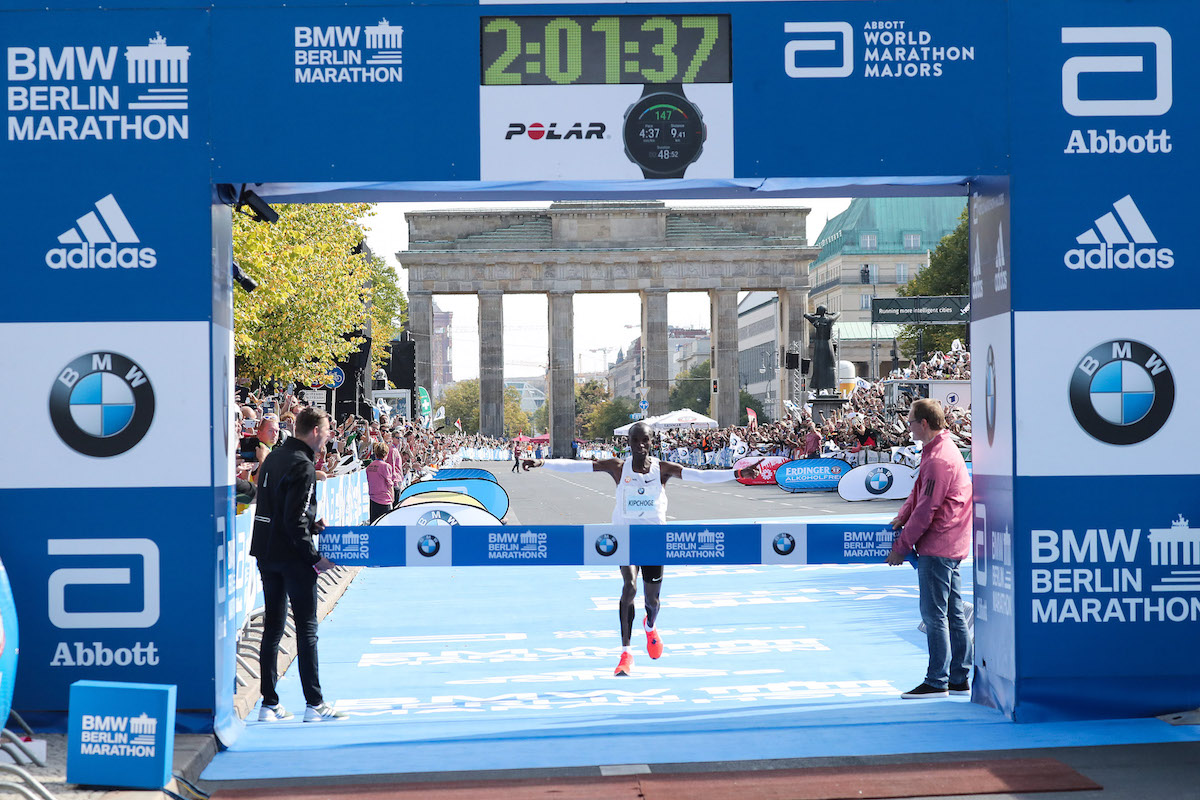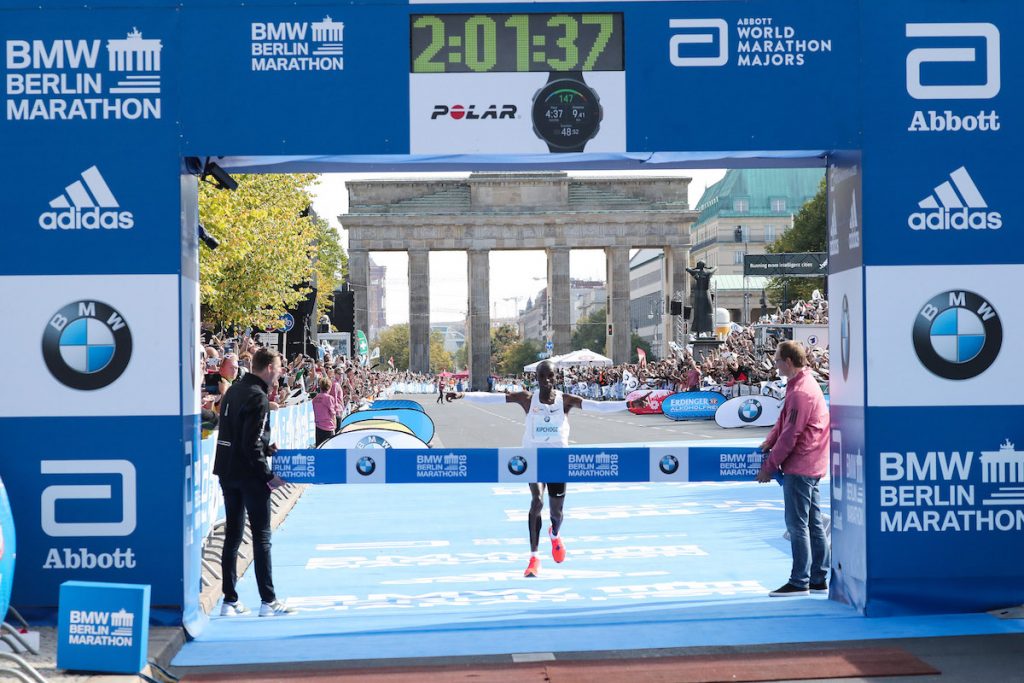 Last year, Kipchoge, ran 2:00.25 in Monza in Nike's Breaking2 project – although it did not count under official rules as pacers were subbed in and out of the race, there was also the Tesla car, which was driven with great skill at a near-constant 13.1 miles per hour—basically blocking the wind. A number of studies have shown that the energy savings for a runner who is shielded from a headwind over the whole course of a fast marathon can be significant: enough to shave more than 60 seconds off the athlete's final time. Either way, Kipchoge's time turned many naysayers into believers and showed that the great feat was within human grasp, all-being under highly favourable and constructed circumstances. "It is not rocket science to break this barrier. You simply have to believe in it. And you need a great team that believes in it and in you, the perfect shoes, and to be stronger than any runner before. Then everything is possible," Kipchoge said.
In 1991, Michael Joyner, an American physician wrote a now famous paper, published in the Journal of Applied Physiology, estimating the best possible time for a marathon runner. At that time the world best for the marathon was 2:06:50. By analysing three main factors that limit a runner's performance—VO2 max (the maximum amount of oxygen the body can use during a specified period of usually intense exercise that depends on body weight and the strength of the lungs. — called also maximal oxygen consumption, maximal oxygen uptake, max VO2.), lactate threshold (Lactate inflection point (LIP), is the exercise intensity at which the blood concentration of lactate and/or lactic acid begins to exponentially increase. It is often expressed as 85% of maximum heart rate or 75% of maximum oxygen intake.), and running economy (the energy demand for a given velocity of submaximal running, and is determined by measuring the steady-state consumption of oxygen (VO2) and the respiratory exchange ratio.)—Joyner argued that the perfect time for the perfect athlete in perfect conditions was 1:57:58. Therefore saying it was possible, in optimum conditions but only in theory. Joyner also stated that the gap between possibility and reality could be closed quicker if more athletes concentrate on the distance earlier in life.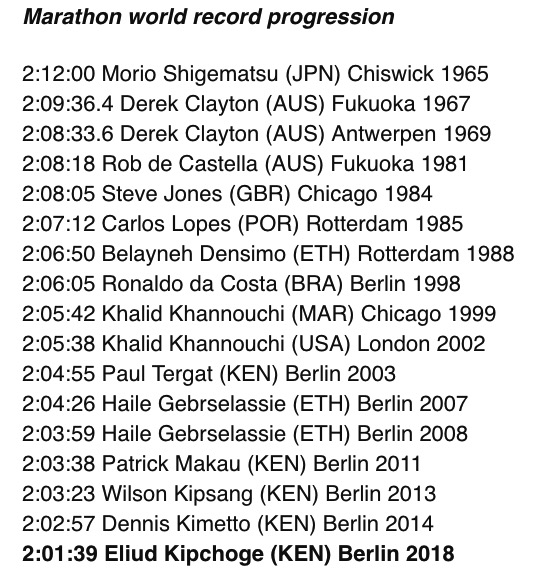 There are experts on this subject chiming in all around the world, now and previous to Eliud's world record. The common thread previous to last weekend's world record, is that not many of these scientists/experts predicted such a vast improvement on Denis Kimetto's former world record. Right before the Breaking2 attempt world renowned sports scientist, Dr Ross Tucker was quoted in saying, "I'm leaning towards zero [percent chance], "but I'm opposed to extreme viewpoints so I'll call it 0.1%," in regards to the chances of any of the three runners breaking 2 in the attempt. Turned out that Kipchoge was only 25 seconds away from achieving the mark. It could be argued that 25 seconds is a long way away when considering the magnitued of the task, but would you bet your house that Kipchoge wouldn't break 2 hours if he attempted it again under the same circumstances? I wouldn't. After Kipchoge's world record on Sunday, Tucker believes that sub-two is still "probably at least 15-20 years away". He also has doubts about the purity of the run, "But we don't know how much of his world record is tech-driven. Was it the athlete or his shoes that made the difference? It muddies the waters." Overwhelmingly, it was without doubt the athlete, but other factors are cause for the mangtitude of improvement. If tech and nutrition continue to evolve at a rapid rate, this will certainly aid in the sub-2-hour quest.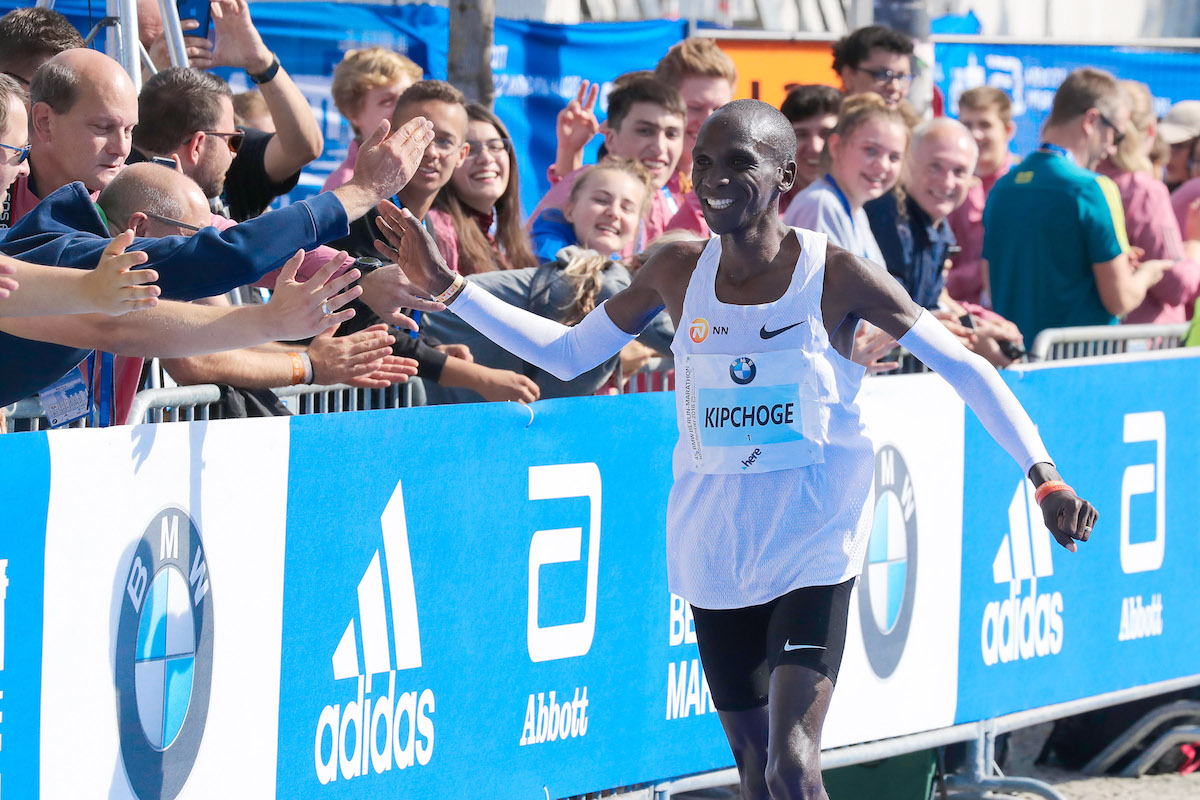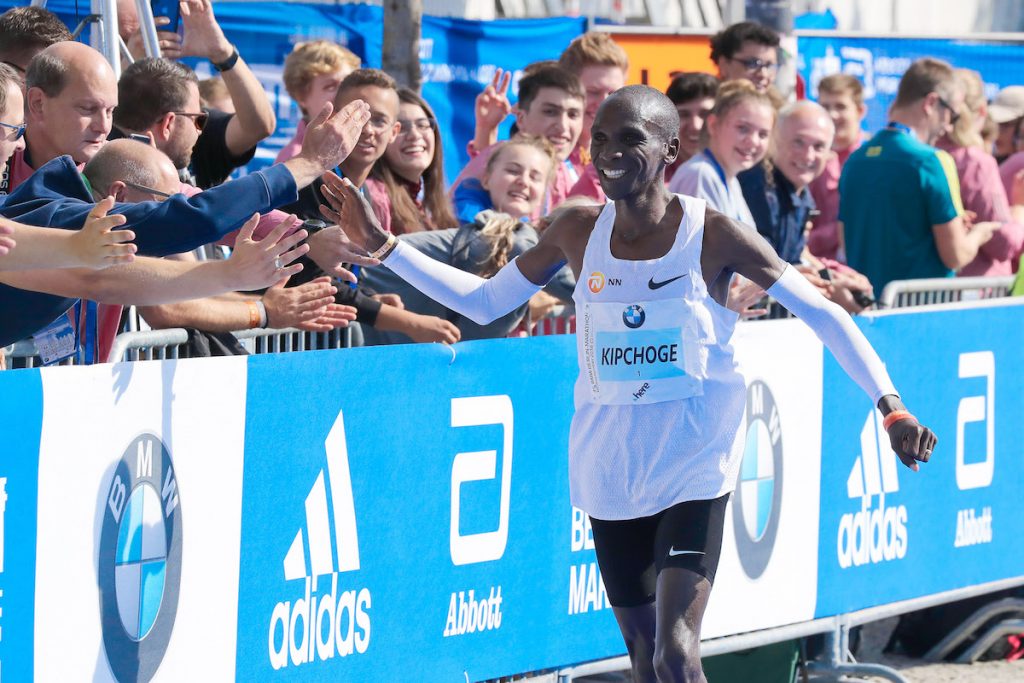 First let's explore nutrtional advancements which Kipchoge, and a number of the world's top marathoners are utilising. Swedish-based start-up Maurten is taking a new and advanced approach in solving the glycogen depletion issue, using simple ingredients to assist in the process. Their product, GEL 100 was Kipchoge's choice of in-race fuel in Berlin. By the 1960s, scientists realized that drinking carbohydrate solutions during exercise increased performance. With a mixture of sugar, salts and lemonade, the first sports drink was born. But carbohydrate drinks can cause problems. Our stomachs don't cope well with high concentrations of sugar – often resulting in slower gastric emptying and GI distress. There are many runners out there that know this all too well and have had to make a stop at the portaloo mid race. Maurten looks to encapsulate, or compact, the sugar with a hydrogel. The drink converts to a hydrogel based on the acidity (pH) of the stomach. The hydrogel enables a smooth transportation of the drink through the stomach and to the intestine where the water, salt and carbohydrates are absorbed into the body. Hydrogels are produced from a combination of two ingredients: alginate (which is extracted from the cell walls of brown algae) and pectin (which is found in fruits). The ingredients are very simple and commonplace within the food industry. When the two ingredients meet under the right circumstances, they create a pH-sensitive hydrogel. Their Drink Mix 320 contains nearly 14 per cent – or 80 grams – of carbohydrates when mixed. That's about twice as much carbs as was previously thought possible for the body to tolerate.
The nutritional breakthroughs made by Maurten have no doubt helped marathon performance and consistency. Kenenisa Bekele, Galen Rupp, Vivian Cheruiyot, Desiree Linden, Daniel Wanjiru, Ghirmay Ghebreslassie and a number of other marathon major winners are using the products to fuel their training and racing, resulting in new levels of continued optimum performance. In case you're wondering, the product is available to everyone and can be purchased online.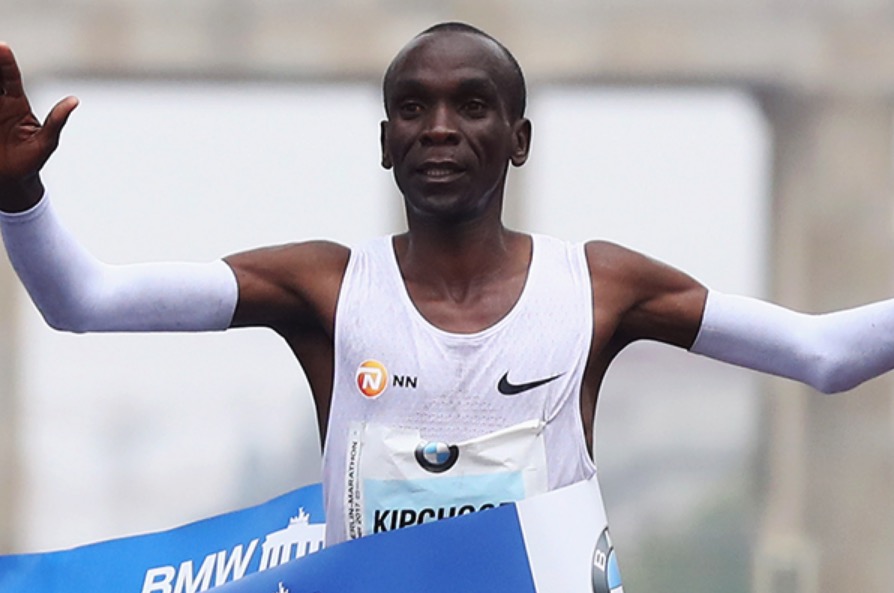 Now onto a product that is not available to everyone, but, yes, to many of the top marathoners in the world, it is. This is Nike's Zoom Vaporfly Elite, the shoe of choice for Kipchoge's record breaking performance in Berlin. The Nike Zoom Vaporfly Elite has a curved carbon fibre plate inserted into the midsole and a new cushioning material that are said to return 13% more energy than conventional shoes and lower the oxygen demands of the runner by 4%'. As Ross Tucker explains, "that's potentially significant because lower oxygen demand implies less energy is being used, and this matters because the complex physiology that gets energy to muscles sets the limit for marathon-running performance." Fact, Eliud Kipchoge nearly broke the 2-hour marathon mark in the prototype shoes and set the current world record in them. Galen Rupp won in Chicago. Shalane won the New York City Marathon in them. Gwen Jorgensen, ran a race in a track spike that's just like it. After a thorough study The Times reported this, "We found that the difference was not explained by faster runners choosing to wear the shoes, by runners choosing to wear them in easier races or by runners switching to Vaporflys after running more training miles. Instead, the analysis suggests that, in a race between two marathoners of the same ability, a runner wearing Vaporflys would have a real advantage over a competitor not wearing them." In the Runner's World's shoe lab they tested the Vaporfly and found it delivered 80 per cent energy return in the heel and 77 per cent in the forefoot – the highest values ever recorded.
There is no doubt these shoes are improving performance. They do in fact live up to the hype. How much so of an advantage cannot concisely be quantified yet. The mere mental advantage of believing you're wearing a shoe that can ramp performance levels up to new heights can't go overlooked either. Eliud's Zoom Vaporfly Elite are a customised version tuned for his specific performance needs. Despite the IAAF looking into the fairness of using a shoe that has spring like characteristics, the shoe is still being worn and "does not require any special inspection or approval". Either way, I will say this, good luck getting your hands on a pair of these if you're not a Nike sponsored elite athlete. These bad boys are selling for well over $2,000USD on certain websites.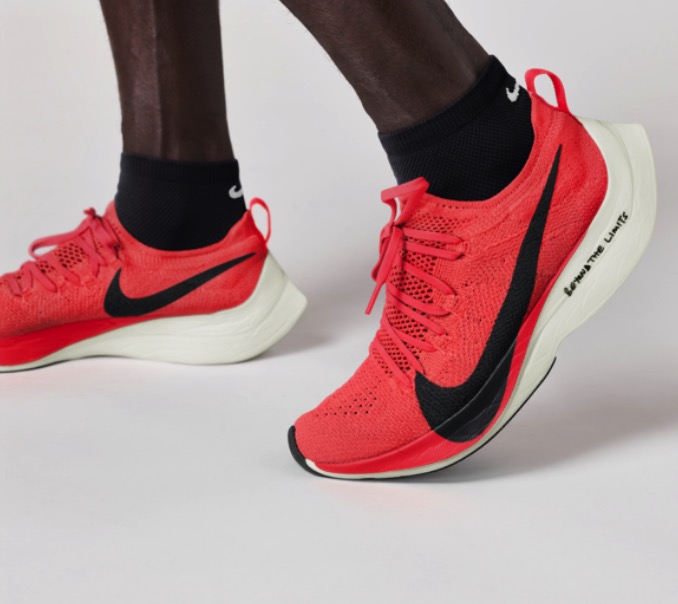 The final factor in breaking the 2-hour mark, is the main ingredient, which is the athlete. Not since the days of the first sub-four-minute mile has one barrier attracted so much focus in the world of athletics, but talk of the first sub-two-hour marathon has reignited after Eliud Kipchoge's 2:01:39 run at the Berlin Marathon on Sunday. Until recently, the 1983 world champion and two-time Commonwealth Games gold medallist, Robert de Castella — who once held the world record (2:08.18) in the early 1980s — did not think a sub two-hour run was possible. "He is just head and shoulders above anyone else in the world … I can't see anyone else doing it but I can certainly see him doing it." One of the amazing things about Kipchoge's marathon was as Deek explained, "His last 10 kilometres was his fastest, so he's showing no sign of fatigue or exhaustion as the marathon goes on. He's a superhuman athlete." So, we have are most important factor in breaking the 2-hour mark, a superhuman once or twice in a generation athlete named Eliud Kipchoge. At 33-years old, Eliud has a good few more years at least, at the top of his game, and I wouldn't be surprised if he drops 100 second of his world record time and breaks the 2-hour mark in the next 5 years. Time will tell…
View this post on Instagram
Sources:
https://www.maurten.com
https://www.theguardian.com/sport/2018/sep/17/sub-two-hour-marathon-not-fanciful-eliud-kipchoge
https://www.nytimes.com/interactive/2018/07/18/upshot/nike-vaporfly-shoe-strava.html
http://www.abc.net.au/news/2018-09-17/de-castella-tips-eliud-kipchoge-for-sub-two-minute-marathon/10256920
https://www.runnersworld.com/gear/a22487985/nike-vaporfly-4-percent-shoes-make-you-faster/
https://www.theguardian.com/sport/2017/mar/07/iaaf-investigation-concerns-springs-running-shoes-marathon
https://news.nike.com/news/eliud-kipchoge-berlin-nike-zoom-vaporfly-elite
https://www.instagram.com/kipchogeeliud/
https://www.instagram.com/nikenyc/