When a runner makes a breakaway move in a marathon, one of the psychological advantages they seek is to disappear. To build enough of a lead that whenever the road crests a hill, turns a corner or rounds a blind bend, the leader cannot be seen by the pursuers. Hounds might be able to pursue a hare purely by its scent; runners are stimulated more strongly by visual cues.
It is now coming up to two-and-a-half years since Eliud Kipchoge broke two hours for the marathon in October, 2019, in Vienna and 13 months more since he set the recognised world record 2:01:39 in Berlin. The former is in the realm of science fiction, but has Kipchoge also effectively put the world record out of sight for the foreseeable future.
That might seem a funny question to ask seeing someone has already run within two seconds of it. But that was no regular "someone"; it was Kenenisa Bekele, arguably the greatest distance runner ever, undeniably with only a handful of peers. Bekele is a polymath when it comes to running. If he took up the 100 it would be no surprise if he gave Usain Bolt's 9.59 world record a fright.
With his range from 3000 to 10,000 metres on the track, his 11 world cross-country titles, and his haul of championship gold – including 5000/10,000 double at both world championships and Olympic Games, it is hard to argue Bekele is not a better distance runner overall than Kipchoge. Despite giving the world record a fright, however, his overall marathon record and 0-4 record versus Kipchoge, it is impossible to argue he is a better marathoner.
It is not quite as difficult to suggest we have seen the best of Bekele. And if, the 2:01:41 notwithstanding, Bekele now cannot match Kipchoge, the question becomes, who can?
Like everything else, the marathon has been severely impacted the last two years by the Covid-19 global pandemic. Nonetheless, a fair number of quality marathons have been run and there is little sign of any other runner approaching the world record, much less the other-worldly 1:59:40.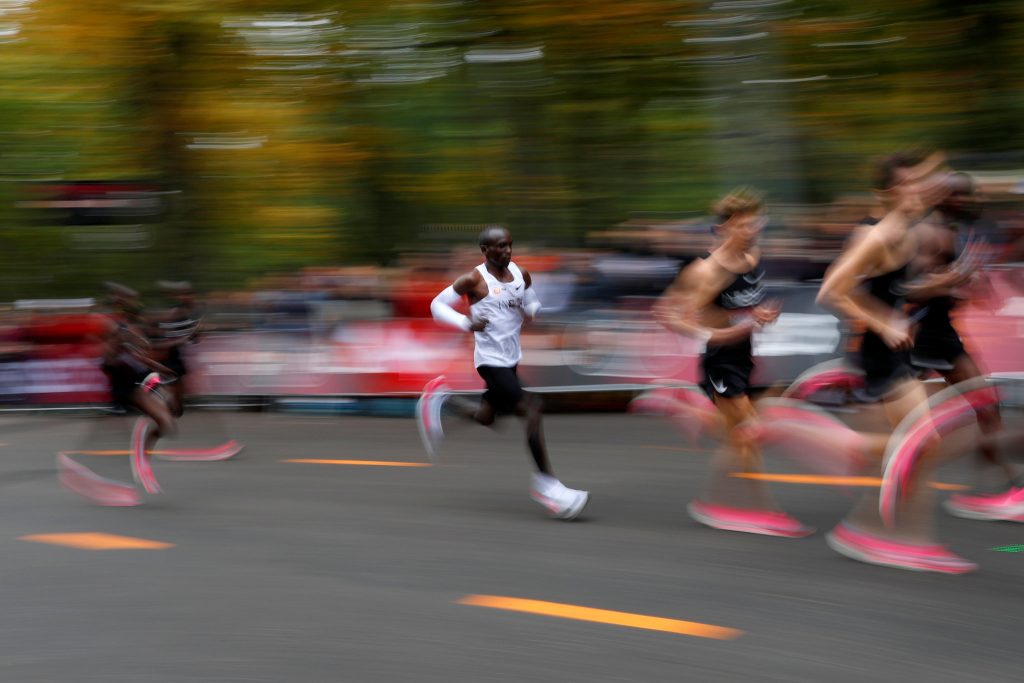 The latter was run with teams of pacemakers running in vee-formation, rotating in and out every five kilometres. With fluid and energy replenishment being available to Kipchoge on a continuous basis rather than at fixed-point feeding stations. With prototype shoes.
The shoes are now available to everyone, but it's hard to see the rest of the support being duplicated for any runner any time soon. After all, Kipchoge was world record holder, Olympic champion and a multiple winner of major marathons before he was picked up by Nike's Sub-2 project.
When sub-2 failed initially (by 25 seconds), the project was taken up by Ineos, a chemical company owned by Britain's richest man. As US running journalist Toni Reavis memorably wrote pre-Vienna:
"As much as they might like to present this as such, the first sub-2:00 marathon is not like the first sub-4:00 mile, or the first summit of Everest, much less the moon landing. All those challenges carried in the public consciousness the possibility of death. This is a second-chance marketing exhibition for a plastics manufacturer and springy shoes."
The world record is a bit closer to the reach, but still formidable. Looking at the 10-fastest men's performances all-time, beyond Kipchoge's WR and Bekele's near approach, Kipchoge has the next two-fastest, while five and six, Birhanu Legese (2:02.48) and Mosinet Geremew (2:02:55), were run behind Bekele and Kipchoge, respectively. At seven is Dennis Kimeto with his then world record 2:02:57, but Kimeto is no longer a factor.
The only contemporary marathoners at 2:03 or faster are Titus Ekiru, who ran 2:02:57 in Milan last year, and Evans Chebet, this year's Boston winner, who ran 2:03:00 in Valencia at the end of 2020.
Never say never, I suppose, and it must be said more major marathons are being set-up at world record pace, but no-one yet seems capable of challenging 2:01:39, much less 1:59:40. But it seems possible that Eliud Kipchoge has created a standard that will be as difficult to match as Paula Radcliffe's then world record 2:15:25 in London in 2003.
That was the race in which Radcliffe was accompanied gun to tape by three male pacemakers. She largely ignored them, running with them more than behind them, but the physical and psychological benefit of having companions running your pace but who are not racing you, was undoubted. Going on Radcliffe's other fast marathons in that period – in the 2:17-range – it was probably worth about two minutes.
Whatever, it took over 16 years and the shoe revolution before Radcliffe's record was broken by Brigid Kosgei in Chicago, where she ran 2:14:04. So 1:21 in 16 years; over the same period, the men's record improved by 3:59.
Fortunately, the greatness of neither Kipchoge nor Radcliffe is dependent on their world records. Both have set standards in the event few have emulated and, arguably, none have yet bettered. Kipchoge has two Olympic gold medals and a string of major marathon victories, Radcliffe won what to this observer's mind was the greatest women's world championship marathon yet run in defeating Catherine Ndereba and Constantina Dita-Tomescu in Helsinki in 2005.
It took a long time to beat Radcliffe's world record, it may take just as long to better Kipchoge's official 2:01:39 (and certainly his 'unofficial' 2:00:25 and 1:59:40. It may be even longer before we see an event-changer the equal of either of these two marathon greats.