Catriona Bisset has broken the Australian record for 800 metres.
On Sunday, 21 July, at the Muller Games Diamond League in London's Olympic stadium (and West Ham United's home ground), Bisset finished second to Lynsey Sharp in one minute 58.78 seconds, slicing 0.22 off Charlene Rendina's long-standing national record.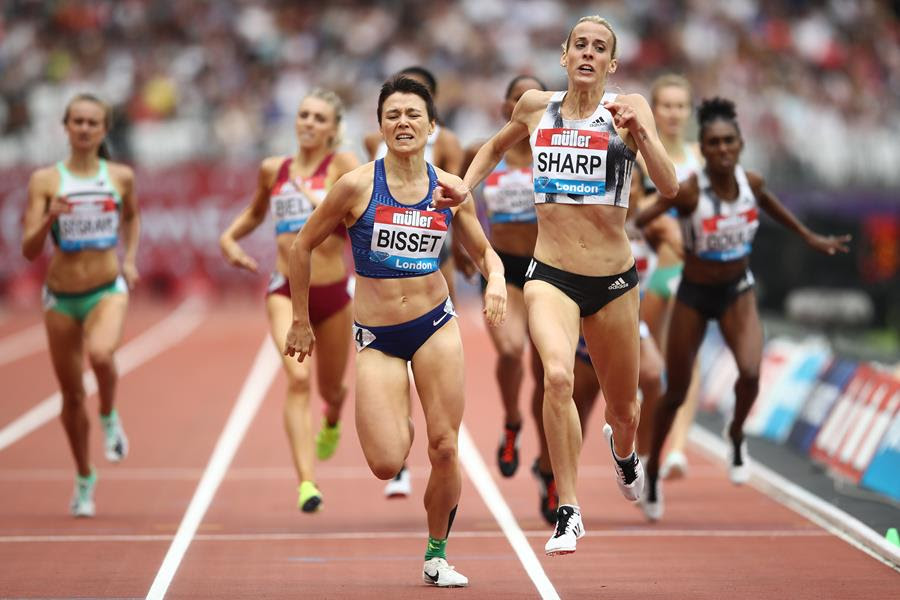 Had this result been given in similar manner as Norris McWhirter's famous proclamation of the first sub-4 minute mile, Australian supporters would have burst into loud cheering immediately on hearing the word 'fifty-eight'. Australian women have been chasing Rendina's 1:59.0 since the day it was set, 28 February, 1976.
McWhirter famously rehearsed the historic announcement of Roger Bannister's feat while soaking in his bath the night before the race. Or, so the story goes.
Similarly, it seemed inevitable Bisset would break Rendina's record. After rapid improvement under the guidance of coach, Peter Fortune, last year, she had progressed further this year to win the national championship in a Doha 2019 qualifier, break two minutes at the following weekend's Australian University championships and, most recently, win the gold medal at the World University Games in Naples.
Earlier last week, Bisset won an 800 at a low-key Swedish meeting in 2:00.44. It seemed Bisset needed only the right race and the right pace to break the record. She got into the London field (not without a little negotiation) and everything seemed set to go. I awaited Sunday's race feeling it was inevitable the record was hers.
Thankfully, it was. Bisset ran a near-flawless race. Tactics were largely irrelevant thanks to an excellent job of pace-making by Aneta Lemiesz. Asked to take the field through in 57 seconds, the Polish athlete ran an even-paced 56.91 seconds. Bissett, who had taken up a forward position as the field broke from their lanes, would have been around 57.5.
In just about the only thing that went wrong for her all race, Bisset was pushed wide off the final turn when Sharp made her move. She was able to take the sideways swerve in her stride, though it possibly cost her a metre of the margin by which Sharp won in 1:58.61.
No matter, the record was Bisset's. Behind her, Morgan Mitchell ran 2:00.06 for fifth, becoming the seventh-fastest Australian woman all-time, and Carley Thomas a 2:01.01pb for eighth.
Ultimately, the race-eve feeling of inevitability was borne out. But what seemed like inevitability was, in truth, the sense of déjà vu. We've been in this situation of believing the record was about to fall many times over the last 43 years in which it hasn't. Taking account of the 46 years it took to see Ralph Doubell's men's record equalled (Alex Rowe) and 50 to see it broken (Joseph Deng), the majority of Australian fans of 800-meter running have lived lives of unfulfilled expectation.
It's not all about the fans, of course: the situation has been even worse for the runners. On the men's side, it seemed 'inevitable' that Peter Bourke, or Simon Doyle, or Brendan Hanigan, or Grant Cremer, or Kris McCarthy, or Jeff Riseley, or any of several others would break the record before Rowe and then Deng came along.
Inevitability usually (though not always) carries with it a sense of imminence. And the demise of Rendina's record has seemed imminent at most stages of its 43-year lifespan. In March of 1984, Queenslander Heather Barralet ran between 2:00.23 and 2:00.70 three times, and won the national title (all without being selected for the Los Angeles Olympics, by the way). Terri Cater was also close to two minutes.
Later in the 1980s and into the '90s Wendy Old, Sharon Stewart, Lisa Lightfoot and Marg Crowley (fifth in the 1996 Olympic 1500 and sub-two minutes in the lead-up) continually hovered close enough to the record to assume one might break it.
Then came Tamsyn Manou, making the closest unsuccessful attempt on the record with a 1:59.21 in Canberra in February, 2000. That was one of Manou's 17 sub-2 minute runs, all of them potentially record-breakers and, it must be said, a fully automatic clocking rather than hand timing.
Crowley again broke two minutes in the lead-up to Sydney 2000, while Susan Andrews did so in a hand-timed, mixed race in Perth. Manou, Crowley, Andrews and several others continually threatened the record. Then Madeleine Pape joined the exclusive sub-two club in 2008 while Manou was still active. Like Bisset, Pape won a world universities gold medal. Kelly Hetherington was another closing in on two minutes.
Most recently, in the build-up to Gold Coast 2018, newcomers Georgia Griffith, Keely Small, Thomas and the more experienced Brittany McGowan all ran times just above two minutes. Griffith came closest to breaking it with 2:00.13 in the US last year. Before Mitchell in London, that was the closest any Australian woman had come to two minutes without breaking the barrier.
Interestingly, 1:59 remains a highly competitive time in women's 800, one that would have got through to almost every major final this century. The trick is running it at the right time and in the right race (like the semi-final!).
The other thing to say is that Bisset has won the race to break Charlene Rendina's record, and deserves every bit of praise heaped on her.
But it is a good time to acknowledge that for the most part of the last 40 years the record has been under threat and those who went closest to breaking it – Tamsyn Manou, our most prolific sub-two runner and a world indoor champion, Margaret Crowley, Madeleine Pape and Judy Pollock.