© 2013 The Runner's Tribe, all rights reserved.
We managed to catch up for an in-depth chat with Australia's current number one 800m man, Alex Rowe. With a PR of 1:45.44, a semi-final finish at last year's world champs, and with Steve Hooker in his corner; this young man has the world at his feet leading into 2014.
(Q) Let's start with where you are currently at?
(A) Right now I am sitting on the couch doing very little since I finished university for the year two weeks ago. I still have six more subjects to go with my studies but am in the process of organising my timetable so that I am able to finish my course next year.
Running wise, I have been in full training for nearly twelve weeks now. I am thoroughly enjoying improving my speed and fitness for the upcoming 2014 season
(Q) Great, what are you doing study wise?
(A) I'm completing a Bachelor of Biomedicine at Melbourne University and hope to secure a post graduate position in medicine after completing this course. I place the emphasis on the word 'hope' as it is quite difficult to get in, but I hope my grades hold up.
(Q) That is impressive. So if your grades hold up does that mean you hope to start medicine in 2015?
(A) Correct. Having said that, it is also dependent upon how well I am running and whether I can negotiate the possibility to study part-time. But the first thing I have to worry about is getting in!
(Q) Very impressive. So you mentioned you have been in proper training for 12 weeks now. Did you have a planned rest/recovery period prior to that or a forced rest?
(A) After Moscow I had 2-3 weeks where I jogged every 2-3 days. I finished my season with no injuries or niggles so I thought that it was important to keep some level of conditioning so that I could make a smoother transition back into full training.
(Q) Sounds wise. Is Justin Rinaldi the man in charge of your program 100% still?
(A) Justin is still 'head coach' of myself as he structures my training and racing schedule, however we believe that a team approach is much more effective.
As a result, Nathan Heaney from the VIS takes care of my gym program and has been since 2011; while Steve Hooker has recently taken charge of the speed and technical sessions.
I believe that the best quality about Justin as a coach is that he acknowledges he does not know everything and is more than happy to learn and receive help from people.
(Q) That is a very interesting structure. Can you tell us a little bit about what Steve Hooker has you doing to improve your speed and technique?
(A) You have to learn to walk before you can run. Consequently, Steve has identified many flaws with my technique ranging from my arm drive to my foot strike and has sought about rectifying these issues before we moved into any real fast running.
We begin every session with about 30-40 minutes of drills (depending upon how much banter there is) which are used to try and strengthen the neural pathways from the brain to our muscles in the pattern that is desired. Therefore these drills are closely monitored to ensure the right movements and patterns are being consolidated.
After this we move into the session itself which usually consists of repetitions over 30-60m.
Over the past six weeks I have been able to run these sessions flat out as I have begun to develop better mechanics.
(Q) You have a PB of 48.10 for the 400m and 3:46 for the 1500m. Does the work with Hooker mean that your team has targeted your speed as your weakness? Ie, if you can drop that 400m PB to 45-46 do you think this is what will be required to drop you 800m time to 1:43 or faster?
(A) I would be a pretty happy man if I could run 45 seconds for a 400m!
We like to take a holistic approach where we try to improve both my speed and aerobic capabilities at all stages of the year. Obviously speed endurance is a vital quality to 800m running but is something that is difficult to do at all stages of the year and can lead to injury and is therefore only focussed on at appropriate times.
I want to improve both my 400m and 1500m personal bests every year as this is what will lead me to personal bests over 800m. A balance between the two is best in my opinion.
(Q) It sounds like a real Seb Coe approach. Could you provide us with a typical week of training during this base/building stage of your year.
(A) Unfortunately speed is a very hard quality to train and therefore needs plenty of attention! It is a very 'needy' component of fitness.
A typical week for me would be as followed:
Monday – Speed/technical session
Tuesday – Fartlek
Wednesday – Gym and 45 minutes
Thursday – Track session (1500/3000m pace)
Friday – Gym and 30 minutes
Saturday – 3 mile threshold and quick hills to finish
Sunday – 60 minutes
(Q) Do you ever run twice per day or have you always run once a day with gym making up the second session?
(A) That is correct. I'm not sure what Justin has planned for me in the future but for the time being we are sticking to running once a day.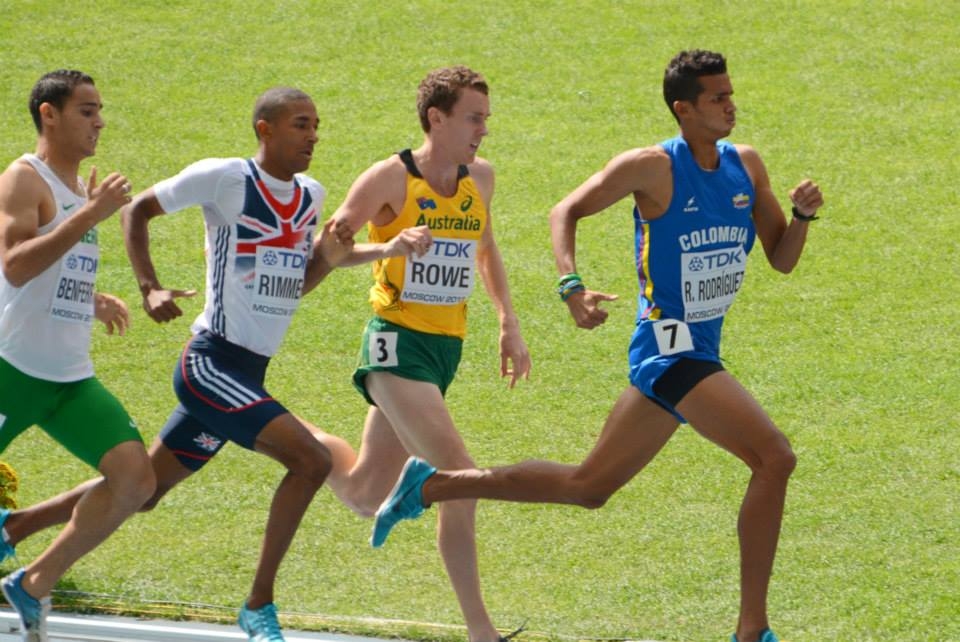 (Q) Has it been quite a while since Justin has cleaned you up at training?
(A) Haha, thankfully it has been a while! As time passes, Justin unfortunately is getting slower whereas I am becoming faster. He is still a phenomenal athlete and would still be able to run around 1:54 which isn't bad for a 41 year old! I guess you could say that I am climbing the mountain while he is going down the other side of it. Having said that, Justin competes rarely, as he sacrifices himself to act as my bunny for most sessions.
I acknowledge that not too many athletes have their own whipping boy, so I do feel very lucky to have a coach that can assist in that way too.
(Q) It does seem like a perfect relationship. Turning to the world champs. Were you thrilled making it to the semi-finals? And what are the lessons that you have taken away from it?
(A) The goal before the European season was to simply make the team so to end up as a semi-finalist was certainly amazing.
There were a couple of lessons that I took away from the trip that are all intrinsically based.
Firstly, my approach to racing overseas was very much different to here in Australia during the domestic season. In Europe and in Moscow, I ran with an incredibly relaxed disposition and felt no pressure whereas in the domestic season I felt the expectation to win races and therefore was a lot more nervous on the start line. The biggest test for me this season will be to maintain this easy going demeanour despite potentially entering races as 'the favourite'.
Secondly, I learnt the power of self-belief. Before the semi-final I guess my expectations were very high as I genuinely believed I could have made the final. However, I believe high expectations state are necessary in order to make that next step in an athlete's career. If you don't believe that something is possible you will never put yourself in the right position in order to achieve that goal.
I guess to put it succinctly; I have learnt to be a lot more relaxed and ambitious.
(Q) So heading in to a Comm Games year do you truly now believe that if everything goes right for you, that you can walk away with a gold medal? Are your sights set this high now?
(A) I believe it's too hard to say at this stage as that depends on what competition is around.
1. Will Rudisha and the best Kenyans race? 2. Will Nigel Amos still be running or have become a full-time DJ?
I certainly have a few ideas of what I would like to achieve next year and making the final at Glasgow is certainly one of them; however I like to concentrate on goals that will lead to success rather than the successes themselves. For example, completing every session to the best of my ability.
For example, running the first lap of an 800m comfortably in 51.0. This may sound ambitious but I know that if I can do this, this will put me in the best position to be able to run fast times and to win big races.
(Q) Do you have a sponsor at the moment?
(A) No I do not. I was let go by my sponsor following the Australian domestic season so I guess you could say I'm single and ready to mingle! But I do need some shoes, so if anyone is interested…..
(Q) Do you have a manager to help source such things for you?
(A) Currently I am looked after by the Aurum Sports Group, in particular Steffen Keil. Justin and I met him while staying in Koln and he got me into the races while in Europe. Dani Samuels, Kim Mickle, Alana Boyd and Steve Hooker are some Australian athletes he looks after and after speaking to them, they could not speak more highly of him so the decision was an easy one.
(Q) When you hit the gym are you lifting heavy weights or is the work more centred around core stability work?
(A) Lifting big! People think that if they lift heavy they will put on weight, but as a middle distance runner we run so much that we are rarely in a calorific surplus to be able to put on muscle.
Most of my work in the weights room is focussed on improving strength and power. Power exercises include plyometrics and cleans while the strength based exercises include deadlifts and front squats. I also complete injury prevention exercises such as eccentrically loading the hamstrings.
I actually complete little core stability work as these muscles are intensely recruited when completing cleans, squats and deadlifts.
(Q) Do you have any running idols that you look up to?
(A) There are many athletes that I admire. However the ones that I look up to in nick symmondsorder to provide inspiration are the caucasian athletes that have run faster than me as they provide the evidence that I can potentially run fast; they break the belief that the Africans are unbeatable. I look at Nick Symmonds who has run 1:42.95 and think to myself, why can't I do that? In that respect I also look up to Seb Coe and Steve Ovett.
I also look up to Duane Solomon for the commitment and dedication he has shown for the sport. Before running 1:42.82 at London, he had experienced seven years at 1:45 before breaking through. He is a testament that hard work does pay off.
On the local scene I have enormous respect for Ralph Doubell, Peter Bourke, Jeff Risley – the three 1:44 men. Peter's 1:44.78 on home soil at nationals in 1982 must have been something remarkable to watch.
(Q) What about Alex Rowe away from the track. Do you have any other passions that soak up your time between sessions?
(A) I am actually a pretty boring bloke off the track to be honest! Currently I have finished university for the year before summer school starts in January so it has been good to have some time off without many commitments.
Away from the track I am either catching up with friends or spending it on the recently obtained Foxtel or Grand Theft Auto. My best mate has a girlfriend that lives across the road from me so he is always coming over to play FIFA.
Once university starts up again the focus will be back on the studies so I have to enjoy these luxuries while they last!
(Q) Does the thought of a fit in form Alex Rowe Vs a fit in form Jeff Riseley pump you up? It would be one showdown that we would all love to see on Aussie soil, on a perfect windless night
(A) Most definitely! I think that if we are both fit that we can push each other to higher limits, which is exciting. I'm sure that if we were both running down the front straight at the 2014 Melbourne World Challenge, we would both easily find half a second, if not more. I really hope that this happens as I know Jeff will push me to produce my best.
(Runner's Tribe): Alex thanks for your time. Make sure to keep an eye out for our video interviewers post-race during the domestic season and I look forward to catching up with you at some stage during 2014.
(Rowe): Awesome, will do.