'Listen to your body'
The Training of 1:43 800m, Man Benson Koech
© 2019 Runner's Tribe, all rights reserved.
"Listen to your body. Don't run quality sessions if your body is tired. If you keep on with the hard training, you will destroy your form and waste all your training - go back to zero" -Benson Koech
For those of you around during the nineties, you'll remember Koech as the guy often challenging the great Wilson Kipketer, especially during 1994-95.
Hailing from Brother Colm's stable, Koech was a junior star winning the world juniors in 1992 in a super fast time of 1:44.77. Koech perhaps didn't live up to his full potential as a senior athlete. However, his 800m P.B. of 1:43.17 ranked him 1st in the world for 1994.
Sources
'Train Hard, Win Easy. The Kenyan Way. By Toby Tanser. We highly recommend this classic book to anyone who is yet to read it.
IAAF athlete profile www.iaaf.org
DOB: 10th November 1974, Moiben, Kenya.
Personal Bests
800m: 1:43.17
1000m: 2:14.96
1500m: 3:32.09
Mile: 3:58.59
Highlights
World Junior Championships 800m Gold, 1992.
World Indoor 800m Championships, Silver, 1995.
Winner of 1995 IAAF Grand Prix Final 800m and overall Grand Prix 800m rankings for 1995.
Two-time winner of Kenyan Junior National and Provincial Cross Country Championships.
Training Basics
"You need to rest to recover so you can start with energy" – Benson Koech
Koech believed in the 'block' training method. This meant that he had a large break between the end of the track season (in about September) and around Christmas time.
Winter Build-up Phase
During the winter build-up phase Koech would complete 2-3 sessions per day and his weekly mileage would never exceed 140km per week. This build-up period would involve distance running, hill running, gym workouts, and the occasional track workout to keep in touch with his speed.
A typical ten-day block of training during the winter build-up base is outlined below:
Day 1
AM: 11km in 40 minutes
Midday: 6km in 26 minutes
PM: 8km in 28 minutes
Day 2
AM: 8km in 30 minutes
Midday: 4km in 18 minutes
PM: Rest
RUNNER'S TRIBE PAYS OUR WRITERS & FILM MAKERS TO CREATE EXCITING & ENTERTAINING CONTENT. HELP SUPPORT THESE PROFESSIONALS AND JOIN RT PREMIUM NOW.
TO VIEW THIS CONTENT PLEASE SIGN-UP TO RUNNER'S TRIBE'S MEMBERS ONLY PREMIUM CONTENT. WE HAVE SOURCED THE WORLD'S TOP WRITERS AND FILM MAKERS TO DELIVER ANY ATHLETE, COACH, PARENT OR FAN THE ULTIMATE PORTAL FOR ATHLETICS EDUCATION, ENJOYMENT AND INSPIRATION.
$9.95 AUD Monthly ($6.59 USD)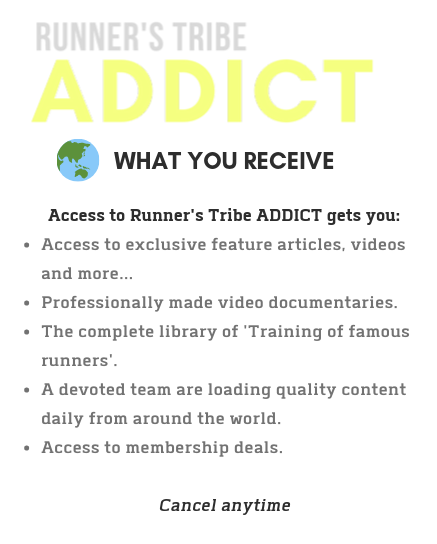 Yearly Plan (Worldwide) - BEST VALUE
$89.95 AUD Yearly ($59.56 USD)

$2.95 AUD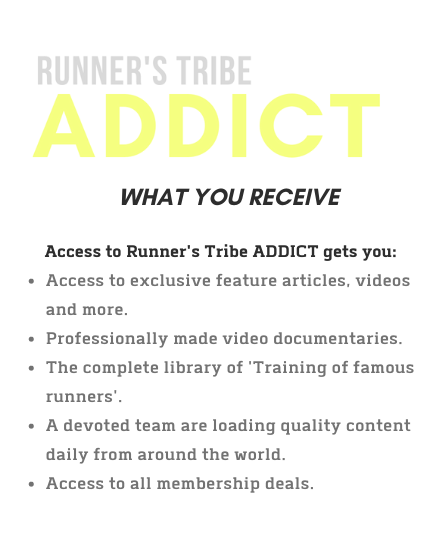 ALREADY A MEMBER? LOGIN BELOW